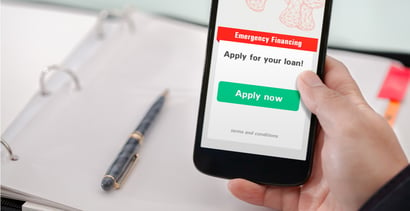 If you're in a bind, emergency cash loans can help you secure money to rectify the situation. But when you have bad credit, finding a lender that will approve you for a loan — let alone quickly — isn't always easy.
The loan companies we review below help borrowers of all credit types. Even if your credit score is less than ideal, these companies may be able to help. Best of all, the loan application process is completed online, which means you can receive an approval decision within minutes, and receive your loan as soon as the next business day.
Best Overall | More Lending Companies | FAQs
Best Emergency Cash Loan Online
MoneyMutual is our top-rated online lender. It is a lender matching service, which means you submit one short prequalification form to the network, and it sends your loan request to all of its partner lenders that match your criteria. You'll receive a loan offer within minutes if a lender decides to work with you.
Short-term loans up to $5,000
Online marketplace of lenders
Funds available in as few as 24 hours
Simple online form takes less than 5 minutes
Trusted by more than 2 million customers
| Loan Amount | Interest Rate | Loan Term | Loan Example |
| --- | --- | --- | --- |
| Up to $5,000 | Varies | Varies | See representative example |
There is no cost to use MoneyMutual. If offered a loan, you'll be transferred to the direct lender's website to complete the loan paperwork and review the terms and conditions of the loan. While loans can often be funded in 24 hours, accepting a loan offer on a weekend, holiday, or another nonbusiness day may delay processing.
More Online Lending Networks To Consider
The following companies are also lending matching services, just like MoneyMutual. They offer short prequalification forms that can be filled out and sent to their direct lending partners. Some of these networks will even present you with up to four loan offers to choose from, so you can rest assured knowing you're getting the best loan offer.
CashUSA.com can provide you with a short term loan that requires repayment in as soon as 90 days, or a long term loan — otherwise known as an installment loan — of up to 72 months (five years). This provides you with some flexibility to accept a loan offer that fits within your budget and decide whether you'd like to make payments over several months or years. CashUSA.com provides some of the largest loans on this list, with loan amounts of up to $10,000, which should be enough to cover most emergencies.
BillsHappen is owned by the same company as MoneyMutual — our top-rated network — so the service works very similarly. Submit your request in just a few minutes safely online to have your information reviewed by lenders and see whether you qualify for a loan. If offered a loan, you'll be transferred to the lender's website to view the loan terms and accept the offer. There is never any obligation to accept any loan offer you receive.
CreditLoan provides loans as small as $250, which is a type of cash advance loan. These loans are basically payday loans you repay with your next paycheck. But CreditLoan also offers larger loans with longer repayment terms to those who qualify. Your credit score need not prevent you from applying for a loan offer.
Bad Credit Loans has been helping consumers obtain bad credit emergency loans for several years. It's an experienced lender network that can provide you with a personal loan or a line of credit. If you don't qualify for a loan, Bad Credit Loans will help connect you with offers for debt relief, credit repair, or other credit-related products and services that may better fit your situation.
While PersonalLoans.com says it provides loans of up to $35,000, only applicants with good credit scores will qualify for this amount. Someone with bad credit can more realistically expect a loan offer of $5,000 or less, which is why that's the top amount offered by other networks on this list. PersonalLoans.com can help you find an online personal loan with a flexible loan term, competitive interest rate, and monthly payment that fits your budget.
CashAdvance.com is an emergency payday loan provider. It is still a lender matching service, but all of its partner lenders specialize in cash advance loans. You can qualify for these types of loans even if you have terrible credit, but the interest rates charged are usually at the highest rate allowable by law, and the loan must be repaid within 15 to 30 days. Consider these payday advance loans as a last resort.
What Are Emergency Loans?
An emergency loan is a type of loan that you can get quickly, usually within 24 hours. They're designed to help borrowers of all credit types get the financing they need to get through life's hurdles.
Traditional loans you can get from a bank or credit union typically take several days to fund, which don't make them great options when you need cash fast. Not to mention, these institutions generally have stricter credit history requirements that disqualify many borrowers.
An emergency loan can come in many forms. You can apply online for a short term loan that must be repaid within 90 days, an installment loan that gives you several years to repay, or an emergency payday loan you must repay on your next payday.
Short term and installment loans usually come with the most competitive interest rates and terms, whereas a payday loan will charge you for the convenience of a quick cash loan. You may be charged an origination fee or a finance fee for a payday loan that is usually $15 to $20 per every $100 that is financed.
How Do I Get an Emergency Loan Online?
Anyone who meets the following criteria can apply for an emergency loan online:
verify identity with a driver's license and a Social Security number
provide a home or cell phone number and mailing address
be at least 18 years old and a U.S. citizen or permanent resident
have a checking or savings account to receive and repay the money from
be employed, self-employed, or receiving benefits
not be in active bankruptcy
There is no minimum credit score required to apply. You can have a previous bankruptcy on your credit report, but you cannot be in active bankruptcy and apply for a loan. This is because the lender's loan may be discharged in your bankruptcy case, and they'll be left high and dry.
Applying for a loan online is easy. You can click on any of the green "Start Now" buttons above to be directed to the lending network's prequalification form. This form will not check your credit or harm your credit score and is 100% free to use.
You'll start by filling out information, including your zip code or state, to determine your location (this helps the company match you to eligible lenders in your area), your name, email address, and other basic details. This process should take less than three minutes. Once the form is complete, you can hit "submit" to send your loan request to the network's partner lenders.

If you qualify for a loan, you will receive between one and four (depending on the lending network you apply to) loan offers to compare. Choose the loan offer you like best — hint: choose the loan with the lowest interest rate and fees — and you'll be redirected to that lender's website to complete the application. This is when you may have to undergo a full credit check to determine final loan approval.
A credit inquiry will only affect your credit score minimally for up to one year and will fall off your credit report completely after two years. Having up to three inquiries on your credit report shouldn't harm your credit score. In fact, the credit bureaus allow for something called rate shopping, which means you can compare several loan offers of the same type, e.g., a mortgage loan, a car loan, a personal loan, etc., within a 14- to 45-day period, and it will only count as a single inquiry on your credit report.
After you're approved for the loan, the lender will deposit the money directly into your linked bank account within 24 hours, unless you applied during a weekend or holiday, which may require more processing time.
Can I Get an Online Loan If I Have Bad Credit?
Yes, approximately 16% of US consumers have bad credit — that's a pretty big segment of the general population for lenders to ignore. Everyone needs help sometimes, and it would be unfair of lenders to disregard these people when things go awry.
Of course, some lenders only serve consumers with good or excellent credit, as is their right — but even more lenders do help people with bad credit scores.
As mentioned above, we like to recommend MoneyMutual for online loans, especially if you have bad credit. While all the networks above can help someone with a less-than-perfect credit history, MoneyMutual indicates on its website that it has a "heartfelt duty to our fellow Americans" and that it has "relationships with lenders all over the country who want to win your business."
Short-term loans up to $5,000
Online marketplace of lenders
Funds available in as few as 24 hours
Simple online form takes less than 5 minutes
Trusted by more than 2 million customers
| Loan Amount | Interest Rate | Loan Term | Loan Example |
| --- | --- | --- | --- |
| Up to $5,000 | Varies | Varies | See representative example |
To further prove that MoneyMutual may be able to help those with poor credit, the company says:
"Even if you've declared bankruptcy, bounced a check, or encountered other credit hassles, you may be eligible to get a short-term loan. If you're in need of a bad credit loan, don't get discouraged, get with MoneyMutual instead! Remember, it's fast, secure and easy to find a lender that meets your short-term loan needs today." — MoneyMutual
MoneyMutual may not be the best choice for you if you need several months or years to repay your loan. That's because it specifically specializes in short term loans that usually need to be repaid quickly.
For a bad credit loan you can repay over time, check out CashUSA.com or Bad Credit Loans.
But What If I Need Money Now?
Sometimes 24 hours just isn't fast enough when there's a true emergency, like a pending eviction or needing urgent cash just to cover your next meal. If you're in need of a quick loan, don't fret — you still have options.
Cash advance apps: These modern apps can provide you a cash advance of your next paycheck. Apps like Earnin' have a Lightning Speed product that can deposit money into your bank account in seconds instead of days, even if you request funds on a weekend or holiday. Best of all, many of these apps don't charge interest on the money you borrow because they were created to challenge the predatory nature of traditional payday lending.
Title loan: I don't actually recommend this — but if you have a car that you own and it's a matter of losing a roof over your head or the like, you can get a secured loan by collateralizing your car's title. This means you can give up your car's title in exchange for a quick cash loan. Once the loan is repaid, you get the title back. The obvious risk in this arrangement is that you will lose your vehicle if you don't repay the loan. The Consumer Financial Protection Bureau found that 1 in 5 title loan borrowers have their vehicle seized due to nonpayment.
Pawnshop loan: This is another type of secured loan that requires collateral in the form of your personal possessions. You take something valuable you own to a local pawnbroker who will give you a loan in exchange for your valuables. Just as with a title loan, if you don't repay the loan, you don't get your items back. That's why it's not a good idea to pawn anything with sentimental value.
Payday Alternative Loan (PAL): This is a type of unsecured personal loan you can get from a credit union. There are two types of PALs available, and the newer type — PAL II — allows a borrower to walk into a credit union the same day, become a member, and leave with cash in hand. Not all credit unions offer these loans, so you may have to call around to find one that does. And because it's a credit union, you can only obtain these loans within the traditional business day time frame, i.e., no nights, weekends, or holidays.
Sell stuff online: Ah, clutter. Most of us have it, so why not capitalize on it? If you have old electronics, furniture, or even designer bags or shoes you're no longer using, consider selling them online. Facebook Marketplace can help you connect with local buyers in minutes, and if you price it right, you're likely to receive quick offers.
Of course, there's one other way to obtain money the same day, and that's to ask your family or friends for a loan. Many people don't like doing this, but it's one of the easiest ways to obtain fair loan terms — your friend is a lot more likely to offer you a fair deal than a payday lender.
If you know someone with the cash to help you out, you should seriously consider this as an option. Here are some ways to approach the topic.
Is a Payday Loan a Good Idea?
Maybe. This depends on how confident you are that you can repay the loan on your next payday without it affecting your upcoming bills, and whether you qualify for other types of loans. If the automatic deduction from your next paycheck is going to stretch your budget too thin, you're setting yourself up for a loan rollover, which makes a payday loan a bad idea.
A payday loan rollover occurs when a borrower can't afford to repay the loan by the agreed-upon date. The lender then rolls the loan over for another payment period with added interest and fees.
This may sound convenient, but it's extremely dangerous because of the astronomical fees associated with payday loans and is the reason why loan rollovers aren't legal in every state. The following map shows how many payday loan rollovers are allowed in each state. Gray states indicate where they're prohibited:

If you have to repeatedly roll the loan over, you're likely to accrue thousands of dollars of debt and fall into a debt spiral. Ask yourself the following questions:
Is what I need the money for truly important?
Is a payday loan my only option for borrowing money?
Can I fully repay the debt with my next paycheck?
Will I still be able to afford everything I need on a reduced paycheck?
If you answered yes to every question, an emergency payday loan may be a good idea.
Compare Emergency Cash Loans Online
As this article has hopefully shown, you have options for borrowing money online, no matter your credit score. You can secure emergency money through an unsecured loan from reputable online lenders around the U.S.
The lending networks featured above can help connect you to instant loans through their partner lenders, and there's no minimum credit score needed to apply. You can receive loan approval in minutes and receive the urgent cash you need in your bank account in as soon as 24 hours.
Advertiser Disclosure
BadCredit.org is a free online resource that offers valuable content and comparison services to users. To keep this resource 100% free for users, we receive advertising compensation from the financial products listed on this page. Along with key review factors, this compensation may impact how and where products appear on the page (including, for example, the order in which they appear). BadCredit.org does not include listings for all financial products.
Our Editorial Review Policy
Our site is committed to publishing independent, accurate content guided by strict editorial guidelines. Before articles and reviews are published on our site, they undergo a thorough review process performed by a team of independent editors and subject-matter experts to ensure the content's accuracy, timeliness, and impartiality. Our editorial team is separate and independent of our site's advertisers, and the opinions they express on our site are their own. To read more about our team members and their editorial backgrounds, please visit our site's About page.