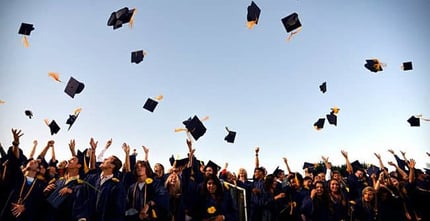 Our popular "How-To" series is for those who seek to improve their subprime credit rating. Our articles follow strict
editorial guidelines
.
If you need a loan to attend college, federal aid should be your first step. Federal student loans offer lower interest rates and have more flexible repayment terms than private student loans.
Private loans usually require a credit check and collateral, while federal loans don't. Some federal loans may only require proof of need.
Private loans to attend college, such as through a bank or credit union, will likely have higher interest rates than government loans. Interest rates are fixed on federal loans, while private loans can have variable interest rates — some greater than 18 percent.
Interest paid on student loans, both public and private, may be tax deductible.
Many private student loans require payments while you're still in school, while repayment of federal student loans doesn't start until several months after you graduate, leave school or change your enrollment status to less than half-time.
If you have trouble repaying a federal loan, you may be able to temporarily postpone or lower your payments. Some portions of federal loans can be forgiven if the borrower works in public service as well. Private loans rarely, if ever, offer forbearance or deferments and are unlikely to offer a loan forgiveness program.
Here are the four types of student loans the federal government offers. The interest rates are for loans disbursed before July 1, 2015:
1. Perkins Loan — 5 percent fixed interest rate
Eligibility depends on financial need and availability of funds at the college. The college is the lender, to whom payment is owed.
Undergraduate students can borrow up to $5,500 annually and graduate and professional students can borrow up to $8,000. The total loan amount can't exceed $27,500 for undergrads and $60,000 for grad students.
2. Direct Subsidized Loan — 4.66 percent interest
This federal loan is for undergrads who are enrolled at least half-time and demonstrate financial need.
The lender is the U.S. Department of Education. Students aren't usually charged interest on the loan during certain periods, with the federal government paying the interest while the student is in school. Private student loans aren't subsidized and the borrower pays interest while they're in school.
The loan can be up from $3,500 to $5,500 per year, depending on grade level.
3. Direct Unsubsidized Loan — 4.66 percent for undergrads, 6.21 percent for grads students or professionals
These loans are for students who are enrolled at least half-time. Financial need isn't required. Borrowers pay interest during the length of the loan to the Department of Education.
Loans can be from $5,500 to $20,500 per year, depending on grade level and dependency status.
4. Direct PLUS loan — 7.21 percent
This loan is for parents of dependent undergraduate students and for graduate or professional students. Proof of financial need isn't required.
This is the only federal student loan where a credit check is needed. A borrower can't have a negative credit history and must pay interest throughout the loan to the Department of Education. If paid on time, a PLUS loan can help establish a good credit record.
The loan can be for up to the cost of attendance, minus any other financial aid the student receives. No minimum loan amount is required.
If you're looking for an alternative to traditional federal student loans, a personal loan may work for you. Keep in mind, however, that personal loans don't offer borrowers the same benefits, protections and rates as federally-backed loans.
Photo credits: poetsandquants.com