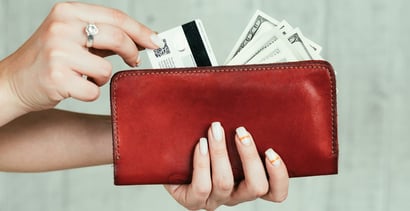 So, you've got a credit score in the 550 to 600 range, but what does that really mean? To some, it may seem average, but not to a lender or credit card company.
The average credit score for U.S. consumers is above 700, which means anyone looking for loans and credit cards for a 550 to 600 credit score will likely be facing a challenge.
A score in the range of 550 to 600 straddles the line between a poor credit score and one that's considered fair (580 to 669). But don't let a low credit score deter you — there are loans and credit cards for 550 to 600 credit scores that can help people rebuild their below-average credit score.
Personal Loans | Credit Cards | Auto Loans | Home Loans | FAQs
Personal Loans: 550-600 Credit Score
Personal loans — also known as installment loans — are often used for emergencies in which you just need a bit of cash to see you through. This type of loan is paid back in monthly installments of a fixed amount, spread out over time.
Unlike cash advance or payday loans, a personal loan comes with a lower interest rate, and what are intended to be manageable monthly payments. You know the amount you'll pay each month, and the exact length of time until the loan is paid off.
Here are some of the personal loan companies we recommend for folks with subprime credit scores.
Short-term loans up to $5,000
Online marketplace of lenders
Funds available in as few as 24 hours
Simple online form takes less than 5 minutes
Trusted by more than 2 million customers
| Loan Amount | Interest Rate | Loan Term | Loan Example |
| --- | --- | --- | --- |
| Up to $5,000 | Varies | Varies | See representative example |
Some borrowers at the low end of the 550 to 600 credit score range may find it difficult to qualify for a standard installment loan. For these folks, MoneyMutual offers different types of short-term and installment loans for bad credit.
These "hybrid" loans are similar to a payday loan but repaying the loan can be extended over multiple pay periods. Loans can be approved for up to $5,000 depending on your qualifications and ability to repay.
MoneyMutual is not a direct lender, but rather a nationwide network of lenders that are willing to work with borrowers who have low credit scores. By filling out a single online application, you can potentially get loan offers from several lending institutions. Any loan offers you receive will contain the terms, rates, and fees each lender charges, so you can choose the best loan for your situation.
A bad credit loan from 24/7 Lending Group is intended for people who can't qualify for a standard installment loan, but don't want to pay the high rates of a payday loan. The lenders in this network offer loans of up to $35,000, depending on a borrower's ability to repay and other factors.
Applying for a loan is as simple as submitting your information through the secure application process, reviewing any loan offers you receive, and choosing the lender that best fits your needs. After accepting the loan offer, funds can be available and deposited into your account in as little as 24 hours.
Borrowers do need to have a bank account where funds can be deposited and must also meet certain minimum income requirements.
Borrowers looking for a personal loan that can be repaid over a longer duration can turn to the CashUSA lender network. Loans of up to $10,000 are available depending on your qualifications, and many of the lenders in the CashUSA network offer rates from 5.99% to 35.99%. Repayment terms for these loans can be as short as 90 days to as long as 72 months.
There are no fees to use the CashUSA network, and loan requests can often be approved in minutes. If approved, proceeds could be transferred into your checking account within 24 hours.
To be eligible for a loan from the CashUSA lender network, you must be at least 18 years of age and a U.S. citizen or permanent resident. You also need to show you have an income of at least $1,000 a month, a checking account where the funds can be transferred, and a valid email address and phone number.
Credit Cards: 550-600 Credit Score
While most credit card issuers want to focus on consumers with pristine credit, some recognize the needs of those with less lofty credit ratings. These cards may not come with all the perks and benefits of higher-tier cards, but when used wisely, they can help rebuild and repair a less-than-stellar credit score.
Credit cards are perhaps the easiest way to get your credit score back on track. That's because they're typically the easiest type of credit to get, and the credit rating agencies can quickly see your track record of usage and payments.
Make those payments on time, and before you know it, your score could begin to rise. Here are some cards that we recommend for credit scores in the 550 to 600 range.
Don't let a low FICO score stop you from applying – we approve applications others may not.
You don't need good credit to apply.
Just complete the short application and receive a response in 60 seconds.
When you need assistance our award-winning US-based Customer Service agents are there to help.
FICO scores are used to represent the creditworthiness of a person and may be one indicator to the credit type you are eligible for. However, credit score alone does not guarantee or imply approval for any PREMIER Bankcard® product.
| Application Length | Interest Rate | Reports Monthly | Reputation Score |
| --- | --- | --- | --- |
| 4 minutes | See Provider Website | Yes | 9.0/10 |
The PREMIER Bankcard® Mastercard® Credit Card is reported to approve applicants of all credit types, even if your score is in the 500s. While it does charge various fees to be a cardmember, this card reports to all three bureaus to help you build credit (See Provider Website for full Terms & Conditions).
That's because the credit bureaus place a high value on payments made toward revolving credit lines. And by making on-time payments, you could soon see your credit score begin to increase.
A few nice features of this card include a longer-than-average interest-free grace period, automatic payment reminders, a free FICO score, and text/email alerts for purchase limits.
People with credit challenges know one thing; a credit card is both necessary and very hard to get. That's why the Total Visa® Card is a great option.
You won't need a security deposit for the Total Visa® Card because it is an unsecured credit card. While this card is designed to help you build credit, there are some things you need to know before applying — mainly that it comes with some very high fees.
For one, there's the program fee just for opening the account. Next is the annual fee, which drops after the first year.
The program fee is paid upfront, and the annual fee is deducted from the card's credit line, which doesn't leave much to spend. Finally, if you do keep the card past the first year, it will cost you $6.25 a month in service fees.
If you can stomach all the fees, the Total Visa® Card may still be worth getting, but we recommend it purely as a credit-building card. Pay your bill on time and carefully watch your credit limit. With some luck and responsibility, you'll have a high enough score in a year to qualify for a more traditional card.
Credit cards for folks with bad credit are intended for one purpose — to help you build or rebuild credit. That's because these cards typically have low credit limits, high fees, and steep APRs. However, they are great at what they're meant to do.
The First Access Visa® Card is such a card. The one-time program fee plus the annual fee is quite steep. And, considering the $300 credit limit from which the annual fee is automatically deducted, you may wonder what the advantage of this card is.
The First Access Visa® Card isn't meant to be a card you cherish and grow old with. It's a credit-building card — pure and simple. And it does exactly what it's supposed to do.
That is as long as you make timely payments and don't exceed your credit line. Use it to pay your monthly data plan or insurance bill and pay it off as soon as you receive the statement. Within a year you may have credit that qualifies you for a better card.
Auto Loans: 550-600 Credit Score
Getting an auto loan when you have a low credit score may seem like a stretch, but this type of loan can be easier to get for credit-challenged borrowers. That's because an auto loan is secured by a lien on the vehicle, meaning lenders carry less risk than they would with a personal or unsecured loan.
Of course, one thing to remember with a car loan is that the vehicle belongs to the lender until it's paid off, shifting the risk to the borrower. If you don't make the payments, the vehicle can be repossessed.
However, having a vehicle and the chance to rebuild your credit history by making on-time payments helps compensate for that risk. Here are some lenders we recommend for low credit score auto loans.
Network of dealer partners has closed $1 billion in bad credit auto loans
Specializes in bad credit, no credit, bankruptcy and repossession
In business since 1999
Easy, 30-second pre-qualification form
Bad credit applicants must have $1500/month income to qualify
| Interest Rate | In Business Since | Application Length | Reputation Score |
| --- | --- | --- | --- |
| 3.99% - 29.99% | 1999 | 3 minutes | 9.5/10 |
One of the things you realize when you have bad credit is that just about everything is harder, and that's especially true of car shopping. Auto Credit Express is working to change that fact of life. By working with a nationwide network of dealers, this bad credit auto loan specialist is able to match buyers with a local dealership willing to work with them.
Getting matched with a dealership through Auto Credit Express is fast and easy with the secure online application process. And while there are no minimum credit score requirements, you do need to have a monthly income of at least $1,500 to qualify.
By working directly with dealerships, Auto Credit Express provides more flexibility than dealing with a bank or credit union. And with a network of more than 1,300 dealerships across the country, they can help just about anyone get financed.
For more than 25 years Car.Loan.com has been the place to turn to if you're having trouble getting financed. Specializing in auto loans for bankruptcy, bad credit, first-time, and subprime car buyers, the experts at Car.Loan.com can help consumers with any credit type. The online loan request takes just three minutes, and you could get loan offers from multiple dealerships near you.
The Car.Loan.com online lending process works by connecting you with special finance lenders who look at factors beyond your credit score when considering your loan request. Having a consistent income and steady employment history can help overcome a low credit score.
A quick and easy application will let you know if you're prequalified at a local dealership. Once you receive your prequalification, simply visit the dealership and decide on the vehicle that's right for you. Since you're prequalified, the application and approval process is fast, and you could be on the road that same day.
Whether you need a new or used vehicle, want to refinance an existing loan, or want to buy out a lease, myAutoloan.com can help. Working with a nationwide network of lenders, myAutoloan matches people of all credit types with the right lender for their situation. And by setting up your financing in advance, the trip to the dealership can be a breeze.
Applying for a car loan with myAutoloan is free, fast, and easy using the secure and confidential application process. Prospective car buyers can receive multiple offers within minutes and can choose the one that best suits their needs.
You can use the interest rate estimator and payment calculator to see just how much you can afford, then request the exact loan for you. Then simply select the loan type you need, and wait for the offers to come in.
Home Loans: 550-600 Credit Score
There is perhaps no other area where a credit score is more important than when applying for a home loan. Prospective borrowers with low credit scores need to make good in numerous other ways to compensate for subpar credit. The good news, however, is that it can be done.
Factors that can influence a mortgage lender to look past your 550 to 600 credit score include a large down payment, low debt-to-income ratio, a lengthy employment record, and frankly, a high income.
Some lenders may consider these mitigating factors as carrying more significance than a low credit score. Here are some we recommend.
Get today's mortgage rates from the top mortgage lenders and banks
Easily compare and choose mortgage lenders with no obligations or fees
Review current mortgage rates side by side
Pick mortgage lenders that meet your specific needs
Compare rates from pre-qualified and approved mortgage lenders — 100% online, 100% free
| Interest Rate | In Business Since | Application Length | Reputation Score |
| --- | --- | --- | --- |
| Varies | 1979 | 4 minutes | 8.5/10 |
As one of the largest and best-known lender networks around, eMortgage can help even bad credit borrowers get a home loan. Whether you're looking to buy a home, refinance, get a home equity loan, or even a reverse mortgage, this service can send you multiple offers to choose from.
Plus, the eMortgage website has resources and information designed to optimize your search for the right home loan. One of the biggest advantages of choosing a large lending network like eMortgage is the time and effort you save.
Rather than applying to multiple lenders or banks, one simple application through the eMortgage online loan marketplace gets your loan request in front of dozens of lenders. This can be especially helpful for borrowers with bad credit since lenders know your situation upfront.
Homebuyers with low credit scores have limited options when it comes to finding a home loan. Fortunately, the government's Federal Housing Administration (FHA) insures mortgages for people who would not otherwise qualify.
FHA-backed mortgages give lenders protection against potential default by a borrower. FHA Rate Guide is an online directory of lenders who offer FHA loans for consumers who don't qualify for a conventional loan.
Rather than having a network of participating lenders, FHA Rate Guide offers consumers a list of lenders that match their submitted requirements. Because these lenders aren't part of a network, there are theoretically more loan options to choose from. The downside, though, is a little more work for the borrower in applying to each lender separately.
As one of the largest direct home mortgage lenders in the country, Wells Fargo Home Mortgage has programs to help even borrowers with low credit scores. Some of these loans require less cash upfront and can even allow the use of funds received as a gift for the down payment.
Government programs like FHA, VA, or the Guaranteed Rural Housing program can have less strict requirements.
A word of caution, though, for those at the low end of the credit spectrum — compensating factors will likely be required to qualify for most conventional loans. These factors can include having a large down payment, a low debt-to-income ratio or no debt at all, and a high income or access to large cash reserves.
FAQs About Bad Credit Loans
Getting approved for a loan when you have bad credit can feel like you've just been thrown a lifeline, but don't forget that it also comes with risks. Bad credit loans have higher interest rates and fees, and stricter penalties than do conventional loans, and there is far less room for error — such as missing a payment.
Here are some other things you need to know about bad credit loans.
Is a 600 Credit Score Bad?
The FICO credit scoring model assigns a number between 300 and 850 to represent an individual's overall creditworthiness. This means a FICO credit score of 600 is nearly smack in the middle of that range.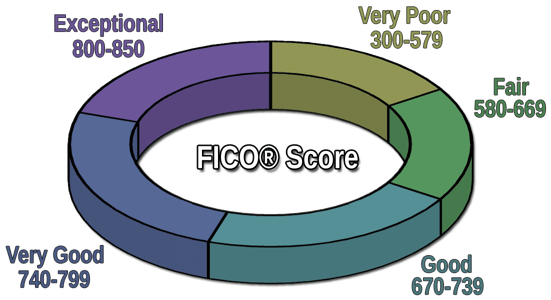 According to FICO, a 600 credit score is in the range considered "fair," but just barely. Anything below 580 is deemed to be a bad credit score.
Can I Get Approved for a Credit Card with a 600 Credit Score?
A credit score of 600 is high enough for you to be considered for a credit card. But don't have any illusions — a 600 score is still subprime, and the unsecured cards you qualify for are likely to come with high fees, a high APR, and a low credit limit.
You could also apply for a secured credit card if you want to avoid an annual fee and have a lower interest rate. Secured credit cards require deposits for approval, but you can get that approval back after several months of on-time payments.
Unsecured cards for bad or fair credit don't refund the fees they charge, so in the long run, a secured credit card is a more affordable path to a higher credit score.
However, any credit card company that gives you a credit card will report to the credit bureaus, so using your card wisely by not overcharging and making your monthly payment on time is likely to boost your credit score. This will make approval for better credit cards easier in the future.
What is the Minimum Credit Score for a Loan?
The minimum credit score required for any loan depends on several factors, including the type of loan and the amount needed. In addition to your credit score, a lender will consider other personal financial information, such as your income, job stability, overall debt, bankruptcy or defaults, length of credit history, recent financial record, and other mitigating circumstances.
The loan request is scrutinized to determine whether enough positive factors exist to overcome a low credit score. Things such as the down payment amount, whether there is collateral as in the case of a vehicle loan or mortgage, the loan term, APR — all these factors will also come into play.
Can I Buy a House with a 600 Credit Score?
According to FHA credit requirements, a score of 580 or higher can qualify you for a mortgage loan with as little as 3.5% down. Of course, that doesn't guarantee you will get approved, as there are many other factors that need to work in your favor.
In addition to your credit score, a lender is likely to look for things that may include no late payments in the past six to 12 months, a high income and/or low debt-to-income ratio, and a low loan-to-value ratio.
FHA loans have the lowest credit score requirements of all mortgage programs, but not every home can be purchased with an FHA loan. If the seller won't consider an FHA loan, you'll need a much higher down payment to compensate for a 600 credit score. Your best bet is to raise your credit score before you apply for a mortgage.
Leverage Loans and Credit Cards to Increase Your Score
A credit score in the 550 to 600 range is low, but it's not the end of the world. The factors that got you here aren't permanent, and neither is your score.
The actions you take going forward are going to determine which direction your credit score goes from here. By making the most of the loans and credit cards for a 550 to 600 credit score we've outlined, you can take control and work toward increasing yours.
Range of credit scores covered in this article: 550, 551, 552, 553, 554, 555, 556, 557, 558, 559, 560, 561, 562, 563, 564, 565, 566, 567, 568, 569, 570, 571, 572, 573, 574, 575, 576, 577, 578, 579, 580, 581, 582, 583, 584, 585, 586, 587, 588, 589, 590, 591, 592, 593, 594, 595, 596, 597, 598, 599, 600
Advertiser Disclosure
BadCredit.org is a free online resource that offers valuable content and comparison services to users. To keep this resource 100% free for users, we receive advertising compensation from the financial products listed on this page. Along with key review factors, this compensation may impact how and where products appear on the page (including, for example, the order in which they appear). BadCredit.org does not include listings for all financial products.
Our Editorial Review Policy
Our site is committed to publishing independent, accurate content guided by strict editorial guidelines. Before articles and reviews are published on our site, they undergo a thorough review process performed by a team of independent editors and subject-matter experts to ensure the content's accuracy, timeliness, and impartiality. Our editorial team is separate and independent of our site's advertisers, and the opinions they express on our site are their own. To read more about our team members and their editorial backgrounds, please visit our site's About page.