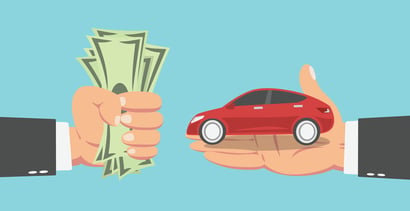 If you have bad credit and suddenly need money, you could consider a title loan, in which you use your car as collateral. But as we shall see, title loans are really dangerous. Instead, we recommend you consider title loan alternatives for bad credit.
The nine alternatives we review here are available to consumers with bad credit, and all are superior to title loans. Read on to see which alternative may work best for you. We'll cover options for refinancing your vehicle, present some of our top choices for cash loan providers, and take a look at how credit cards can also be used as a title loan alternative.
Auto Refinance | Cash Loans | Credit Cards | FAQs
Auto Refinance Alternatives to Title Loans
Our first category of title loan alternatives is the providers of online loans for refinancing your car, allowing you to cash out some of the equity in your vehicle. You also may be able to reduce your interest rate, extend your loan term, and/or lower your monthly payment.
The three lending services reviewed here can match you to a lender that is happy to work with consumers who have bad or no credit.
Network of dealer partners has closed $1 billion in bad credit auto loans
Specializes in bad credit, no credit, bankruptcy and repossession
In business since 1999
Easy, 30-second pre-qualification form
Bad credit applicants must have $1500/month income to qualify
| Interest Rate | In Business Since | Application Length | Reputation Score |
| --- | --- | --- | --- |
| 3.99% - 29.99% | 1999 | 3 minutes | 9.5/10 |
Auto Credit Express works with a network of dealer partners that, since 1999, has provided over $1 billion in loans to folks with bad credit. Prequalifying for a loan takes only 30 seconds, but you must have a monthly pretax income of $1,500 to qualify.
You also must be an employed U.S. citizen and at least 18 years old with a valid driver's license. This loan matching service encourages applications from consumers with bad or no credit, as well as those who have experienced repossessions or bankruptcies.
Car.Loan.Com has been helping bad-credit consumers get car loans since 1994. You can request a loan in three minutes, after which you'll be connected to a partner offering auto financing.
You can apply even if you are a subprime borrower or have gone through a bankruptcy. You can expect a decision in as little as a few minutes. This lending service charges nothing for finding you a lender on its large network of car dealers.
MyAutoLoan.com® can hook you up to a lender that will provide you a refinancing check or loan certificate in as little as 24 hours. You start by filling out a short, two-minute offer form.
MyAutoLoan.com® then arranges for you to receive up to four offers from its lender network. Lenders will work with you even if you have bad credit. This loan-matching service has been in business since 2003.
Cash Loan Alternatives to Title Loans
Personal loans are a good alternative to title loans because you do not have to use your car as collateral. The following three lending services all specialize in helping bad-credit consumers qualify for a personal loan from $250 to $10,000.
Short-term loans up to $5,000
Online marketplace of lenders
Funds available in as few as 24 hours
Simple online form takes less than 5 minutes
Trusted by more than 2 million customers
| Loan Amount | Interest Rate | Loan Term | Loan Example |
| --- | --- | --- | --- |
| Up to $5,000 | Varies | Varies | See representative example |
If you earn at least $800 a month, MoneyMutual can connect you to a lender within its personal loan marketplace. It only takes a few minutes to request a loan of up to $2,500.
To qualify, you must be a U.S. resident and 18 years old or older with a checking account. The marketplace lenders that MoneyMutual recommends may have additional requirements. This lending service has worked with more than 2 million customers.
CashUSA.com can find you a provider of personal loans starting at $500. Bad credit is OK as long as you earn $1,000 a month after taxes. You must be a U.S. citizen or permanent resident and age 18 or older with a checking account.
Filling out the online loan request form takes only a few minutes. An interested lender will invite you to finish applying for a loan. If approved, you can expect quick access to your loan proceeds.
CreditLoan is a lender-matching service that welcomes consumers who have bad credit, so long as they also have a bank account. The members of its lending network offer loan amounts from $250 up to $5,000.
If you are approved, the lender will deposit the loan proceeds into your bank account in as little as 24 hours. CreditLoan has helped more than 750,000 customers get loans since 1998.
Credit Card Alternatives to Title Loans
Have you considered a credit card or a cash advance from a credit card as an alternative to a title loan? Even if you have bad credit, these three credit card issuers may be able to provide you quick cash when you need it.
| Application Length | Interest Rate | Reports Monthly | Reputation Score |
| --- | --- | --- | --- |
| 9 minutes | 35.99%* | Yes | 8.5/10 |
The Total Visa® Card accepts applicants who have faced financial challenges. You need to be a U.S. resident over the age of 18 with a checking account. The application takes only a few minutes to complete.
Once approved, you can take out cash advances without paying a cash advance fee for the first year. Other fees apply, including a one-time application fee, an annual fee, and a monthly servicing fee (waived for the first year).
The First Access VISA® Card doesn't require you to have perfect credit to apply for a full-feature, unsecured credit card. You must be over the age of 18, a U.S. resident, and the owner of a checking account.
Fill out the short application form and you'll receive a decision in as little as 60 seconds. Cash advance fees and monthly servicing fees are waived in the first year. There is a one-time program fee as well as an annual fee.
The Surge Mastercard® helps consumers with bad or no credit obtain an unsecured credit card. Apply and receive a decision in a minute or two. You must be a U.S. resident over the age of 18 with a checking account.
This card provides cash advances and is accepted anywhere that accepts Mastercard®. The card charges an annual fee and a monthly maintenance fee after the first year, but there is no separate application fee. The fee for cash advances is waived for the first year.
How Does a Title Loan Work?
Title loans are designed to provide fast cash to any vehicle owner, regardless of credit score. That's because your vehicle — car, truck, or motorcycle — serves as collateral for your loan. A title loan may come in handy when you need money quickly and have few other options. But first, understand the costs and risks of title loans.
A title loan is a short-term loan secured by the current value of your vehicle minus any current outstanding vehicle loans. Typically, title loans have no credit score requirements. Some states forbid title loans, which typically charge high interest rates and fees.
You can apply for a title loan at a brick-and-mortar title store or online. Frequently, you must have the full and unencumbered title to the vehicle, meaning there can't be any financing on the vehicle. However, some title loan providers approve loans even if you are currently financing your vehicle.
A credit check is not required in most states that permit title loans, nor do title loan providers need to check your income, meaning they have no idea whether you can afford to repay the loan. If approved, you sign a loan agreement that specifies the loan terms.
The lender will take possession of the vehicle's title and hand you cash or a check. Of course, you can continue to drive your vehicle during the loan period. Sometimes, the lender will install a GPS device in your vehicle to facilitate repossession if necessary.
How Much Can You Get for a Title Loan?
The amount you can get for a title loan varies by location and can range from $100 to $10,000 and higher. Typically, you'll be able to extract up to 50% of your equity in the vehicle, based on its current value and any money you owe on it.
Bear in mind that title loans are expensive and can be a hassle to obtain. To secure a title loan, you'll need to:
Fill out the application form
Bring your vehicle to a specified title loan location for inspection
Bring in your vehicle's title document
Show proof of insurance on the vehicle
Provide a photo ID of yourself
Bring an extra set of keys
If you take out a title loan, know that repayment could add to your financial difficulties. Costs can be sky-high, with typical charges of 25% per month. That's an annual percentage rate (APR) of 300%. For example, a 30-day, $600 title loan might cost you the following:
A one-time finance charge of $150
An interest rate of 10% ($60 if you repay at the end of the loan period)
A title certification fee of $35
That adds up to a $245 cost, equal to an APR of 490%. That's an extremely expensive loan, especially for someone already experiencing financial hardship.
If you have trouble making the payments, you risk losing your vehicle. You should understand the penalties for late payments, which may include higher interest rates, penalty fees, and ultimately, repossession of your vehicle.
How Long Do You Have to Pay Back a Title Loan?
Normally, short-term title loans range from 15 to 90 days, but most are no longer than 30 days. Some banks and credit unions offer title loans that cost less or feature longer payback periods than those offered by title loan companies.
You may be able to roll over your debt for another period, but you'll have to pay additional fees on top of the ones you already paid. This can trap you in a debt spiral that could eventually result in the forfeiture of your vehicle.
Long-term title loans are also available with payback periods up to three years. These have the virtue of lower monthly payments, but in the end, you'll pay a king's ransom in interest.
Whatever payback period you accept, insist on a loan that has no prepayment penalties. To that end, if you take a long-term title loan, you'll want one that is fully amortized. That is, you pay both principal and interest each month. Some lenders may front-load all the interest, which means once you've paid the interest, prepaying the loan will not save you any money.
Are Car Title Loans a Good Idea?
Title loans are risky, expensive, and won't help you build credit. The risk is that you will not be able to repay the loan on time and lose your vehicle. The fees and interest rates for title loans are almost as bad as those for payday loans.
Each state has its own title loan regulations. Because title loan companies in most states do not have to check your credit, a title loan that you repay on time may have no effect on your credit score.
In some states, the loan provider will perform a hard inquiry on your credit report that could shave up to five points off your score. Since the title loan company is unlikely to report your timely payments to the credit bureaus, your credit score will receive no boost.
Your credit score may go unscathed even if the lender is forced to repossess your vehicle. That's because the sale of the vehicle will repay the loan, with no need to involve a collection agency and no need to report the transaction to the credit agency. Nevertheless, you can expect a negative score impact if your lender does report the default to any of the credit bureaus (Experian, TransUnion, or Equifax).
In addition to high costs, you risk losing your vehicle if you default on your title loan. That can have disastrous side effects, such as not being able to commute to your job. Therefore, it pays to check out alternatives to title loans:
Personal loan: If you have decent credit, you might be able to get a personal loan from a bank, credit union, or online loan provider. You don't have to put up collateral for a personal loan and it usually costs much less than a title loan.
Credit card advances: These are usually moderately expensive, but not nearly as costly as title loans. Furthermore, you don't risk losing your vehicle.
Home equity line of credit (HELOC): If you own a home, a HELOC can be a cheap source of money. However, if you default on a HELOC, the lender can foreclose on your home.
Extra income: Rather than take on debt, consider ways to improve your cash income, such as taking on gigs at home in your spare hours. Also, consider ways to economize. For example, if your current vehicle is expensive to own, you can trade it in for a less expensive one and use any cash left over to help with your financial situation.
Given the readily available alternatives for bad-credit consumers, you should consider a title loan only after exhausting less expensive alternatives.
You Don't Have to Risk Losing Your Vehicle for a Loan
Automobile loan services such as Auto Credit Express connect you with dealers who can arrange a cash-out refinance of your current loan. You also can apply for a personal loan as an alternative to title loans. Lending networks such as MoneyMutual cater to consumers with bad credit, and you may be able to get a personal loan without putting up collateral.
We also pointed out how credit cards like the Total Visa® Card accept bad-credit applicants and offer cash advances that are fee-free during the first year. Of course, interest rate charges apply from the date of the cash advance.
So, before you apply for a title loan, ask yourself what you'll do if the repo person takes your car away.
Advertiser Disclosure
BadCredit.org is a free online resource that offers valuable content and comparison services to users. To keep this resource 100% free for users, we receive advertising compensation from the financial products listed on this page. Along with key review factors, this compensation may impact how and where products appear on the page (including, for example, the order in which they appear). BadCredit.org does not include listings for all financial products.
Our Editorial Review Policy
Our site is committed to publishing independent, accurate content guided by strict editorial guidelines. Before articles and reviews are published on our site, they undergo a thorough review process performed by a team of independent editors and subject-matter experts to ensure the content's accuracy, timeliness, and impartiality. Our editorial team is separate and independent of our site's advertisers, and the opinions they express on our site are their own. To read more about our team members and their editorial backgrounds, please visit our site's About page.