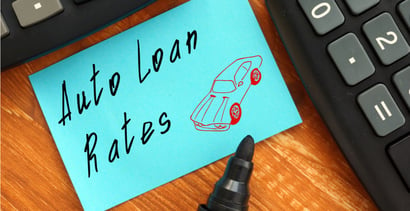 Looking for auto loan rates for bad credit can feel daunting. Luckily, lenders and dealerships are willing to work with borrowers who have less-than-perfect credit scores so they can get on the road.
You may think that your only loan options will come with astronomical interest rates, but that's not always the case. It's true that if you have a poor credit score (a low FICO score), you will be subject to higher interest rates.
But in 2021, the interest rates are pretty reasonable compared with those of previous years. Finding the right dealers, the right lenders, and the right vehicle will all determine the auto loan rate that you can get.
Auto Loan Rates For Bad Credit Average 7% to 20%
The year 2020 was one of many highs and lows, but 2021 is looking like a great year to recover financially. There are plenty of opportunities to invest, and many people are looking to make big purchases, including homes and cars.
If you have a low credit score or are a first-time buyer, you may feel discouraged at the thought of buying or refinancing your car. But you may be surprised at the interest rates available — even if you have a poor credit score.
Experian's quarterly Automotive Finance Market Report shows that the borrowers with scores below 600 averaged auto loan interest rates of between 11% and 20%. Borrowers with scores of 601 to 660 pay an average of 7% to 11% in interest.
Network of dealer partners has closed $1 billion in bad credit auto loans
Specializes in bad credit, no credit, bankruptcy and repossession
In business since 1999
Easy, 30-second pre-qualification form
Bad credit applicants must have $1500/month income to qualify
| Interest Rate | In Business Since | Application Length | Reputation Score |
| --- | --- | --- | --- |
| 3.99% - 29.99% | 1999 | 3 minutes | 9.5/10 |
Auto Credit Express has a dealer network with over 1,000 dealers, and it's one of the top lenders in the U.S. and Canada for subprime buyers. They work with reputable dealers to bring you the most financially feasible options available.
If you have past delinquencies or are a first time buyer, its agents can help connect you to lenders and dealers to find you the best rate. Rates will depend on the dealers you are paired with. This network facilitates new and used car loans, refinancing, and lease buyouts.
Free, no-obligation application
Specializes in auto loans for bankruptcy, bad credit, first-time buyer, and subprime
Affordable payments and no application fees
Connects thousands of car buyers with auto financing daily
| Interest Rate | In Business Since | Application Length | Reputation Score |
| --- | --- | --- | --- |
| Varies | 1994 | 3 minutes | 9.0/10 |
Car.Loan.com offers special bad credit auto financing for most credit types. They have a quick and streamlined prequalification process, and you can see what your options are within 24 hours.
Its experience with lenders and dealers helps take the frustration out of obtaining an auto loan for both buyers and sellers. Your rates will vary depending on the lenders it works with, but you can expect to see interest rates from 3.4% to 24%.
Loans for new, used, and refinancing
Queries a national network of lenders
Bad credit OK
Get up to 4 offers in minutes
Receive online loan certificate or check within 24 hours
| Interest Rate | In Business Since | Application Length | Reputation Score |
| --- | --- | --- | --- |
| Varies | 2003 | 2 minutes | 7.5/10 |
myAutoloan.com is upfront and honest about its rates, which start at 2.49%. It offers direct lending and can also match you with other lenders so you can make sure you are getting the best rate.
As a leader in online lifestyle financing, it provides innovative solutions for lenders, dealers, and car buyers. On its website, you can check rates and use its interest calculator to see what kind of payments you should expect.
What is an Interest Rate?
An interest rate can be a concern for borrowers who have bad credit. Interest rates are fees added to the principal loan amount for a vehicle, and they can fluctuate from year to year. Interest rates change based on several factors, including the economy, inflation, and the state of the stock market.
The central bank sets interest rates at the beginning of the year to influence buying and the kinds of car buyers that enter the market. This is to offset costs incurred from losses due to economic hardship or inflation.
In general, when interest rates are high, buying is low. When interest rates are low, buying is high.
Auto loan interest rates are generally fixed, meaning the rate will not change even though the central bank or credit union may change rates in the future. This is because debt is secured by the vehicle since it is an asset in and of itself.
If you need a bad credit auto loan, you will probably pay a higher interest rate because banks and credit unions use interest rates to offset the risk of granting a loan to someone with a low credit score. Someone who has excellent credit isn't likely to default, but someone with bad credit is a more considerable financial risk for the auto lender.
What is a Bad Credit Score?
Lenders use credit scores to determine the level of risk associated with lending to individuals. Credit scores are determined based on payments you make on things like loans, utilities, and medical bills, among other expenses.
The range of credit scores is 300 to 850, and this number essentially measures how good you are at paying your bills on time.
Hard times come when they are least expected. And sometimes that can lead to you falling behind on debt obligations, which result in late payments, repossessions, and defaults — all of which can harm your credit score. But there are also ways to raise your credit score or establish credit if you have none.
Credit scores are divided into five categories. Credit ratings between 300 and 579 are considered poor. Scores in the next category range from 580 to 669 and are considered fair or subprime. Scores above 670 are good credit scores, and scores above 800 are considered excellent.

Applicants who fall in the poor category are unlikely to get a loan, and if they do, they usually are charged a very high interest rate.
Applicants in the fair category may also have a hard time getting a loan. However, options are still available with interest rates slightly lower than those available for consumers with e a very poor credit rating.
Credit scores that fall into these bottom two tiers are typically what people consider bad credit scores.
How Can I Get an Auto Loan With Bad Credit?
Getting an auto loan with bad credit can sometimes feel like an uphill battle. But the good news is, there is no minimum credit score for acquiring an auto loan. Buying a car will depend on how much you can afford and how much research you do.
If you don't already know your credit score, the first step to getting an auto loan with bad credit is to check your score and see where you are.
If you fall into the very poor or subprime categories, you may need to build up your credit. Use quality accounting software that comes with features like a mobile app, bill management, and automated payment reminders can help you improve your credit by keeping track of your bills.
Making a bigger down payment on the vehicle you want can also help you get a bad credit car loan. It will help lower your monthly loan payment as well.
You can also enlist the help of a cosigner who will be responsible for making the loan payment if you fail to. This lessens the risk for the lender, so you may be able to secure a lower interest rate. But there is much to consider when asking someone to cosign a loan for you.
And finally, when you are ready to start your search, shop around to find the best rates and terms. Even as a subprime borrower, you can get an auto loan if you do your due diligence.
How Does an Auto Loan Impact My Credit Score?
When you complete a loan application, the lender will access your credit report, which is called a hard credit inquiry. This shows up on your credit report, so you and others lenders can see this activity on your credit report for two years.
While this hard credit inquiry may decrease your score, your credit score will begin to slowly increase if you make your payments in full and on time.
However, if you miss a monthly payment, this will lower your score and impact your ability to make other purchases. If you already have bad credit, missing payments can lead to financial disaster. If you miss too many payments, your auto lender may repossess your vehicle, meaning they take it back due to your failure to pay.
Repossession has a horrible impact on your credit, so make sure you stay within your means when signing for an auto loan.
What is the Average Car Loan Interest Rate With Bad Credit?
When you seek an auto loan with weak credit, you can expect to pay a higher interest rate than someone with a good or excellent credit rating.
Right now, the average interest rate on an auto loan for individuals who fall into the subprime category is about 11.33% for a new vehicle and 17.78% for a used car, according to Experian. That's about twice as much interest as someone who has good credit is charged.
How Do I Know What Interest Rate I'll Pay?
Your interest rate will depend on your lender and your credit profile. You won't know what auto loan rate you'll be offered without talking to a bank, credit union, or other financial institution.
Banks typically have lower interest rates than buy-here-pay-here lenders, but banks also have stricter financing criteria.
You can get some idea of the interest rates you may be offered by looking at national averages. You can also use a formula to determine what your monthly payment may be based on various interest rates to help explore what you can afford:
Interest = Principal x Interest Rate x Loan Term
You can use one of several online loan calculators to avoid doing the math yourself.
How Can I Get a Lower Interest Rate On an Auto Loan?
Getting the lowest interest rate possible is always the goal, especially when you're seeking a bad credit auto loan. To get a lower interest rate from the start, consider waiting until your credit score has increased from your efforts to reconcile your debts and outstanding monthly payments.
If you are in a position where you can't wait, your best bet is to shop around at several lenders to see which will give you a loan offer at the lowest rate. The lending networks we recommend can help you compare offers from multiple lenders without applying individually to each lender.

If you are at least six months into your loan term and your credit has improved, your loan-to-value ratio has improved, and interest rates are down, it may be a good time to refinance.
To get a refinance loan, you can go to your existing lender or another lender and ask about updating your rates based on your new financial situation. Keep in mind that they will run your credit, so make sure you are ready to go through with the refinance loan before you start.
Can I Get a Car Loan With a 500 Credit Score?
If you have a credit score of 500 or less, you are still technically eligible to receive a bad credit car loan (and sometimes even a personal loan). However, you will pay the highest interest rates.
On average, those whose credit scores fall into the lowest category (300-579) can expect to receive a 13.97% average interest rate on their loan term, according to Experian.
The good news is that getting a vehicle loan is one of the most effective ways to boost or build credit when you consistently make your payments on time. And, with an improved credit score, you can refinance your loan to secure a lower rate in the future.
Is it Better To Get a Loan From a Bank or Dealership?
The short answer: It depends. Getting an auto loan through a bank or a dealership will entail almost the same process. However, banks have limits they must adhere to regarding your debt-to-income ratio.
Dealerships may not have these limits, but they may offer you a higher interest rate as a handling fee, of sorts, so they can make money from the sale.
Buy-here-pay-here (BHPH) dealerships will almost always have the highest interest rates and the highest monthly payments. But they can be a good option for those who have bad credit since they typically approve you based purely on your income.

Lease-to-own options may also be beneficial but remember that the car is not yours until you make your final monthly payment.
Compare Auto Loan Rates For Bad Credit Online
If you have bad credit or no credit history and need an auto loan, don't be discouraged. Plenty of options are available for would-be buyers with weak credit.
Shop around and compare auto rates online to make sure that you are getting the best deal. Lenders are usually willing to offer fair auto loan rates for bad credit. It's just a matter of finding the right lenders and dealers.
Advertiser Disclosure
BadCredit.org is a free online resource that offers valuable content and comparison services to users. To keep this resource 100% free for users, we receive advertising compensation from the financial products listed on this page. Along with key review factors, this compensation may impact how and where products appear on the page (including, for example, the order in which they appear). BadCredit.org does not include listings for all financial products.
Our Editorial Review Policy
Our site is committed to publishing independent, accurate content guided by strict editorial guidelines. Before articles and reviews are published on our site, they undergo a thorough review process performed by a team of independent editors and subject-matter experts to ensure the content's accuracy, timeliness, and impartiality. Our editorial team is separate and independent of our site's advertisers, and the opinions they express on our site are their own. To read more about our team members and their editorial backgrounds, please visit our site's About page.