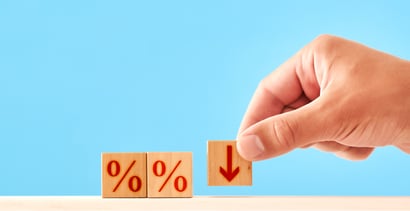 We've researched the best bad credit loans with low interest rates so you don't have to. Whether you're looking for a small personal loan, an auto loan, or a long-term mortgage loan, we have you covered.
A lender won't disqualify your application for a bad credit loan because of previous financial mistakes. You can apply for a loan online and, in most cases, receive an approval decision in a matter of minutes. With a bad credit personal loan, you can have money in your account as soon as the next business day.
With an online loan, your interest rate, monthly payment, and repayment term will depend on the type of loan you accept and the terms set by your direct lender. Make sure you carefully study every loan offer you receive to make sure you choose the best loan option for you.
Bad Credit Personal Loans With Low Interest Rates
You can use the proceeds from a bad credit personal loan in any way you choose. That means you can use the money as a debt consolidation loan, a business loan, or to pay for a large purchase or that family vacation. 
The online lending networks below can match you with more than one direct lender willing to fund a secured personal loan or unsecured personal loan right away — even if you have a bad credit score.
Your MoneyMutual loan application takes less than five minutes to complete. Once you submit your loan request, MoneyMutual will send your request to every direct lender in its network. And you could receive an email with multiple loan offers to choose from within minutes.
If you find a small personal loan offer that suits your needs, you can complete your loan agreement paperwork in less than an hour and have money in your linked checking or savings account within one business day.
CashUSA specializes in larger personal loan options that come with a competitive annual percentage rate of interest. There's no minimum credit score needed to qualify for an installment loan, and the loan term and monthly payment will depend on the amount of money you borrow.
Your online lender may offer a host of loan options based on your credit history, including a secured loan or an unsecured loan. You may also qualify for a loan that allows you to have a cosigner, which will help improve your odds of getting a low interest rate.
You don't need excellent credit to qualify for a loan with a direct lender on the BillsHappen network. In fact, there are no minimum credit score requirements to qualify for a loan. This network reviews each lender it partners with to ensure you don't get matched with a predatory lender that takes advantage of you.
And unlike a cash advance or payday loan, you'll have several months to repay your installment loan — and you won't face the higher interest rates associated with those ultra-short-term loans.
CreditLoan.com lenders offer several types of loans with varying loan amounts. That means you can qualify for a small loan or a larger personal loan with a longer repayment term. Lenders work with borrowers to find the bad credit loan options suitable for them.
And as with the other bad credit loans with low interest rates on this list, you'll have time to repay your debt through a series of monthly payments. Your credit history — and the results of your credit check with a major credit bureau — won't scare potential lenders away.
Bad Credit Loans has your back if you've been turned down for a loan from a bank or credit union. This online lender network claims that it often finds loan options for borrowers who can't find loans elsewhere.
If you have a bad credit score, you may qualify for a secured personal loan or an unsecured personal loan that doesn't require collateral for approval. Your loan term and loan amount will vary by lender.
As you'd expect from its name, PersonalLoans.com only deals in personal loans that you can use for any purpose you choose. That means you can use your money as a business loan, a debt consolidation loan, or anything else your heart desires.
And since this isn't a payday loan or a cash advance, you don't have to worry about an exorbitant origination fee or interest rate that cripples your budget over the life of the loan.
Bad Credit Auto Loans With Low Interest Rates
The following companies operate like the personal loan lending networks above — you fill out a short prequalifying form that will match you with reputable auto lenders and dealers near you. The following networks all accept applications from borrowers with bad credit.
Auto Credit Express works quickly to partner you with a lender or auto dealer in your area that is ready to finance your auto loan. Shortly after submitting your loan request, a dealer or lender will contact you to go over your loan options.
Auto Credit Express also partners with CarsDirect, Green Car Reports, Motor Authority, and The Car Connection to quickly find loan options for you. If approved, you can complete your loan and drive away in your new vehicle on the same day.
Car.Loan.com can approve borrowers in less than three minutes, which allows them to begin shopping for their new vehicle online immediately. 
This network has a long history of finding loan options for any borrower. While applicants aren't guaranteed a car loan offer, qualified consumers may hear from dealers in their area within 24 hours or less to discuss their vehicle and loan options.
MyAutoLoan.com can help qualified consumers receive up to four auto loan offers within a matter of minutes. This gives them the opportunity to study each offer and choose the one with the best terms.
Multiple offers mean each lender is competing for your business. You're likely to receive the lowest possible interest rate and monthly payment the lender can offer.
Bad Credit Home Loans With Low Interest Rates
Recommendations 10 and 11 are referral services — they will try to find you a low-rate home loan from a network of mortgage lenders. Recommendations 12 and 13 are direct lenders you've heard of and are among the largest mortgage lenders in the nation.
You can submit a mortgage refinance loan request to eMortgage® in a matter of minutes and possibly receive multiple loan offers shortly after. This independent comparison service partners with many lenders to find quick and affordable refinance loans for any borrower.
You may also qualify for a secured home equity loan that allows you to tap into your current equity to pay for home repairs or other needs at an affordable rate.
The FHA Rate Guide doesn't directly lend money — but it's a tremendous resource for connecting to lenders that specialize in government-backed FHA home loans for consumers with less-than-perfect credit.
These loans often require a much smaller down payment and have a relaxed acceptance standard that doesn't require excellent credit for approval. 
Wells Fargo Home Mortgage has helped generations of homeowners purchase their first home. This bank is one of few mortgage lenders that consider loan applications for prefabricated or mobile homes.
You can apply for a mortgage online in a matter of minutes or you can submit your loan request at one of the thousands of Wells Fargo branches throughout the U.S.
Bank of America is one of the country's oldest and largest banks. So, it only makes sense that it would also be one of the largest mortgage lenders in the U.S.
Bank of America offers several mortgage options, including conventional loans, government-backed FHA loans, HUD loans, or VA loans that make it easy to purchase a new home. 
Can I Get a Low Interest Rate With Bad Credit?
The internet makes it easy to qualify for bad credit loans with low interest rates. With online personal loan networks like those listed above, you can submit a loan request in less than five minutes and likely have multiple loan offers to choose from shortly after.
Most of the companies above are not direct lenders. They're referral services for lenders throughout the U.S., and thanks to automated underwriting, these lenders can process your loan request in a matter of seconds.
Once you submit your request, the network immediately forwards your application to each of its partner lenders. Since these lenders have to compete for your business, you're guaranteed to get their best possible offer — ideally with a low interest rate, an agreeable repayment term, and an affordable monthly payment.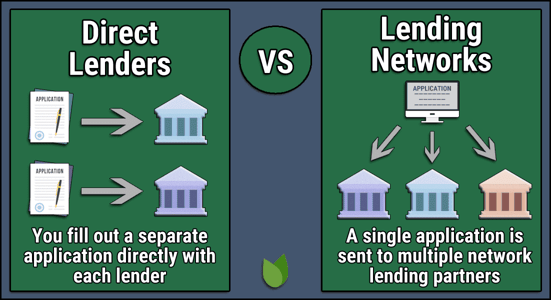 If you accept a loan offer, the network will forward you to the lender's website, where you'll complete the loan agreement. The lender will then submit your funds to a linked checking or savings account, and the money will show up in your account by the next business day.
Some lenders also provide expedited processing, which deposits the money into your account immediately for an additional fee. But you don't pay a fee to use an online lending network — the network will collect a referral fee from your lender after your loan closes.
How Does a Lender Calculate My Interest Rate?
Your lender will use a host of data points to determine the interest rate it will offer you during the loan application process. Some of this information is easy to find on your own, but some of that data is part of a proprietary algorithm that's unique to the lender and not published.
The main thing a lender looks at when determining loan eligibility is the borrower's risk. Lenders try to avoid loans that may pose an excessive risk — that means avoiding borrowers who have a recent history of missed payments or default.
If a lender agrees to work with someone who represents a financial risk, that borrower will likely receive a higher interest rate, a large origination fee, or other charges to offset the risk the lender is taking of the borrower not repaying the loan.
To gauge risk, a lender looks to see whether:
You have recent late payments or defaults.
You have a large amount of monthly debt obligations.
You have excessive credit card debt.
You change jobs or residential addresses regularly.
You have sufficient income to afford a new loan payment.
Other factors come into play when assessing risk, but these are some significant points to consider before applying for a loan. Most of this information is available to the lender through a credit check with a major credit bureau.
The lender will calculate your interest rate based on your risk assessment, which is represented by your credit score. The lower your credit score, the higher your interest rate. The lender may decline your application if it considers you too risky of an applicant.
On the other hand, a borrower who has a strong track record of on-time payments will receive a low interest rate and fewer fees when repaying their debt.
What Credit Score Do I Need to Get a Loan?
Not all lenders share their minimum credit score requirements for approval. That's because different loans have different qualification criteria, and lenders look at more than just your credit score to determine your loan eligibility.
For example, someone who has bad credit may still qualify for a loan if they can show sufficient income to repay the debt in a reasonable amount of time.
That said, some lenders only work with consumers in a specific credit score range. A bank or credit union may advertise their loans to borrowers who have good credit. That means you'll likely need a credit score of at least 670 to qualify.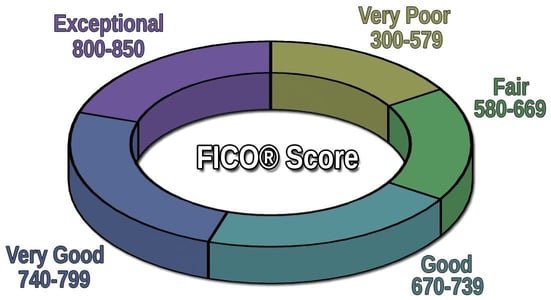 Other lenders, like those that partner with the lending networks listed above, specialize in curating bad credit loan packages for consumers who have immediate needs.
But that doesn't mean that anyone who has bad credit will qualify for a loan. As defined, a bad credit score covers a broad range. This includes any FICO score between 300 and 579.
An applicant with a score in the 300s will have a much harder time finding a loan than someone with a score in the upper 500s. Someone with a very poor credit score may need a cosigner or have to settle for a secured loan that requires collateral for approval.
Which Type of Loan Has the Lowest Interest Rate?
Interest rates vary by loan type — and while a home loan may have a lower interest rate than that of most other loans, that doesn't make it the most affordable.
Depending on the state of the economy and the housing market, you can often find a mortgage in the 2% to 3% range if you have excellent credit. Many auto lenders offer interest rates between 3% and 15%. And you can find bad credit personal loan options with interest rates as high as 36% or higher.
But don't let those numbers trick you into thinking that one loan is better than the other. Regarding interest rates, it's all about the number of payments you'll have to make.
For example, a short-term loan with a higher interest rate will cost you less than a long-term loan with a lower interest rate. To understand this better, let's look at two loans with different loan terms and interest rates.
Consider a $50,000 loan with a one-year (12-month) loan term and a 3% interest rate. To satisfy this debt, you'll pay $4,395.79 each month. By the end of the loan, you will have paid $2,749.53 in interest.
Now let's stretch that same $50,000 loan out for 10 years (120 months) with an interest rate of 3%. With this loan, you'll pay a much more affordable $482.80 monthly payment. But you'll also pay a whopping $7,936.45 in interest by the end of your loan term.
This is why we discourage extending loans for longer than you need to repay your debt. The more payments you make, the more interest you'll pay. Consider your monthly budget and don't overextend yourself when applying for a loan — but don't agree to a longer term than you need to repay your loan.
What Is the Difference Between a Secured and an Unsecured Loan?
Secured and unsecured loans are the two main types of loan products offered on the financial market today. While both can provide you with the loan you need, there's a big difference between the two.
A secured loan requires collateral for approval. This means that you'll have to place something of value as security in case you stop making payments on your loan.

A car loan is a common form of secured loan. If you stop making payments, the lender will repossess your vehicle and sell it to gain back the money lost on the loan.
A home loan is another type of secured loan. The lender can foreclose on your home if you stop making payments. A pawnshop loan is also a secured loan because the pawnbroker can keep your pawned item if you don't repay your debt.
An unsecured loan is also known as a signature loan. That's because you don't need collateral for this loan. All the lender needs is your signature on a legally binding loan agreement that guarantees repayment.
This loan is riskier for lenders because there's very little recourse if the borrower defaults on the deal. At best, the lender can sell the bad debt for pennies on the dollar to a collection agency.
That's why lenders prefer to extend secured loan offers to high-risk borrowers. A borrower may be considered high risk because of a bad credit score, recent late payments, a low income, or for other reasons.
If you have bad credit and need an unsecured loan, you can expect to pay a higher interest rate or other fees that the lender tacks on to offset the risk involved with the deal.
How Long Does It Take to Get a Loan?
The amount of time it takes to finalize a loan will depend on the type of loan you seek. For example, you may need a month or longer to close a home loan. On the other hand, a personal or auto loan may only require a few hours of your time.

With online lending networks — like those ranked above — you can apply for a personal loan online at any time of the day or night. In most cases, the lenders that partner with these networks use automated underwriting to make approval decisions in seconds.
Once you find a loan you like, you can accept the terms and begin the loan agreement paperwork. This typically takes an hour to complete. Once that's submitted and the lender signs off on your loan, your funds will be deposited into your checking or savings account by the next business day.
That's important to remember because your loan may take longer to process and receive if you apply on a weekend or holiday.
Auto loans can also be processed quickly, with most dealers completing the loan paperwork within a few hours. You can often drive off in your new or used vehicle the same day you apply.
Mortgage loans traditionally take longer to complete because they're large loans with a long repayment term (typically 30 years). With that much risk involved, lenders usually take their time looking into every potential borrower.
Get Approved For Bad Credit Loans With Low Interest Rates
People shouldn't have to lose sleep over how to pay for a bill or consolidate debt. And yet, millions of Americans do because they think their bad credit score will disqualify them from getting a loan. That simply isn't the case for most of these consumers.
With the online lending networks listed above, you can find bad credit loans with low interest rates to purchase a car or a home, or to pay for everyday expenses. You can apply for these loans in a matter of minutes and possibly receive multiple loan offers to choose from shortly after you submit your request.
These loans can help you get back on your feet and work toward rebuilding your credit score. That's a great way to get a fresh start — both mentally and financially.
Advertiser Disclosure
BadCredit.org is a free online resource that offers valuable content and comparison services to users. To keep this resource 100% free for users, we receive advertising compensation from the financial products listed on this page. Along with key review factors, this compensation may impact how and where products appear on the page (including, for example, the order in which they appear). BadCredit.org does not include listings for all financial products.
Our Editorial Review Policy
Our site is committed to publishing independent, accurate content guided by strict editorial guidelines. Before articles and reviews are published on our site, they undergo a thorough review process performed by a team of independent editors and subject-matter experts to ensure the content's accuracy, timeliness, and impartiality. Our editorial team is separate and independent of our site's advertisers, and the opinions they express on our site are their own. To read more about our team members and their editorial backgrounds, please visit our site's About page.