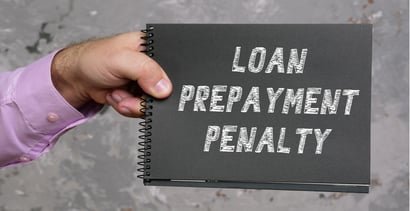 The drawback of bad credit loans with prepayment penalties is that they punish you for being a responsible borrower. Instead of appreciating that you pay your debts off early, bad credit loans with prepayment penalties charge you a fee for robbing the lender of interest rate profits.
Instead of wasting your time and money with a loan that charges a prepayment penalty, consider a bad credit personal loan or an auto loan that won't charge extra for early repayment.
The lending networks below offer loans that can approve you even with a bad credit score. These loans offer an affordable interest rate and monthly payment, and they offer early repayment options without additional loan fees.
Personal Loans Without Prepayment Penalties
You can use your unsecured personal loan for any purpose you choose — which gives you the flexibility to pay for a vacation, cover an emergency expense, finish your debt consolidation, or anything else you need. You may qualify for a small loan amount or a larger loan with a longer repayment term. There's no minimum credit score required to qualify, and you can have your loan funds by the next business day.
Each of the networks listed below can connect you to dozens of lenders ready to work with you right now. Within minutes, you could receive multiple loan offers to choose from.
MoneyMutual is a large online lending network that strives to connect every borrower to a personal loan lender that has money available immediately. This short-term loan option won't charge a prepayment fee and will offer you a repayment option that fits your budget and needs.
Once you finish your loan agreement paperwork, your lender will deposit the loan funds into a linked checking account. You'll have money by the next business day and begin making your installment loan payment one month later.
The lenders that partner with CashUSA will require a credit check with at least one credit bureau, but that doesn't mean a bad credit score will disqualify you from an installment loan.
You may qualify for a bad credit loan with an affordable repayment term that gradually lowers your loan balance. Your annual percentage rate and possible origination fee will depend on your loan term and the lender you choose to work with.
BillsHappen may offer more than one loan option for you to choose from, which may include offers for an unsecured loan, a secured loan, or a payday loan. None of the available loans will charge a prepayment fee.
If you qualify, you can complete your online loan application in an hour or less and have money in your account by the next business day. And if your paperwork doesn't include a prepayment penalty clause, you can begin repaying your debt immediately to finish your loan term early.
Whatever your loan purpose, CreditLoan.com offers access to lenders that won't bog you down with loan fees. Every borrower is treated with respect and appreciation, which is evident by the lending network's high customer service rating.
The lenders this network partners with offer a range of loan types — including unsecured personal loan, business loan, and secured personal loan options — that make it easy to find a loan offer for borrowers with just about any credit history.
Bad Credit Loans lives up to its name by finding loan options for consumers who have trouble finding loan approval elsewhere. And despite the nature of these loans, bad credit borrowers can often find a competitive interest rate and affordable monthly payment.
Loan and origination fee amounts vary by lender. The loan offers you receive will have different terms and loan amounts — so be sure to read and understand every loan offer before choosing the one for you.
PersonalLoans.com maintains two distinct lending networks — one for applicants who have good credit and excellent credit, and another for those who have fair credit and bad credit. This means your loan request will only go to lenders that want to work with you.
If your credit history qualifies, you may receive multiple loan offers within minutes of submitting your loan request. Just make sure that the loan request you accept does not include a prepayment penalty.
You can get a cash advance — also known as a payday loan — from CashAdvance.com. These are ultra-short-term loans that require repayment in full within seven to 30 days, depending on the laws in your state. These loans are fairly easy to qualify for and may not require a credit check for approval.
But easy approval doesn't always make them the best option for you. You can expect a very high interest rate and loan fees that make payday loans the most expensive option on this list. Even the CashAdvance network states that you should only use its services as a last resort and if you have no other loan option.
Auto Loans Without Prepayment Penalties
An auto loan is a kind of secured loan since it uses your newly purchased vehicle as collateral to back the loan. Collateralized loans are a bit safer for lenders and easier for borrowers with poor credit to acquire.
The lending networks listed below can connect you with a lender or dealership in your area to find the financing you need for the vehicle you want — and you don't have to worry about getting a car loan with a prepayment fee.
Auto Credit Express states that it will accept loan requests from consumers with any credit history. That means that you can find the loan you need despite having bad credit. Once you submit your loan request, ACR will send it to a large network of car dealers in your area.
Within 24 hours — but usually much sooner than that — a local dealer will contact you to talk about your financing and vehicle options. In many cases, you can get the entire car loan wrapped up and drive off in your new car on the same day.
Car.Loan.Com prides itself on its speed. This network claims that it can preapprove applicants for an auto loan within three minutes. You can immediately begin shopping online for your new vehicle through an inventory of new and used cars available in your area.
Most lenders allow you to complete your auto loan agreement paperwork online, which can speed up the lending process and get you in your new vehicle much faster.
A single loan request to MyAutoLoan.com may yield as many as four loan offers for you to choose from. Each loan will have a different interest rate, repayment term, and monthly payment amount.
Be sure to read your loan offers carefully to ensure that you won't get stuck with a prepayment penalty. 
What Is a Prepayment Penalty?
A prepayment penalty is a clause in a loan agreement that requires the borrower to pay a penalty fee if they pay the loan off early.
You can find this clause in any type of loan, including a mortgage loan, a personal loan, an auto loan, a business loan, or another loan type. 
But not all loan agreements contain this clause, in fact, most don't. It's entirely up to the lender. 
Most loans charge interest. This is how the lender makes money. But when you pay your loan off early, you eliminate some of the interest fees the lender would have received. 
While paying the loan off early is great for the borrower, it cuts away at the lender's profits. To circumvent these potential losses, some lenders add a prepayment penalty clause.
Prepayment penalties are typically limited to 2% of the loan amount. This means you'll pay 2% of the outstanding balance if you repay your loan during the first year. The penalty percentage may decrease every subsequent year until it reaches 0% as you near the end of your loan agreement.
Although many lenders cap their penalties at 2%, some lenders may impose higher fees at their discretion. That's why it's essential to read and understand your loan agreement paperwork before you sign it. Doing so will eliminate any surprises when it comes time to pay down your debt.
Which Loans Typically Charge Prepayment Penalties?
The inclusion of a prepayment penalty is entirely up to the lender, but not all loans can charge prepayment penalties. For example, federal and private student loans cannot charge prepayment penalties.
However, you may find prepayment penalties in personal loans, mortgage loans, auto loans, business loans, or any other loan.

The most common place you'll find prepayment penalties is in a mortgage loan. That's because these loans are typically designed to spread the interest payments over a 30-year term.
However, prepayment penalties can only legally be imposed on mortgages if the borrower repays the loan within three years of the loan origination.
And as the average auto loan term creeps past six years, more auto lenders are adding prepayment clauses to their loans. 
Some lenders impose rules outside of a prepayment penalty to make sure they recoup their interest fees. For instance, Capital One Auto Finance only allows borrowers to pay their car note up to three months in advance. This ensures borrowers can't pay their loans off too early — and reduce Capital One's profits.
How Do I Know Whether I'll Be Charged a Prepayment Penalty?
Lenders must include their rates and fees in the loan agreement paperwork. The fee schedule will outline your interest rate, monthly payment, and the length of your loan's repayment period.
It will also show any loan origination fees, late fees, or prepayment penalties that you'll incur over the life of the loan.

This is an important document to study before you sign any loan paperwork because it will reveal the entire cost of the loan. This document should also tell you the total amount of money you'll pay to satisfy your loan if you make all of your payments on time.
If you don't see this document in your loan paperwork, ask the lender for it before you sign. Demand to see it — as it could include some hidden charges that you're legally obligated to pay once you sign the final loan agreement.
Are Loan Prepayment Penalties Legal?
Prepayment penalties are legal, and private lenders can add this fee to any type of loan. The inclusion of this fee is entirely at the lender's discretion.
But not every loan can include a prepayment penalty. Federal law prohibits these clauses for many types of home loans, including FHA and USDA loans, as well as student loans.
No laws set a minimum or maximum prepayment fee. Lenders can choose the amount that they charge in every case. The borrower can then decide whether to accept those terms.
How Do I Avoid Prepayment Penalties? 
The easiest way to avoid prepayment penalties is to do your homework, ask questions, and read your loan agreement.
This is especially true if you're signing off on a large loan, such as a new vehicle or mortgage. Larger loans may mean larger fees.
For example, a $1,500 personal loan may charge you 2% of the balance as a prepayment fee. That means you may have to pay as much as $30 if you pay your loan off very early. This probably won't break your bank but is nonetheless annoying.
But what if you have a $300,000 mortgage and sell the home within three years? This scenario could warrant a prepayment penalty of as much as $6,000. That quickly eats away at any profits you may earn from the sale.
Don't hesitate to ask the lender questions about your loan, including: 
Will I be charged a prepayment penalty? 
What other charges are added to the loan? 
What's the entire payoff amount for the loan?
Is there a penalty APR that increases my interest rate if I make a late payment?
What methods of payment do you accept?
By understanding these important details, you can not only save yourself a lot of money over the life of your loan, but you can also save yourself headaches that may arise when dealing with a difficult lender.
Loans With Prepayment Penalties Are Unfair to Borrowers
Whether you're looking for a personal loan or an auto loan, the lending networks listed above can provide you with options for your borrowing needs. And options put power in your hands.
By leveraging your buying power, you force lenders to compete against one another for your business. This means better terms and a more affordable loan for you. It may also mean you can avoid tricky — and expensive — fees, including a prepayment penalty.
When you accept bad credit loans with prepayment penalties, you're giving the lender approval to charge you more for being responsible. We're all taught that we should pay our debts down as quickly as possible. But that doesn't mean you should be charged extra for it.
When you submit a loan request to the networks above, you could receive multiple loan offers to choose from. This allows you to weed out the lenders that want to tack on extra charges — be it a high origination fee, a hefty interest rate, or a prepayment fee.
Advertiser Disclosure
BadCredit.org is a free online resource that offers valuable content and comparison services to users. To keep this resource 100% free for users, we receive advertising compensation from the financial products listed on this page. Along with key review factors, this compensation may impact how and where products appear on the page (including, for example, the order in which they appear). BadCredit.org does not include listings for all financial products.
Our Editorial Review Policy
Our site is committed to publishing independent, accurate content guided by strict editorial guidelines. Before articles and reviews are published on our site, they undergo a thorough review process performed by a team of independent editors and subject-matter experts to ensure the content's accuracy, timeliness, and impartiality. Our editorial team is separate and independent of our site's advertisers, and the opinions they express on our site are their own. To read more about our team members and their editorial backgrounds, please visit our site's About page.