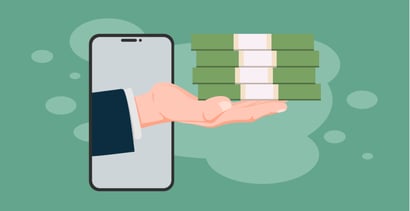 Time typically isn't your ally when you need urgent loans for bad credit. Emergencies happen without warning — and that unexpected bill won't wait for a bank or credit union to consider your loan application.
Even researching options for borrowing money can take too much time. That's why we've done the work for you. Instead of hoping that your bank or credit union will look past your bad credit score, we've found the best online lending networks that won't punish you for previous mistakes.
The networks listed below will send your loan request to several partner lenders, and within minutes, you could receive an email with multiple loan offers from which to choose. If approved, you can have money in your linked checking account by the next business day.
Urgent Personal Loans For Bad Credit
Most of the networks below specialize in helping consumers who have bad credit find an installment loan with a competitive interest rate that fits into their monthly budget. That means you can repay your debt with a monthly payment that won't break the bank.
Each reputable lender network will offer unsecured personal loans and secured loan products that require collateral for approval. The type of loan you qualify for will depend on your credit score and the direct lender you choose to work with.
Short-term loans up to $5,000
Online marketplace of lenders
Funds available in as few as 24 hours
Simple online form takes less than 5 minutes
Trusted by more than 2 million customers
| Loan Amount | Interest Rate | Loan Term | Loan Example |
| --- | --- | --- | --- |
| Up to $5,000 | Varies | Varies | See representative example |
MoneyMutual maintains one of the largest direct lender networks for consumers who need a quick, short term loan. Your single loan request could yield more than one loan offer, each with a unique interest rate, repayment term, and monthly payment.
This is a great loan option if you need a smaller loan amount. You don't need excellent credit to qualify, and MoneyMutual states that each online loan provider in its network will consider your loan request — even if you have poor credit.
CashUSA.com may be for you if you need a larger loan with a longer loan term. Each personal loan lender on this network offers quick loan options with repayment windows extending up to 72 months.
You can submit your loan application at any time of the day or night and still get a loan decision within minutes. If you accept a loan offer and complete your loan agreement paperwork, you'll receive your cash loan by the next business day.
With BillsHappen, a borrower can receive loan approval within hours — not days. And some of the lenders that partner with this network can offer same-day loan options that put cash in your account within minutes. This service may require a fee.
The terms of your unsecured loan will depend on your credit history, but each online lender within this network specializes in bad credit loan products in various loan amounts that won't overextend your budget. And since you're applying to several lenders at once, you'll benefit from the competition and will be sure to get the best offers possible.
CreditLoan.com offers emergency cash loans with quick payouts to your linked bank account. Your single loan request will trigger a soft credit pull that will not harm your credit score or report to a credit bureau. If you qualify for a bad credit loan, you may receive multiple loan offers from which to choose.
And unlike a cash advance or bad credit payday loan, the installment loan you receive through CreditLoan.com will come with an affordable monthly payment that lets you satisfy your debt over time.
BadCreditLoans.com states that it can often find a loan option for every borrower — even one who has trouble getting approved elsewhere. The network can process your loan application in minutes, and each direct lender on the network can quickly pay out your urgent loans.
Depending on your credit history, you may qualify for unsecured personal loans or a secured loan. Be sure to study every loan offer you receive carefully to understand your loan term and the cost of credit.
PersonalLoans.com maintains two unique loan networks. One specializes in bad credit loans, and the other only works with those who have good credit or excellent credit. This assures your loan request will only go to lenders that want to work with you.
A borrower who has bad credit may qualify for lower loan amounts than someone who has excellent credit. But this network still offers a very competitive interest rate, loan term, and monthly payment option.
The 24/7 Lending Group is another online lending network that can provide you with a bad credit emergency loan, regardless of your low credit score. It also partners with direct lenders of large loan amounts that can be used as a debt consolidation loan to pay off expensive credit card debt.
The maximum interest rate for these unsecured loans is 35.99%, making them a better option than emergency payday loans that charge much higher rates.
The type of loan you can get from CashAdvance.com is an online payday loan. This is a type of ultra-short-term loan that requires repayment in full, usually within seven to 30 days, depending on where you live. These loans have a very high interest rate but will not rely on your credit score or credit report for approval.
These emergency cash loans are designed as an option of last resort. While loan approval is typically easy to get, you may dig yourself into a bigger financial hole if you're unable to repay your debt by the agreed-upon date.
What is an Urgent Loan?
An urgent loan is any loan product that offers quick approval and funding. Like any emergency loan, these loans may offer expedited processing to your bank account for an additional fee.
In some cases, a traditional bank or credit union may take days to process your loan application. It can take even longer if you have bad credit and the bank or credit union requires additional documentation or investigation. However, the urgent loans for bad credit listed above can offer a same day loan that takes a matter of hours to complete.
You start by submitting a single loan request to the network of your choice. Your loan request will not trigger a hard credit pull or harm your credit score.
Thanks to automated underwriting, each lender that partners with the network can make a credit decision within seconds at any time of the day or night. This means that you may receive an email with multiple loan offers to choose from only minutes after submitting your loan request.

If you find a loan offer you like, you can accept the terms, and the network will transfer you to the lender's official website, where you'll complete the loan application. This is the last interaction you'll have with the network, and you don't have to pay for its services.
Your loan application may include a full credit check that takes less than one minute to complete. After you submit the official loan agreement, the lender will initiate a funds transfer to put money in your bank account by the next business day. That's important to note because it may take longer to receive your money if you apply during a weekend or on a bank holiday.
Some lenders may require that you agree to an automatic payment arrangement that deducts your loan payment from your bank account on a specific day each month.
How Can I Get an Emergency Loan With Bad Credit?
There are multiple ways to get an emergency loan despite having bad credit. While some may be more risky or expensive than others, the loan option that works best for you will depend on your needs and credit score.
Online lending networks: As discussed earlier, an installment loan from the networks listed above is a great way to get the money you need with an affordable monthly payment. An unsecured personal loan may be the most cost-effective way to pay for your emergency.
Cash advance loans: Loans from an online payday loan or a cash advance loan center in your area will require quick repayment and charge you very high interest rates. An added origination fee may make this the most expensive option. But you can often qualify for a payday loan with no credit check, which makes them convenient if you have very bad credit.
Pawnshop loans: Your local pawnshop may offer you a secured loan if you offer something of value as collateral. Just remember that most pawnshops only provide loans that equal 25% to 60% of the value of your item. That means that, if you don't follow the repayment agreement to the letter, you risk losing a valuable item for a loan of much lesser value.
Other secured loans: Like a pawnshop loan, you can often find an emergency cash loan if you're willing to offer up some collateral. This may include a car title loan, a home equity line of credit, or other secured loan types.
Whichever loan type you choose, make sure you understand the risks and costs associated with the financial deal. Some loans tack on hidden fees or charges that you're not expecting until it's too late.
By reading your loan paperwork before you sign it, you'll minimize your chances of getting stuck in a no-win loan that drains your bank account and causes more emergencies than it fixes.
What Is the Easiest Loan to Get With Bad Credit?
A payday loan with no credit check is the easiest loan to get with bad credit — but that doesn't make it the best loan for your situation.
A payday loan, or cash advance loan, is a loan designed to act as a bridge to your next payday. Instead of paying off the debt with a series of monthly payments, you'll have to repay your loan — with interest — using your next paycheck.
Instead of depending on a credit check for approval, your payday lender will typically only require proof of income that shows that you can repay the debt on your next payday.
But you'll pay for this convenience. These are some of the most expensive loans on the market. Some borrowers have racked up thousands of dollars in interest charges and penalties for loans that started as only a few hundred dollars.
These are a last-resort option for only the direst of emergencies. In most cases, you can find a more affordable and flexible loan if you apply through an online lending network, such as those listed above.
Can I Get a Loan With No Credit Check?
You can usually get a payday loan without a credit check. Payday loans rely on your income and ability to repay what you borrow to determine approval. And that's why these loans are usually so expensive — they're a convenient way to quickly get a small loan.

Some forms of secured loans may also approve your loan request without a formal credit check. These loans require collateral to secure your loan — just like the security deposit you'd place on an apartment or rental car.
A common form of secured loan is a pawnshop loan, where you accept a cash loan in exchange for an item of value. If you repay the loan and interest charges on time, you'll get your item back. If you don't, the lender will keep your item and sell it to recoup the money it lost.
A car title loan will use your vehicle's title as collateral. A home equity loan will use the equity of your home as collateral to get the loan you need. The latter will likely require a credit check if you're applying for large loan amounts.
The loan amount you're approved for will depend on the lender you work with and the value of your collateral. Just remember that the lender will typically only lend you a small percentage of the item's worth — which means you may lose a very valuable item for a very small loan.
Can I Qualify For a Loan if I'm Unemployed?
Many lenders will consider your loan application if you're unemployed, as long as you can prove that you have sufficient alternative income to repay your debt.
Your income doesn't have to come from employment. Your lender may consider the following streams of income, to name a few:
Alimony
Child support payments
Government benefits, including unemployment
Investment returns
Retirement benefits
Annuity payments
Student aid
Structured settlements
Even if you are employed and receive a regular paycheck, you can improve your application by adding any of these regularly occurring income streams that you receive. Doing so will increase your income totals and show the lender that you can comfortably afford your monthly payment without stressing your budget.
What's the Difference Between a Personal Loan and a Payday Loan?
Personal loans and payday loans have several differences — with the key difference being the cost.
A personal loan is also known as an installment loan and allows you to repay your debt through a series of monthly payments. A payday loan is a loan with a much shorter term that demands repayment, with interest, in one lump sum within seven to 30 days or so, depending on where you live.

A payday loan may also have a higher origination fee or other charges that add to the total cost of the loan. If you cannot repay your debt on your next payday, the lender will renew the loan agreement with an even higher interest rate and more fees. This can bring your loan's interest rate beyond 400%.
A personal loan will likely require a credit check for approval, whereas you can often qualify for a payday loan without a credit check. All you'll need is proof of sufficient income to repay your loan on time.
A personal loan is an unsecured loan that requires no collateral for approval. A payday loan uses your next paycheck to cover your debt repayment. The loan payment is usually automatically withdrawn from your bank account and is why most payday lenders require applicants to have a checking account in their name.
Payday loans are risky and expensive. While they may offer the convenience of skipping a credit check, you'll still pay dearly for the opportunity. Instead of risking your financial future, a personal loan you can repay over time may be a better choice. Or check out some of these apps that will advance money from your next paycheck for free.
Get Approved For Urgent Loans For Bad Credit Online
Don't let your previous financial mistakes make your current emergency even more difficult. Instead of borrowing money at cut-throat interest rates, consider urgent loans for bad credit from an online lending network.
There's strength in numbers — and when you apply to the networks we recommend, your loan request will be seen by lenders throughout the U.S. These lenders will then compete for your business by offering you the best emergency loans possible.
If you qualify, you can receive your loan proceeds within one business day. Some lenders may offer expedited processing for an added fee that puts money in your bank account within minutes. Either way, a personal loan is more affordable than a payday loan when you need to cover an emergency expense.
Not only will this help to alleviate whatever emergency you have, but it will decrease the impact that the emergency has on your finances going forward. That's a bonus for both you and your family.
Advertiser Disclosure
BadCredit.org is a free online resource that offers valuable content and comparison services to users. To keep this resource 100% free for users, we receive advertising compensation from the financial products listed on this page. Along with key review factors, this compensation may impact how and where products appear on the page (including, for example, the order in which they appear). BadCredit.org does not include listings for all financial products.
Our Editorial Review Policy
Our site is committed to publishing independent, accurate content guided by strict editorial guidelines. Before articles and reviews are published on our site, they undergo a thorough review process performed by a team of independent editors and subject-matter experts to ensure the content's accuracy, timeliness, and impartiality. Our editorial team is separate and independent of our site's advertisers, and the opinions they express on our site are their own. To read more about our team members and their editorial backgrounds, please visit our site's About page.