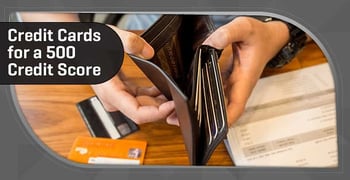 With all the options on the market today, finding credit cards for a 500 credit score is not impossible, although it may be more challenging than landing a high-limit card with a top-tier credit score.
The game of golf stands out from many similar activities by having a somewhat unconventional scoring system. Rather than earning points to reach a high score, the goal is actually to have the lowest score — and yes, negative scores are possible.
Unfortunately, the consumer credit world does not operate on a golf-like scoring system. As with most games, "winning" the credit score game requires a high score. In most cases, this means being toward the 850 end of the 300 to 850 scoring range used by the most common scoring models.
But it's not an even split. Though technically near the halfway mark, credit scores that are below 600 are usually considered to be poor, and scores at or below 500 easily qualify as bad credit. However, while a credit score of 500 or less can make your financial life more difficult, it doesn't have to exclude you from credit entirely.
Secured | Unsecured | Prepaid | FAQs
Best Secured Cards for People with a ≤500 Credit Score
Your credit profile is the tool lenders use to judge your creditworthiness, or how likely you are to repay any money you borrow. Low credit scores indicate a limited credit history or a bad credit history — either of which makes lenders nervous. Since nervous lenders are less likely to approve your application, this makes it harder to get new credit (and more expensive when you do).
That's where secured credit cards can make life easier. Secured cards require a cash deposit that acts as collateral for the account, reducing the risk to the lender. With less risk with which to to contend, lenders are more open to applicants with low credit scores. Moreover, our top-rated secured cards for bad credit have no credit score minimums at all.
Invest your tax refund to improve your credit by making the refundable deposit for your new secured card today
Receive Your Card More Quickly with New Expedited Processing Option
No Credit History or Minimum Credit Score Required for Approval
Quick and Complete Online Application
Full-Feature Platinum Mastercard® Secured Credit Card
Nationwide Program though not yet available in NY, IA, AR, or WI *See Card Terms.
Apply in just a few moments with no negative impact to your credit score; no credit inquiry will be recorded in your credit bureau file
| Application Length | Interest Rate | Reports Monthly | Reputation Score |
| --- | --- | --- | --- |
| 9 minutes | 19.99% (V) | Yes | 7.5/10 |
Invest your tax refund to improve your credit by making the refundable deposit for your new secured card today
No Credit History or Minimum Credit Score Required for Approval
Monthly Reporting to all 3 Major Credit Bureaus to Establish Credit History
Credit Line Secured by Your Fully-Refundable Deposit of $200 -- $2,000 Submitted with Application
Nationwide Program though not yet available in NY, IA, AR, or WI *See Card Terms.
Apply in just a few moments with no negative impact to your credit score; no credit inquiry will be recorded in your credit bureau file
| Application Length | Interest Rate | Reports Monthly | Reputation Score |
| --- | --- | --- | --- |
| 8 minutes | 9.99% (V) | Yes | 7.5/10 |
To open a secured card, you'll need to make at least the minimum required deposit. Your deposit will be placed in a secured savings account and remain untouched so long as your account stays in good standing. You can get a full refund on your deposit simply by closing your credit card account with a $0 balance.
With most secured credit cards, the amount you deposit will determine the size of your credit limit. For instance, making a $500 deposit will typically unlock a $500 credit line.
It's important to note that your deposit will not be used to pay your monthly bill or to otherwise cover any purchases or fees. You'll still need to make at least the minimum required payment each month before your due date to keep your account current.
Your deposit will only be used to pay your outstanding balance if you default on the card account and the account is closed by the issuer with a non-zero balance. However, defaulting on a credit card is a serious problem that can cause significant damage to your credit score, so it's best to avoid it if at all possible.
Best Unsecured Cards for People with a ≤500 Credit Score
On the surface, unsecured credit cards — those that don't require a deposit or another form of collateral to open — seem like the better option because you don't need to to make a big deposit to open the account. However, unsecured credit cards designed for consumers with bad credit will typically charge much higher rates and fees than secured cards.
At the same time, not everyone can afford to simply allow hundreds of dollars to sit in a locked account for months or years, making unsecured cards the only real option. Some of our best unsecured cards for bad credit will accept a wide range of credit scores, including those at or below 500.
All credit types welcome to apply!
Free access to your Vantage 3.0 score From TransUnion* (When you sign up for e-statements)
Monthly reporting to the three major credit bureaus
See if you're Pre-Qualified without impacting your credit score
Fast and easy application process; results in seconds
Free online account access 24/7
Checking Account Required
| Application Length | Interest Rate | Reports Monthly | Reputation Score |
| --- | --- | --- | --- |
| 9 Minutes | See website for Details* | Yes | 8.5/10 |
Easy pre-qualification process with fast response
Less than perfect credit is okay
Online servicing available 24/7 at no additional cost
Unsecured credit card, no security deposit required
Account history is reported to the three major credit bureaus in the U.S.
| Application Length | Interest Rate | Reports Monthly | Reputation Score |
| --- | --- | --- | --- |
| 8 Minutes | 24.9% | Yes | 8.0/10 |
Checking Account Required
Fast and easy application process; response provided in seconds
A genuine Visa credit card accepted by merchants nationwide across the USA and online
Manageable monthly payments
$300 credit limit (subject to available credit)
Reports monthly to all three major credit bureaus
| Application Length | Interest Rate | Reports Monthly | Reputation Score |
| --- | --- | --- | --- |
| 9 Minutes | See terms | Yes | 8.5/10 |
Although you won't need to make a deposit for an unsecured credit card, keep an eye on the various fees you may wind up paying. Many unsecured subprime cards will charge relatively high annual fees, as well as often charging a processing fee to open the account and a monthly maintenance fee after the first year.
Interest rates for unsecured subprime cards are also generally very high, with a rate above 25% not uncommon. This can make carrying a balance extremely expensive as interest fees start adding up, so it's best to pay your balance in full each month to avoid the fees.
Of course, you'll need to check the card's terms and conditions to ensure it has a grace period on interest if you want to avoid all interest fees. With a grace period, you won't be charged interest on your purchases so long as you pay the balance in full before the due date.
Another reason to pay your unsecured card balance in full each month is the low limits. Most unsecured subprime cards will cap your credit limit at a low amount — $300 is common — which can cause your utilization rate (how much credit you use versus how much you have) to skyrocket will only a few purchases. Keep your balances low to maintain a healthy utilization rate.
Best Prepaid Cards for People with a ≤500 Credit Score
In today's world, it's nearly impossible to get by without some form of plastic payment method; if you don't have a credit card, you often need at least a debit card for things like online shopping or renting a car or hotel room. However, some folks want to avoid using credit cards or their bank cards for purchases due to fears of fraud or theft.
A prepaid card can be a good solution for those consumers who don't want a credit card. To use a prepaid card, you simply add funds to the account and then start making purchases. When the funds run out, you can reload the card and continue to make purchases. Our top-rated prepaid cards can be used to make purchases anywhere their network is accepted.
With Netspend Direct Deposit, you can get paid faster than a paper check.
No late fees or interest charges because this is not a credit card.
No Overdraft Fees on purchases using your card.
Use the NetSpend Mobile App to manage your account on the go and get text message or email alerts (Message & data rates may apply).
Card issued by MetaBank®, Member FDIC. Card may be used everywhere Visa Debit cards are accepted. "Apply Now" for full details.
| Application Length | Interest Rate | Reports Monthly | Reputation Score |
| --- | --- | --- | --- |
| 10 Minutes | N/A (Prepaid) | No | 7.0/10 |
One thing to understand is that prepaid cards aren't attached to a line of credit. You load the funds used to make purchases onto the card before you start swiping, so you never have to "borrow" money to complete a transaction as you would with a regular credit card.
On the one hand, the lack of credit association means your credit profile won't be an impediment to obtaining a prepaid card, and your prepaid card won't impact your credit score at all. On the other hand, it also means that the account can't be used to establish your credit profile or build credit history.
In addition to not being able to build credit, fees can be another big downside to prepaid cards. Depending on the specific card and payment option you select, you'll either pay a fee each time you use your card — a fee that can vary based on whether it is a signature or PIN transaction — or you'll pay a monthly fee, usually between $5 and $10.
Some prepaid cards will also charge fees for non-transactional uses of your card, such as checking your balance at an ATM or withdrawing cash. Additionally, the methods (and cost) of reloading your card will vary; some prepaid cards have partnerships with major retailers that can make reloading easier.
FAQs About Having a ≤500 Credit Score
Although personal finance information is more easily accessible than ever, financial education is still woefully lacking in the U.S. According to one study, as many as two-thirds of Americans can't pass a basic financial literacy test and, in a separate study, nearly 25% of millennials who were asked to describe what a credit score is couldn't do so correctly.
In other words, if you find yourself with a lot of questions about credit — you're not alone. Unfortunately, that lack of credit knowledge can make it all too easy to wind up with bad credit. To help make sense of your score, we've answered some common questions about having a credit score of 500 or below.
Is a 500 Credit Score Good or Bad?
Perhaps one of the most confusing aspects of consumer credit scores is that there are so many different types of scores. Your credit score can vary based on everything from the credit bureau that furnishes the information to the scoring model used to calculate the actual score.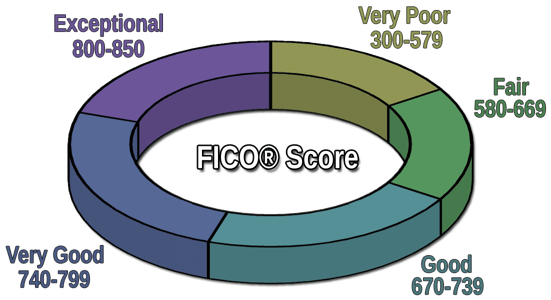 The Fair Isaac Corporation, better known as FICO, is the largest credit scoring agency in the U.S., and most lenders will use some version of a FICO credit score when evaluating credit applications. Among the various FICO credit scores (there are dozens), the FICO Score 8 is the most common.
VantageScore is the second big player in consumer credit scores. Many free or "educational" credit scores — such as those offered by third-party services like Credit Karma — are based on the VantageScore 3.0 scoring model, though there are several model versions.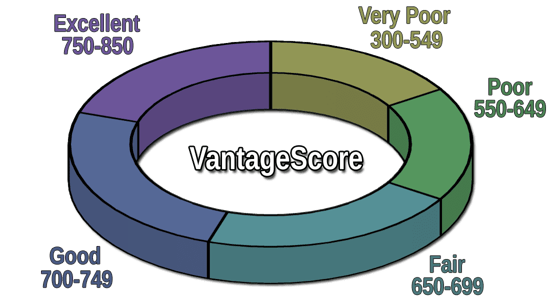 Both the FICO Score 8 and the VantageScore 3.0 have their own specific credit score ranks and levels, but each uses the same basic 300 to 850 range. On both ranges, the higher the score, the better, with 850 being the absolute best possible credit score.
FICO typically considered any credit score below 580 to be subprime, while VantageScore draws the subprime line at scores below 650. This means that credit scores of 500 and below are firmly in the bad credit category no matter which model is used to calculate your score.
What Causes a 500 Credit Score?
In an ideal world, we'd all start out with perfect credit scores. In actuality, we all start out with a bad credit score and have to work our way up from there.
With that in mind, credit scores of 500 and below can be the result of one of two things: not enough credit history, or a bad credit history. When you first start building credit — likely with a single credit card — it takes six months to build up enough credit history that you can get a credit score.
Even if you do everything perfectly for those six months, your initial credit score is likely going to be bad. At the very least, don't expect to see a figure above 600. With smart credit behaviors, including always paying on time and maintaining low balances, you should see your credit score improve.
If you've already been at the credit game for a while, a low credit score is likely the result of some poor decisions or credit mistakes. Missed payments are a common source of bad credit, as even a single delinquent payment (more than 60 days past due) reported to the bureaus can cause your credit score to plummet.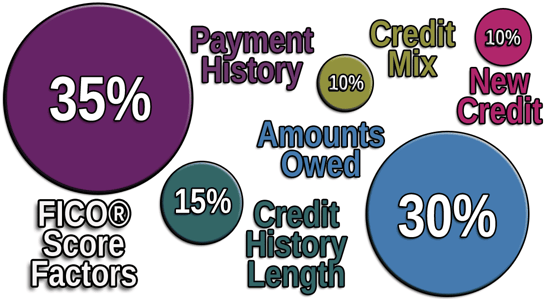 In fact, your payment history is the single largest factor in your credit score, accounting for 35% of the calculation. Having credit cards that are maxed out (or close to) and opening too many credit cards at once can also cause your credit score to decrease.
How Do You Improve a Low Credit Score?
The best way to increase a credit score of 500 or below will depend primarily on how you got a low score in the first place. For instance, if your low credit score is due to having a thin credit profile, then simply building up a positive credit history over time should see your credit score increase.
If, however, your low credit score is due to some financial mistakes, you'll need to analyze your credit reports and build a plan. Make sure you check all three of your credit reports (you have one from each of the three main credit bureaus: Equifax, Experian, and TransUnion) to get a complete picture of your credit health. You can do this for free once a year through AnnualCreditReport.com.
Having cards with high utilization rates — the ratio of how much credit you are using over how much you have available — will also drop your score, especially if you have credit cards that are maxed out. Paying down these balances can do a lot to boost your credit score.
Of course, your payment history is the largest factor in your score, meaning things like delinquent payments or defaulted accounts can really hurt your credit scores. While payments that are a day or two late won't cause your score to decrease, anything that is 60 days or more past due will be reported to the credit bureaus as delinquent.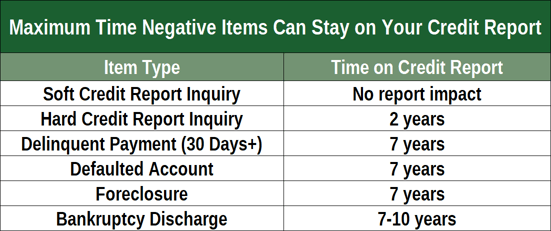 Most negative accounts can stay on your credit reports for up to seven years, so that delinquent payment from several years ago will still be hanging around for several more years. The upside is that those accounts should lose some of their impact as they age, especially when replaced by positive payment history.
A Low Score Doesn't Erase All of Your Options
If all of life were a game of golf, then a sub-500 credit score would put you near the front of the pack. Sadly, consumer credit isn't scored like golf, and a low credit score doesn't get you a special jacket — it gets you high interest rates.
That being said, while having a low credit score can be a challenge, it doesn't mean that all lenders will write you off as a waste of time. With a little research, you can find credit card issuers willing to take a chance on your bad credit so that you can work to improve your credit scores — and your financial future.
Advertiser Disclosure
BadCredit.org is a free online resource that offers valuable content and comparison services to users. To keep this resource 100% free for users, we receive advertising compensation from the financial products listed on this page. Along with key review factors, this compensation may impact how and where products appear on the page (including, for example, the order in which they appear). BadCredit.org does not include listings for all financial products.
Our Editorial Review Policy
Our site is committed to publishing independent, accurate content guided by strict editorial guidelines. Before articles and reviews are published on our site, they undergo a thorough review process performed by a team of independent editors and subject-matter experts to ensure the content's accuracy, timeliness, and impartiality. Our editorial team is separate and independent of our site's advertisers, and the opinions they express on our site are their own. To read more about our team members and their editorial backgrounds, please visit our site's About page.