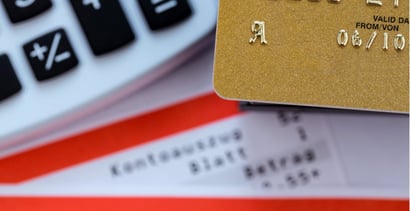 Nearly 31% of Americans have subprime credit and are struggling to increase their credit scores, according to the 2020 Consumer Credit Review from Experian. Although it may seem impossible to improve your credit when you keep getting denied every time you apply for a new line of credit, you may be looking in the wrong places.
In fact, many banks and lenders want your business, even if you have subprime credit. One of the most common offerings to those with poor credit ratings is subprime credit cards.
Subprime credit cards allow consumers with credit scores of 669 or less an opportunity to borrow money when they have few options in the credit card world. Individuals with poor credit ratings can use these cards as a stepping stone to rebuild damaged credit or add to a limited credit history. 
Though this provides some hope to those with a less-than-stellar borrowing history, it's important to note that these subprime credit cards aren't perfect. These credit cards charge higher rates and fees to offset the added risk of doing business with borrowers who have bad credit and are more likely to miss payments.
Several issuers specialize in offering subprime credit cards, but don't sign up just yet. First, consider these 10 common subprime credit card fees and whether the added costs are worth it.
1. Processing Fee
Subprime credit card fees rack up quickly even before you get the card in hand. Many charge processing fees, which can run as high as $95, to open an account in the first place. 
Unfortunately, there aren't many ways to avoid this fee if you decide to open a subprime credit card. But you can prepare ahead by saving up some extra cash to cover these upfront costs.
2. Annual Fee
Consumers with bad credit actually pay less in annual fees than those with good to excellent credit, but that's because it gives people with good or excellent credit access to robust reward programs in which they can earn cash back, airline miles, or points that help make up for the yearly charge.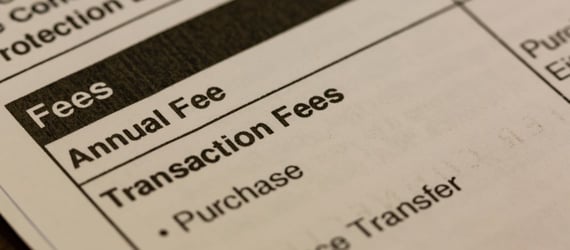 Subprime credit cards charge a lower annual fee than cards for super-prime cardholders, but the benefits are lacking in subprime credit cards.
3. Monthly Maintenace Fee
A few bucks a month may not seem like a big expense, but when you add up service fees — plus all the other fees subprime cards charge — over the course of a year,  they can amount to a shocking figure. Monthly servicing fees are yet another way subprime card issuers generate cash to cover any losses they endure dealing with those who default on their payments.
4. High Interest Rate
All credit cards come with interest, but subprime credit cards charge the highest percentage rate, reaching as high as 36%. The average interest rate for subprime credit cards hovered around 20.4%, according to The 2019 Consumer Credit Card Market Report from the Bureau of Consumer Financial Protection.


Consumers with super-prime credit scores had interest rates that averaged 12.5% during the same period, while the overall average credit card interest rate was 15%. 
The higher interest fees allow subprime card issuers to generate cash to offset losses that come with a higher rate of defaulted payments.
5. Cash Advance Fee
If you need cash quickly, you may be tempted to use your card for a cash advance, but do your best to avoid this because subprime credit cards charge a high fee for this type of transaction. You're better off using your debit card to withdraw money from an ATM or request cash back at a local grocer or drug store. 
6. Over-Limit Fee
Subprime credit cards come with very low credit limits — we're talking just a few hundred bucks — so it is easy to go over your limit if you have to pay for a series of bills or a big emergency expense at the same time.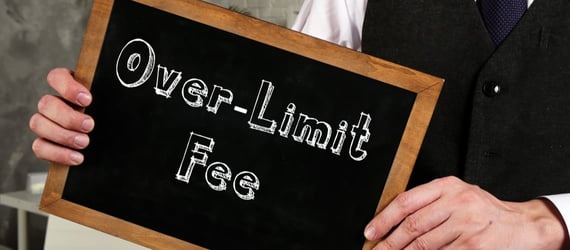 Unfortunately, that means you're going to have to fork over more money to cover the over-limit penalty these subprime credit cards charge. Building up a cash cushion in a separate account ensures you always have money to cover those unexpected expenses so you don't have to charge them on your credit card.
7. Insufficient Funds Fee
If your credit card payment bounces, the bank will charge an insufficient funds fee to your account on top of any interest or late fees. Always double-check your bank balance and any potential pending payments before submitting the payment to avoid this fee.
8. Late Fee
Missing a payment is ill-advised because you will get slapped with a late fee of up to $40. The fees don't stop there either. Missing two consecutive payments can send your interest rate soaring by triggering a temporary penalty APR.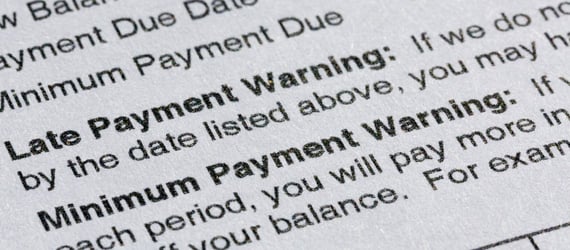 Setting up automatic payments for at least the minimum due by the payment due date will help you avoid paying these high fees. 
9. Balance Transfer Fee
Transferring a balance from one card to another can help consolidate debt or take advantage of lower interest, but don't be surprised if you get charged a fee for doing so. Balance transfer fees can range from 3% to 5% of the total amount transferred to the new card.
This move only makes sense if you save more money on interest to make up for this additional cost.
10. Security Deposit
In addition to the high fees they charge, some subprime credit cards require a security deposit to further offset the risk of lending to individuals with poor credit ratings. Although you get this deposit back when you close the account in good standing, security deposit requirements can be as high as $300, which is a lot of money for many consumers to dish out upfront.
Consider Alternative Options
Subprime credit cards are easy to get if you have a low credit score, but they're chock-full of fees. Unless you can commit to paying your balance off in full by the payment due date and only use the card sparingly to build credit and improve your score, there may be lower-cost options for you to consider. 
For instance, you can get a secured credit card without all these high fees. You will be required to make a cash deposit to obtain a credit card, but secured cards are a great tool to rebuild your credit and establish a credit history without excessive fees. 

You may also want to consider a credit-builder account, which allows you to make monthly payments to the lender for a year or two and receive all the money back at the end of the loan term. This is a great way to build a positive payment history and an emergency savings.
Improving and maintaining positive credit is prudent if you want to achieve many life goals. Your credit score is more than just a number. It's a metric lenders and credit card companies use to determine how responsible you are with money. Excellent credit scores can open many doors, while bad credit scores are likely to limit opportunities for getting ahead. 
For instance, consumers with bad credit may have difficulty borrowing money to buy a home or car. This can also make it harder and more expensive to pay for basic necessities, including renting a home or opening a utilities account. And you'll pay more for auto insurance if you have subprime credit. 
The Bottom Line
All credit cards come with fees, but it's up to you to research the actual costs and consider which card option will work best for you. You can access a list of fees for any credit card by reviewing the fee chart, commonly referred to as the Schumer box. This is located under a credit card's terms and conditions, which you can find either online or in any card offers you received in the mail.
Advertiser Disclosure
BadCredit.org is a free online resource that offers valuable content and comparison services to users. To keep this resource 100% free for users, we receive advertising compensation from the financial products listed on this page. Along with key review factors, this compensation may impact how and where products appear on the page (including, for example, the order in which they appear). BadCredit.org does not include listings for all financial products.
Our Editorial Review Policy
Our site is committed to publishing independent, accurate content guided by strict editorial guidelines. Before articles and reviews are published on our site, they undergo a thorough review process performed by a team of independent editors and subject-matter experts to ensure the content's accuracy, timeliness, and impartiality. Our editorial team is separate and independent of our site's advertisers, and the opinions they express on our site are their own. To read more about our team members and their editorial backgrounds, please visit our site's About page.