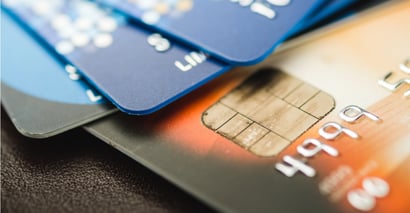 The problem with many cards for bad credit is that they come with puny credit limits, often in the $200 to $300 range. They may be hard to find, but we've dug up six $500+ credit limit cards for bad credit that give you more than token buying power.
This article will refer to credit limits below $500 as modest, between $500 and $1,000 as moderate, and credit limits higher than that as generous. With one or two of these cards in your wallet, you may be able to buy a month's worth of groceries without ever whipping out your debit card.
Don't expect to see any cards from Chase or American Express, as these banks don't target consumers with bad credit.
Unsecured Cards | Secured Cards | Loans | FAQs
Unsecured Cards With $500+ Limits
These cards provide moderate to generous credit limits without requiring you to deposit collateral. That's important because many folks with bad credit don't have the extra money needed for a secured card.
By using these cards responsibly, you may be able to boost your credit score and qualify for a higher credit limit. Once you work your way out of FICO prison, you'll discover a whole world of higher-limit cards for folks with fair credit or better.
The Aspire® Cash Back Reward Card may offer you an initial credit limit of up to $1,000. And you'll also earn cash back rewards and access to your Equifax VantageScore to help keep track of your credit-building progress.
Up to $1,000 credit limit doubles up to $2,000! (Simply make your first 6 monthly minimum payments on time)
All credit types welcome to apply!
Monthly Credit Score – Sign up for electronic statements, and get your Vantage 3.0 Score Credit Score From Experian
Initial Credit Limit of $300 – $1,000 (subject to available credit)
Monthly reporting to the three major credit bureaus
See if you're Pre-Qualified without impacting your credit score
Fast and easy application process; results in seconds
Online account access 24/7
Checking Account Required
| Application Length | Interest Rate | Reports Monthly | Reputation Score |
| --- | --- | --- | --- |
| 9 minutes | 29.99% APR (Variable) | Yes | 8.5/10 |
The Surge® Platinum Mastercard® offers a few basic perks, such as cash advances (available 95 days after account opening), free credit scores, and $0 fraud liability. It offers a modest to moderate credit limit, which the annual fee will initially reduce. Unfortunately, this unsecured card is loaded down with annual, monthly maintenance (after the first 12 months), foreign transaction, additional card, and penalty fees.
The Reflex® Platinum Mastercard® is another card that may offer you up to $1,000 upon approval. You can see whether you prequalify without harming your credit score.
Secured Cards With $500+ Limits
These secured cards require a cash deposit to match the initial credit limit, but you can opt for a moderate or high credit limit if you make a larger initial deposit. Your deposit is FDIC-insured but pays no interest. Secured cards are about the closest you can get to guaranteed approval credit cards.
The OpenSky® Secured Visa® Credit Card requires no credit check and has an 85% approval rating. You can deposit $1,000 to receive a $1,000 credit limit, minus the annual fee. This Visa credit card has a low ongoing interest rate that you can avoid altogether by paying your credit card balance in full before the due date.
First Progress Platinum Elite Mastercard® Secured Credit Card is the entry-level offering in the First Progress secured card trio. It features a higher interest rate and a lower annual fee than its Prestige sibling. Every year, the annual fee will reduce your credit limit until you pay the fee for this secured Mastercard.
Among the trio of related cards, the top-tier First Progress Platinum Prestige Mastercard® Secured Credit Card is geared toward consumers who would prefer to pay a lower interest rate in exchange for a higher annual fee. Naturally, the higher annual fee takes a bigger bite each year from your credit limit until you pay the fee. Speaking of fees, this card and its siblings are not shy, charging annual, cash advance, foreign transaction, late payment, and returned payment fees.
$500+ Loans For Bad Credit
Due to the limited number of cards for bad credit with $500+ limits, we realize that a personal loan may be a better option for many borrowers. These seven lender-connection services can facilitate a personal and/or payday loan despite your poor credit, and no cash deposit is required.
The amount you can borrow and the loan terms will vary with your FICO credit score, but you can prequalify for a loan without a hard credit inquiry.
Short-term loans up to $5,000
Online marketplace of lenders
Funds available in as few as 24 hours
Simple online form takes less than 5 minutes
Trusted by more than 2 million customers
| Loan Amount | Interest Rate | Loan Term | Loan Example |
| --- | --- | --- | --- |
| Up to $5,000 | Varies | Varies | See representative example |
MoneyMutual finds lenders for you by connecting you to a direct lender on its network. You must reliably collect at least $800/month in income to prequalify for the loan. You can choose between a personal loan you repay in multiple monthly installments or a one-to-two-week payday loan that you repay in one installment, both available to borrowers with bad credit.
You can prequalify for a loan arranged by CashUSA.com if you have an income of at least $1,000 per month after taxes. It takes only a few minutes to fill in the online loan request. If you prequalify for a loan, CashUSA.com will connect you to a direct lender where you finish the application process, and if approved, receive the loan proceeds as soon as the next business day.
BillsHappen can hook you up for a personal loan through its network of loan providers. To prequalify, you must live in the United States, be at least 18 years of age, and have regular income from any dependable source, a valid Social Security number, and an active checking account. If a network lender approves your application, your money will be electronically deposited into your bank account as quickly as the next business day.
CreditLoan doesn't broadcast its prequalification requirements, but they are similar to those of its competitors. Begin the prequalification process by filling out the loan request form, and then complete your loan application with a direct lender on the CreditLoan network. If all goes well, your money will be deposited into your bank or credit union account within one or two business days.
As its name implies, Bad Credit Loans focuses on arranging loans on its network for consumers with troubled credit. To prequalify for a loan, you must be a U.S. citizen, at least 18 years old, with regular income, a checking account, and a valid email address. If approved for a loan, you'll receive your money as soon as the next business day.
A reliable monthly income is a must to prequalify for a loan from PersonalLoans.com. You are also required to be a U.S. citizen or resident, 18 or older, with an active bank account in your own name and a valid Social Security number. Direct lenders on the PersonalLoans.com network may be able to give you better loan terms if you apply with a cosigner.
Based in Utah, CashAdvance.com has been facilitating payday loans since 1997 using a network of payday and other lenders. You can prequalify for a bad credit loan with a lump sum repayment scheduled for your next payday. You must demonstrate an after-tax income of $1,000/month and provide your bank account number, email address, and phone number.
Can You Get a Credit Card With a $500 Limit?
It's extraordinarily easy to get a credit card with a $500 limit (and quite a bit more) if you have fair credit or better. But that's the rub if your credit is bad. Nonetheless, we recommend six credit cards that can provide you with a $500+ credit limit despite your low credit score.
Three of our recommendations are unsecured credit card offerings, and the remainder are secured card choices. Remarkably, the Aspire® Cash Back Reward Card offers cash back. Admittedly modest, these rewards are nonetheless unusual for an unsecured credit card aimed at consumers with less-than-perfect credit.
The secured card twins from First Progress have the potential for generous credit limits, as long as you're equally generous in depositing cash into the security account. If you are not lacking cash despite a low credit score, First Progress may allow you to post thousands of dollars as collateral to gain a high-limit credit card.
What Is the Easiest Credit Card to Get With Bad Credit?
Undoubtedly, a secured card is the easiest to obtain, even if your credit is horrible.
First Progress Platinum Elite Mastercard® Secured Credit Card and the First Progress Platinum Prestige Mastercard® Secured Credit Card do not require payment history or a minimum credit score for approval — all you need is the minimum security deposit to obtain one of these cards.
You can deposit up to $2,000 initially and eventually increase the amount to $5,000, subject to the secured Mastercard issuer's approval.

The Surge® Platinum Mastercard® allows you to prequalify without a hard credit check. You start the process by filling out a loan request form, including your Social Security number, total monthly income, primary income source, phone number, and date of birth. You're also asked whether you have an active checking account or debit card and whether you intend to use the card for cash advances.
Prequalification doesn't guarantee you'll be approved for the card, but it is a good first step. If you do prequalify, you'll be asked additional questions, and the card issuer will run a hard credit check.
Is $500 a Low Credit Limit?
If you are a new student or have a low family income, a $500 credit limit may seem just fine. However, most folks have access to a much higher credit limit. The average American's cumulative credit limit exceeds $22,000, according to data from Experian.
We can also look at the average limits for an average credit card. The following chart breaks down the data by credit type.

Clearly, higher scores merit higher credit limits.
Even if your credit is in the deep subprime range of 300 to 500, you can expect an average credit limit per card to exceed $1,800. In this context, a $500 credit limit may be OK for starters, but you may like to increase the limit over time, so it approaches the national averages.
Several of the cards in this review offer a starting credit limit in the $200 to $300 range. You can receive a credit limit increase several times until it reaches $1,000 or more.
You can follow a few strategies to obtain a credit increase, as illustrated in the following chart:

1. Wait for an automatic increase.
Credit card issuers really want to give you more spending power. After all, the more you spend, the better the chances that you'll cough up some interest by spreading your payments over multiple months. Just a little encouraging behavior on your part (like making payments on time for several months in a row and reducing your credit utilization ratio) can propel an automatic credit increase.
Lady Mary Montgomerie Currie wrote that "All good things come to those who wait," which can certainly apply to receiving an automatic credit increase if you have the necessary patience.
2. Request an increase directly.
This approach can go either way. To put the odds more in your favor, wait at least one year between requests and exhibit creditworthy behavior every month.
You'll probably need to make the request to a customer rep, who may ask for all sorts of information, including your bank statements and other personal data. It wouldn't hurt If you could point to a higher credit score over the last year.
When speaking with a customer rep, you can give a forceful argument, but avoid sounding desperate. Instead, point out how loyal you've been to the credit card company, how you have been practicing responsible financial behavior, and, if applicable, how your income has recently increased.

Furthermore, try not to ask for too big an increase, lest you spook a customer rep who may have looked favorably upon a smaller request. A credit line boost of 10% to 25% is a realistic request. If this approach fails, you can instead ask the card issuer about getting a new card and see what credit limit it will give you.
Consider enticing them with a balance transfer from your other cards to the new one, emphasizing how much credit you will need to transfer all your balances.
The card issuer will earn a 3% to 5% fee for each transfer, and if the card has a 0% introductory interest rate for balance transfers, you may significantly reduce your interest charges. That sounds like a win-win for you and the credit card company.
If all that doesn't cut it, consider switching to a more progressive card issuer willing to give you a new card with a higher limit. Before you switch, compare the rewards, interest rate, fees, and benefits of both cards — a credit limit increase from a less attractive card poses certain existential problems (for you and the credit card companies).
3. Reallocate credit from another card.
This applies to consumers who have two or more credit cards from the same issuer. Many issuers allow you to shift your credit lines around, taking credit from one card and allocating it to another. Your cumulative credit limit won't change, but at least you'll have one credit card with a higher limit.
Bonus method: If you have a secured card, ask the card issuer if you can increase your deposit to get a higher credit limit. Each card issuer has its own rules regarding credit limits, so the outcome will depend largely on which cards you own.
Can I Get a Business Credit Card With Bad Credit?
To be blunt, there isn't much incentive for credit card companies to issue business credit cards to companies with bad or scant credit.
The reason for this reticence may lie in the fact that about 20% of new businesses go belly-up during their first year. Moreover, about half of all businesses don't make it through to the fifth year.
Given these lamentable odds, a small business must make its application as attractive as possible. One time-tested method is for the business owner to make a personal guarantee to cover the business debt should the company go under. In fact, this tactic is so popular among issuers that it is now a part of most business credit card agreements.
Should you accept a business credit card that requires a personal guarantee? The following figure may help you decide:

Bank of America offers a secured business card that can help you establish business credit.
A business secured card offers companies benefits and purchase rewards. If the company hasn't established sufficient payment history, owners may have to apply for the cards using their own names rather than the business.
Which Credit Card Has the Highest Limit For Bad Credit?
In general, consumers looking for subprime credit cards should be able to establish much higher credit limits via secured credit cards rather than the unsecured credit card limits they're likely to encounter.
First Progress Platinum Elite Mastercard® Secured Credit Card and the First Progress Platinum Prestige Mastercard® Secured Credit Card offer the highest limits of the cards reviewed in this article.
You can establish an initial credit limit for each secured Mastercard as high as $2,000 by depositing an equal amount of money into the security account. Afterward, you can continue to increase your limit to as much as $5,000 with the permission of the issuer.
How Much Should You Spend on a $500 Credit Limit?
You can spend any or all of your $500 credit limit as you see fit. But before you do so, consider these items:
Cushion for the unexpected: The problem with using up your credit limit is that you won't be able to use the credit card if a cash emergency pops up. Not only will you be unable to purchase anything that takes you above the limit, but you will have no money for a cash advance should you need it.
Watch your credit utilization: Any time your credit utilization ratio rises above 30%, your credit score may suffer. To prevent that from happening, you may want to keep your credit card balance below $150.
You can make payments any time: It shouldn't be assumed that all consumers with bad credit credit cards are on a tight budget, although many are. If you can afford to make multiple payments per month, you can keep your credit card balance in check while spending far more than the $500 limit. However, if that is your strategy, you may do better using a secured credit card, debit card, or prepaid card, as their spending is limited by the amount of cash in their underlying accounts.
There is no doubt that a $500 credit limit represents very modest spending power. Yet, even so, a credit card with a $500 limit can provide many of the basic functions you expect from a credit card. These include charging purchases rather than using cash, accumulating rewards where available, and financing purchases over multiple billing cycles. You may also be able to get a cash advance from an ATM.
Furthermore, some services require a credit or debit card. If you happen to be unbanked or otherwise don't have a debit card, a credit card may be the only way to book a hotel or rent a car.
Perhaps the best way to view a $500 credit limit is as a starting point. If you can push your credit score higher, you may be able to increase your card limit, either on your current card or a new one. The credit card forums are full of triumphant stories by consumers who have grown their cumulative credit limits through creditworthy behavior and shrewd acquisition of additional cards over time.
How Do I Use the Card to Build Credit?
A credit card can be a handy tool for building credit (or rebuilding credit) — or a terrible tool for destroying it. Much like a gun or knife, it all depends on how you use it.
Here are several ways you can boost your credit score with the assistance of your credit card.
Pay your bills on time: Timely payments are the key to creditworthy behavior. Failure to make payments on time can be the first step in a long decline that includes late fees, a penalty interest rate, collections, defaults, charge-offs, and bankruptcy, all causing severe damage to your credit. When you unfailingly pay your bills on time, you demonstrate a responsible attitude toward credit that will impress the major credit bureau that generates your credit scores. FICO computes your score based on different factors, and 35% of your score stems from your payment history. By always paying your bills on time, you burnish your credit history and push your credit score higher.
Keep your credit utilization ratio (CUR) below 30%: CUR is defined as (used credit divided by total available credit). Values above 30% may indicate financial distress and can hurt your credit score. Your credit balances — or amounts owed — account for 30% of your FICO score, so pay attention to your balances to ensure they remain below the 30% threshold.
Consolidate your credit card debt: If you have unpaid balances for two or more credit cards, consider doing a balance transfer to consolidate to a single card. Crucially, pay off the balance without creating any new balances. This is an efficient way to reduce your CUR, and it makes scheduling monthly payments easier.
Recruit a cosigner: While the presence of a cosigner won't directly cause your credit score to rise, it can help indirectly by helping to ensure that all payments are on time. Also, you may get a higher credit limit with a cosigner on board, which gives you more opportunities to demonstrate creditworthy behavior.
Observe the don'ts: You can strengthen your credit by refraining from certain actions. Don't cancel an old credit card account because doing so will reduce your average credit card account age, and that can hurt your credit score. Don't apply for new accounts more than once per year, as the required hard inquiries on your credit can hurt your score.
Allow time to heal your financial wounds: The worst thing you'll find on a credit report is a Chapter 7 bankruptcy, in which the court orders the auctioning of your assets and applying the results to your debts. All other debts are discharged. This kind of bankruptcy may wipe the slate clean of your remaining debt. It remains on your credit report for a full 10 years, but take heart: The impact on your credit score begins to dissipate after two or three years. A Chapter 13 bankruptcy, in which you work out a repayment plan for your debts, remains on your credit report for seven years, as do defaults, collections, repossessions, and foreclosures. These, too, start to lose their impact upon your credit score in two to three years.
Expand your reported payments: First pioneered by Experian Boost, several services are now available that allow you to expand the types of payments that will be reported to each major credit bureau. These include payments for utilities, rent, cellphones, and cable, to name a few. By paying all of these accounts on time, you accelerate your score's improvement.
Paying bills on time and keeping your debt levels in check can go a long way toward repairing your credit history, thereby increasing your FICO credit score. A higher score can support your efforts to obtain a larger credit limit. You can also become eligible for better credit cards with higher limits and more generous perks.
$500 Credit Limit Cards For Bad Credit Provide Spending Power & Opportunity
Our review of $500+ credit limit cards for bad credit demonstrates multiple options available to you to expand your spending power. We also discuss several sources of personal loans that may be easier than credit cards to obtain. The best credit card or loan option for you will depend on several variables, but be sure to choose the financing option with the lowest interest rate you can qualify for.
Whatever your current credit limit, financially responsible behavior can help you achieve good credit and open the way to higher limits.
Advertiser Disclosure
BadCredit.org is a free online resource that offers valuable content and comparison services to users. To keep this resource 100% free for users, we receive advertising compensation from the financial products listed on this page. Along with key review factors, this compensation may impact how and where products appear on the page (including, for example, the order in which they appear). BadCredit.org does not include listings for all financial products.
Our Editorial Review Policy
Our site is committed to publishing independent, accurate content guided by strict editorial guidelines. Before articles and reviews are published on our site, they undergo a thorough review process performed by a team of independent editors and subject-matter experts to ensure the content's accuracy, timeliness, and impartiality. Our editorial team is separate and independent of our site's advertisers, and the opinions they express on our site are their own. To read more about our team members and their editorial backgrounds, please visit our site's About page.