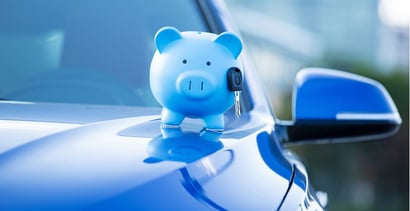 In this article on the best refinance car loans for bad credit, we identify lending services that can put money in your pocket by lowering your interest costs and/or allowing you to cash out the equity in your car. Refinancing can also give you a lower monthly payment by extending the amount of time to repay the loan.
As we amply demonstrate, you have several options to consider for refinancing your bad credit car loan.
Best Overall | More Options | FAQs
Best Overall Car Refinance Loan for Bad Credit
Auto Credit Express (ACE) works with a network of car dealerships throughout the country that specialize in auto loans to consumers with bad credit. It's easy to start the prequalification process by filling out a short loan request form on the company's website.
Network of dealer partners has closed $1 billion in bad credit auto loans
Specializes in bad credit, no credit, bankruptcy and repossession
In business since 1999
Easy, 30-second pre-qualification form
Bad credit applicants must have $1500/month income to qualify
| Interest Rate | In Business Since | Application Length | Reputation Score |
| --- | --- | --- | --- |
| 3.99% - 29.99% | 1999 | 3 minutes | 9.5/10 |
Assuming you prequalify, you'll be contacted by a local car dealer that will work out the terms of a refinancing loan and schedule an inspection of your vehicle. If you like the terms offered, you can go to the dealer and wrap up the deal all on the same day.
Many of the auto dealerships in the ACE network do their own in-house financing. This allows them to approve bad credit loans that a bank, credit union, or another conventional financial institution often turns down because the network dealerships typically don't check your credit. You simply need to show you have enough income to make your car payments on time, including signing up for autopay.
More Car Refinance Loans to Consider
These remaining companies provide refinancing through either a lender network or as a direct lender. They all provide no-credit-check prequalification and no-obligation offers. Moreover, they all work with consumers who have less than perfect credit. Some also offer lease buyouts, and you may even find a motorcycle loan provider.
Loans for new, used, and refinancing
Queries a national network of lenders
Bad credit OK
Get up to 4 offers in minutes
Receive online loan certificate or check within 24 hours
| Interest Rate | In Business Since | Application Length | Reputation Score |
| --- | --- | --- | --- |
| Varies | 2003 | 2 minutes | 7.5/10 |
MyAutoLoan.com is a good choice for consumers who want to quickly receive multiple car refinancing offers. This loan network's website offers useful online tools, including a chart of current car loan rates, an interest rate estimator that requires no credit check, and a payment calculator based on estimated car loan rates.
Some lenders on the MyAutoLoan.com network waive refinancing payments for up to 90 days. Carefully study each loan offer before agreeing to one, as they will have different interest rates, repayment periods, and automatic payment amounts.
3. Capital One Auto Refinance


Capital One Auto Refinance is a direct provider of automobile refinancing loans to consumers with all types of credit. You can quickly prequalify without hurting your credit score by submitting a short loan request form.
If successful, you can then apply for refinancing by completing a credit application, which will trigger a hard inquiry of your credit report. Prequalification expires after 30 days and requires you to be in good standing with any Capital One accounts you may have, and be current on your mortgage and car payments. You must have a minimum monthly income of $1,500 to $1,800 to be eligible for Capital One refinancing.
4. Ally Clearlane

Ally Clearlane connects qualified consumers to multiple refinancing offers that allow you to reduce your interest rate, lower your payments, and/or update vehicle titles. Prequalification will not hurt your credit score and you're under no obligation to accept a loan.
The company boasts an average of $1,647 in interest savings when consumers refinance their loans with Ally Clearlane. It also claims they'll save an average of $120 per month on their loan payments because of lower interest rates and/or longer repayment periods.
5. RefiJet

The RefiJet national network of financial institutions delivers competitive auto refinancing quotes quickly. You can prequalify in minutes with no impact on your credit score by speaking to one of the company's financial experts who will help you narrow down your options.
RefiJet refinancing waives payments for the first two months. If you are currently saddled with a high-interest auto loan, RefiJet may be able to save you money by finding you a new loan at a lower interest rate that can give you a lower monthly payment — on average $150 lower.
6. Tresl


Tresl works with a network of direct lenders to find you auto refinancing that may save you money. In fact, customers have experienced an average monthly payment savings of $102.20 and an average annual percentage rate reduction of 5.41 percentage points.
You can quickly prequalify for refinancing online or via a mobile app without hurting your credit score or requiring your Social Security number. You then consult a Tresl Finance Advisor regarding your prequalified refinance offer before receiving a loan approval from a network member.
7. OpenRoad Lending

OpenRoad Lending is to be commended for highlighting which vehicles are eligible for refinancing by one of its lending network partners. The non-commercial vehicle cannot exceed eight years of age or 140,000 miles on the odometer, and the loan-to-value cannot surpass 120% to 175% of the wholesale value, depending on your credit.
In most states, the loan amounts can range from $7,500 to $100,000. The FDIC or NCUA must insure the current loan, and you must refinance the full payoff amount of the existing loan. Cash-out refinancing is available in several states, but the vehicle cannot have a second lien.
Can I Refinance a Car With Bad Credit?
Generally, your credit is considered bad if your FICO score is below 580. About 16% of American consumers fall into this group, and you can bet the vast majority have cars. In this great country, a large market like this one would never go underserved, and dozens of companies offer car refinancing loans to folks with bad credit.
In fact, there are enough online car loan companies to make it a highly competitive business. Lenders can't make money without lending money, so the competitive market puts pressure on lenders to accept credit scores lower than those that had previously been accepted. Naturally, bad credit consumers will be charged interest rates higher than those for their counterparts with good credit.
We have picked out seven of the best bad credit refinancing companies, most of which are networks composed of auto dealers that provide self-funded direct loans. Self-funding occurs when the dealer lends out its own money rather than going through an external financial institution like a bank or credit union. These dealers don't need anyone's permission to offer loans to consumers with bad credit.
Self-funding dealerships aren't stupid — they know how to refinance cars with a relatively low risk of losing money. It starts with a primary lien on the vehicle, making it easy for the dealership to repossess the vehicle if the owner misses payments. The loan amount is limited to how much the dealer would get by selling a repossessed vehicle after accounting for all costs.
Furthermore, the dealership may require you to make payments more frequently than once a month, and you may be requested to make payments in person or to set up autopay. You will have to show enough income to afford your payments. All of these measures allow lenders to look beyond a bad credit score when considering loan applications.
How Do I Apply For a Car Refinance Loan?
First, clarify why you want to refinance your car. You may be interested in cashing out some of the equity in your car, lowering your interest rate, and/or stretching the repayment period to reduce your monthly bill. Knowing your motivation will help you pursue the bad credit auto loan refinancing terms you want.
Next, check the information summaries for the companies reviewed in this article and click on the links of those that seem like a good fit for your needs. Each link will transfer you to a landing page where you fill out a prequalification loan request form. Doing so will not hurt your credit score nor obligate you in any way.
Prequalification doesn't guarantee that your final credit application will be approved, but it certainly indicates that you have a reasonably good shot. Assuming you pass the prequalification step, you'll be matched to one or more direct lenders (unless the company is itself a direct lender, as is the case for Capital One Auto Refinance).
The process leads to one or more refinancing loan offers. You will have to complete a credit application for the loan offer you want to pursue. Keep in mind that this will hurt your credit score a little, but since you are rate shopping, you'll only be dinged for one hard pull of your credit score.
If you're not familiar with hard and soft pulls, these refer to inquiries about your credit made by interested parties. In the FICO scoring scheme, 10% of your score stems from applications for new credit. Frequent hard pulls are considered an indication of financial distress and therefore can reduce your credit score by 5 to 10 points each.
Only "hard" pulls hurt your score. These are inquiries that you authorize when applying for a credit card or loan. Hard inquiries remain on your credit report for two years but impact your score for only one year. You can and should have unauthorized hard pulls removed from your credit reports.
Happily, FICO cuts you a break when you are comparing the terms of different loans before selecting one. That means multiple hard pulls for the same type of loan clustered within a 30-day period are treated as a single pull for scoring purposes. Rate shopping is common in the mortgage industry.
Other interested persons, such as prospective landlords, employers, cellphone providers, utilities, and so forth, may pull your credit information without your authorization. These are soft pulls that don't hurt your score and are only visible to you. It's also a soft pull when you request your own credit report.
Prequalification for bad credit auto loan refinancing involves soft pulls, whereas submitting a full credit application triggers a hard pull. If you are serious about shopping around for a loan, try to complete the search within 30 days so that you aren't charged for multiple hard pulls.
Assuming your application is approved, you'll receive a loan package download that includes all the required forms (including the Loan and Security Agreement) for you to read and sign. You also may be required to bring your vehicle to the lending dealer for inspection. Assuming you successfully follow all the required steps, the lender should be able to close the refinancing loan in seven to 10 days.
When that's all done, your old loan will be repaid by the new one, and you'll begin sending your monthly payments to a different lender as described in the loan agreement. If your refinancing involves a cash-out, the lender will send you a check or deposit the money directly into your bank account.
How Do I Choose the Best Car Refinance Loan?
The best car refinance loan is the one that's best for you. It starts with finding the lowest auto loan rate available.
But you can't simply look at a lender's advertised rate, since normally you'll need excellent credit to get the best rate. Only by prequalifying with multiple lenders will consumers with bad credit know the actual loan option menu.
Before choosing an auto refinance loan, consider the following factors beyond interest rates:
Credit scores: Some lenders are more sensitive than others to an applicant's credit score. Understand how much more interest you will be charged due to your low credit score.
Fees: Usually, the car refinancing fees are low. They include a title fee of up to $75 and a lender fee of around $10. However, some lenders may tack on larger origination fees.
Early repayment penalty: Your old loan may charge you a penalty for early repayment. A typical penalty would be having to pay all the remaining interest. Check the terms of your current bad credit car loan for any repayment booby traps.
Discounts: You may qualify for a discounted auto loan rate if you have an existing relationship with the car loan refinancing provider. For example, a bank may reduce the interest it will charge if you have an account with it.
Term: The maximum length of the repayment period for the new loan may vary among different lenders. If your goal is to stretch out the loan for as long as possible (say, to minimize your monthly payments), check the maximum term that each potential lender offers.
Vehicle requirements: Different lenders may have varying requirements for the maximum age and mileage of cars that they will refinance.
Status of existing loan: Most lenders won't agree to refinance a loan on which you aren't current on your payments. In addition, many will not agree to car loan refinancing if you owe more than the car's current value. Lenders may also put limits on the minimum and maximum amount they are willing to refinance.
Income requirement: If your credit is bad, a lender may require you to have a minimum monthly income.
Promotions: Some lenders offer promotions to attract new customers. For example, the lender may waive payments for the first two or three months.
Cash back: Lenders vary in their willingness to provide a cash-back refinancing loan and on how much they will allow you to cash out.
Location: Some lenders do not offer car loan refinancing in all 50 states. For example, Ally Clearlane doesn't offer loans in Nevada and Puerto Rico.
If you aren't satisfied with the refinancing interest rates available to you, perhaps you should first try to improve your credit score. Consumers with higher scores will usually have to pay less loan interest.
What is the Minimum Credit Score for a Refinance?
Each lender sets its own credit score requirements for its auto refinancing loans. For example, you must have a score of at least 540 to get refinancing from Capital One Auto Refinance. Some lenders may offer no-credit-check loans in which they consider other factors instead, including income and expenses.
The lenders reviewed in this article all share a commitment to working with bad credit consumers to arrange automobile refinancing. Typically, the lower your credit score, the more monthly income you must have to compensate.
How Can I Get My Car Payment Lowered?
If you are having trouble making your monthly car payments, you can start by speaking with your current lender about your loan option choices. Some lenders will work with you to extend your repayment period so that your monthly loan payment is more affordable.
But even if you can afford your current payments, you still may want to reduce your monthly payment. If your current lender won't help you, a refinancing loan may do the trick.
For starters, you may qualify for a lower interest loan rate if rates have declined and/or your credit score has improved. This alone will reduce your monthly payment even if you don't change the loan term.
However, if you can't get a significantly better interest rate, you can look for a refinancing loan with a longer term. By dividing the loan balance by more months, your monthly loan payment will decrease.
It gets more complicated for cash-back loans since you will be increasing your loan balance. There is a tradeoff between loan amount, interest rate, and loan term. You may have to juggle all three factors to know whether a refinancing loan will reduce your monthly payment.
All things being equal, a longer-term loan at the same loan rate will reduce your monthly payment but increase the overall cost of the loan. As previously mentioned, fees and prepayment penalties may be collected when you refinance a loan, making it harder to justify.
Can You Be Denied For a Refinance Loan?
All the lenders in this review offer to prequalify you for an automobile refinancing loan. But let's be clear — prequalification is not a guarantee that you'll get the loan. After the prequalification step, the lender will collect additional information via a credit application and will also pull your credit report.
The information to be collected includes:
Your current residence and if less than two years, your previous residence
Your Social Security number
Your job history
Wage and earnings data backed up by pay stubs or W2s
Data about your current loan, including the lender, account number, monthly payment, and payoff amount
The vehicle identification number (VIN)
The vehicle make, model, and year
The vehicle odometer reading
Armed with additional data, the lender will apply its underwriting standards to approve or decline your loan application. You may be denied a refinance loan for several reasons. These usually boil down to factors having to do with your finances or with your car:
Your financial situation may prevent you from obtaining a refinance loan. A low credit score coupled with low income may doom your credit application. Negative items on your credit report, such as write-offs, collections, and bankruptcies, may block your access to some refinancing loans.
Most lenders will treat the following items as deal-killers:
Recent collections: Lenders and creditors are counting on receiving the money due them. When a debtor stops making payments, a collection agency may be brought in to get things moving again. It's hard to get another loan when you were having problems repaying a previous one.
Undischarged bankruptcies: If you are currently navigating through personal bankruptcy, new lenders will give you a wide berth until the case is finally discharged. No lender will accept a borrower during active bankruptcies lest its loan be discharged without full repayment.
Liens and garnishments: You may be legally bound by a lien to repay a debt or finance ongoing obligations, such as child support. Liens are used by taxing authorities and others to ensure the collection of debts. Garnishments are amounts automatically diverted from your paycheck to fulfill a lien.
Late payments: If you are guilty of missing payments in the recent past, most lenders will be quite gun-shy about extending you a new loan.
Even if your credit score is OK and negative items have aged off your credit reports, a negative relationship with a lender can ruin your chances for a loan. Normally, significant negative items age off your credit reports after seven to 10 years. But a lender may have elephantine memory and strike you off because you missed some payments 15 years ago.
Another reason for loan denial may be that your income is below the minimum required by a lender. You may be able to overcome financial obstacles by recruiting a cosigner who has good credit.
The other major reason for declined refinancing loan applications involves issues surrounding the vehicle or its current financing. Lenders may put limits on the vehicle's age, mileage, and/or condition. Alternatively, the amount to be refinanced may be too small or too large.
If your lender considers the refinancing amount to be too low, you may be able to arrange a cash-back loan for a greater amount. Conversely, for amounts too big, consider putting more money down to reduce the size of the loan. It's also possible that a different lender will approve your loan but can't give you the borrower terms you consider mandatory.
Does Refinancing Hurt Your Credit?
Normally, refinancing is considered a neutral to mildly negative event for your credit profile. You are taking out new debt simultaneously with retiring old, which may leave your debt-to-income (DTI) ratio about the same. However, a cash back refinancing loan will increase your debt and could hurt your credit.

The amount of your non-revolving debt is not a factor in determining your credit score. However, your score is sensitive to your credit utilization ratio, which is the amount of credit card debt used vs available. While it's technically possible to buy a car with a high-limit credit card, the interest rate will probably greatly exceed that of an auto loan, so it's pretty much a dead issue.
There may be a timing issue that temporarily impacts your credit, in that it can take up to 60 days for your old loan to be removed from your credit reports following a refinancing transaction. During this time, your debt appears to be much higher than it should, something that may hurt your credit profile even if it doesn't impact your credit score.
Another way refinancing may impact your credit score by replacing an older account with a new one. Length of credit history accounts for 15% of your FICO score and refinancing a loan may reduce the average age of your accounts. That's a negative, as the scoring system rewards you for maintaining accounts over a long time period.
In addition, you will probably be charged for a hard pull of your credit report when you apply for a refinancing loan. New credit comprises 10% of your FICO score, so a hard pull may reduce your score by five to 10 points for a year.
Does Refinancing Start Your Loan Over?
When you refinance your car, you replace an existing loan with a new one. The proceeds from the new loan repay and retire the old one. The old loan is marked as paid on your credit report after the new loan is added.
When you refinance, the new loan may differ from the old one in terms of the loan amount, interest rate, term, and monthly payment amount. This is true even if the lender is the same.
Is it Worth Refinancing For 1%?
An annual percentage rate reduction of 1 percentage point is widely considered to be the minimum for refinancing. For example, suppose your current auto loan has the following characteristics:
Balance left on loan: $10,000
Current interest rate: 4.5%
Remaining loan term: 4 years
Current monthly payment: $300
Using an online calculator, if you refinance at 3.5% for four years, your monthly payment will fall $76.44 to $223.56.
Currently, the best car loan interest rates are hovering around 2%, but if you have bad credit, you will have to pay more. In general, if you save money after figuring in fees, and there are no prepayment penalties, then it makes sense to auto loan refinance your car.
But there are several other considerations. For example, your primary concern may be to reduce your monthly payments without regard to the new interest rate. In other words, you are willing to extend the term of the loan even if the total interest cost increases.
Another reason to refinance is to cash out some of your vehicle's equity. If you need money and don't have access to a cheaper loan, then cash back refinancing may be worthwhile even at a higher interest rate.
Because a cash-out auto loan refinance is collateralized by the vehicle, you should be able to obtain an interest rate lower than that for unsecured loans, such as a personal loan or student loan. Your signature is the only thing backing a personal loan or student loan.
Research the Best Refinance Car Loans For Bad Credit Online
There is no doubt that reliable transportation will continue to be an essential part of American life. For many, a car is the best or the only way to commute to work, especially when the job can't be done at home.
If you want to own a car, you'll probably need a car loan. Refinancing your car loan can lower your interest rate, reduce your monthly payments, and even provide some cash back. The options we provide in this article will help you identify the best sources of refinancing loans, and one or more may be a perfect match for your needs.
Advertiser Disclosure
BadCredit.org is a free online resource that offers valuable content and comparison services to users. To keep this resource 100% free for users, we receive advertising compensation from the financial products listed on this page. Along with key review factors, this compensation may impact how and where products appear on the page (including, for example, the order in which they appear). BadCredit.org does not include listings for all financial products.
Our Editorial Review Policy
Our site is committed to publishing independent, accurate content guided by strict editorial guidelines. Before articles and reviews are published on our site, they undergo a thorough review process performed by a team of independent editors and subject-matter experts to ensure the content's accuracy, timeliness, and impartiality. Our editorial team is separate and independent of our site's advertisers, and the opinions they express on our site are their own. To read more about our team members and their editorial backgrounds, please visit our site's About page.