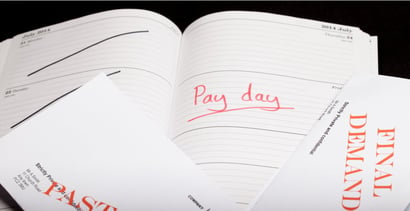 Paycheck advance loans used to be risky propositions. A cash advance loan from a local payday lender often included sky-high interest rates and a repayment window of two weeks to 30 days.
There's a reason why you don't see as many cash advance loan centers in your town. The government enacted new fair lending laws that have made it more difficult for these businesses to charge hundreds — if not thousands — of dollars in interest for a short term loan.
Plus, these lenders simply can't compete with the online cash advance lenders that offer affordable loan terms and flexible acceptance policies for consumers who have bad credit. If you're looking for paycheck advance loans that won't eat up all of your earnings, keep reading.
Best Overall | Other Recommendations | Alternatives | FAQs
Best Overall Paycheck Advance Loan
MoneyMutual has long been our favorite short term loan network because of its competitive interest rates and terms for consumers who have bad credit. You may qualify for an installment loan of up to $2,500 that you can pay off over time — not in one lump sum.
Short-term loans up to $5,000
Online marketplace of lenders
Funds available in as few as 24 hours
Simple online form takes less than 5 minutes
Trusted by more than 2 million customers
| Loan Amount | Interest Rate | Loan Term | Loan Example |
| --- | --- | --- | --- |
| Up to $5,000 | Varies | Varies | See representative example |
The MoneyMutual network has several lenders that specialize in bad credit loans. When you submit your single prequalifying form through the network, you'll reach all of its lenders and may receive multiple loan offers in a matter of minutes.
If you connect with a lender, the network will transfer you to that lender's website where you will complete the loan application. Funds are generally deposited within 24 hours of being approved, though delays may occur if you apply on the weekend or on a holiday.
MoneyMutual doesn't charge to use its network. Instead, each lender pays a referral fee when the network sends a new borrower its way. Once you've chosen a lender, you'll only work with that business and not MoneyMutual.
Other Paycheck Advance Loans to Consider
While MoneyMutual has our top spot for personal loans for bad credit, it's by no means your only option.
With the lending networks below, you could qualify for larger loans than what MoneyMutual offers. And since these are installment loans, you have between three and 72 months to repay the debt.
Loans from $500 to $10,000
Receive a loan decision in minutes
Get funds directly to your bank account
Use the loan for any purpose
| Loan Amount | Interest Rate | Loan Term | Loan Example |
| --- | --- | --- | --- |
| $500 to $10,000 | 5.99% - 35.99% | 3 to 72 Months | See representative example |
The CashUSA.com network of lenders can make loan decisions in a matter of minutes at any time of the day or night. That's important if you're looking to finalize a loan and get fast cash.
To qualify for a loan offer, you must be 18 years or older, a U.S. citizen or permanent resident, provide proof of earned wages of at least $1,000 per month after taxes, have a bank account in your name in which you can receive your funds and schedule online payments, and also provide work and home phone numbers, as well as a valid email address.
CreditLoan has a dedicated division in its lending network that only works with bad credit personal loans. That means that you'll increase your chances of approval if other lenders have turned you down because of credit issues.
If you're approved, your lender can wire your borrowed funds to a linked bank account via direct deposit within 24 hours. If you're not ready to apply for a loan, the network's website hosts many financial tools and educational modules that have helped more than 33 million consumers get the knowledge they need to make smarter decisions.
BadCreditLoans.com prides itself on extending loan offers to consumers whose credit score scares away other lenders. In fact, the network states that its partnered lenders regularly approve loan applications for short term loans of $1,500 or less for consumers who have very poor credit.
To qualify, you must be 18 years or older, provide proof of citizenship, such as a Social Security number or proof of legal residency, and provide proof of a regular income from full-time employment, self-employment, disability, or other government benefits, have an active checking account in your name, and provide work and home phone numbers as well as a valid email address.
The PersonalLoans.com network of lenders works with bad credit applicants to help them get the money they need. To reach your goals, lenders will allow a co-signer on your application to improve your chances of approval. You can also include income from government benefits, Social Security, or other means to make your application stand out.
Keep in mind that this network has slightly higher-than-average interest rates for bad credit loans. Depending on your credit score, you could receive a loan offer with an interest rate of up to 34.99%. That's important to note if you're considering a longer-term loan with a large balance that can accrue interest quickly.
The CashAdvance network states on its website that you should only turn to its lenders as a last resort during a financial emergency. That's because any offer you receive from this network is for a payday loan that may charge very high interest rates.
Most lenders on the network won't require a credit check for approval. Instead, the lender will examine your income and spending habits to determine eligibility. If approved, you'll receive a loan term of between two weeks and 30 days to pay off your loan in one lump sum, including any interest or other associated charges.
Alternatives to Paycheck Advance Loans
Your bad credit shouldn't stop you from getting the paycheck advance loans you need. But if lenders aren't quick to approve your application, there are other ways to get quick cash. While these options won't guarantee a loan, they may be able to help you get out of a financial jam.
Try a cash advance app: Modern fintech startups, such as EarnIn and Dave, make it possible for users to secure small payday advance loans at no charge.
To apply, you must download the app of your choice and create an account. After linking a checking account that receives regular direct deposits, the app will examine your current income and spending situation. If you qualify, you could receive a paycheck advance of up to $100 within 24 hours.
The app will then deduct the amount of your advance from your checking account when your next direct deposit arrives.
Borrow from a friend or family member: This has its downsides if you aren't responsible with the loan. But if you have a friend or family member who is willing to help you out, you could potentially borrow enough money to get you to your next paycheck.
But whether you're accepting an installment loan from a friend or a quick cash loan that requires an equally fast repayment, you should always honor your debt and repay the loan in full. You don't want to damage a friendship or lose a family member over money.
Pawn an item of value: This is still considered a loan, but you may have better success since it's a secured loan. That means you're placing an item of value as collateral in case you stop paying or default on the loan. A title loan, where you use your car's title as collateral, will also qualify as this type of loan.
Keep in mind that you'll still have to repay interest on a pawn loan. And if you're late on a payment, or stop making payments altogether, you'll likely lose the item you've pawned to secure the loan.
Consider using a credit card: Most people don't see it as such, but a credit card is a type of loan. After all, the bank that issues the card is giving you access to money with the expectation that you'll repay it.
Many cards, even credit cards for bad credit, provide interest rates that compete with some bad credit personal loans. And since this isn't a traditional loan, you can pay off the debt in your own time — as long as you make at least the minimum payment each month.
Another thing that sets a credit card apart from a cash advance loan is that a credit card is a revolving line of credit. With a payday advance loan, you receive a lump sum of money and repay it all at once. End of story. With a credit card, you can reuse your credit line after you pay it back.
That type of flexibility can help you rebuild your credit score with on-time payments and responsible spending. Check out some of our top-rated cards below:
Don't let a low FICO score stop you from applying – we approve applications others may not.
You don't need good credit to apply.
Just complete the short application and receive a response in 60 seconds.
When you need assistance our award-winning US-based Customer Service agents are there to help.
FICO scores are used to represent the creditworthiness of a person and may be one indicator to the credit type you are eligible for. However, credit score alone does not guarantee or imply approval for any PREMIER Bankcard® product.
| Application Length | Interest Rate | Reports Monthly | Reputation Score |
| --- | --- | --- | --- |
| 4 minutes | See Provider Website | Yes | 9.0/10 |
You don't need good credit to apply.
We help people with bad credit, every day.
Just complete the short application and receive a response in 60 seconds.
You can build or rebuild your credit: apply for a PREMIER Bankcard credit card, keep your balance low, and pay all your monthly bills on time.
Don't let a low FICO score stop you from applying – we approve applications others may not.
FICO scores are used to represent the creditworthiness of a person and may be one indicator to the credit type you are eligible for. However, credit score alone does not guarantee or imply approval for any PREMIER Bankcard® product.
| Application Length | Interest Rate | Reports Monthly | Reputation Score |
| --- | --- | --- | --- |
| 4 minutes | See Provider Website | Yes | 9.0/10 |
Earn 3% Cash Back Rewards* on Gas, Groceries and Utility Bill Payments
Earn 1% Cash Back Rewards* on all other eligible purchases
Up to $1,000 credit limit subject to credit approval
Prequalify** without affecting your credit score
No security deposit
Free access to your VantageScore 4.0 score from TransUnion®†
*See Program Terms for important information about the cash back rewards program.
** Prequalify means that you authorize us to make a soft inquiry (that will not affect your credit) to create an offer. If you accept an offer a hard inquiry will be made. Final approval is not guaranteed if you do not meet all applicable criteria (including adequate proof of ability to repay). Income verification through access to your bank account information may be required.
† Your credit score will be available in your online account starting 60 days after your account is opened. (Registration required.) The free VantageScore 4.0 credit score provided by TransUnion® is for educational purposes only. This score may not be used by The Bank of Missouri (the issuer of this card) or other creditors to make credit decisions.
| Application Length | Interest Rate | Reports Monthly | Reputation Score |
| --- | --- | --- | --- |
| 7 minutes | 29.99% or 36% Fixed | Yes | 8.0/10 |
Ask your employer for an advance: You never know until you ask, right? Depending on where you work, your employer may have the flexibility to offer you an advance on your next paycheck.
This may not be possible if you work for a large chain corporation with many thousands of employees spread throughout the country. But if you work at a smaller business, and possibly have access to the manager or owner of the company, you may have access to a good-faith advance.
Try crowdfunding: Depending on your needs and why you're trying to raise the money, you could qualify for a listing on a crowdfunding website.
Thousands of people post their emergency needs on websites such as GoFundMe, where they can conduct a fundraiser to cover the costs of their needs.
While creating a fundraiser on the platform is a relatively easy process, you'll have to promote your needs for people to find you. You can do this through social media platforms, emailing friends and family, or sharing it on other internet communities that you participate in.
If you're successful, the platform will collect all of the donations you receive and deposit your funds (minus the platform's payment processing fees) as soon as you reach your goal.
What is a Paycheck Advance?
A paycheck advance, also known as a payday loan or payday advance loan, is a type of loan that provides money to get you to your next payday.
This is a short term loan that typically requires repayment in one lump sum — including any associated interest or other charges — in 15 to 30 days. Most paycheck advance loans won't require a credit check. Instead, the lender will examine your direct deposit history along with your bills to determine whether you can afford to repay the loan.
Since these loans come with shorter repayment windows and a good bit more risk for the lender, they tend to have higher interest rates. A traditional payday loan — like those issued by a lender in local offices throughout the country — can charge interest rates of over 700%.
To curb the excessive fees, the government passed several fair lending practice laws aimed directly at the payday lending industry. That's helped online lending networks, like those listed above, grow in popularity over the last few years.
These still act as a short term loan, but they're installment loans — meaning you can repay your debt in monthly installments over time. They also have lower interest rates and fewer fees than traditional payday loans.
These aren't the only two types of paycheck advance loans available on the market today. For more information on how the loans work and how you can improve your loan application, keep reading below.
How Does a Paycheck Advance Work?
Paycheck advance loans work just like any other loan, though they typically cost more than your traditional personal loan.
There is more than one type of payday loan and each works differently when it comes to applying and qualifying. Here's a rundown of the three main payday advance loan types:
Cash Advance Loans: You've likely seen these lending offices pop up in strip malls and other abandoned buildings around your area. Cash advance businesses gained popularity in the late 1990s and continued to build momentum well into the 2010s.
These fast cash lending businesses provide varying loan amounts with ultra-short repayment windows (typically a couple of weeks — or whenever you receive your next paycheck). They rarely require credit checks and accept most applicants who need a small loan between paychecks if they can show proof of income.
But easy approval comes at a cost. These loans come with sky-high interest rates that can turn a loan for a few hundred dollars into a debt of thousands of dollars pretty quickly.
You can head into a local office with a few recent pay stubs to apply for one of these loans. The lender will examine your income and current debts and decide whether you qualify for a loan. If you do, the lender will draft the paperwork and you'll leave with cash or a check for the borrowed amount.
The loan will require repayment in one lump sum, including all the interest, within two weeks to 30 days. If you cannot repay the debt at the agreed-upon time, the lender will rollover the loan with added fees and interest. The loan will continue to roll over and increase in cost until you repay the debt.
The map below shows the maximum number of payday loan rollovers allowed in each state: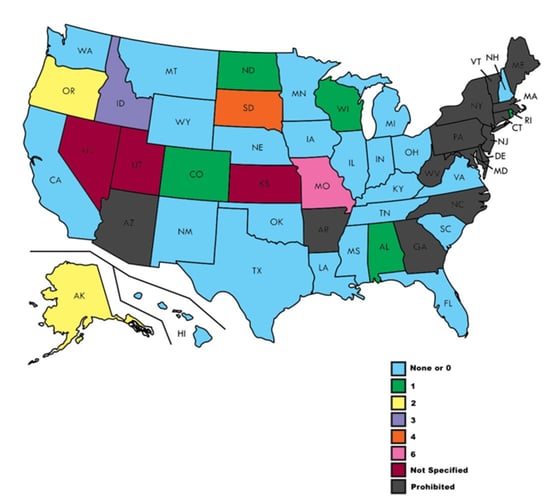 Every year, thousands of consumers become trapped in a revolving debt cycle due to payday loans.
Cash Advance Apps: If you have a smartphone and receive direct deposit into a checking account that has your name on it, you may qualify for a free or low-cost payday advance loan through one of several startup cash advance mobile applications.
Popular cash advance apps allow you to link your checking account or online bank account to apply for a cash advance loan. The app studies your income and uses the data to determine your eligibility for an advance of between $100 and $250 (the amount of the maximum advance varies by each service).
You could receive your advance within one day and the app will automatically deduct the amount you owe from your next direct deposit. A few of the services, including Possible, offer traditional payday loans with slightly longer repayment windows.
Several of the services do not charge for a cash advance loan. Others may charge a nominal setup fee or interest rate for the advance. Check with the provider you choose to make sure you know the total cost of the loan before accepting an advance.
Online Lending Networks: Some may not consider this to be a cash advance loan because it doesn't have the same hallmarks of a payday loan. These networks provide installment loans, meaning you pay the loan off in a series of monthly installments.
These loans charge lower interest rates (typically no more than 35.99%) and have fewer fees than traditional cash advance loans. You can also apply for a loan through the network at any time of day and from any location.
Lending networks aren't direct lenders. Instead, the network refers applicants to a direct lender and receives a referral fee for every loan the lender approves.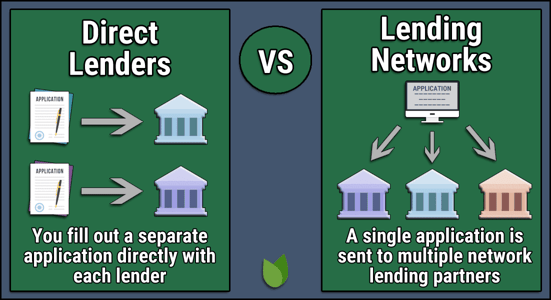 The company will forward your prequalifying application to all of the partnered lenders on its network, and each lender will make a loan decision within minutes. You will then receive offers for each loan you qualify for, generally up to four offers.
If you receive more than one offer, be sure to study the fine print and loan terms for each. They will all contain a different interest rate and fee structure and you should choose the one that will cost you the least.
Once you've decided on which loan is best for you, the network will forward you to the lender's website, where you'll complete your application and loan paperwork. The lender will then deposit cash into your linked bank account within one business day.
How Quickly Can I Get a Payday Advance Loan?
Some payday lenders can have your money in your hand within minutes, but those loans typically cost more in the end.
The fastest payouts will likely come from a local payday lender. You can apply for a loan at a local office and complete the paperwork on-premise. In most cases, the lender can cut you a check for your money on the spot and have you on your way.
While this is certainly the most convenient option, it's also the most expensive. The average payday loan charges an interest rate of 391% — more than 10 times the rate you'd find on a typical bad credit personal loan.
If you can wait just a little longer to receive your funds, you can get a much better deal on your smartphone or through an online lending network. The lenders in these networks have automated underwriting systems in place, meaning you can receive a loan application decision within minutes — day or night.
Most online lenders can disburse loan funds right away. Through ACH direct deposit, the money will appear in your linked checking account or bank account within 24 hours. This may take a bit longer if you apply for a loan late in the business day, or on a weekend or bank holiday.
Some lenders claim they can have your money in your account the same day if you apply and finish your paperwork early on a business day.
You can speed the process up if you're diligent in your replies to the lender. If the lender requires more information or documentation, reply as quickly as possible. The faster you provide what's needed, the quicker you'll get your cash.
Is a Bank Account Required for Approval?
Some local payday lenders may consider your loan application without an active bank account. The lender will likely require you to make your loan payments in person via cash or money order. The lender may also require you to place some sort of collateral to secure your loan in case you never return with payment.
In the case of online lenders, you will almost always need an active bank account or checking account for approval. Since most of these lenders don't have a location in your area, the only way they can forward your money and accept recurring payments is through a linked bank account.
Most lenders also examine your bank account history, including income and spending habits, to qualify you for a loan. Lenders like as much data on an applicant as possible because it limits the lender's risk when approving a loan. Your credit score is the primary data point that tells the lender your perceived risk level.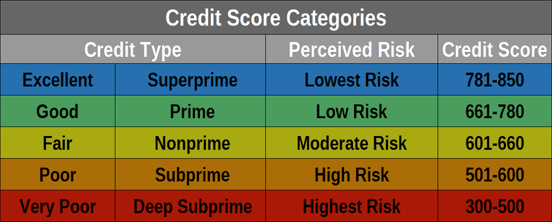 If an active bank account is all you're missing on your loan application, consider signing up for an online bank account. Most online banks have minimum deposits as low as $5 and can sign you up for an account within minutes.
With an online bank account, you can make a payment, receive a debit card, and accept direct deposit of your paycheck or benefits checks without ever needing to visit a brick-and-mortar office. And, since most online banks don't have the overhead costs of large chain banks, you can also access favorable interest rates and more affordable products and services.
What is a Paycheck Protection Program Loan?
A Paycheck Protection Program Loan, or PPP Loan, is a small business administration loan program that was enacted by the U.S. government in early 2020 to help businesses meet their payroll costs during the COVID-19 pandemic.
The loans gave incentives for small business owners to keep employees on their payroll during the country's quarantine and stay-at-home orders. The timeline to apply for these loans ended in August 2020.
While the loans helped many Americans receive paychecks during the shutdown, an individual who didn't receive a paycheck did not qualify for the loan. So Paycheck Protection Program loans aren't a form of payday loan, economic injury disaster loan (EIDL Loan), or payroll advance.
Will a Lender Need to Review My Credit Score for Approval?
A lender will require a credit score and credit check to determine your eligibility for most loans. Every time a lender approves a loan, they assume a risk that could result in a loss if the borrower doesn't repay the debt.
To minimize that risk, most lenders want as much information as possible to ensure the borrower is financially responsible and has the means to repay the loan.
Your credit report provides more of that information than any other document. Through a credit check, the lender can see if you make your payments on time, have excessive balances on credit cards or other loans, and whether you have any defaults or bankruptcies.
This is especially important for online lenders that are not located in your area. Since these lenders have limited knowledge and access to you, they need more data to make an informed decision on your loan application.
A local payday lender may forego a credit check and opt instead to view your bank account history, which will show your income and whether you have overdraft fees or other issues in your account history.
Proximity isn't as important to these lenders. If you stop making payments, the lender can easily track you down or come visit you at your place of employment. As uncomfortable as that may seem, it's, unfortunately, the price you must pay to accept a personal loan without a credit check.
What Kinds of Fees and Interest Rates Should I Expect?
This depends on the type of loan you receive. A traditional payday loan can charge a sky-high interest rate of between 390% to 780%. You may also be charged origination fees, processing fees, and other transaction fees that make the loan even more expensive.
And if you can't repay the debt within the two-week window, the lender could roll the loan over into a new loan and charge more fees and an even higher interest rate.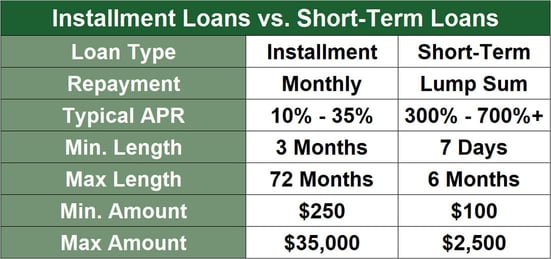 With an online loan from one of the lending networks listed above, you may qualify for an interest of between 7.95% and 35.99%. That's because these types of loans fall under state usury laws that limit how much interest the lender can charge. These laws only pertain to interest and do not include other charges a lender can add when processing your application.
For example, an origination fee is a common charge added by lenders to cover the time and effort it takes to create and process your loan paperwork. This fee can range from a set amount to a percentage of your overall loan total.
Some lenders charge anywhere from 1.5% to 8% of your total loan as a fee. Depending on the lender, you may be required to pay the fee upfront when your loan closes or it could be deducted from your loan funds.
For example, a $1,000 payroll loan with an 8% origination fee would yield a separate $80 charge. Your lender may require you to pay the $80 when you sign the loan paperwork, fund a $1,080 loan to cover the cost, or disburse $920 to you, with the origination fee deducted from your payout.
Make sure you check with your lender to understand all fees and charges before you accept and sign for a loan.
Bridge the Payday Gap with a Paycheck Advance Loan
You work hard for your paycheck — so why should you have to wait two weeks to receive your earnings if you're in a financial bind?
A decade ago, your options were limited to pawning something of value, begging a loved one for a loan, or going to an expensive payday lender for a cash advance. Thankfully, modern financial technology has created a way for consumers to apply for an online cash advance loan at any time of the day or night and receive the loan proceeds within 24 hours.
Better yet, you won't have to risk all of your paycheck to cover the fees for your paycheck advance loans.
Advertiser Disclosure
BadCredit.org is a free online resource that offers valuable content and comparison services to users. To keep this resource 100% free for users, we receive advertising compensation from the financial products listed on this page. Along with key review factors, this compensation may impact how and where products appear on the page (including, for example, the order in which they appear). BadCredit.org does not include listings for all financial products.
Our Editorial Review Policy
Our site is committed to publishing independent, accurate content guided by strict editorial guidelines. Before articles and reviews are published on our site, they undergo a thorough review process performed by a team of independent editors and subject-matter experts to ensure the content's accuracy, timeliness, and impartiality. Our editorial team is separate and independent of our site's advertisers, and the opinions they express on our site are their own. To read more about our team members and their editorial backgrounds, please visit our site's About page.