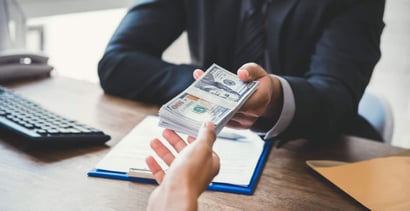 Although being rejected for a loan outright can be tough, being approved for a loan that is simply too small to meet your needs can, in some ways, almost be worse.
Unfortunately, there's no way to guarantee a loan of a certain amount no matter what your credit score. Furthermore, it's impossible to even guarantee approval at all for those with the worst credit scores. But there are things you can do to increase your chances of being approved as well as increase the amount for which you can qualify.
It all starts with finding a loan provider that won't disqualify you based on your credit score alone. Below, we'll explore some top providers of bad credit personal loans for $5,000 and up, and we'll offer some valuable tips to increase your chances of being improved for a loan.
Bad Credit Personal Installment Loans For $5,000+
There are a few ways to find lenders willing to work with poor credit, such as checking with local credit unions and community banks. But using an online lending network may be one of the easiest methods.
Online lending networks use a single application to help borrowers connect with hundreds of potential lenders from around the country. Many of our top-rated lending networks have lending partners with flexible credit requirements that may be a good fit for your financing needs.
MoneyMutual launched in 2010, and in a little over a decade, the online lender network boasts more than 2 million satisfied customers. The site connects each borrower with direct lender companies offering loans of up to $5,000, with direct deposit in as little as 24 hours. 
24/7 Lending Group works hard to put the "personal" back into personal loans by cultivating relationships with lending partners and borrowers. The lending network offers various loan options for borrowers of every credit rating, including debt consolidation loans. Flexible repayment terms and a range of interest rates mean that you can find a loan offer that makes sense for you.
CashUSA.com connects users with lenders offering loans of up to $10,000 for well-qualified applicants. Applicants will need a regular monthly income of at least $1,000 — after taxes — to qualify for a loan. Loan terms are available in lengths up to 72 months.
SmartAdvances.com partners with direct lenders that offer loans of up to $20,000. You'll need good credit, a high income, or a low debt-to-income ratio, among other things, to qualify for a loan that large, but $5,000 may be possible if you meet the lender's qualifying criteria. You must earn at least $1,000 per month to qualify.
Although BadCreditLoans.com advertises loan amounts of $500 up to $10,000, the individual lender you choose and your credit score will determine your loan amount. Bad Credit Loans does warn that those with bad credit may be limited to loans of up to $1,000.
CreditLoan.com sets itself apart in the crowded emergency loan industry in a few ways. The most notable way is that instead of having one network for all borrowers, CreditLoan offers separate networks for people with good credit and people with bad credit. Keep in mind that while CreditLoan advertises unsecured loan products up to $25,000, bad credit borrowers can only request up to $5,000. 
While BillsHappen® is a relative newcomer to the bad credit personal loan market, the lending network has sufficient backing to score ad spots on CNN, MTV, VH1, The Hallmark Channel, and even FOX. Like many networks, BillsHappen leaves the credit checking to its direct lender partners and asks only a handful of questions to prequalify each borrower. 
PersonalLoans.com caters to more than just those with poor credit, with partners offering loans of up to $35,000 for those who qualify. However, don't expect the maximum loan amount if your credit is poor. Loan terms can be obtained in lengths of up to 72 months.
If you use an online lending network to obtain a personal loan, keep in mind that it won't be the network itself that provides your funds. The network will provide the most appropriate loan offers (if any), of which you choose the offer — and lender — you'd like to accept.
Similarly, it's the lenders that set the credit and income requirements for each loan, as well as the associated interest rates and fees.
Once you've chosen an offer, you'll be taken to the individual lender's website to complete the loan process. It's the direct lender that will provide financing, and it's the lender to which you will make your payments.
How Does a Personal Loan Work?
A personal loan is pretty simple: You as a borrower make the loan request, and the direct lender offers you the amount with the understanding that you will pay it back with interest. Different types of personal loans have different conditions, making them a little more complicated.
A payday loan is one type of small personal loan. The lender will expect you to pay the amount back within one to two weeks rather than make a monthly payment toward the balance, as is the case with a personal installment loan.

There is also a difference between a secured loan and an unsecured personal loan. Secured loans use an asset that you own, such as a car, home, or valuable possession, as insurance that you'll pay off the balance, while an unsecured loan uses your credit history and credit score to determine loan approval and monthly payment terms. 
How Do I Get Approved For a Large Loan With Bad Credit?
If you're having trouble obtaining a loan for the amount you need, there may be a few things you can do to improve the quality of your loan offers.
The first and most obvious is to improve your credit score. If you can wait before applying for a loan, simply spending a few months paying down debt and making your payments on time can help improve your credit score, particularly if some of your negative marks age off of your credit report during that time.
When waiting for a loan isn't an option, you may need to add some assurance to your application. This may mean finding a lender that will allow you to apply for a secured personal loan using a valuable asset — usually a vehicle — as collateral.
It also may mean having a friend or family member with good credit apply with you. Some lenders may allow cosigners or joint applicants who can agree to take responsibility for the loan if you fail to do so.
While applying with a second person with better credit can sometimes provide a bigger loan, remember that you're asking a serious favor when you ask someone to cosign your loan. If you make late payments or default on the loan, your cosigner's credit will also be severely damaged by your irresponsible behavior.
For cases in which direct bank financing is not obtainable, you may have better luck exploring other avenues, such as peer-to-peer lending platforms or local credit unions.
Both types of lenders tend to have higher risk tolerances than traditional banks, meaning they may have more flexible requirements to qualify and/or offer you a larger loan amount.
One alternative option may be available to you if you own your own home. You may be able to forgo a personal loan in favor of a home equity loan or line of credit.
Best for cash-out refinance
Utilize your home equity with America's #1 lender
eClosing allows customers to close electronically, greatly speeding the process
A+ rating with the BBB
Receive cash for home improvements, college tuition, or paying off debt
24/7 access to your loan through the Rocket Mortgage app
| Interest Rate | In Business Since | Application Length | Reputation Score |
| --- | --- | --- | --- |
| Varies | 1985 | 5 minutes | 9.5/10 |
Because home equity loans use your house as collateral, they're typically easier to obtain with a low credit score than unsecured loans (though your credit history will still be a factor).
Additionally, the amount you can borrow will depend more on how much equity you have in your home than on your credit history, which can unlock larger loan amounts than those for which you may otherwise qualify.
Keep in mind that you should never use anything for collateral that you can't afford to lose unless you are 100% sure you can repay your loan as agreed. That includes any vehicles used for collateral in a personal loan as well as any property used in an equity loan or line of credit.
Failing to pay your loan as agreed will result in the loss of your collateral and you'll have very little recourse if the worst comes to pass.
What Credit Score Do You Need to Take Out a $5,000 Loan?
Loan companies have individual loan requirements, so it's impossible to specify what credit score you need for a $5,000 loan. A borrower with excellent credit or even good credit will have an easier time getting loan approval than a bad credit borrower, but a bad credit score won't necessarily disqualify you.
Several companies specialize in bad credit loan products, taking on the additional risk of a borrower with negative marks on their credit history in exchange for a bigger payment from higher interest rates. A bad credit lender can be expensive, but online installment loans can help you deal with an emergency if you use them responsibly.
What Is the Monthly Payment on a $5,000 Loan?
The monthly payment for a $5,000 loan depends on the loan type, your credit history, and the specific terms that come with the loan approval. Different bad credit loan products offer different terms, and one online lender will have different terms than another lender, even for the same loan option.
For example, debt consolidation loans tend to have better terms than short-term loans, such as a payday loan or cash advance. If you can get a loan through your credit union, you can usually get a lower monthly payment than if you find a cash loan through an online lender.
Before signing a contract for any online loan, check the breakdown of your payments. Lenders must provide a summary of your monthly payment obligations as part of your loan offer paperwork. 
If you aren't sure you'll be able to make your monthly payments on time, try to investigate other options such as a lower loan amount, a longer repayment term, or other loan types. 
What's the Easiest Loan to Get With Bad Credit? 
The easiest bad credit loans to get are usually secured loans, which use a valuable item you own as collateral for the amount you borrow. If you own a car, for example, you can try to get an auto title loan that uses the value of your car to determine the amount you can borrow. 
Pawn shop loans are another easy loan type if you own a valuable item like jewelry or electronics and can pay the loan back within a specified time frame.
A payday loan is also usually easy to get because it's based on your earnings rather than your credit history. If you have a shaky credit history but a job that pays well, this kind of loan can help you deal with a financial emergency. But be careful – payday loans usually have high interest rates that quickly compound if you can't repay as agreed.
What Are My Options If I'm Denied a Loan?
Depending on your credit history, even the best bad credit loan companies may have to say no to your application. If you're denied a bad credit loan, the options available to you depend on your circumstances and how quickly you need the money.
If traditional lenders aren't willing to take the risk, you can reach out to a Peer to Peer (P2P) lending network. Individuals in a P2P network take turns loaning money to people who need it, which can be a lifesaver for bad credit borrowers who can't get help from lending companies.
Some lending companies specialize in helping bad credit borrowers, including all of the networks above. They offer reasonable terms and work specifically with people with challenging credit histories, so they're more likely to approve someone that other lenders decline.  
Funding May Be a Few Clicks Away
It can be frustrating to finally be approved for a loan, only to find it's not enough to cover whatever it is you need. Unfortunately, when you have bad credit, being approved at all is hardly a guarantee, and being approved for a large loan can be a significant challenge.
Choosing the right lender is half the battle, but even securing a $5,000 or higher loan won't necessarily fix your financial troubles. Make sure you also take a good, long look at your financial situation and examine how you got into credit trouble to begin with so you can work toward a better credit future.
If you're overwhelmed by debt, consider working with a debt relief company. These organizations can help not just with negotiating the terms of your existing debts but also help you pay off your debts with a manageable repayment plan.
Advertiser Disclosure
BadCredit.org is a free online resource that offers valuable content and comparison services to users. To keep this resource 100% free for users, we receive advertising compensation from the financial products listed on this page. Along with key review factors, this compensation may impact how and where products appear on the page (including, for example, the order in which they appear). BadCredit.org does not include listings for all financial products.
Our Editorial Review Policy
Our site is committed to publishing independent, accurate content guided by strict editorial guidelines. Before articles and reviews are published on our site, they undergo a thorough review process performed by a team of independent editors and subject-matter experts to ensure the content's accuracy, timeliness, and impartiality. Our editorial team is separate and independent of our site's advertisers, and the opinions they express on our site are their own. To read more about our team members and their editorial backgrounds, please visit our site's About page.