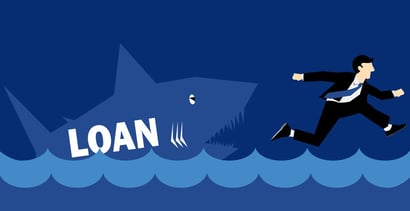 More than four decades ago, the movie Jaws had Americans scared to step into the water. But what those moviegoers didn't see is that the sharks who walk on two feet can be even more dangerous than the ones that inhabit the sea.
Loan sharks are money lenders who charge extremely high interest rates or impose terms that make it very difficult to pay off a loan so they can continue to extend penalties and fees. And, among the payday and other short-term lenders in the market, there are plenty of sharks in the financial waters. That's why it's vital you pay attention to the repayment terms and penalties attached to any loan you consider accepting.
Thankfully, there are plenty of non-loan shark loans for bad credit available if you know where to look. In the following article, we'll take a look at several of these options.
Non-Loan-Shark Loans for Bad Credit
Sharks can be scary, but don't let the fear of being bitten stop you from searching for the loan you need. Several reputable lenders with a long history of helping consumers with damaged credit offer non-predatory, affordable loans.
Short-term loans up to $5,000
Online marketplace of lenders
Funds available in as few as 24 hours
Simple online form takes less than 5 minutes
Trusted by more than 2 million customers
| Loan Amount | Interest Rate | Loan Term | Loan Example |
| --- | --- | --- | --- |
| Up to $5,000 | Varies | Varies | See representative example |
MoneyMutual is among the largest, most established and respected online lending marketplaces. A single application could pair you with multiple loan offers, and, once you've made your choice, can return a decision in minutes and deposit funds in your linked checking account in as little as 24 hours. The loan terms are based on the individual borrower, and loan amounts can be up to $2,500.
Loans from $500 to $10,000
Receive a loan decision in minutes
Get funds directly to your bank account
Use the loan for any purpose
| Loan Amount | Interest Rate | Loan Term | Loan Example |
| --- | --- | --- | --- |
| $500 to $10,000 | 5.99% - 35.99% | 3 to 72 Months | See representative example |
If you need a larger loan, CashUSA.Com offers personal loans of between $500 and $10,000 and repayment windows from three months to six years. The marketplace features lenders that cater to consumers with all types of credit histories — even very bad credit. And lenders can make a decision in minutes and disburse funds by the next business day.
Loans from $250 to $5,000
Cash deposited directly into your account
Get money as soon as tomorrow
Bad credit OK
More than 750,000 customers since 1998
| Loan Amount | Interest Rate | Loan Term | Loan Example |
| --- | --- | --- | --- |
| $250 to $5,000 | Varies | Varies | See representative example |
CreditLoan.com has been serving customers for more than two decades. Depending on the lender you're matched with, loan amounts vary from $250 all the way to $40,000, though only those with fair credit or better will be approved for amounts greater than $2,500. Borrowers must complete a simple online form — at no charge — to be matched with a reputable lender.
Loans from

$500

to

$10,000

Get connected with a lender
Simple form & quick funding
Get your money as soon as next the business day, if approved
| Loan Amount | Interest Rate | Loan Term | Loan Example |
| --- | --- | --- | --- |
| $500 to $10,000 | 5.99% - 35.99% | 3 to 60 Months | See representative example |
As you can tell by the name, BadCreditLoans.Com specializes in finding lenders for consumers with bad, and sometimes very bad credit. The lending marketplace has helped thousands of consumers in the last 20 years with loan amounts that range from $500 to $5,000. If you're approved for a loan, you can get access to your funds as quickly as the next business day.
Loans from

$1,000

to

$35,000

Large lender network
Fast loan decision
Use the loan for any purpose
Funding as soon as one business day, if approved
| Loan Amount | Interest Rate | Loan Term | Loan Example |
| --- | --- | --- | --- |
| $500 to $35,000 | 5.99% - 35.99% | 3 to 72 Months | See representative example |
PersonalLoans.Com offers the largest loans of any lender on this list, with loan amounts that can extend from $500 to $35,000, depending on your creditworthiness. PersonalLoans.Com submits your application to its vast network of lenders and can return with multiple potential offers in a matter of minutes. Loan terms are based on the lender's standards and the borrower's credit history.
Short-term loan of

$100

to

$1,000

Large network of lenders
Loan decision as fast as a few minutes
Funding as soon as the next business day, if approved
| Loan Amount | Interest Rate | Loan Term | Loan Example |
| --- | --- | --- | --- |
| $100 to $1,000 | 200% - 2,290% | Varies | See representative example |
CashAdvance.Com offers short-term loans ranging from $100 to $1,000. But unlike many other short-term lenders, CashAdvance.Com connects your application only to lenders that have been vetted and determined to have high customer service standards. The APR on any loan offer you may receive will depend on the length and amount of the loan. Lenders in the CashAdvance.Com network welcome applicants with all credit types.
Credit Cards for Bad Credit
If you're looking for a revolving credit line instead of a one-time loan, check out some of the options below. These unsecured cards don't require a security deposit and can help you rebuild your credit score by reporting your payment history to the three major credit reporting bureaus.
| Application Length | Interest Rate | Reports Monthly | Reputation Score |
| --- | --- | --- | --- |
| 9 minutes | 35.99%* | Yes | 8.5/10 |
You can use the Total Visa® Unsecured Credit Card at any of the millions of online or brick-and-mortar retailers that accept Visa. And, since it's an unsecured card designed for consumers with bad and rebuilding credit, you won't be forced to make a large security deposit to get accepted. You will, though, have to pay a one-time program fee to get access to your initial $300 credit limit.
| Application Length | Interest Rate | Reports Monthly | Reputation Score |
| --- | --- | --- | --- |
| 10 minutes | 35.99%* | Yes | 8.0/10 |
The First Access Visa Card charges a one-time program fee, which is paid upfront when you activate your card. This card tends to charge slightly higher interest rates, so be sure to pay your balance in full each month if you decide to add it to your wallet.
Up to $1,000 credit limit doubles up to $2,000! (Simply make your first 6 monthly minimum payments on time)
All credit types welcome to apply!
Monthly Credit Score – Sign up for electronic statements, and get your Vantage 3.0 Score Credit Score From Experian
Initial Credit Limit of $300 – $1,000* (subject to available credit)
Monthly reporting to the three major credit bureaus
See if you're Pre-Qualified without impacting your credit score
Fast and easy application process; results in seconds
Online account access 24/7
Checking Account Required
| Application Length | Interest Rate | Reports Monthly | Reputation Score |
| --- | --- | --- | --- |
| 9 minutes | 29.99% APR (Variable) | Yes | 8.5/10 |
The Surge Mastercard® accepts a wide range of applicants and can offer credit limits from $300 to as high as $1000 to qualifying new cardholders. All credit types are welcome to apply, and with monthly reporting to the three major credit bureaus, you can build your credit with regular, responsible use.
Greater access to credit than before - $700 credit limit
Get a Mastercard accepted online, in store and in app
Account history is reported to the three major credit bureaus in the U.S.
$0 liability for unauthorized use
Access your account online or from your mobile device 24/7
| Application Length | Interest Rate | Reports Monthly | Reputation Score |
| --- | --- | --- | --- |
| 8 minutes | See terms | Yes | 9.0/10 |
The Milestone® Mastercard® accepts applicants with poor credit. The annual fee and APR are lower than that of some competitors, and there's no monthly maintenance charge. Also with the Milestone® Mastercard®, you'll pay no security deposit or program fee, which is rare in the space.
Are Loan Sharks Dangerous? Why Are They Called Sharks?
Loan Sharks got their name because they often use the same predatory practices that sharks use in the ocean. They seek weakened prey, take advantage of their strengths, and pounce when the time is right.
The only difference is that these sharks hang out on land. But that doesn't make them less dangerous. They offer their services to people who are in desperate need of quick funds and have no one else to turn to. They take advantage of their financial position to lend money and set terms that are so much in their favor, they're borderline illegal.
These terms often include ridiculously high interest rates and require repayment in short periods, making it more difficult to meet the repayment window. This initiates a penalty that makes the loan even more expensive for you and more profitable for them. The cycle can continue for years until you finally pay off the loan after spending substantially more than you originally borrowed.
Recently, legislators have worked to enact laws that would set a national interest rate ceiling of 15% to protect consumers from loan sharks — who often charge interest rates that average around 30 times higher than the proposed ceiling.
But sharks aren't new to the financial waters. In 1934, Republican presidential candidate Thomas Dewey of New York helped break up the city's loan shark racket that charged upward of 1,040% interest with enforcement methods that included beatings and death threats.
At the time, some loan sharks made upward of $1 million each week. In today's money, that's equal to more than $19 million.
While modern day loan sharks may not threaten to break your kneecaps if you don't pay them back on time, they can institute repayment penalties that put you in financial jeopardy for years to come.
That's why it's important you understand the terms of any proposed loan — including the amount you'll need to fully repay the loan — before signing any documentation.
How Can You Borrow Money if You Have Bad Credit?
The rise of online lending marketplaces created competition in the bad credit lending space. Today, hundreds of private companies specialize in extending loans to consumers big banks would otherwise ignore.
While borrowers who have bad credit histories pose a substantial risk to lenders, they can also yield tremendous profits since they often have to pay higher interest rates and other fees. For some lenders, the risk is worth the reward.
Some local credit unions specialize in extending loans to members with thin or damaged credit profiles. These loans are attractive compared to others in the space since credit unions, by law, can't charge more than 18% interest on any loan.
If you don't qualify for a personal loan on your own, you still have ways to secure the funds you need. A popular option is to find a cosigner among your family or friends. The addition of a second name on the loan — preferably one with a better credit rating than yours — will make the loan more attractive to lenders and improve your chances of approval at a better interest rate.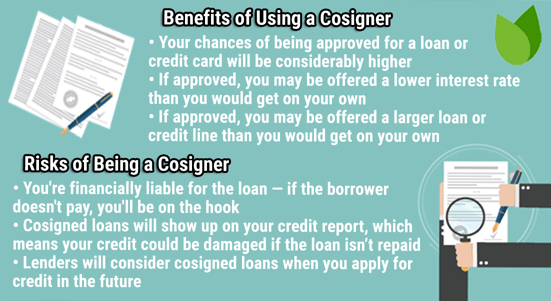 But you should make sure you and your cosigner fully understand the situation before you sign for any loan. If you default on the loan, your cosigner becomes responsible for repayment and also takes on the same damage you'll take to your credit score for late or defaulted payments.
Similar situations have ended friendships and fractured families, so be certain you can pay back any loan that features a cosigner.
If you own a home that's worth more than what you owe on your mortgage, you can possibly get approved for a home equity loan that provides some financial relief with easier credit requirements.
It's very important you understand the terms of any loan you accept. Defaulting on a home equity loan could result in your losing your home.
What Happens if You Don't Pay a Loan Company Back?
Many legitimate circumstances can make repaying a loan difficult or even impossible. Maybe you experience a medical emergency or other big expense, or you lose your job.
Before you abandon your loan payment, it's best to talk to your lender to see if you can adjust your terms and potentially lower your monthly payment to make it more affordable. Otherwise, you could be hit with expensive late fees, be pestered by bill collectors, or, even worse, end up before a judge who decides to garnish your wages.
And, in the end, you'll also be left with a heavily damaged credit score that will keep other lenders from trusting you for years to come.
Every lender gives you a certain amount of time without payments before they consider the loan in default. There's no exact way to tell how much of a window you'll have, but it typically ranges between 30 to 90 days. Once you're considered in default, you'll likely begin receiving those dreaded collection calls.
While the easy path is to ignore the calls, the best course of action is to talk to the debt collector and try to modify your loan agreement to get back on track with regular payments. That's because ignoring the calls can escalate the path collectors take to recover their money. Some lenders make a practice of taking defaulted debtors to court to ask a judge to garnish their wages.
When this happens, the court will automatically deduct money from each paycheck you receive to repay the loan, all late fees, court costs, and the lender's recovery costs. This can amount to thousands of dollars more than you would have paid by simply communicating with the lender.
And since you'll be left with a pretty damaged credit score after the whole ordeal, you'll likely get stuck with super-high APRs on future loans and credit cards — if you can get approved at all.
Is Predatory Lending Legal?
To answer this, you must first define predatory lending. Most federal laws that target predatory lenders focus on payday loans. These are short-term loans with very high interest rates that the borrower promises to pay back using their next paycheck.
The problem is that more than 80% of borrowers aren't able to pay back the loan under those terms, which creates a balloon penalty that makes the loan even more expensive and begins a debt cycle that can extend for months or years.
And it's all legal. Well, in most states.

Laws that protect borrowers from these types of debt have recently been repealed, opening the door for more lenders to enter the space. The hope is that opening the marketplace to new lenders will create competition that lowers interest rates — but that's all speculation at this time.
Still, some laws aim to help consumers get access to fair and equal lines of credit. Among them are the Equal Credit Opportunity Act (ECOA), which makes it illegal for a lender to impose a higher interest rate or higher fees based on a person's race, religion, sex, age, marital status, source of income, or national origin.
The Home Ownership and Equity Protection Act (HOEPA) protects consumers from excessive fees and interest rates. Additionally, 25 states have anti-predatory lending laws on their books, and 35 states limit the maximum prepayment penalty that a homeowner must pay on their mortgage.
But those laws do little to limit smaller payday lenders who may use unscrupulous practices to gain tremendous profits from unknowing borrowers. That's why you must fully understand the repayment terms and potential penalties associated with any loan you're considering.
Work with an Online Lender for Safe Lending
Not many people want to go swimming with sharks — including the ones who walk among us. When you're looking for a loan, it's important you know who you're dealing with and the terms you'll face after signing on the dotted line.
Finding a loan when you have bad or no credit is an uphill climb, but it's not impossible. By shopping around, doing your research, and sticking only to lenders with a good reputation and positive reviews to back them up, you'll limit the odds of a shark taking a big bite out of your bank account.
Advertiser Disclosure
BadCredit.org is a free online resource that offers valuable content and comparison services to users. To keep this resource 100% free for users, we receive advertising compensation from the financial products listed on this page. Along with key review factors, this compensation may impact how and where products appear on the page (including, for example, the order in which they appear). BadCredit.org does not include listings for all financial products.
Our Editorial Review Policy
Our site is committed to publishing independent, accurate content guided by strict editorial guidelines. Before articles and reviews are published on our site, they undergo a thorough review process performed by a team of independent editors and subject-matter experts to ensure the content's accuracy, timeliness, and impartiality. Our editorial team is separate and independent of our site's advertisers, and the opinions they express on our site are their own. To read more about our team members and their editorial backgrounds, please visit our site's About page.