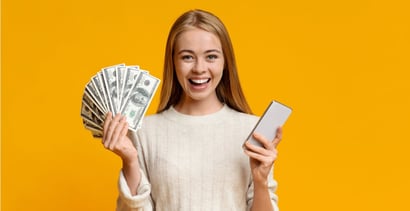 Thanks to modern technology, cash advance app allow you to get an advance on your next paycheck. You may have to jump through a few hoops to open an account with a cash advance app, such as setting up automatic repayments from your bank account, but after your account is active, you can access small advances for little to no money.
While these generally low-cost services can be a boon for people who need a tank of gas or a few groceries, they don't all provide larger loans for emergencies like car repairs. Therefore, a cash advance loan network may be a better option, but the interest rates for these short term loans will be higher than if they were to use a cash advance app.
We'll explore both options in this article, starting with our top-rated cash advance services.
Cash Advance Services | Cash Advance Apps | FAQs
Best Cash Advance Services
Lending networks provide personal loans to qualified borrowers and each network partners with numerous lenders throughout the U.S.
Once you submit your prequalifying application to the network, every partnered lender will have a chance to bid for your business. That means you may receive several personal loan offers with varying terms to choose from.
Short-term loans up to $5,000
Online marketplace of lenders
Funds available in as few as 24 hours
Simple online form takes less than 5 minutes
Trusted by more than 2 million customers
| Loan Amount | Interest Rate | Loan Term | Loan Example |
| --- | --- | --- | --- |
| Up to $5,000 | Varies | Varies | See representative example |
You'll pay no extra fees to access the MoneyMutual network of lenders. That's because each lender pays a referral fee to the network for every loan they close. This wide-reaching network partners with lenders that provide loan decisions in a matter of minutes — so you won't have to wait around to find out if you're approved.
If you qualify, you could receive multiple loan offers of up to $2,500 to your email within minutes after you submit your application. Once you choose an offer you like, the network will forward you to the lender's website, where you'll finish the loan paperwork and receive your funds within 24 hours.
CashUSA.com provides loans of up to $10,000 with fast approvals and loan payouts within one business day. And since the networks will accept applications from people with all types of credit, you may find approval — even if other lenders have rejected you in the past.
To qualify for a loan offer, you must be 18 years or older, a U.S. citizen or permanent resident, provide proof of earned wages of at least $1,000 per month after taxes, have a bank account in your name in which you can receive your funds and schedule online payments, and provide work and home phone numbers, as well as a valid email address.
CreditLoan provides bad credit loan opportunities of up to $5,000 and loans to consumers with good credit that can extend to $40,000 with as many as 72 months to repay the debt.
The only potential catch is that CreditLoan only allows consumers to have one active loan at a time through the network. If you already have a loan you're paying off through CreditLoan, you aren't eligible for another personal loan until you satisfy the first debt.
BadCreditLoans.com states that its lenders can help when others can't. That's been the case since 1998 when the network opened its digital doors to consumers struggling to find personal loan approval elsewhere because of their credit history.
The network's lenders commonly approve smaller loan requests of $1,500 or less to bad-credit individuals. To qualify, you must be 18 years or older, provide proof of citizenship — such as a Social Security number or proof of legal residency — proof of a regular income from full-time employment, self-employment, disability, or other government benefits, work and home phone numbers, and have an active checking account in your name.
PersonalLoans.com partners with lenders that specialize in providing loan packages to consumers who have bad credit. Just know that any such loan will come with a higher interest rate to offset the risks involved.
This network considers loan applications of up to $35,000, an amount not many lenders will consider for someone who has bad credit. But with an interest rate that can reach as high as 35.99%, you should only borrow as much money as you absolutely need. Otherwise, you may find yourself biting off more than you can financially chew.
The CashAdvance network provides borrowers with access to a payday lender in their area who can offer ultra-short-term loans of between two weeks and 30 days. These loans act as a bridge to your next payday, but can quickly become expensive if you don't pay the loan off in time.
Your loan will likely start off with an interest rate already in the triple digits. If you fail to satisfy the loan on time, the debt will roll over into a new loan with an even higher interest rate.
That can turn a loan of a few hundred dollars into a debt of a few thousand dollars in a matter of months. Only use these loans as a last resort.
Best Cash Advance Apps
The following five apps provide eligible workers the opportunity to take an advance from their upcoming paycheck. Loan amounts range from $100 to $500 and eligibility criteria varies by app. These low-cost solutions are a viable way to avoid predatory lending practices associated with traditional payday loans.
7. Dave


More than 7 million consumers have downloaded the Dave app, which allows you to create an online bank account that can speed up your direct deposits by as many as two days. You can also receive a payday advance of up to $500 at no charge.
Dave also partners with LevelCredit to let account holders report their rent payments to major credit bureaus — giving them an otherwise inaccessible credit-building opportunity.
8. Earnin


The Earnin mobile app allows you to get paid when you work — not only on payday. When you open an account, you can link your work time sheet to an active checking account that receives direct deposits so you can receive salary advances before payday.
You can choose how much you want to pay for the service — with $0 tip options available. New users start with a $100 maximum pay period advance. Over time, you can increase your limits to up to $500.
9. Possible


You can apply, receive approval, and accept your borrowed funds of up to $500 within minutes on the Possible mobile app. More than 1 million consumers to date have accessed these short-term payday-style loans.
Possible doesn't check FICO scores to determine eligibility. Instead, the lender examines your work history and regular pay schedule to either accept or decline loan applications.
10. Even


Even claims that its members have saved over $100 million in fees and interest associated with credit, overdrafts, and loans by accessing the app's Instapay feature.
This option enables employees to access their earned wages when they're short on cash. Instapay is available at no additional cost to Even members, though there may be an associated fee for the cash advance.
11. Brigit


The Brigit app allows users to link a checking account that receives a regular direct deposit so they can request up to $250 in payday advance funds at no charge.
Depending on what time you request your advance, you can receive it either the same day or the next business day. The app also provides insights into your spending and tips on how to grow your savings and income.
What is a Cash Advance?
A cash advance is a popular financial service product that allows you to get fast cash between paychecks through a small advance loan. This isn't a longer-term installment loan. Instead, you're expected to pay back the entirety of the loan — with any interest or other fees included — when you receive your next paycheck.
These types of loans are also sometimes referred to as a payday loan or payday advance. The most common form of these products is the payday loan, which is relatively easy to find at various independently owned lending locations in most cities and towns.
These loans rarely require credit checks. Instead, they examine your regular income to determine if you qualify for the loan. Most consumers who apply will qualify — but that doesn't mean you should jump at the chance to accept one of these loans.
A payday loan often includes astronomically high fees and an interest rate that can easily climb into the four digits. In fact, payday loan interest rates have become so out of hand that several government agencies have enacted rules that either outlaw the loans in certain states or drastically limit how much they can charge borrowers.
This comes on the heels of thousands of payday loan horror stories about consumers who borrow as little as $400 and end up owing more than $12,000 to satisfy the debt. That's why payday loans are not available in every state.

The debt quickly grows based on the way lenders structure these loans. Payday loans typically require repayment within 15 to 30 days. If you cannot make the lump-sum repayment, the lender charges you a fee and rolls the debt into a new short-term loan with a higher interest rate.
The lender will happily continue to roll your loan over every two weeks — each time adding a new late fee and higher interest rate. This is why you should only consider these loans as a last resort during a serious financial emergency.
Thankfully, you can also find cash advance options with very affordable rates thanks to modern technology.
Many startup online banks provide mobile apps that you can link to your checking account that receives regular direct deposits. The app will determine your eligibility based on your income and spending habits and may provide you with as much as $250 in cash advance funds each pay period at no charge.
To qualify, you must accept an agreement that allows the app to withdraw the borrowed money from your checking account when your next direct deposit arrives. This allows you early wage access before your next payday, and you pay no — or minimal — fees for the convenience.
The Earnin app is among the leaders in the payday advance apps category and boasts millions of downloads and active users on the platform. If you're considering using one of these apps to receive an affordable payday advance, check out the list above to get the rundown of the top options.
What is an App?
An app is short for software application. It is a software you can add to a smartphone to provide access to a website or program directly from the phone.
Apps encompass most topics and business models. For instance, your favorite games on your cellphone are considered apps. When you access your credit card or bank account from your phone's home screen, you're using an app. The calculator, calendar, clock, and other functions on your phone also work through an app interface.
You can download most mobile applications from your phone's app store or computer's operating system. That could mean the Google Play Store for Android users or the Apple App Store for iOS users. Some apps are free to use, whereas others require a fee to download the application or other charges to regularly use the app's services.
There are millions of apps in the financial world. Some help you budget or reach other financial goals. Some give you access to your existing bank accounts or help you with credit repair. Others provide loan and cash advance products to put money directly into your bank account.
The key to finding the app that works best for you is to examine the app's developer before you download the software. While most app stores put every app through strict critiques before offering it to customers, you still want to be certain any app you download will protect your personal data and won't put you at risk.
Just about every major bank or credit union has its own app. If you're an account holder, you should only use the institution's official app. Avoid any unaffiliated gateways that promise you access to your account in exchange for your login credentials.
You should also avoid accessing your financial apps on public WiFi networks. This poses a security risk, as many malicious hackers can enter these networks and retrieve any information — including your username and password — that's sent through the network.
But don't let these warnings scare you away from using apps to improve your life. This software has revolutionized the way we communicate, conduct business, and organize our lives.
How Does a Cash Advance App Work?
A new trend in financial apps is software that allows you to link your bank account and receive products and services based on your income and spending habits.
Many of these apps, like most of the options listed above, also provide cash advance services that are free to users. To qualify, the app will examine your direct deposits and outgoing bills to make certain that you'll have enough money to repay the cash advance.
If you qualify, most apps can deposit the cash advance and have it in your account in a matter of minutes. The app will then deduct the borrowed amount from your linked bank account when your next paycheck arrives.
This is an extremely useful service that provides affordable access to your funds before payday — something that expensive traditional payday loans never do.
Just about every payday advance app will limit the amount you can borrow. Most start off between $100 and $250, though many will allow you to increase your limit over time.
Some apps also work as an online bank account that provides a way to receive direct deposits, conduct all of your banking transactions, and receive free payday advance services without ever visiting a bank branch.
Many skeptics wonder how an app can provide these services without charging its users. In most cases, each online bank uses the pay advance app capabilities as a loss leader. Essentially, the business provides this service at less than market value as a way of promoting its other profitable services.
For example, an app may offer you the cash advance service if you sign up for an online bank account that charges incremental fees for usage. Or maybe you can get the paycheck advance funds if you use a company-branded debit card that charges a fee.
In just about every case, the loan app does not charge any hidden or surprise fees for any service. You simply have to understand what you're enrolling in and what your costs may be in the long run.
If you'd rather not run the risk of signing up for extra services or incurring unknown fees, consider working with one of the lending networks listed above. While you will have an associated interest charge with your loan, you can get access to extra funds and pay them off over time — otherwise known as an installment loan.
And since this type of personal loan includes regular payments the lender will report to each major credit reporting bureau, you can improve your credit score and overall financial health with responsible use. Most cash advance apps do not report your payments to the bureau.
How Much of My Paycheck Can I Get in Advance?
This depends on the service you use. With just about every payday loan app that provides free payday loan services, you'll start out with a limit of $100 to $250 per pay period. The app will then withdraw the amount you borrow from your checking account as soon as you receive your next direct deposit.
Some pay advance apps will provide a larger cash advance limit once you've proven your responsibility over time. For example, the popular Earnin app will boost your limit to $500 per pay period over time.
There are no set-in-stone limits through traditional payday lenders. Instead, each lender will determine your eligibility based on your income and spending habits. Many are willing to extend your cash advance loan beyond their maximum, as it means a higher interest payment for their business.
Such practices are among the reasons why many experts have called into question the ethics of payday lending businesses. Many laws aim to reign in their exorbitant fees, but these lenders still thrive because many low-income consumers with bad credit simply can't access the loans they need to pay their bills and other expenses.
Thankfully, many online lending networks also exist that provide bad credit personal loans to consumers who need a paycheck advance or a larger loan. If you qualify, you could receive a loan of anywhere between $1,500 and $15,000, based on the network you choose and the lender qualifications.
And since this is a personal loan and not a pay advance, you'll repay the debt in monthly installments instead of one lump sum.
Will a Cash Advance App Look at My Credit Score?
Most of the cash advance apps listed above do not conduct a credit check or examine your FICO score to determine cash advance eligibility.
Instead, the app — or its associated bank — will link to your bank account to gain access to your financial history. It will look at your regular direct deposit payments as well as your monthly expenses and spending habits to see if you qualify for a cash advance.
If you do, the app will process your loan and deposit the funds into your linked account very quickly. The amount of time it takes to receive your funds will depend on the app you choose to work with.
For example, the Possible app states that it can conduct a no-credit-check payday advance and wire the borrowed funds into your account within minutes.
This type of loan will still include a three-digit interest rate with a longer repayment period. An example on its website shows a $200 payday advance with a 151% APR and an eight-week repayment window that will cost the borrower $230 to satisfy the debt.
That's not an excessive amount to pay for a short-term loan — especially one that does not rely on a credit check and will not penalize you for having bad credit. But many online lenders can still offer lower interest rates for small personal loans with a longer repayment term.
CashUSA.com, as an example, offers bad credit personal loans as low as $500 with three months or more to repay the debt and a maximum of 35.99% interest. And since you're paying in monthly installments, you won't have to break the bank to repay the debt all at once.
While these loans will require a credit check for approval, the lenders typically specialize in working with consumers who have bad credit — so you don't have to worry about scaring away the lender with your credit score.
What Fees are Charged for a Payday Advance?
The most common cash advance fee you should examine with any payday advance loan offer is the interest rate. This is the amount your lender will charge you for borrowing money. These charges typically compound monthly or annually and display as a percentage.
So a 20% interest rate will annually charge you 20% of the amount you've borrowed, spread out into 12 monthly payments.
Since just about every payday loan requires repayment in one lump sum — and not in monthly installments — you don't have to worry about spreading out your interest payments. And since these loans typically last between two weeks and 30 days, you're going to get a massive interest charge to make up for the short term.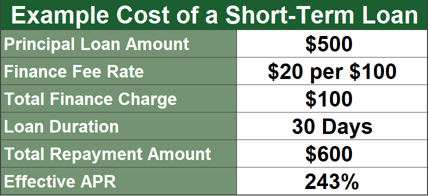 Some payday advance loans through a payday lender can add interest rates of 150% or more to your repayment total. But those aren't the only fees you may see.
Just about every payday lending agency or short term loan provider will add on other charges. This may be an origination fee, processing fee, or early repayment fee. You will also likely pay a steep overdraft fee if your bank declines your scheduled payment due to insufficient funds — just as you would through any other type of loan or credit card.
Check with your lender before signing a contract to make sure you know your total cost of credit and every charged cash advance fee. In some cases, the loan simply won't be worth the price, even in an emergency. In other cases, the fees will beat the charges and penalties that come from overdraft fees.
How Long Will it Take to Get the Cash?
In most cases, you'll receive your borrowed money within one business day. This depends greatly on when you complete your loan paperwork.
If you apply late on a Friday, you may have to wait until Monday or Tuesday to receive your funds. Some lenders can forward your money the same day if you complete the process early enough in the day. But different lenders have varying timelines to deploy your borrowed funds and get you quick cash.
A traditional brick-and-mortar payday lender can hand over cash or a check as soon as you're approved for your loan. Online lenders may take a little longer because they do not have a physical pickup location in your area to expedite delivery.
Some cash advance apps also offer online banking accounts that can receive your payday advance in a matter of minutes. If you go with a lender that does not also provide a bank account or local pickup, you'll have to wait the typical processing times to receive your cash.
If you need money fast, your best bet is to apply for a cash advance loan on a cash app early in the day on a weekday. That way, the lender will have plenty of time to process your loan and wire your funds to a linked checking or savings account.
Cash Advance Apps Bridge the Gap Between Paydays
Putting in an honest day's work can be very rewarding. But problems arise when you have to wait two weeks or longer to receive payment for a job well done.
If you're in a jam and need access to quick cash, consider a lending network or any of the cash advance apps listed above. These services will provide a small short term loan to get you to payday and won't eat away at your earnings.
And, with the right service, you can avoid predatory payday lending practices and keep more of the money that you've worked so hard to earn.
Advertiser Disclosure
BadCredit.org is a free online resource that offers valuable content and comparison services to users. To keep this resource 100% free for users, we receive advertising compensation from the financial products listed on this page. Along with key review factors, this compensation may impact how and where products appear on the page (including, for example, the order in which they appear). BadCredit.org does not include listings for all financial products.
Our Editorial Review Policy
Our site is committed to publishing independent, accurate content guided by strict editorial guidelines. Before articles and reviews are published on our site, they undergo a thorough review process performed by a team of independent editors and subject-matter experts to ensure the content's accuracy, timeliness, and impartiality. Our editorial team is separate and independent of our site's advertisers, and the opinions they express on our site are their own. To read more about our team members and their editorial backgrounds, please visit our site's About page.