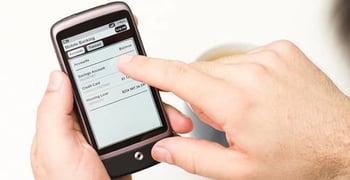 Our popular "How-To" series is for those who seek to improve their subprime credit rating. Our articles follow strict
editorial guidelines
.
There can be no argument that we are living in the most efficient period of time in the history of human existence. Modern technology has made us able to do more things in less time than ever before.
Take banking, for instance.
It used to be we would drive to the bank and wait in line for a teller. We would then fill out a deposit or withdrawal slip and wait as the bank teller performed the transaction.
Three to five business days later, we would have access to our money or our bank balance would be updated, depending on the transaction we did. In hindsight, this seems extremely inefficient.
But in this age of automation and 24/7 connectivity, our banking can be done instantaneously from literally anywhere in the world. If we use the tools properly, mobile banking can save us time, money and productivity, which we can then turn into more money.
Sounds great, right? Let's take a look at some of the ways we can more efficiently mobile bank.
1. Think safety and security.
If you use your smartphone or tablet to do your mobile banking, be sure to keep it password protected. Never store your account and password information on your mobile device – if it's lost or stolen, all of your banking information is now exposed.
Finally, you should never choose to auto login to your bank accounts. Instead, enter your account number and password manually each time.
2. Virtual check deposits
Many banks and credit unions now offer virtual or remote check deposits, which can reduce the amount of time it takes to access your money.
It works by using your smartphone device to take a picture of the front and back of a check you've received. You can then send the image to your bank for processing, just as if it was a hard-copy version of the check.
3. Sign up for mobile alerts.
If your bank offers a mobile alert system for notifying you of deposit or payment information, sign up for it. This is a great way to monitor your account balance.
They also may have the ability for you to set balance limits so you are notified if your balance slips below an amount you determine.
"Mobile banking is a

great time-saving device."
4. Automate your payments.
Automatic bill paying is not new, but many banks now offer you the ability to verify payments before they are submitted.
It works like the balance alert system, but it sends you a message that a scheduled payment is about to be made. You can then choose to authorize the payment or to delay it. If authorized, the payment is made immediately.
5. Beware of third-party banking apps.
With all of the efficient apps available out there, it may be tempting to download what you think is a cool mobile banking app.
Be very careful about doing this. Anyone can develop an app, and you can never really be certain of what it's doing behind the scenes.
A mobile banking app will have your account and password information in it, exposing you to potential fraud if the app developer is unscrupulous.
6. Don't get complacent.
Mobile banking can be a great way to improve efficiency, but it also has its risks.
If you receive a text message or even a phone call from someone purporting to be from your bank, challenge the claim. Never give your account information to anyone without verifying their authenticity.
Never click on links from within text or email messages you receive. The best thing is to contact your bank through known channels and verify the request that way.
Mobile banking is a great time-saving and productivity-enhancing device, as long as it's used properly. Set up automatic notifications, do your banking remotely and protect your banking information – that's how to efficiently mobile bank.
Photo source: de.sap.info