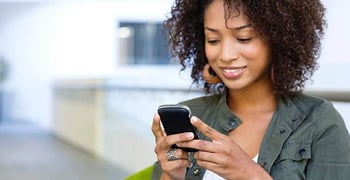 Experts share their tips and advice on BadCredit.org, with the goal of helping subprime consumers. Our articles follow strict
editorial guidelines
.
Learning how to manage credit takes time and is not always easy.
There are plenty of costly mistakes you could make as you try to get a handle on your finances that could put a serious drain on your budget.
Fortunately, modern technology is there for you. There are a few great money-saving apps on the market today that can be a big help for those new to credit.
1. BillMinder – Keeps track of bill due dates
One of the most important skills for managing credit is learning how to pay your bills on time. If you are late on even just one payment on your credit card, your credit score will plummet and you will get hit with expensive late payment fees.
A good way to keep track is with the app BillMinder. This app lets you upload the payment schedule for your bills on your smartphone.
You will always have a reminder whenever a payment is coming up, which can be a big help when life gets crazy.
2. ATM Hunter – Avoid ATM fees
ATM fees can be a serious rip-off. If you make a withdrawal from an ATM that is not part of your bank, you could pay a fee both to your bank and the bank that owns the ATM. This can add up to $5 or more per withdrawal.
The app ATM Hunter can help you avoid using foreign ATMs. This app tracks your location and shows you where your bank's ATMs are located on a map.
"You will know where to make a fee-free

withdrawal when you have this app."
3. Venmo – Pay and collect debts
Keeping track of loans with your friends can become a full-time job. It is hard to always remember who owes what, which means you could be losing money without even knowing it.
The Venmo app gives you an easy way to track and collect on debts. With this app, you record whether you owe someone money or they owe you money.
This app is also linked to your bank account, which makes it easy to send a payment and request a payment from another person.
Do not feel intimidated by the world of credit. If you take advantage of these apps, you will be managing your finances like a real professional.
Photo source: www.bet.com