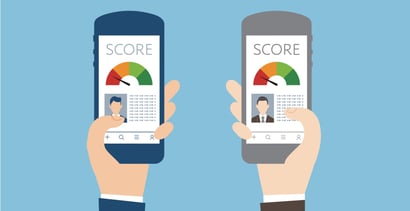 It's a good idea to familiarize yourself with the best apps for credit repair if you have poor credit. These apps can provide you with the knowledge and tools you need to dispute errors and fix your credit.
They can't, however, improve your credit and guarantee it'll remain in good or excellent shape. To achieve that you'll have to pay your bills and credit cards on time, reduce debt, and maintain a low credit utilization ratio. You may also want to open a secured credit card to rebuild your credit or perform a balance transfer.
Enrolling in autopay so your bills are automatically paid from your bank account makes it easier to stay on top of your bills and improve your credit. Another option is to set up calendar reminders so you know when to pay a lender or creditor. As long as you do the heavy lifting, you're bound to maintain an improved FICO credit score that sets you up for success.
The Best Mobile Apps for Credit Repair
While there are many credit repair apps on the market, not all of them are created equal. In fact, some credit repair apps are significantly better than others.
This is because they're easy to use, come with advanced features, or are simply more affordable. Here's an overview of the best mobile apps for credit repair:
1. Lexington Law – Credit Repair App
Lexington Law was founded in 1991 as a law firm in Salt Lake City, Utah. Today, the company helps consumers improve their credit scores in person, over the phone, and via its top-rated mobile app.
Lexington law removed 10 million negative items from its clients' credit reports in 2017. To use the app, you'll need to sign up for its credit repair services first:
Free consultation: 1-855-200-2394
Most results of any credit repair law firm
Clients saw more than 7 million negative items removed from their credit reports in 2020
More than 221 million challenges and disputes sent for clients since 2004
Cancel anytime
| Better Business Bureau | In Business Since | Monthly Cost | Reputation Score |
| --- | --- | --- | --- |
| See BBB Listing | 2004 | $99.95 | 10/10 |
If you invest in credit repair from Lexington Law, you can choose from three service levels, including:
Concord Standard: Concord Standard is the basic plan that features the tools that most people need to repair their credit. It includes communication with the major credit bureaus and credit interventions.
Concord Premier: Concord Premier, a step up from the basic plan, offers additional benefits including monthly FICO credit score analysis and alerts from TransUnion.
Premier Plus: Premier Plus is the top-of-the-line plan because it's packed with everything in the Premier plan as well as cease-and-desist letter support, enhanced data security, identity theft insurance, and personal finance tools.
Once you sign up with Lexington Law, you can expect its team of lawyers and paralegals to obtain your credit reports from Equifax, Experian, and TransUnion and take a close look at your credit history. Then, they'll ask you for information regarding the negative items on your reports.
Next, the firm will write dispute letters to each credit bureau to dispute all of the erroneous items in your report. You can then track your progress in real time via the Lexington Law app or on its website.
Thanks to Lexington Law's transparency, you'll know the status of every credit dispute and know exactly when the company has successfully removed each negative item from your report. To ensure you receive the very best service, you'll be assigned to a paralegal who will guide you through the credit repair process and answer any questions you may have.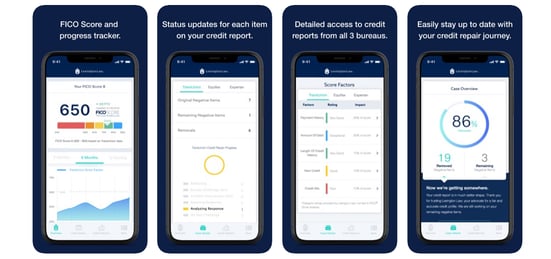 You'll be on the hook for a one-time work fee and a monthly service fee that will vary depending on the package you choose. You cancel within five days without penalty.
2. CreditRepair App by CreditRepair.com
CreditRepair.com is a professional credit repair service with a solid track record of removing errors and inaccuracies from credit reports. The company aims to develop long-term relationships with clients and helps them maintain a high credit rating even after they've completed their credit repair services.
Similar to LexingtonLaw, you'll need to subscribe to CreditRepair.com's services before the app can help you track your credit repair progress:
Free online consultation
Helped with over 8.2 million removals on members' behalf since 2012
Free access to your credit report summary
Three-step plan for checking, challenging and changing your credit report
Online tools to help clients track results
| Better Business Bureau | In Business Since | Monthly Cost | Reputation Score |
| --- | --- | --- | --- |
| See BBB Listing | 2012 | $49.95 | 9.5/10 |
Once you register and download the CreditRepair app, the company's credit repair consultants will work with you to make sure that all of the information on your report is accurate. You can expect them to go through the following steps:
Analyze your report: The company will retrieve your reports from the three major credit bureaus and evaluate the negative items. Then, they'll design a customized plan of action for handling each item.
Dispute errors or inaccuracies: Next, CreditRepair will reach out to your creditors and ask that they review and verify every item. You can count on them to escalate any challenges that may pop up and ensure your rights as a consumer are protected.
Provide ongoing support: Any time there is a change in your credit report, you'll receive updates via text and email. You may also check your online dashboard to find out where your credit stands whenever you'd like. In addition, the credit repair consultants will show you how to improve your credit beyond credit repair services.
The CreditRepair.com mobile app will grant you access to your personal online dashboard, score tracker and analysis, and a variety of tools that can help you better understand and improve your credit.
A consultation for credit repair services is always free, so you can see if you're a good candidate before you officially sign up for its services.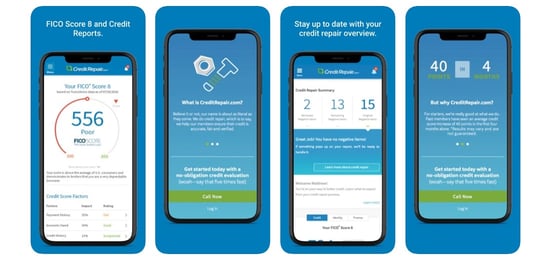 You'll pay a one-time fee so that the company can pull your credit plus a monthly service fee. Fortunately, there is no binding contract so you can cancel the service at any time without facing any penalties.
3. Rapid Credit – Credit Repair App
You can use the Rapid Credit – Credit Repair app to easily repair your credit. The company will help you pull a credit report from Experian, Equifax, and TransUnion. Then, you'll be able to undergo its documentation preparation process that is customized to your unique needs.
This process is specifically designed to streamline back-end processing and improve communication between you, Rapid Credit, and the credit bureaus. Its goal is to minimize the time it takes for you to notice an improvement in your FICO score.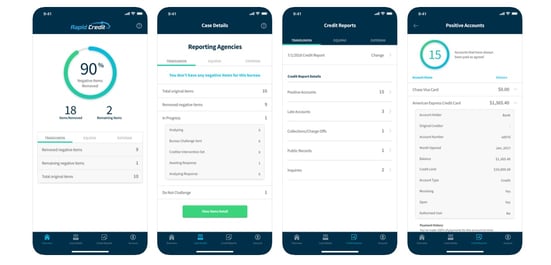 You'll receive a mobile alert any time a negative item gets successfully removed from your credit history. The alert will explain the change and how it has positively impacted your scores.
Rapid Credit may also support you if you've been hurt by identity theft as the company will cover out-of-pocket expenses you incur in your ID recovery or any pre-existing identity fraud you weren't aware of. They'll also pay for the cost of a driver's license or passport replacement.
4. Credit360 Credit Repair App
Credit360 was founded in 2014 as a credit repair firm. The company helps dispute missing and late payments, tax liens, judgments, and other negative remarks from customer credit reports.
Unlike other credit repair apps, Credit360 has created a Repair, Rebuild, and Relax Credit Repair program that will only charge you a fee when an item is deleted, removed, or repaired from your credit. You don't have to worry about any upfront monthly fees.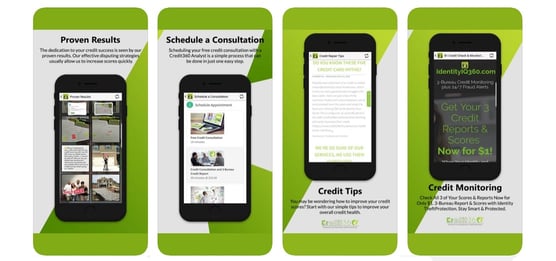 If you decide to enroll in Credit360's credit repair program, you can expect its credit experts to:
Perform a credit analysis: A credit analyst will dive deep into your credit scores and look for any negative items that may be bringing them down. They will also explain the ins and outs of the program and make sure you understand the next steps.
Create an action plan: Once your credit has been analyzed, the analyst will create a definitive action plan that will outline how they'll improve your credit. During this step, the dispute process with Equifax, Experian, and TransUnion will begin as well.
Repair and rebuild your credit: This is where the magic will happen and the negative remarks will slowly but surely get removed from your credit reports. Additionally, your credit expert will help you apply for positive credit accounts and strategically increase your available limits.
To get started with Credit360, you'll need to pay a one-time Audit Fee, which can be split into two payments if you'd like. If you refer someone to the program or post a positive review on Google or social media outlets, you'll receive a $25 credit which you can use toward your deletions.
The company states that most clients who participate in the program will notice erroneous negative items being deleted from their credit report within 45 days and see an average increase of 93 points during their time with Credit360. The company is so confident in its services that it offers a money-back guarantee for your peace of mind.
5. DIY Credit Repair App by Liberty Financial Solutions
The DIY Credit Repair app by Liberty Financial Solutions is designed to provide you with the tools and resources you need to fix your credit and improve your scores on your own. Once you download the app, you can sign up for a credit monitoring account.
A credit monitoring account will grant you access to updated copies of your credit reports and scores every 30 days. This will make it easier for you to track your progress and results.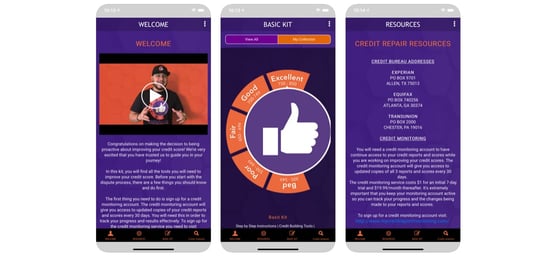 As soon as you have a credit monitoring account, you can:
Review your credit reports: Go through each credit report, line by line to figure out which negative items you'd like to remove. These may be late payments, repossessions, medical collection accounts, bankruptcies, and anything else that may be hurting your credit.
Begin the dispute process: The Bureaus tab of the app will provide you with directions and letters you'll need to dispute with Equifax, Experian, and TransUnion. If you'd like to dispute any remarks with banks, you can find the resources you'll need in the Creditors tab. There is also a Collections tab and Bankruptcies tab that will be helpful for disputing with collection agencies and mortgage lenders.
If at any point in the credit repair process you require assistance or decide you'd like a professional to handle credit repair for you, you're welcome to contact Liberty Financial Services by phone or email.
When it comes to pricing, this DIY credit repair option is affordable. All you'll have to pay for is the app download and a reasonable monthly fee to keep your credit monitoring account open.
How Does a Credit Repair App Work?
A credit repair app does not improve your credit. Instead, it provides you with everything you need to fix your credit.
It's a good option if you believe you may have errors or inaccuracies on your credit reports. By resolving these negative remarks, you can enjoy the benefits that come with a higher FICO credit score.
Credit repair apps take the guesswork out of spotting mistakes on your credit report. It's important to note that if you practice bad financial habits like paying your mortgage, rent, student loan, or other bills late or have a ton of credit card debt that is weighing your score down (thereby hurting your credit utilization ratio), credit repair will not help you.
It is your personal responsibility to establish a positive payment history and use less of your available credit. By doing so, you'll find it easier to qualify for an attractive interest rate the next time you take out a loan, credit line, or credit card.
What is the Best Credit Repair App?
Although we've identified five of the best apps for credit repair, there is one app that takes the cake. In our opinion, Lexington Law offers the best credit repair app.
Even though it's pricier than other options, it's incredibly robust and full of unique features that you may not find elsewhere. Some of these features include cease-and-desist letter support and identity protection.
Free online consultation
Helped with over 8.2 million removals on members' behalf since 2012
Free access to your credit report summary
Three-step plan for checking, challenging and changing your credit report
Online tools to help clients track results
| Better Business Bureau | In Business Since | Monthly Cost | Reputation Score |
| --- | --- | --- | --- |
| See BBB Listing | 2012 | $49.95 | 9.5/10 |
In addition, Lexington Law is run by a team of lawyers and paralegals who know how to repair your credit in a professional and legal manner. The company also connects you to a paralegal you can turn to with questions or concerns throughout the entire process. This is a nice personal touch that can benefit you, especially if you're new to credit repair or unsure of how it works.
Even though Lexington Law has some negative remarks on its Better Business Bureau (BBB) page, the company addresses each complaint and makes an effort to create a positive experience for its clients.
How Much Does Credit Repair Cost?
There is no hard and fast answer to this question as credit repair pricing varies. While some credit repair apps, such as Lexington Law and CreditRepair, charge monthly service fees, others like Credit360 only require you to pay for results.
If you're on a budget, rest assured there are DIY credit repair options, such as DIY Credit Repair by Liberty Financial Solutions, that you can use to repair your credit at a very low price tag.
What is the Fastest Way to Repair Your Credit?
Unfortunately, you can't repair your credit overnight. The credit repair process takes time and effort, regardless of which credit repair app, credit repair service, or credit counseling company you select. Fortunately, it'll be worth it because it can leave you with good credit and a higher FICO credit score.
You'll need to pull your credit reports from each credit reporting bureau to see where you stand. Then, you'll have to go through the dispute process and wait for results.
Credit reporting companies must investigate the negative remarks you bring to their attention within 30 days. They are also required to report their findings to you within five days of completing their investigations.
Can I Repair My Credit Myself?
You do not need a credit repair app or credit repair agency to repair your credit. But if you'd like to expedite the credit repair process or are unsure of what to do, DIY credit repair may be a time-consuming hassle.
In the event you pursue DIY credit repair, your job will be to carefully go through each line of your credit reports and catch any errors and inaccuracies. Once you do, you'll need to file a dispute with each credit bureau online or write and mail a dispute letter to each bureau.
If you're not sure you're a good candidate for DIY credit repair, you can always begin the process and opt for a credit repair app or credit repair company.
Can Credit Repair Help with Identity Theft?
Credit repair and identity theft go hand in hand. If you notice a negative remark on your credit report, it may be because you're a victim of identity theft.
Identity theft can happen when someone uses your personal information to make a purchase or to open a new credit account. It can leave you with bad credit that can interfere in loan applications and make it tough to secure a low interest rate and higher credit limit in the future.
While you can't completely safeguard yourself from identity theft, you can be proactive, check your credit reports regularly, and catch identity theft before it turns into a more serious problem.
If you believe you've been a victim of identity theft, such as by seeing a new credit line on your reports that you don't recognize, you should file a report with the Federal Trade Commission. They will guide you through the steps you need to take to dispute the fraudulent charges.
What is the Fair Credit Reporting Act?
The Fair Credit Reporting Act or FCRA is a federal law that was created to promote the accuracy and fairness of the information on consumer credit reports. Under the FCRA, you have the right to dispute any information you believe is inaccurate or incomplete on your credit report.
The FCRA requires a credit bureau to contact the credit reporting agency to confirm whether the information is accurate. If it's not, the credit bureau must either correct it or remove it.
The FCRA also allows you to put a security freeze on your credit report so potential lenders can't perform a credit inquiry until you lift the freeze or provide them with a one-time PIN.
Why Do I Need Credit Reports from Every Bureau?
While Equifax, Experian, and TransUnion are all credit reporting bureaus, they each have access to different information. So just because you don't notice any inaccuracies on your Experian credit report doesn't mean you won't find any on your TransUnion or Equifax credit report.
By visiting AnnualCreditReport.com, you can gain access to all three credit reports for free, and you can begin the process of repairing your credit file with each major credit reporting company.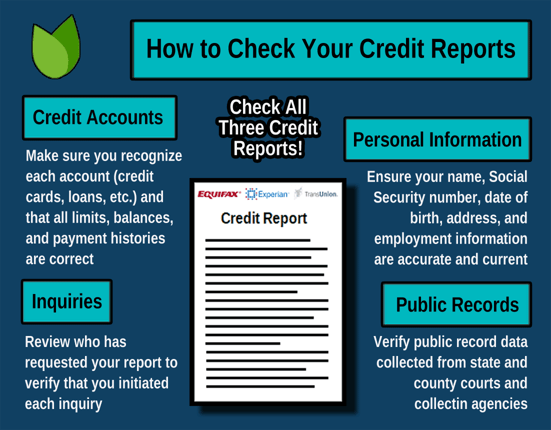 You don't want to end up in a situation where you think your credit is free of errors and inaccuracies and later find out that a report you ignored has a few discrepancies.
What is Ovation Credit Service?
Ovation Credit Service is a credit repair company that works with LendingTree and TransUnion. It helps people with bad credit through the credit repair process, just as Lexington Law and CreditRepair.com do.
The Ovation credit service won't be able to resolve all your problems if you have a great deal of debt or a high credit utilization rate. Their credit people will help you remove any inaccurate credit inquiry, late payment, judgment, lien, repossession, or bankruptcy from your file.
What is Experian Boost?
Experian Boost can help you improve your FICO credit score. You can sign up for free and link the bank account that you'll use to pay your utility bills. This way you can use your payments to boost your credit score.
You can count on Boost to send your positive payment history to Experian. These payments will begin to appear on your credit report, just as other accounts do. While Experian Boost is not a credit repair company, you can use it to increase your credit score with minimal effort.
The average Experian Boost user sees a 13-point increase to their FICO score, based on Experian data, while others may see no change at all.
Research the Best Apps for Credit Repair Online
Credit repair apps add ease and convenience to the credit repair process. With so many apps to choose from, it's wise to research the best apps for credit repair and identify the pros and cons of each one.
This way you'll be able to make an informed decision for your unique needs and preferences. Best of luck in your credit repair journey!
Advertiser Disclosure
BadCredit.org is a free online resource that offers valuable content and comparison services to users. To keep this resource 100% free for users, we receive advertising compensation from the financial products listed on this page. Along with key review factors, this compensation may impact how and where products appear on the page (including, for example, the order in which they appear). BadCredit.org does not include listings for all financial products.
Our Editorial Review Policy
Our site is committed to publishing independent, accurate content guided by strict editorial guidelines. Before articles and reviews are published on our site, they undergo a thorough review process performed by a team of independent editors and subject-matter experts to ensure the content's accuracy, timeliness, and impartiality. Our editorial team is separate and independent of our site's advertisers, and the opinions they express on our site are their own. To read more about our team members and their editorial backgrounds, please visit our site's About page.