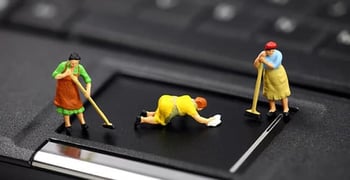 Our popular "How-To" series is for those who seek to improve their subprime credit rating. Our articles follow strict
editorial guidelines
.
It's that time of year again. The days are getting longer, the weather is warmer and the list of chores is growing.
But while you're thinking about cleaning the garage and pulling out the tomato cages, you should also be thinking about cleaning your bad credit.
Many people only look at their credit reports when they are about to make a big purchase, like a car or a home.
It's just not something we often think about as part of our regular financial upkeep. This is something we should change.
Use this time of year as a reminder that cleaning up our house also applies to our financial house. Here are some tips for exactly how to go about this crucial component of our fiscal life:
1. Did you know?
Everyone is entitled to a free copy of their credit report once a year.
It's actually a law that was passed by Congress and applies to everyone who has a credit history. You can (and should) request your free credit report from each of the three major rating agencies: TransUnion, Equifax and Experian.
2. Inaccurate information.

According to the Consumer Federation of America, as many as 80 percent of all credit reports hold some type of inaccurate information. Most of these inaccuracies are negative events and drive down a consumer's credit score.
When you get your credit report, go over it very carefully. Look at the social security number associated with the event. Is it yours?
By reviewing your credit report thoroughly, you can address any information that is not valid or does not belong to you.
3. Contacting the reporting agency.

If you do find a discrepancy in your credit report, contact the reporting agency right away. The agencies are required by law to investigate and remove any inaccurate information they discover.
Also, look for negative information that is more than seven years old. Negative events should be removed after seven years, but the agencies often require a written request before doing so.
"Organizing is an easy way to help you

remember to review your credit report."
4. Lifting your credit score again.
If you owe creditors and have been unable to pay, contact them to see about initiating a payment schedule.
Often a creditor may be willing to accept terms that reduce the total amount due, or they may at least lower the payments you need to make.
5. Credit card balances compared with credit limits. 
If you have multiple credit cards, look at the balances compared with the credit limit.
The difference between what you owe and your credit limit is your available credit line. This is an important metric in determining your score.
Start to aggressively pay down any cards that are close to the limit. The more you can increase your available credit, the more your credit score will improve.
6. Avoid credit repair services.
They will often negotiate on your behalf to reduce the principle you owe. This may seem like a good idea, until you realize the amount of the reduction goes on your credit report as an unpaid debt.
This can have an even worse impact on your credit score than the late payments did.
7. Don't sabotage yourself by paying your bills late.
Late payments, even by a few days, can undo all of the good work you've done to this point. Make sure you pay your credit card bills on time and pay at least the minimum due.
If you don't have the resources, contact the company to let them know you will be late but will be making a payment on this date. Often that can avoid any negative mark being added to your credit history.
Cleaning up your bad credit is an easy way to help you remember to review and address anything on your credit report at least once a year.
By keeping up with this routine, you'll probably see your score rise a little each time you check it. Follow these tips and guidelines, and soon your bad credit score will be a thing of the past. Good luck!
Photo source: smallbiztrends.com.