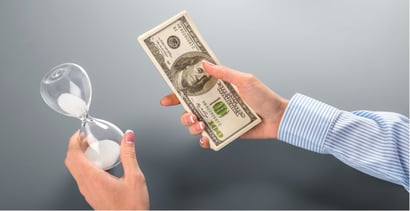 You would think most lenders could offer 1-hour loans for bad credit with today's advanced technology. After all, running credit checks and digitally signing paperwork takes just a matter of minutes with current innovations in financial technology.
But most traditional lenders can still take days to fund a loan. And that's only if the lender considers applications from consumers who have bad credit.
Thankfully, that aforementioned technology has paved the way for online lending marketplaces where you can submit one application to dozens of lenders and get your decision in less than an hour, often in a matter of minutes. If approved, you can have your money in hand within 24 hours.
If you can't wait 24 hours, use the links below to skip ahead to our same-day options:
Online Lenders | Same-Day Options | FAQs
1-Hour Loans for Bad Credit Online
Online lending networks act as a bridge between you and the direct lender. You submit one prequalifying form through the network, which sends your information to all of its partnered lenders throughout the U.S.
Those lenders use automated underwriting processes to make near-instant decisions on your loan. In many cases, qualified applicants receive multiple loan offers to choose from in a matter of minutes.
Once you complete your online paperwork, which can take less than one hour to finish, the lender will transfer your funds to a linked checking or savings account and you will have your money in one business day or sooner. You may see the funds in your account the same day if you apply early in the day.
Short-term loans up to $5,000
Online marketplace of lenders
Funds available in as few as 24 hours
Simple online form takes less than 5 minutes
Trusted by more than 2 million customers
| Loan Amount | Interest Rate | Loan Term | Loan Example |
| --- | --- | --- | --- |
| Up to $5,000 | Varies | Varies | See representative example |
MoneyMutual offers personal loans of up to $2,500 that consumers can use for any purpose. The vast network of lenders and quick turnaround times make this a great option for an emergency loan with a competitive interest rate.
To qualify, applicants must show proof of current employment or income of at least $800 per month (including benefits checks, child support, or other supplemental income), be 18 years or older, a U.S. resident, and have an active checking account.
CashUSA lenders not only provide personal loan options of up to $10,000, but some of the lenders on the network offer revolving lines of credit you can continue to spend after making monthly payments, just like a credit card.
Qualified applicants must be 18 years or older and a U.S. citizen or permanent resident. You must also provide proof of a steady monthly income of at least $1,000 after taxes, a checking account in your name, and active home and work phone numbers as well as a valid email address.
BillsHappen provides a quick and easy application process to link you with a lender that can provide quick approval and funding of a short term loan of up to $5,000.
To speed up the application process, have your driver's license, your Social Security number, a home or cellphone number, checking or savings account information, home address, and employment or benefits income information ready. Applicants must be at least 18 years old and a U.S. citizen or permanent resident. Lenders consider applications from consumers of all credit types.
CreditLoan partners with multiple lenders that specialize in extending loan offers to consumers who have bad credit. The application process takes only minutes to complete and, if approved, you can have the loan proceeds in your linked checking or savings account within 24 hours or less.
Although the network boasts that it considers any type of credit for a loan, it does not accept applicants who have an active or recently discharged bankruptcy case.
BadCreditLoans offers an array of loan options, including personal, business, student, auto, and home loans as well as a limited number of credit card options. The availability of each type of loan will depend on your creditworthiness, though this network specializes in bad credit loans.
To qualify, you must be at least 18 years or older with proof of citizenship or legal residency. You must have a regular income, either from full-time employment, self-employment, or disability or Social Security benefits. Lenders also require an active checking account in your name, work and home telephone numbers, and a valid email address.
PersonalLoans.com provides a fast and easy form that can connect you with a direct lender that provides loan options for just about any credit type. Since the network partners with several lenders that offer a variety of loan products, there is no way to tell for certain what the terms for any potential loan offer may be.
This is one of the few networks licensed to operate in all 50 U.S. states with lenders all around the country that can approve applications quickly and disburse funds as soon as your paperwork clears (typically within 24 hours).
CashAdvance can offer a 1 hour payday loan option by connecting you with payday lenders that offer short-term loans to bridge the gap to your next paycheck.
These loans often require repayment in full — with interest — within two to four weeks. Hour payday loans often have very high interest rates since they do not typically require a credit check and come with a high risk for the lender. This should be a last resort if you need an emergency loan and do not qualify with the lenders listed above.
Ways to Get an Emergency Loan Today
While a good online lending network, such as those listed above, can approve your loan application in less than one hour, you will likely have to wait up to 24 hours to receive your money.
That is because most of the lenders that partner with online lending networks have offices spread throughout the country. There is no way to pick up your money in person, so it has to be sent electronically to a linked checking or savings account. That can take up to one business day.
You will have to look locally for loans that approve your application quickly and disburse funds right away. But remember that you often have to pay for speed and convenience. If you have a poor credit score or recent negative items on your credit history, these loans may cost you substantially more than waiting 24 hours for an online loan.
If you simply cannot wait that long, you have a few other options to consider:
If you can wait up to 24 hours for a loan, you could save a substantial amount of money — and incur less risk — with a personal installment loan from an online lending network. These loans offer a competitive interest rate and flexible loan term that give you time to pay off your online lender.
Many online lender networks offer unsecured personal loan options that don't require collateral for approval and have very forgiving terms for borrowers who have bad credit.
While you may be attracted to the thought of guaranteed payday loans or a 1 hour loan that doesn't require a credit check, you will pay substantially more for these loans.
How Can I Get a Loan in an Hour?
If you need to be approved for a bad credit loan in less than one hour, your best bet is to apply to one of the online lending networks listed above.
These networks allow you to submit one loan request that reaches many lenders at once. These lenders then compete for your business. If approved, you can finish your loan paperwork online and receive your funds within 24 hours.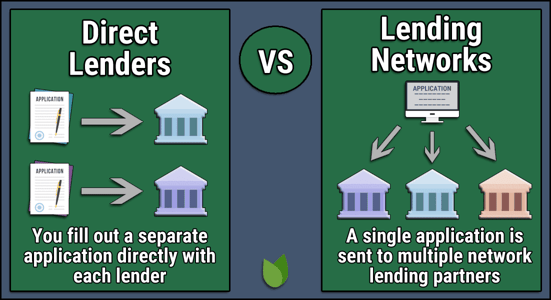 But if you need cash in hand within an hour, you will have to look at local loan options that include a payday loan center or a pawnshop. While these loans can offer quick approval and fast payouts, they often come at a much higher cost.
Most 1-hour loans for bad credit that offer fast payouts will require collateral for instant approval. That means you will have to risk something of value to receive your loan. If you fail to repay your loan on time — for any reason — you will lose any payments you've made toward the loan as well as the collateral item you risked to get the loan.
This is also known as a secured loan because your collateral acts as security — similar to how a landlord would require a security deposit before you rent an apartment. An unsecured loan does not require collateral for approval.
An unsecured personal loan will often come with higher fees to offset the risk the lender takes in lending money to someone who has bad credit.
What is the Easiest Loan to Get with Bad Credit?
Bad credit loans are not as difficult to find as you may think. But if your credit history and credit score will keep you from qualifying for a traditional loan, other options may be more forgiving of your past mistakes.
As we talked about above, a secured loan will require you to pledge an item of value as collateral should you stop making payments on the loan. The lender will typically require your collateral to have a value of 75% to 100% more than the amount of your loan. So, for example, you may need to risk an item with a resale value of $1,000 to receive a $500 loan.
Since the lender knows it can keep and sell your collateral if you stop making payments, it may not require a credit check to approve your loan. This is often the case with pawnshop loans.
One-hour payday loans may also skip the credit check if you can show proof of income and the ability to repay the loan quickly.
The downside to cash advance and pawnshop loans is that they are not installment loans and require payment in full — including interest — in 30 days or less. The high interest rate (often more than 300%) also means that you will have to come up with a lot more money than what you borrowed in a very short time frame.
Can I Get a $500 Loan with Bad Credit?
If you can meet certain income requirements and do not have an active or recently discharged bankruptcy case, you may qualify for a $500 loan through an online lending network.
Several of the networks listed above offer bad credit loan options of $500 or more to qualified applicants. Often, you must show proof of income of $800 or more (some networks require $1,000 or more) each month after taxes.
These lenders often specialize in working with consumers who have a bad credit score, meaning your credit may not disqualify you from the loan.
And since these networks provide installment loan options, you can repay the debt in a series of monthly payments instead of all at once. That makes them a more attractive — and more affordable — option compared to bad credit payday loans.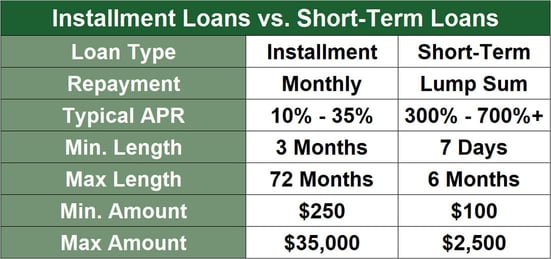 If you qualify for a loan, the lender will complete the paperwork with you online. The process typically takes one hour or less. Once the paperwork is completed, you will receive your money to a linked checking or savings account within one business day.
When Are Bad Credit Payday Loans a Good Idea?
Because of their sky-high interest rates and short repayment windows, a payday loan (or online payday loan) is almost never a good idea. But sometimes you need a small loan to get you to your next paycheck, and you may have no other option.
Bad credit payday loans often have interest rates of 300% or more and require repayment by the borrower in one lump sum within 15 to 30 days.
A general rule of thumb is that you will have to repay at least $15 in interest for every $100 you borrow. That may not sound like much initially, but it adds up quickly — especially if you cannot pay the loan off on time.
If you do not repay the loan by the agreed-upon date, the lender will roll your loan over into a new 30-day loan with an even higher interest rate.
Say you need to take out a $375 loan with a 30-day repayment window. Based on the lowest finance charge available ($15 per $100 borrowed), you will need to repay $431.25 in one month. If you have to rollover your loan into a new one, you would owe $495.94 (plus fees) to satisfy the debt. That means your $375 loan turns into $500 owed in just 30 days.
These types of situations are not uncommon. Some borrowers who received loans of $2,500 ended up paying more than $50,000 in total to repay the debt because of the continued rollovers and increased penalties.
What Credit Score is Needed to get 1-Hour Payday Loans?
Many payday lenders will not require a credit check for loan approval. Instead, the lender may examine your paycheck stubs or direct deposit history to make sure you have a steady income and can afford to repay your loan within the 15- to 30-day window.


The only time a payday direct lender may require a credit check is to make certain you do not have an active bankruptcy case or have accounts that are past due or in collections. If you do not, the lender will likely look past your credit score — no matter how bad it is — and approve your loan.
Can I Get a Fast Loan without a Credit Check?
Lenders rely on credit checks to examine your credit history and make sure you do not have a history of bailing on your debt and leaving other lenders holding the bag. As a result, most traditional lenders will require a credit check to make sure you are not too great of a risk. There are exceptions, though.
If you have collateral to offer, some specialized lenders will extend a loan to you without checking your credit. This could include a title loan, where you hand over the title to a car, truck, motorcycle, or boat as collateral, or pawnshop loans, where you can use jewelry, antiques, or other valuable items as collateral.
Payday lenders do not require collateral, but they do charge very high fees to skip the credit check process.
There are cases in which you could qualify for an online loan without a credit check, but you should expect to pay more for the service, as the lender will require extra fees to compensate for the added risk.
Can I Get a Short Term Loan from a Credit Union?
A credit union is a great place to find a short term loan with an interest rate and a loan term that are better than those of a bank loan.
In some cases, you do not need to be a long-term member of the credit union to apply for the loan. You may be able to set up an account for as little as $5 and apply for the loan the same day.
These loans, also known as PALs (or Payday Alternative Loans) are designed to help consumers who have a bad credit score avoid the potential pitfalls of high-priced cash advance loans.

You could qualify for a PAL of between $200 and $1,000 and have as long as six months to repay the loan. The credit union will typically charge a fee of $20 to $25 to process your loan.
You can have up to three PALs in any six-month period, but you cannot have more than one active PAL at a time. Interest rates vary on these loans, though they cannot exceed 20% on any loan.
Do Guaranteed Payday Loans Exist?
You can typically find guaranteed payday loans if you meet a few specific criteria:
Have a steady income via direct deposit
No active or recent bankruptcy cases
No current past due or collections accounts
Your income can be from employment, child support, or government benefits. The lender will typically require the income to come via direct deposit so it can verify you receive steady paychecks and have the ability to repay the debt.
If you meet those criteria, a payday lender will typically offer you a short term loan of between $100 and $1,000 without conducting a full credit check.
You may, however, have to undergo a credit check so the lender can verify you do not have any past-due bills. The lender will typically not look at your credit score, though, to determine loan eligibility.
Get Approved for 1-Hour Loans for Bad Credit Online
We have all been in situations where we need an emergency loan. Life happens, and it often requires quick loans to get through certain situations.
If you're looking for 1-hour loans for bad credit, consider one of the online lending networks listed above. You could find multiple lenders that will compete for your business so you can choose the best loan offer that comes your way.
Advertiser Disclosure
BadCredit.org is a free online resource that offers valuable content and comparison services to users. To keep this resource 100% free for users, we receive advertising compensation from the financial products listed on this page. Along with key review factors, this compensation may impact how and where products appear on the page (including, for example, the order in which they appear). BadCredit.org does not include listings for all financial products.
Our Editorial Review Policy
Our site is committed to publishing independent, accurate content guided by strict editorial guidelines. Before articles and reviews are published on our site, they undergo a thorough review process performed by a team of independent editors and subject-matter experts to ensure the content's accuracy, timeliness, and impartiality. Our editorial team is separate and independent of our site's advertisers, and the opinions they express on our site are their own. To read more about our team members and their editorial backgrounds, please visit our site's About page.