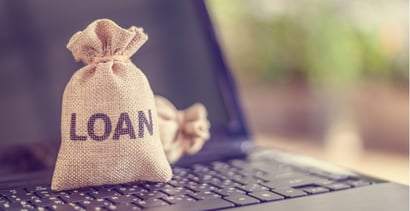 If you're in need of fast cash to cover an unexpected expense like a car repair or medical bill, you may consider payday loans online. A payday loan is a small dollar loan you must pay back on your next payday, usually within two to four weeks.
While you can take out an online payday loan from a lender quickly and easily, this financing option can be very expensive. Payday loans online often come with exorbitant interest rates and fees that make repayment a real challenge.
Unless you pay them back in full and on time, they can steer you into a cycle of debt, damage your credit score, and warrant the need for credit counseling. That's why our experts have compiled this list of the best alternatives to payday loans online.
Top Alternatives to Payday Loans Online
Fortunately, you don't have to resort to an internet payday loan with a high interest rate when you need money right away. A variety of other, more affordable loan options are at your disposal.
Short-term loans up to $5,000
Online marketplace of lenders
Funds available in as few as 24 hours
Simple online form takes less than 5 minutes
Trusted by more than 2 million customers
| Loan Amount | Interest Rate | Loan Term | Loan Example |
| --- | --- | --- | --- |
| Up to $5,000 | Varies | Varies | See representative example |
MoneyMutual is not a direct lender. Instead, it's an online marketplace that brings borrowers and lenders together. If you're employed and have an active checking account and earn at least $800 per month, you may qualify for a loan product. This holds true even if you don't have the best credit.
After you fill out the short online form, potential lenders will review your information, and reach out if they wish to lend you money. If you're approved, you may get a loan of anywhere from $250 to $2,500 in as little as one business day. MoneyMutual is free to use.
CashUSA.com can connect you to a personal loan from state-licensed and tribal lenders. To be approved, you must be a U.S. citizen and at least 18 years old. An after-tax income of at least $1,000 is required as well. Upon approval, you can receive your funds as early as the next business day.
It's important to note that loan terms, rates, and fees vary. However, if you opt for a loan from a tribal lender, you'll likely face higher rates and fees as these lenders are not subject to state laws. You'll find that some lenders offer APRs between 5.99% and 35.99%.
Since 1998, CreditLoan has offered personal loans that range from $200 to $5,000. Its mission is to "connect people with products that enrich their lives." In addition to personal loans, the website offers auto loans and student loans.
CreditLoan places a great deal of emphasis on personal finance education. That's why it's full of useful resources like banking reviews and a regularly updated smart-finance blog. You can find a loan on CreditLoan regardless of your credit history.
Bad Credit Loans focuses on personal loans for consumers with poor credit. You can fill out the quick online form if you're a U.S. citizen age 18 or older and have a regular income and an active checking account. After completing the form, you'll receive invitations from lenders to apply for bad credit loans that range from $500 to $5,000.
The service is free and you do not have to accept any loan offer you receive. While repayment terms vary, most of them are anywhere between three to 36 months. You don't need collateral and won't be denied solely because you have a poor credit history.
PersonalLoans.com is an online service you can use to find loans that range from $1,000 to $35,000. After you fill out the short loan request, lenders will decide whether to grant your approval.
To qualify for a loan through the site, you must be a U.S. citizen or legal permanent resident, 18 years of age or older, and have a Social Security number. You must also have a qualifying monthly income, open bank account, and responsible pattern of borrowing are also required.
If you get approved, you can sign the loan agreement and receive your cash in one to five business days. PersonalLoans.com partners with a few types of lenders including banks, peer-to-peer lenders, and loan providers.
CashAdvance has been around since 1997 with a mission to connect consumers with short-term loans. If you take out a loan from CashAdvance, you'll likely need to repay it by your next payday. To apply, you must be a U.S. citizen, at least 18 years old, and have a minimum after-tax monthly income of $1,000.
The website is completely secure as every loan request is secured with 256-bit encryption. Once you submit your request, you may receive a response from a direct payday lender in just a few minutes. After you review the terms and conditions, you are welcome to approve or deny any offer.
7. Borrow from Friends or Family
While it may be uncomfortable to ask a friend or family member for money, doing so is often safe and affordable. You should only go this route if you're confident that you can repay your loved one. Otherwise, you risk ruining your relationship with them.
If you do borrow from friends or family, put a formal agreement in writing and create a repayment timeline that you can both agree to. With a formal agreement in place, everyone will be on the same page, and there won't be any confusion or uncertainty about the loan.
8. Credit Card Cash Advance
Some credit cards on the market will allow you to withdraw a short term loan. The maximum loan amount will be set by your available credit limit. If you do opt for a cash advance loan, note that the annual percentage rate (APR) for cash advances is often higher than a credit card purchase APR.

When you search for a cash advance, you may discover that some cards will limit your cash advances to 20% of your available credit limit. Make sure you understand the APRs and fees involved before you commit to a payday advance.
9. Secured Loans
Secured loans are backed by collateral, which are financial assets you own such as a house or car. If you default on a secured loan like a title loan or home equity loan, the lender can take your collateral. Therefore, this financing option is only a good idea if you know you'll be able to repay your loan on time.
If you have less than stellar credit, you'll find that secured loans are easier to qualify for than unsecured loans, which do not require any collateral. This is because a secured loan requires you to put your house, car, or other asset on the line and is less risky as a result. You can obtain a secured loan from a bank, credit union, online lender, or another financial institution.
How Does a Payday Loan Work?
Payday loans work differently than traditional personal loans. Each state has its own laws regarding how much you can borrow or how much a lender can charge in interest and fees. Some states, including Arizona and Connecticut, don't allow payday loans at all.

After you apply for a payday loan through a bank, credit union, or online lender, you may receive cash or a check. In most cases, however, the money will be deposited directly into your bank account.
You'll be responsible for repaying the online loan in full plus any interest and fees by its due date. The date is usually within 14 days or when you receive your next paycheck.
How Do You Get Approved for a Payday Loan Online?
Fortunately, it's easy to get approved for a payday loan online. First, you'll need to gather certain information so you can fill out the loan application form. This may include your driver's license or another form of government ID, a recent pay stub or other proof of income, and your Social Security number.
Once you have all this information on hand, you can visit the website of an online payday lender and fill out a short online application form. The form will likely ask you to share your personal contact information, employment details, and banking numbers for direct deposit.
Some lenders will approve you within 24 hours or the next business day. Those that take a bit longer may get back to you within three to five business days.
Is a Payday Loan an Installment Loan?
While the terms payday loan and installment loan get used interchangeably, there are noteworthy differences between these two options. A payday loan is a small dollar loan you must pay back on your next payday, usually within a few weeks. You may get approved instantly after you fill out a payday loan application.
An installment loan, on the other hand, is a traditional loan that's repaid over time through a series of fixed monthly payments. It may make sense if you need more than a couple hundred bucks and wish to spread your payments out over time.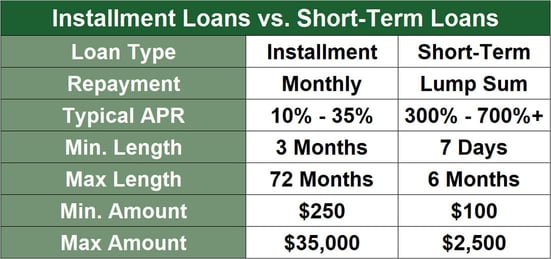 Installment loans are typically more difficult to qualify for than payday loans. Both financing solutions are available through banks, credit unions, and online lenders.
Are There Any Legitimate Online Payday Loans?
While there are many online payday loans out there, not all payday lenders are created equal. Unfortunately, some engage in predatory payday lending practices and should be avoided at all costs. To determine whether an online payday loan is legitimate, look for the following:
HTTPS in the Address Bar: If you see HTTPS (rather an HTTP) in front of the URL, your data will be transmitted safely. This is a must for payday loan lenders as they will request and store sensitive financial data. Don't apply for a loan or submit personal information to a site without HTTPS.
Gray Padlock in the Address Bar: The gray padlock symbol in the address bar shows that any data you send will be encrypted. Encrypted data will be protected from fraud and can give you the peace of mind you deserve. A legitimate payday loan lender will have the lock in addition to HTTPS in the address bar.
Positive Reviews: Before you apply for a payday loan, do your research, and read several reviews online. Visit sites like Trustpilot and the Better Business Bureau to find out what others have to say about the lender. A high rating and many positive reviews are good signs.
Location Transparency: The lender should list their physical address and contact information clearly on their website. It's also essential that they prove they are licensed by the state in which they're located.
Do I Need a Bank Account to Get Approved for a Loan?
If you look at the requirements of most lenders, you'll realize that they almost always ask for a bank account. The good news is that if you don't have a bank account, you may still get approved for a loan. Lenders who offer short term loans may provide you with the cash you need without a bank account.
Without a bank account, you may get approved for a loan such as a payday loan, title loan, pawnshop loan, or signature loan. With these types of loans, you may get your loan proceeds on a debit card or via cash or a check in the mail.
Keep in mind that these loans usually come with higher APRs and fees than loans that do require a bank account. A bank account may open the doors to more affordable financing options.
What is the Average Interest Rate on a Payday Loan?
Every lender charges interest. While the average interest rate for credit cards ranges from 28% to 36%, the average interest rate for payday loans is 398%.
Yes, you read that right. Don't be surprised if you get approved for a payday loan with an interest rate in the triple digits. If you take out a payday loan with a high interest rate, you can expect to spend a great deal of your hard-earned cash paying interest.
Due to the high interest rate a payday loan often comes with, repayment can be very difficult. If you're unable to repay your loan on time, you put yourself at risk of accruing additional fees and interest, and facing debt collection activity, a damaged credit score, and even a court summons.
Therefore, if you know it'll be tough for you to repay it, stay away from a payday loan and opt for a loan product with a lower interest rate. You're likely to find a loan that will cost you much less, even if you have poor credit.
Unless you're able to qualify for a payday loan online with a low interest rate, it's wise to consider the alternative options we've mentioned in this article. Websites like MoneyMutual, CashUSA.com, and BadCreditLoans.com can all help you out. Your future self will thank you for choosing another type of loan.
Can I Get a Personal Loan without a Credit Check?
In most cases, lenders will pull your credit report from at least one credit bureau and look at your credit score before approving you for a loan. This is because they want to see what kind of borrower you are before they extend you an offer.
If you have good credit, a lender will likely make you an offer with a low interest rate and favorable repayment term. Poor credit, on the other hand, may leave you with a high finance charge and less attractive loan term.
If you're concerned about your credit, rest assured that some lenders will grant you a loan without a traditional credit check. They'll consider other factors such as your employment status and income. In fact, online marketplaces like BadCreditLoans.com are specifically designed for borrowers with poor credit.
What is a Cash Advance?
A cash advance is another name for a payday loan (not to be confused with a credit card cash advance). A cash advance works just like a payday loan in that you repay the loan when you receive your next paycheck.
Since it's a short term loan and is often available to borrowers with poor credit, you can expect a cash advance to come with a fairly high interest rate.
You can get a cash advance from a payday lender who offers loans online or in person. It may be an option if you have a low credit score and have trouble qualifying for a loan.
What Questions Should You Ask a Payday Lender?
Before you take the plunge and take out an internet payday loan, you may want to ask a payday lender some questions. These questions include:
What credit score do I need to qualify?
What interest rate will you charge?
What is repayment like?
Are you strictly an online lender or can I apply in person as well?
Do I need an active bank account?
Are you a direct payday lender?
Can I take out an installment loan or do you only offer internet payday loans?
The answers to these questions can help you determine if a cash advance or other loan option is best for you.
Research Your Alternatives to Payday Loans Online
While payday loans may seem like a great option at first, looking at them more closely may indicate otherwise. With these alternatives to payday loans online, you can receive the cash you need quickly without the hassle.
Before you move forward with a loan, be sure to read the fine print and ask for clarity on anything you don't understand. Best of luck in your search for a fast financing solution.
Advertiser Disclosure
BadCredit.org is a free online resource that offers valuable content and comparison services to users. To keep this resource 100% free for users, we receive advertising compensation from the financial products listed on this page. Along with key review factors, this compensation may impact how and where products appear on the page (including, for example, the order in which they appear). BadCredit.org does not include listings for all financial products.
Our Editorial Review Policy
Our site is committed to publishing independent, accurate content guided by strict editorial guidelines. Before articles and reviews are published on our site, they undergo a thorough review process performed by a team of independent editors and subject-matter experts to ensure the content's accuracy, timeliness, and impartiality. Our editorial team is separate and independent of our site's advertisers, and the opinions they express on our site are their own. To read more about our team members and their editorial backgrounds, please visit our site's About page.