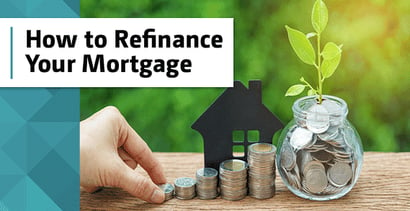 According to the National Association of Realtors (NAR), the average American homeowner will stay in their home for nine years before moving. At the same time, the average mortgage loan interest rates have dropped over two points in the last decade, and decreased by more than six points in the last 30 years.
For those who don't plan to move anytime soon, refinancing your mortgage to take advantage of lower interest rates can be a simple way to make your home more affordable. Assuming a mortgage loan amount of $250,000, lowering your interest rate by even a single percentage point can equate to an interest savings of more than $50,000 across the life of the loan, or nearly $150 a month.
While you can refinance your mortgage no matter how long you've been in your home, you may not be able to refinance through your current mortgage lender if you haven't been in the home long enough. Additionally, although the process of getting a refinance loan will be similar to that of obtaining a regular mortgage, there may be variations based on the nature of your current loan. Keep reading for information on refinancing various types of loans as well as refinance mortgages for bad credit. We'll take a look at the best companies for mortgage refinancing, how to refinance a conventional mortgage, how to refinance an FHA loan, and how to use the Home Affordable Refinance Program (HARP).
Best Companies | Conventional Loans | FHA Loans | HARP
The Best Companies for Mortgage Refinancing
In general, most lenders who provide mortgage loans will also offer mortgage refinance loans. That said, since the entire idea behind refinancing your loan is to obtain a new loan with a lower interest rate — thus lowering your payments — the best thing you can do when searching for a refinance loan is to compare rates from multiple lenders before making a decision.
One easy way to obtain a variety of quotes simultaneously is to go through an online lending network. Connecting hundreds of lenders from around the country, lending networks, such as our top-rated picks below, can typically offer you multiple quotes in 10 minutes or less simply by filling out a single digital form.
America's largest mortgage lender
The entire process is completed online
Options for new mortgages and refinancing existing mortgages
Award-winning customer service and cutting-edge digital platforms
More than 90% of clients would recommend us
| Interest Rate | In Business Since | Application Length | Reputation Score |
| --- | --- | --- | --- |
| Varies | 1985 | 5 minutes | 9.5/10 |
Best for cash-out refinance
Utilize your home equity with America's #1 lender
eClosing allows customers to close electronically, greatly speeding the process
A+ rating with the BBB
Receive cash for home improvements, college tuition, or paying off debt
24/7 access to your loan through the Rocket Mortgage app
| Interest Rate | In Business Since | Application Length | Reputation Score |
| --- | --- | --- | --- |
| Varies | 1985 | 5 minutes | 9.5/10 |
Get today's mortgage rates from the top mortgage lenders and banks
Easily compare and choose mortgage lenders with no obligations or fees
Review current mortgage rates side by side
Pick mortgage lenders that meet your specific needs
Compare rates from pre-qualified and approved mortgage lenders — 100% online, 100% free
| Interest Rate | In Business Since | Application Length | Reputation Score |
| --- | --- | --- | --- |
| Varies | 1979 | 4 minutes | 8.5/10 |
+See More Home Refinance Loan Providers
An important thing to keep in mind when shopping for a refinance loan is that each time a lender pulls your credit report to give you an exact rate, it will result in a hard inquiry on your credit report. Each hard credit inquiry can drop your score by a few points, and multiple hard inquiries can drop your score more significantly.
Thankfully, credit scoring agencies understand the importance of finding the best rate when looking for a mortgage, auto, or student loan, and have built rate-shopping windows into their algorithms. All credit inquiries for these products made within the same 14-day window will count as a single inquiry in your score calculation. This means you should plan to do all of your rate shopping within the same two-week period to avoid damaging your score while you compare rates.
How to Refinance a Conventional Mortgage
Conventional loans are typically defined as those loans not backed or insured by any government agency. When someone refers to a mortgage, this is generally the type of mortgage loan they are referring to. When first purchasing a home, conventional loans are generally the most difficult to obtain, as they tend to require the highest credit scores and down payment amounts.
For refinancing, conventional loans are often the most flexible loan product, and can be used to refinance non-owner occupied residences in addition to primary residences.
The process is at its simplest in a straightforward refinance with a conventional mortgage. You shop around for the most favorable loan rate and terms, then apply for the best loan. Once your application has been approved and your funds disbursed, use your new loan to pay off your old loan. So long as you have enough equity in your home, you will likely not even need to provide any additional down payment.
Homeowners with at least 20% equity in their property can also obtain a conventional cash-out refinance loan, which provides cash back at closing based on the equity of your property. For example, if you owe $100,000 on your mortgage but your home is worth $150,000, you have $50,000 of equity. You can then obtain a refinance loan for more than you owe (but less than the home is worth), and receive the difference in cash.


Another popular use of conventional mortgage refinance loans is to convert a Federal Housing Administration (FHA), United States Department of Agriculture (USDA), or other government-backed loan into a conventional loan. While these types of loans are convenient for those who may not qualify for a conventional mortgage, many government-backed loans have Private Mortgage Insurance (PMI) or other associated fees that can last the lifetime of the loan.
With 20% or more equity in your home, you may qualify for a conventional refinance loan without having to put down any cash or pay PMI fees on your new loan. You can then use the conventional loan to repay your government-backed loan, eliminating those extra fees for good — and, hopefully, obtaining a lower interest rate — significantly reducing your monthly payments.
How to Refinance an FHA Loan
Regardless of the type of loan you originally took out, you can use an FHA loan to refinance your home so long as it is used as your primary residence. Homeowners interested in refinancing with an FHA loan have several options depending on their goal.
The quickest FHA refinance option is an FHA Streamline Refinance, which generally allows borrowers to skip a lot of the paperwork, credit checks, and, often, the appraisal. On the other hand, only those homeowners who currently have an FHA-backed mortgage can take advantage of the Streamline Refinance option.
To qualify for an FHA Streamline Refinance loan, you must be completely current on your mortgage payments. You must have made at least six monthly mortgage payments and have had your existing mortgage for at least 210 days. Additionally, you must demonstrate that the Streamline Refinance loan will actually have a tangible benefit, i.e., that it will actively make it easier for you to make your mortgage payments.
Those who wish to refinance an FHA-backed loan while also avoiding any out-of-pocket costs can use the FHA Simple Refinance option. Although this option will require a credit check and property appraisal, borrowers can include all closing costs and prepaid items into the loan amount, so long as it falls within 97.75% of the official appraised value of the property.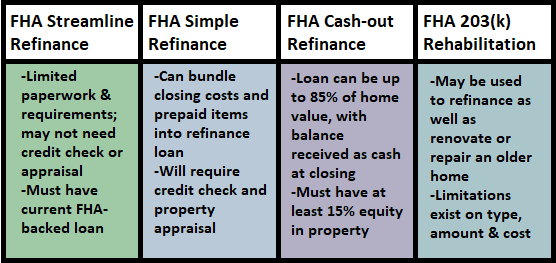 Homeowners with at least 15% equity in their property may qualify for an FHA Cash-out Refinance Mortgage, which allows borrowers to pay off their existing mortgage as well as providing extra cash. In most cases, a cash-out loan of up to 85% of the home's value can be permissible. Borrowers will need to meet the credit score and income guidelines of an FHA loan and be current on at least the last 12 mortgage payments.
The last type of FHA-refinance loan is the FHA 203(k) Rehabilitation Loan, which can be used to purchase or refinance a home as well as renovate or rehabilitate your home. Limitations and restrictions are in place for the type, amount, and costs of rehabilitation covered under the FHA 203(k) loan, but can include minor expenses as well as major reconstruction. Rehabilitation loans can also be used in cases of federally declared natural disasters to renovate property damage caused by these events.
How to Use the Home Affordable Refinance Program (HARP)
As most know, the financial crisis of the late 2000s was, in part, brought about by an abrupt drop in housing prices that caused millions to struggle with homes suddenly worth significantly less. Lacking enough home equity to refinance under most conventional methods, many were forced into foreclosure. In response, the Home Affordable Refinance Program (HARP) was established by the federal government.
Through HARP, those homeowners who lost important equity during the Great Recession can refinance their homes and obtain a lower interest rate. In fact, due to the nature of HARP, borrowers cannot have a loan-to-value (LTV) ratio that is too high. Your LTV is the balance of your loan over the current value of your home.
In other words, HARP is designed specifically for homeowners with low equity, so you must owe at least 80% of what your home is worth to take advantage of HARP. For example, if your home is currently worth $200,000, you need to owe at least $160,000 on your existing mortgage to obtain to refinance through HARP.
If you are underwater on your current mortgage, meaning you owe more on your loan than your property is currently worth, you may still qualify for a HARP loan. In fact, for a fixed-rate HARP loan, there is no maximum loan-to-value amount; for a variable-rate loan, your LTV cannot exceed 105%.
Borrowers will also need to meet additional requirements to qualify for a HARP loan. For instance, your existing mortgage must be owned by Fannie Mae or Freddie Mac, and your loan must have originated on or before May 31, 2009. You also need to be up-to-date on your current mortgage, with no late payments over the last six months, and no more than one delinquent payment in the last 12 months.
Furthermore, HARP loans can only be obtained for residential properties that are either your primary residence, a single-unit second home, or an investment property with four units or fewer. Your property doesn't actually need to be zoned as a single-family home to qualify; condominiums and townhouses may also qualify provided they meet other requirements.
While HARP was previously set to expire in September of 2017, the Federal Housing Finance Agency (FHFA) announced in August that the HARP program would be extended through December 31, 2018. While you can only obtain a single HARP loan for your property, you can apply more than once if you are turned down. The HARP program has undergone several changes since its inception in 2009, and those previously rejected may qualify under the newer rules.
Save Money (and Your Home) with the Right Refinance Loan
Whether you've been in your home just a few years or have beaten the average by hanging tight for a decade or more, chances are good that you can lower your monthly payments with the right refinance loan. Homeowners who have built up equity in their home can use refinancing to decrease the amount of time they spend repaying or get the cash they need to renovate their homes.
Even without significant equity, refinancing can provide a lower interest rate, potentially saving a lot of money. For those struggling to keep up with a less-than-favorable mortgage, refinancing can help them to find relief, allowing them to get back on track and keeping them in their homes for years to come.
Advertiser Disclosure
BadCredit.org is a free online resource that offers valuable content and comparison services to users. To keep this resource 100% free for users, we receive advertising compensation from the financial products listed on this page. Along with key review factors, this compensation may impact how and where products appear on the page (including, for example, the order in which they appear). BadCredit.org does not include listings for all financial products.
Our Editorial Review Policy
Our site is committed to publishing independent, accurate content guided by strict editorial guidelines. Before articles and reviews are published on our site, they undergo a thorough review process performed by a team of independent editors and subject-matter experts to ensure the content's accuracy, timeliness, and impartiality. Our editorial team is separate and independent of our site's advertisers, and the opinions they express on our site are their own. To read more about our team members and their editorial backgrounds, please visit our site's About page.