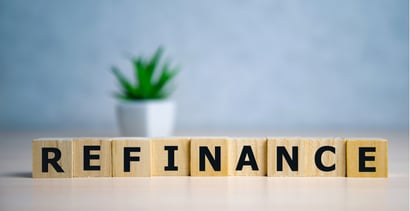 Interest rates across the board are down right now. And if you currently have debt with a high interest rate, you may be considering swapping it out for a new credit product with a lower rate.
Refinancing can save you a lot of money in financing fees, particularly if the amount you owe is substantial, as is the case with a mortgage. Here's how to know if now is a good time to refinance.
Only Refinance if You Can Score a Better Rate
When you first opened a credit card or took out a loan, the interest rate attached to it may have been on the high side. There are several reasons for this:
You had a thin credit file. If you had not borrowed money from a financial institution before, you didn't have a credit history the lender could use to gauge its level of risk in taking you on as a customer. Lenders rely on credit reports from the three credit reporting agencies — Experian, TransUnion, and Equifax — and the credit scores that result from what is listed on those reports to understand what kind of borrower you are. Therefore, if your credit file was thin, the lender considered you to be a potentially risky borrower, and the interest rates it offered were on the high side.
Your credit rating was poor. Maybe you had a credit history but it wasn't very good. If you had problems getting payments in on time, carried an overabundance of revolving debt, had recent defaults, or filed for bankruptcy, your credit scores were almost certainly low. FICO Scores and VantageScores range from 300 to 850, and lenders prefer higher scores. In general, lenders like to see applicants have scores that are at least at the 700 mark. If yours weren't, you didn't receive the best rate.
Market forces beyond your control. Even if you had established and excellent credit, outside factors may explain the higher interest rates attached to your account. Lenders set interest rates based on many considerations, including their own cost to borrow money and the profit margin. Those factors fluctuate, so it's a good idea to pay attention to where they are now versus then.
If you were unable to get the better interest rates because your credit was thin or poor, see where your score is today. Request your free credit reports from annualcreditreport.com and obtain your credit scores from FICO.com or YourVantageScore.com.
As long as your credit reports list a long pattern of on-time payments with several types of credit products and no derogatory information within the last few years, your scores should be good enough to qualify for better rates.
Your job status, income, household expenses, and current debt payments may also be used to determine qualification, but if you have steady employment and can easily handle the payments, you should be in a fine position to refinance.
Understand the Refinancing Options and Advantages
Refinancing means that a new lender takes over the debt you have with the original lender. Here is how you can refinance a variety of debts, and how it can help you reduce your monthly payments and the total interest you pay.
Credit Cards
Credit card APRs can easily be in the upper 20% range, but you may be able to shift the debt to a different credit card and save a bundle. Balance transfer credit cards usually offer 0% APRs for six to 18 months.
During this no-interest introductory period, you will not pay any financing fees on the balance you moved over to the new account. If there is a balance remaining after the introductory period, the regular purchase APR will be applied to the remaining debt.
That rate may be the same or even higher than the one you currently have, so it's important to plan ahead and pay as much as possible before the APR kicks in. Most balance transfer cards charge a balance transfer fee of 3% to 5% of the amount transferred.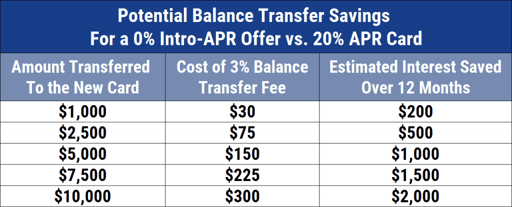 Example: You have a $10,000 credit card balance with a 24% APR. You want to pay it off in 12 months, so the monthly payments are $946, and the total interest paid is $1,347.
If you refinance with a balance transfer credit card that offers 0% APR for 12 months and a 2% balance transfer fee, the payments would go down to $850 and you would pay nothing in interest.
Home Loan
Mortgage rates fluctuate constantly and are deeply dependent on market conditions. In 2010, a 15-year, fixed mortgage averaged 4.15%, while a 30-year mortgage was around 4.07%. In August 2020, the average rate for a 15-year fixed refi was 2.76% and a 30-year fixed-refinance rate was 3.24%.
Because these loans are so large, every point (or even fraction of a point) makes a difference in the final cost, as well as the payment. Below are our top-recommended companies for refinancing a home loan:
America's largest mortgage lender
The entire process is completed online
Options for new mortgages and refinancing existing mortgages
Award-winning customer service and cutting-edge digital platforms
More than 90% of clients would recommend us
| Interest Rate | In Business Since | Application Length | Reputation Score |
| --- | --- | --- | --- |
| Varies | 1985 | 5 minutes | 9.5/10 |
Best for cash-out refinance
Utilize your home equity with America's #1 lender
eClosing allows customers to close electronically, greatly speeding the process
A+ rating with the BBB
Receive cash for home improvements, college tuition, or paying off debt
24/7 access to your loan through the Rocket Mortgage app
| Interest Rate | In Business Since | Application Length | Reputation Score |
| --- | --- | --- | --- |
| Varies | 1985 | 5 minutes | 9.5/10 |
Get today's mortgage rates from the top mortgage lenders and banks
Easily compare and choose mortgage lenders with no obligations or fees
Review current mortgage rates side by side
Pick mortgage lenders that meet your specific needs
Compare rates from pre-qualified and approved mortgage lenders — 100% online, 100% free
| Interest Rate | In Business Since | Application Length | Reputation Score |
| --- | --- | --- | --- |
| Varies | 1979 | 4 minutes | 8.5/10 |
Example Savings: You have $150,000 left on your mortgage, at 4.5% interest, with 15 years left. Refinance it with a 15-year loan at 2.8% interest, and the monthly payments would drop from $563 to $353. The total interest savings: $37,868.
This assumes no closing costs, though some lenders do charge them, which can be 2% to 5% of the home price.
Car Loans
You may also be able to get a better rate on an auto loan by refinancing. It would be an option if your car is less than 10 years old, you have equity in it, and the old loan won't charge you a prepayment penalty. Below are our top-recommended companies for refinancing an auto loan:
Network of dealer partners has closed $1 billion in bad credit auto loans
Specializes in bad credit, no credit, bankruptcy and repossession
In business since 1999
Easy, 30-second pre-qualification form
Bad credit applicants must have $1500/month income to qualify
| Interest Rate | In Business Since | Application Length | Reputation Score |
| --- | --- | --- | --- |
| 3.99% - 29.99% | 1999 | 3 minutes | 9.5/10 |
Auto loan amounts of up to $150,000
Prequalify in minutes without impacting your credit score
Refinancing loans save an average of $191 per month
125% financing available for cash-out refis
PenFed Credit Union membership required but can be applied for at the same time as your loan
| Interest Rate | In Business Since | Application Length | Reputation Score |
| --- | --- | --- | --- |
| 5.19% and up | 1935 | 5 minutes | 9.5/10 |
RefiJet helps people lower their monthly auto payment by an average of $150 a month*
Pre-qualifying for a refinance auto loan does not impact your credit score
Nationwide network of lenders
We present you with options from lenders that fit your situation
| Interest Rate | In Business Since | Application Length | Reputation Score |
| --- | --- | --- | --- |
| Varies | 2016 | 5 minutes | 9.0/10 |
Example Savings: You owe $15,000 on your car, at 8% interest. The payments are $600 and you have 27 months left on the loan. The total interest remaining is $1,464.
Refinance it for 36 months at 3.59% interest, and the payment would be $440 and the total interest just $845.
Student Loans
The average student loan debt at graduation from public colleges was $26,900, according to a 2019 report from The Institute for College Access and Success.  Refinancing such large loans at a lower rate can help you pay the debt off efficiently and at a discount. It's not right for everyone, though.
When a private lender takes over federal loans, you will lose any benefits associated with federal loans, such as deferments, forbearances, and flexible payment options. If you don't need these benefits, refinancing can save you a lot of time and money.
Example Savings: You owe $30,000 in student loans with an interest rate of 5%. You have eight years left on the 10-year loan, and your payments are $380. The total interest paid on the remaining balance would be $6,461.
If you refinance the loan with a 10-year term at 2.75% interest, the monthly payment will be $286, and the interest paid would be $4,348.
Personal Loans
You may have taken out a personal loan to cover unexpected medical costs, pay for an expensive item, or finance anything else you couldn't afford to pay with cash at the time. If so, the interest rate may be higher than what you can get today.
Plenty of lenders will be eager to assume the debt if you can make the payments and appear to be a good credit risk.
Example Savings: You owe $10,000 on a personal loan with a 12% interest rate. Your monthly payment is $471. You have two years left on the loan, and the total interest on the remaining debt is $1,298.
Refinance to a two-year loan with an interest rate of 6%, and the payment will be $444. The total interest paid would be $637.
Refinancing Can Save You Considerable Sums of Money
Clearly refinancing a debt that has a high interest rate with one that has a lower rate can save you a considerable amount of money. It can even drop your monthly payments so they are more affordable, giving you more freedom in your budget.
It's important, however, to only attempt to refinance when you're truly eligible and the rates you can get are low enough to make it worthwhile. And extending the debt with a loan that has a much longer term can result in higher overall financing fees and more time spent in debt.
If your credit needs work, take steps to increase your scores. For instance, if you have a few late payments on your credit report, establish a perfect payment pattern for about six months first. Or if your credit utilization is high because you owe too much on a credit card, bring that debt down so it's below 30% or less of the credit line.
These two strategies alone can help your scores increase so you can qualify for an advantageous refinancing deal — while the deals are still being offered!
Advertiser Disclosure
BadCredit.org is a free online resource that offers valuable content and comparison services to users. To keep this resource 100% free for users, we receive advertising compensation from the financial products listed on this page. Along with key review factors, this compensation may impact how and where products appear on the page (including, for example, the order in which they appear). BadCredit.org does not include listings for all financial products.
Our Editorial Review Policy
Our site is committed to publishing independent, accurate content guided by strict editorial guidelines. Before articles and reviews are published on our site, they undergo a thorough review process performed by a team of independent editors and subject-matter experts to ensure the content's accuracy, timeliness, and impartiality. Our editorial team is separate and independent of our site's advertisers, and the opinions they express on our site are their own. To read more about our team members and their editorial backgrounds, please visit our site's About page.