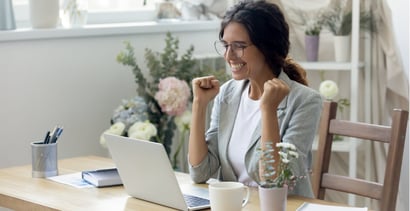 If you have a low credit score, it's nice to know several sources of personal loans with guaranteed instant approval are available. Approval comes in the form of an immediate prequalification decision from an unsecured personal loan network when you submit a short loan request form.
While no lender can guarantee final approval, becoming prequalified is an important step toward receiving the personal loan you need.
Best Overall | More Loans | FAQs
Best Overall Personal Loan For Bad Credit With Instant Approval
MoneyMutual has consistently earned our top ranking among unsecured personal loan networks. As with all the companies reviewed below, MoneyMutual is not a direct lender but rather an intermediary that prequalifies you as a borrower and then connects you to an appropriate small loan provider.
Short-term loans up to $5,000
Online marketplace of lenders
Funds available in as few as 24 hours
Simple online form takes less than 5 minutes
Trusted by more than 2 million customers
| Loan Amount | Interest Rate | Loan Term | Loan Example |
| --- | --- | --- | --- |
| Up to $5,000 | Varies | Varies | See representative example |
Each lender in the MoneyMutual network is comfortable with borrowers who have bad credit. It is one of the few networks that offers you the choice between a personal loan and a payday cash advance, allowing you to select the type of small loan that is more appropriate to your needs. If you look at both loan types, you'll find that personal loans are a much more affordable loan option and charge less interest.
As with all the companies in this review, MoneyMutual isn't a direct lender but rather a service that instantly prequalifies you for a small personal loan and then links you to one of the bad credit personal loan providers on its network. You must have a dependable monthly income of at least $800 to prequalify for a loan.
More Personal Loans to Consider
The following lending networks compete with MoneyMutual for borrowers with bad credit. All offer a guaranteed prequalification decision and access to one or more direct bad credit personal loan providers.
The reviewed networks charge you nothing for their service and can save you much valuable time you would spend hunting around for a good personal loan.
24/7 Lending Group is a great choice for anyone who wants a longer-term installment loan they can repay over several months or years. There's no credit check to see if you qualify for a loan offer, and a deposit to your bank account can be initiated the same day you're approved. Applicants must be employed to qualify for a loan from this network.
CashUSA, headquartered in Las Vegas, does not require you to have a good credit score to instantly prequalify for a quick loan. You are required to be a U.S. citizen or permanent resident, age 18 or older, with a reliable after-tax income of at least $1,000 per month. You also must provide an active checking account titled in your name, as well as a valid email address and phone number to get a quick loan.
BillsHappen of Plantation, Florida, is a loan network that can instantly prequalify you for a personal installment loan that you repay in equal monthly payments. Because of its wide range encompassing the minimum and maximum loan amounts, you can apply for the right-sized loan to meet your needs, although your offer may differ from your ask. Your information is safe with BillsHappen thanks to its use of AES 256-bit encryption to help guarantee your privacy and security.
Tampa, Florida, is the home of CreditLoan, a loan network that guarantees an instant prequalification decision for a personal loan with terms much better than those for payday loans. The beneficial website offers a loan calculator and many other tools and resources that have attracted more than 33 million visitors. CreditLoan proudly displays the TRUSTe® seal, demonstrating its promise to safeguard your privacy and security.
Tacoma, Washington-based Bad Credit Loans welcomes consumers with poor credit scores looking for a personal loan. You can prequalify immediately if you are a U.S. citizen or resident, age 18 or older, with reliable monthly income, a checking account in your name, a valid email address, and work and home phone numbers. Some lenders on the Bad Credit Loans network also offer revolving lines of credit that give you extra flexibility for borrowing and repaying a loan.
Located in Roosevelt, Utah, PersonalLoans can prequalify you for an instant loan offer. To be eligible, you must be a U.S. citizen or permanent resident, at least 18 years old, with $500 or more of monthly income and an active bank account under your own name. PersonalLoans can also find you additional financial services, including credit repair, credit monitoring, and debt settlement.
What is a Personal Loan With Guaranteed Instant Approval?
The word guaranteed is used too casually nowadays and must be understood in context. When used to describe personal loans, the guarantee refers to instant decisions that take place at least twice during the borrowing process — once at prequalification and again at final approval. There is no such thing as guaranteed loan approval.
But first, it's important to understand what a personal loan is and is not. Personal loans are also known as signature loans because the only asset securing repayment is your good name scrawled at the bottom of the loan agreement.
Because personal loans are unsecured, the lender must contend with the risk that it won't be repaid, either in full or on time. Lenders have only a few defenses against delinquencies and defaults, the first being to decline a loan application that seems too risky.
But assuming the lender is willing to work with the borrower to find a way to "yes," it must earn enough of a return to compensate for the occasional bad loan and still make a profit. It does this in several ways:
It's no longer a personal loan when you pledge your home or car as collateral — these are equity loans based on the value of the property you own. But some personal online loan providers may accept cash, securities, and even collectibles as collateral, thereby increasing the borrower's access to an emergency loan while reducing its overall cost.
Do Any Loans Guarantee Approval?
We are not aware of any lender who approves 100% of all applications it receives. Doing so would imply very lax standards, if not complete irresponsibility.
You may receive a guaranteed personal loan offer in the mail that you can redeem for a personal loan. These come as close as possible to guaranteed approval because the lender has already researched your credit history.
However, mail offers may be rescinded if your circumstances change between the time of the offer and your application. If that happens, the lender reserves the right to change or rescind the original offer.
What Is the Easiest Loan to Get Approved For?
Secured loans are the easiest to get. They can take the form of a personal secured loan, an equity loan, a credit card cash advance, and a pawn loan, among others. You may also find it easy to get an unsecured loan from family and friends.
Secured Personal Loans
With most personal loans, collateral never enters the picture. However, some emergency loan providers are willing to accept collateral, especially if the borrower would otherwise not qualify for a loan.
The collateral can take any form that is acceptable to the lender, but the usual suspects include cash, securities, and personal property. The collateral remains with the lender until the borrower repays the loan, at which time the collateral is returned.
You may have more luck getting a secured personal loan from your local bank or credit union, although some online lenders may be willing to oblige.
Equity Loans
Equity loans are a type of secured loan based on the equity in your home or vehicle. For a brand new primary mortgage, your down payment (which represents your initial equity in the property) partially secures the house, while the remainder is secured by the house itself.
Your equity is the house's resale value minus the amount you owe. You can borrow on your equity through a home equity loan (also called a second mortgage, repaid in monthly installments) or a home equity line of credit (a revolving loan account, much like a credit card).

You can also get a bad credit loan based on the equity in your car (or boat or airplane). If you own the vehicle outright, you can pledge it to secure a title loan. Otherwise, you can arrange a cash-out refinancing loan backed by your equity in the vehicle.
The problem with an equity loan is that you can lose your property if you default. Only take out an equity bad credit loan if you're sure you can pay it back on a timely basis.
Credit Card Cash Advance
You can get an instant credit card cash advance up to your credit card's credit limit minus any existing balance. While access to the cash advance is guaranteed, obtaining the card in the first place is only guaranteed if you have the credit available.
Nonetheless, cash advances from a credit card are as easy as a trip to an ATM or your bank branch. Even easier, you can write a check against the credit card account without leaving home.
There is usually a fee of 3% to 5% for each credit card cash advance. In addition, interest accrues from the transaction date — there is no grace period for a credit card cash advance.
Pawn Loan
You can get cash for your personal property at a pawnshop. The cash is a loan you must repay by a set date to redeem your property safeguarded at the pawnshop.
Expect to pay significant fees and interest on the loan. If you do not redeem the property, the pawnshop can sell it to recover the borrowed amount.
Loans From Family and Friends
These loans are often "secured" by your personal relationship with the lender. The upside is that these loans may be easy to get quickly and on very good terms, especially when you are undergoing a hardship.
Remember, your relationship is on the line if you don't uphold your part of the bargain. These loans can be very expensive in the long run if you fail to live up to your end of the agreement.
How Can I Get a Loan Immediately?
As mentioned earlier, using one of the reviewed lending networks to get an immediate personal loan involves two distinct approval events:
Prequalification: If you meet the lending service's minimum requirements, you are guaranteed to receive instant prequalification. The standard requirements for guaranteed approval loans include U.S. citizenship or permanent residency, age 18 or older, with a checking account, monthly income, phone number, and email address. Notice that prequalification does not depend on credit score, which is why instant approval for a guaranteed personal loan is available if you meet the minimum requirements. Prequalification allows the lending service to find you an appropriate direct lender, but it doesn't guarantee final approval.
Final approval: It is up to the direct lender to approve or decline your application. The lending service chooses one or more direct lenders that it feels are the best match for your needs. If the service recommended just a single lender, you'll be transferred immediately to the lender's website, where you can complete the application process. You'll get an instant decision in most cases, but occasionally, the lender will need to do additional research.
If you successfully pass through the two-step process, the direct lender will offer you a loan with a specific loan amount, repayment term, interest rate, fees, and monthly payment amount. You'll then be asked to sign the lender's loan agreement, but don't do so until you first read all the terms and conditions.
Pay close attention to the costs disclosed in the loan agreement, regardless of previous conversations and understandings. You want to know the total you'll end up paying for the loan if you don't pay it off early.
Can I Get a Personal Loan with a 500 Credit Score?
It's possible to get a personal online loan with a 500 credit score, but your chances are substantially greater if you recruit a cosigner. Lenders usually encourage consumers with bad credit to enlist creditworthy cosigners, thereby reducing the risk of account delinquencies and write-offs.
Cosigners share equal responsibility for repaying a loan, and their credit ratings are as much at risk as that of the primary borrower. Typically, cosigners do not receive the proceeds from a personal loan but are nonetheless on the hook if the primary borrower is late making a payment because most lenders report payments to at least one major credit bureau.
Cosigners are valuable for helping you get approved for a loan and because they give you the opportunity to improve your credit profile by making timely payments. While it's a good idea to pair up with a cosigner, you should only do so if you are certain you can repay the loan on your own — knowingly sticking your cosigner with the bills is unethical and in really poor taste.

As far as prequalification is concerned, a 500 credit score should be no obstacle because the loan networks reviewed here do not require any minimum credit score. Indeed, they may not even check your poor credit score before prequalifying you and connecting you to a direct lender.
Because there is no downside to prequalification, you can use the lending services to see whether you're eligible for a loan and to be paired with an appropriate lender, all without cost or damage to your credit score. Moreover, you are under no obligation to accept any loan offers you receive.
A direct personal loan provider will probably do a hard pull of your credit and check your credit score. A 500 score will not necessarily disqualify you if you can demonstrate enough income to afford the loan payments.
Is a Credit Check Required For Loan Approval?
Secured loans, including equity loans backed by your home or car, usually do not require a credit check, but most unsecured loans do indeed require a hard credit inquiry.
However, you can escape a credit check by getting an instant payday loan, a credit card cash advance, or a pawn loan, and it is unlikely that a relative or friend would seek a credit check before lending you money.
While a guaranteed payday loan and pawn loans are available without a credit check, you'll pay dearly for that privilege through high fees and interest rates.

If you can't repay an instant bad credit payday loan on its initial due date, you run the risk of falling into a debt spiral that could lead to bankruptcy.
Compare Personal Loans With Guaranteed Instant Approval Decisions
Our review of personal loans with guaranteed instant approval should provide hope to the millions of American consumers that must contend with low credit scores. We've identified seven loan networks that are comfortable working with subprime borrowers to find a way to get to "yes."
Personal loans are not cheap when your credit is bad, but they are nowhere near as dangerous as instant payday loans, with APRs starting at 200%. The best personal loan is the one that costs you the least in the long run.
Advertiser Disclosure
BadCredit.org is a free online resource that offers valuable content and comparison services to users. To keep this resource 100% free for users, we receive advertising compensation from the financial products listed on this page. Along with key review factors, this compensation may impact how and where products appear on the page (including, for example, the order in which they appear). BadCredit.org does not include listings for all financial products.
Our Editorial Review Policy
Our site is committed to publishing independent, accurate content guided by strict editorial guidelines. Before articles and reviews are published on our site, they undergo a thorough review process performed by a team of independent editors and subject-matter experts to ensure the content's accuracy, timeliness, and impartiality. Our editorial team is separate and independent of our site's advertisers, and the opinions they express on our site are their own. To read more about our team members and their editorial backgrounds, please visit our site's About page.