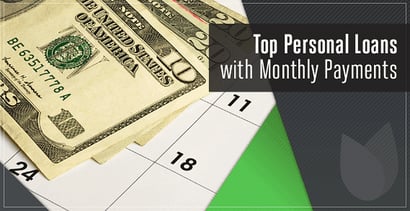 When you need to finance a long-term purchase, one option is to take out a personal installment loan. But finding loans for bad credit with monthly payments can be challenging.
We've assembled a list of online lending networks that specifically work with credit-challenged borrowers. They offer personal installment loans of up to $35,000 with repayment terms of up to six years.
You fill out one loan request form that is sent to the network's partner lenders. The lenders willing to work with you will then present you with their best loan offers for you to compare. There's no obligation to accept any loan offer your receive, and repaying an installment loan on time can help you improve your credit score.
Top Providers | Low Payments vs. Shorter Loan | FAQs
Best Personal Installment Loan Providers
As with any financial product, you'll want to compare personal installment loan offers to find the best rates and terms — especially if you're dealing with poor credit. Although you might assume that having bad credit means you should take the first offer that comes along, doing so could cost you hundreds in unnecessary interest fees over the life of your loan.
By connecting borrowers with thousands of bad credit lenders across the country, online lending networks, including our top-rated recommendations, allow you to receive multiple quotes by filling out a single application.
An important consideration to keep in mind when comparing offers is that the amount of money you wish to borrow may also dictate which lenders you can use. Most lenders will have a minimum loan size (typically at least $500, though it could be $2,000 or more), as well as maximum loan caps of anywhere from $10,000 up to $35,000.
Additionally, each individual lender will have its own credit score and income requirements. For example, while a general rule of thumb is that you'll need to have a credit score of 580 or higher to qualify for a personal installment loan, specific lenders may have higher — or, less frequently, lower — credit score requirements.
At the same time, income requirements tend to vary based on both the size of the loan as well as your credit score. Applicants seeking larger loans or who have particularly risky credit profiles may need to meet higher income requirements.
Those whose credit or income precludes them from qualifying for a personal loan may have better luck when applying with an eligible co-signer. To qualify, co-signers must usually be over the age of 21 and have good to excellent credit. The decision to become a co-signer should not be taken lightly, as you could be held responsible for repaying the loan should the primary borrower become unable to do so.
Real Cost of Lower Monthly Payments vs. Shorter Loan
When it comes to comparing personal loan quotes, it can be easy to become interest-rate obsessed or to develop a case of monthly payment tunnel vision. Afflicted borrowers tend to focus on a single variable affecting their loan, ignoring other important loan factors that could end up costing them big.
Instead of blindly selecting the offer with the lowest APR or smallest monthly payment, you should investigate each facet of your loan's terms. In some cases, the loan that appears to be the best deal may end up being the best deal for the lender, not the best deal for you.
For the most part, your monthly payment will actually depend on your APR and loan length. That said, your interest rate is heavily reliant upon your credit score, so you'll likely have the most control over the size of your monthly payments by varying the length of your loan. You can use an online loan calculator or mobile calculator application to crunch the numbers.
Of course, the length of your loan can have almost as much — if not more — of an impact on the total cost of your loan as the interest rate you're charged.
Why? Because most loans calculate your interest on a daily basis. This means that the more days (weeks, months, years) you take to pay down your balance, the more interest you pay over the life of your loan.
For example, consider a hypothetical borrower, Irma, who takes out a $10,000 loan with an APR of 15%. If Irma chooses a loan with a length of three years (36 months), her monthly payment will be $347, and she'll have paid the lender a total of $2,480 in interest fees.
On the other hand, if Irma were to select a loan with a maximum length of six years (72 months), she could lower her monthly payment to $212. However, while Irma will pay $135 less every month with the longer loan, she'll wind up giving the lender more than $5,220 in interest payments over the life of the loan — more than twice the total interest she would pay with the shorter loan.


Ideally, you'll want to find the right balance between the interest rate, the size of the monthly payment, and the total length of the loan. Although paying an extra $2,000 in interest can be a hard pill to swallow, an affordable loan will always be better than a cheap one in the end.
In other words, if the lower monthly payments allow you the ability to repay your debt as agreed, it can be worth the additional cost. Even a single missed payment can cause significant damage to your credit score, and defaulting on a loan can tank your credit for years.
Since the interest rates you're charged for any credit product will depend on your credit score, maintaining good credit can save you money in the long term.
How Do I Get an Installment Loan With Bad Credit?
Getting a bad credit installment loan can be tricky, but most bad credit loan networks try to simplify things for borrowers. The first trick to getting the results you want is to work with a lending network instead of individual lenders.
This has two benefits: your loan application goes out to several online loan companies simultaneously, and you're more likely to find a lender that will look past your poor credit history.

Many lending networks also prequalify each borrower to increase the chances that the lender will approve their request for an installment loan. The prequalification process doesn't hit your credit history like a hard credit check does, so you don't have to worry about your credit score worsening while finding the unsecured personal loan that meets your needs.
Once you decide on the lending network you want to work with, fill out the form and wait for your loan offers. Read the loan terms carefully and decide which interest rate and repayment term you're most comfortable with.
Once you sign your paperwork, most online installment loan companies can direct deposit your loan to your bank account within 24 business hours.
What's the Easiest Loan to Get With Bad Credit?
A few loan types are generally easier to get approved for, whether you have excellent credit or poor credit.
Payday loans are one of the personal loan types that people tend to think about most when it comes to bad credit loans. A payday lender is less likely to look at your credit history and credit scores compared with some other lenders because they make their decisions based on your income and how often you're paid.
If you can manage a smaller loan with a quick repayment term, we recommend MoneyMutual for short-term loans that are easy to get approved for.
Short-term loans up to $5,000
Online marketplace of lenders
Funds available in as few as 24 hours
Simple online form takes less than 5 minutes
Trusted by more than 2 million customers
| Loan Amount | Interest Rate | Loan Term | Loan Example |
| --- | --- | --- | --- |
| Up to $5,000 | Varies | Varies | See representative example |
But keep in mind that a payday lender will have steeper, harsher terms than most installment loan providers. A payday loan you can't easily pay back can mean a bigger financial setback.
Another alternative to a payday loan is a secured loan, such as a vehicle title loan or pawnshop loan. Secured loans make it easier to access emergency cash if you already own a valuable asset outright since you use the item's value as collateral.
The secured loan provider is unlikely to do a credit check. But if you aren't sure whether you can pay the loan off, you risk losing the item you used as collateral.
Secured personal loans are riskier than unsecured personal loans, but it's still important to consider your situation and whether you can repay the loan as agreed.
Can I Get a Personal Loan With a Credit Score of 500?
It's possible to get a personal loan with a credit score of 500, though it's much harder than it is for someone with good credit. There is no minimum credit score that every lender agrees on for loan approval.
This is, in part, because lenders look at a variety of factors in each loan application.
Your credit history plays a role. A history full of defaults and missed payments is not a promising prospect for any lender. But if your credit report shows that you've made good efforts to keep your financial commitments, you're more likely to get the approval you seek.
The best personal loans for a borrower with a bad credit score may come with steeper interest rates and stricter repayment terms than those for other borrowers with higher credit scores.
An online lender that specializes in helping bad credit borrowers is a solid choice, but it's important to know what you're getting into before you sign your paperwork.
If you have an account with a credit union, consider working with them if you can qualify. Credit unions tend to offer more forgiving loan terms, and some offer Payday Alternative and Credit Builder loan products specifically to help members avoid high interest debt and improve their credit scores.
What Is an Emergency Loan?
An emergency loan isn't a specific type of loan but is instead any quick loan that you can receive in a short time frame.
A mortgage doesn't qualify because it can take a long time to get approved and process all of the paperwork. Some examples of emergency loans include pawn shop loans, auto title loans, payday loans, and other secured loan and unsecured loan products that you can apply for online and receive funds within one to three days, depending on when you apply (If you apply late on Friday, it may not hit your account until Monday).
These loans can be used for anything, whether the emergency expense is your rent, an unexpected medical expense, a family expense, or another urgent cost. They're less suitable for expenses such as college tuition or mortgage payments because other options are available with more manageable repayment terms.
So while an emergency loan isn't a specific loan type, some traits and characteristics make it clear which loans are most useful to cover emergency expenses. A quick application and approval process, quick deposit, and rapid repayment terms add up to a loan you would use for an emergency.
Longer repayment terms, lower interest rates, and longer application and approval processes are traits that don't add up to an emergency loan.
Can I Get a Debt Consolidation Loan to Pay Off Debt?
A debt consolidation loan is the best option for borrowers who want to pay down existing debts, such as high interest credit card debt or private student loans. While there isn't usually a minimum credit score required for debt consolidation loans, there are a few things to remember when you seek a loan to help you pay down your debts.
Your credit reports form the basis for every online lender that requires a credit check to approve or decline your application, lenders of debt consolidation loans take some specific aspects into consideration.
Bad credit from non-payment is not necessarily as important in a debt consolidation loan, especially if it's recent. But issues such as bankruptcies and defaults can limit the number of lenders willing to work with you.
Debt consolidation loans are just one tool to help you bring your debts down, and it's a good idea to look into other methods, such as debt settlement arrangements and balance transfer offers, as well.

Settlement arrangements require you to work with a debt relief company to negotiate with the companies you owe money to. A debt management counselor can help you work with the company that holds your debt to come to an agreement on a lower payoff amount.
Balance transfer offers allow you to put a debt with a high interest rate onto a credit card with a low interest rate, sometimes even 0%, for an extended period to give you a better chance to pay it off. But balance transfer promotions generally require good to excellent credit for approval.
These tools and more can help you get your debt under control quickly.
Always Borrow Responsibly
At the end of the day, few financial products better fit the bill than a personal installment loan when it comes to financing purchases you need to repay over months or years. Not only will you pay less interest than with credit cards, but you'll have more affordable payments than with short-term loans.
You may also enjoy a credit boost from showing future creditors that you can handle installment-based credit — assuming you use that credit responsibly. Personal loans won't do you, or your credit, much good if you don't maintain your loan in good standing, which includes making your full payment as agreed each month.
Advertiser Disclosure
BadCredit.org is a free online resource that offers valuable content and comparison services to users. To keep this resource 100% free for users, we receive advertising compensation from the financial products listed on this page. Along with key review factors, this compensation may impact how and where products appear on the page (including, for example, the order in which they appear). BadCredit.org does not include listings for all financial products.
Our Editorial Review Policy
Our site is committed to publishing independent, accurate content guided by strict editorial guidelines. Before articles and reviews are published on our site, they undergo a thorough review process performed by a team of independent editors and subject-matter experts to ensure the content's accuracy, timeliness, and impartiality. Our editorial team is separate and independent of our site's advertisers, and the opinions they express on our site are their own. To read more about our team members and their editorial backgrounds, please visit our site's About page.