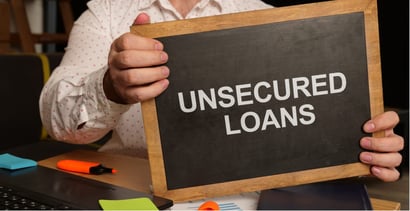 You can get access to the money you need without risking your valuable possessions along the way with no-collateral loans for bad credit. These are referred to as unsecured loans, which means you don't have to put up any type of collateral for approval.
Most consumers who have bad credit think they cannot access this type of loan. But with the rise of online lending networks, that is no longer the case.
Below, we will list our top-rated networks that specialize in no-collateral loans for bad credit.
Unsecured Personal Loans for Bad Credit
Online lending networks partner with dozens of lenders around the country to offer varying loan packages to applicants who have all kinds of credit histories.
When you submit your loan request to each network, the form will reach the desk of all of the lenders that partner with that network. In a matter of minutes, each lender will make a loan decision. If you qualify, you could receive multiple loan offers to choose from.
Once you complete the loan paperwork through your chosen lender's website, you can receive your money via electronic transfer into a linked checking account within 24 hours.
Short-term loans up to $5,000
Online marketplace of lenders
Funds available in as few as 24 hours
Simple online form takes less than 5 minutes
Trusted by more than 2 million customers
| Loan Amount | Interest Rate | Loan Term | Loan Example |
| --- | --- | --- | --- |
| Up to $5,000 | Varies | Varies | See representative example |
MoneyMutual maintains one of the largest online networks of lenders, many of whom focus on bad credit loans. With so much competition on the network, you could find yourself with an unsecured personal signature loan offer that has a loan term, interest rate, and monthly payment that is better than you expect.
Qualified applicants must be 18 years or older, have an active checking account, and provide proof of current employment and income of at least $800 per month. Individual lenders may demand other requirements for loan approval.
Loans from $500 to $10,000
Receive a loan decision in minutes
Get funds directly to your bank account
Use the loan for any purpose
| Loan Amount | Interest Rate | Loan Term | Loan Example |
| --- | --- | --- | --- |
| $500 to $10,000 | 5.99% - 35.99% | 3 to 72 Months | See representative example |
Since 2004, CashUSA.com has helped connect consumers with lenders willing to give them a second chance at building a solid credit history. Every lender on the network reports your payment history to at least one credit bureau, which means you can improve your credit score with responsible behavior.
To qualify, you must be at least 18 years old and a U.S. citizen or permanent resident with proof of at least $1,000 in monthly after-tax income. You must also have a checking account in your name and provide work and home phone numbers, as well as a valid email address.
The BillsHappen network of lenders specializes in short term loan options that provide no-collateral loans for bad credit — or any kind of credit for that matter. If you qualify, the network could send you multiple loan offers to choose from within a few minutes after you submit your loan request.
When you apply, you will need to supply a valid state driver's license number, your Social Security number, a home or cellphone number, checking or savings account information in your name, a home address, and employment or benefits income information. Applicants must be at least 18 years old and a U.S. citizen or permanent resident.
CreditLoan not only offers consumers free access to a large network of unsecured personal loan lenders, but more than 33 million people have also accessed the network's suite of free educational modules that help you choose the best loan for you.
As one of the oldest online lender networks, CreditLoan has adapted to many changes in the financial landscape and continues to innovate the space by partnering with lenders that offer new loan products that help people who have bad credit get the money they need.
BadCreditLoans lives up to its name and states that its lenders often extend loan offers to consumers who cannot find loans elsewhere. The network accepts loan requests from applicants with all types of credit and considers installment loan requests for up to $10,000.
Not every applicant will qualify for a loan that large. Each loan offer you receive will also have a different repayment term, interest rate, loan amounts, and other finance charges. Be sure to study each offer carefully before choosing the one for you.
If your credit score is at least 580, you may qualify for an unsecured loan from the PersonalLoans.com network of lenders. Your loan amounts will vary depending on the lender you choose to work with.
Qualified applicants must also be at least 18 years or older with a valid Social Security number and checking account. The network also notes that applicants must not have any accounts more than 60 days late, no active or recent bankruptcies, no pattern of late payments, no debt that cannot be covered by current income, and no recently charged-off accounts.
CashAdvance may approve you for a very short term loan that is often referred to as a cash advance or payday loan. These loans are intended to act as a bridge between paydays — which is why the repayment term typically lasts no longer than 15 to 30 days.
These loans also tend to include a very high interest rate that makes them only a last resort option if you are stuck in an emergency with no other way of getting the money you need. These loans will typically look past your credit score and approve your loan application if you can show you have enough income to repay the debt in a short period of time.
What is a No-Collateral Loan for Bad Credit?
A no-collateral loan is also known as an unsecured loan. This means that you do not have to provide any items of value as a security deposit for loan approval.
A secured loan requires collateral. One example of this is a pawnshop loan, where you bring in something of value, such as jewelry, and the shop owner offers you a loan.
If you pay back your loan on time, you get your collateral back. If you do not, the shop owner keeps any money you paid back, plus your collateral. While a pawnshop loan is a form of secured personal loan, it is not the only type of secured loan.
A title loan requires you to hand over your vehicle title to the lender in exchange for cash. If you fail to repay your loan on time, the lender keeps your vehicle.
The same happens with a traditional auto loan. If you do not pay it back, the lender can repossess the car. A mortgage is another secured loan. Failure to repay will result in foreclosure and the loss of your home.
With an unsecured personal signature loan, you do not have to provide collateral. If you fail to repay the loan, the lender will likely sell the debt to a collections agency that will attempt to collect the debt for up to two years. You will also be subjected to the severe damage done to your credit score after a default.
With a collections account on your credit file, you will also have a hard time finding another personal loan offer until you can prove you are responsible enough to handle a loan.
An unsecured loan may not carry the risk of losing your valuable items in case you cannot repay the debt, but you can still ruin your financial reputation — which is just as valuable as a piece of jewelry or a vehicle.
How Do I Get a No-Collateral Loan for Bad Credit?
Most lenders try to take on as little risk as possible. A secured personal loan with added collateral gives them the peace of mind that they can at least sell the collateral to get back any money that is lost if the borrower does not repay the debt.
But that does not mean that a no-collateral loan is out of the question. With the lending networks listed above, you can find no-collateral personal loan options, even if you have bad credit or no credit at all.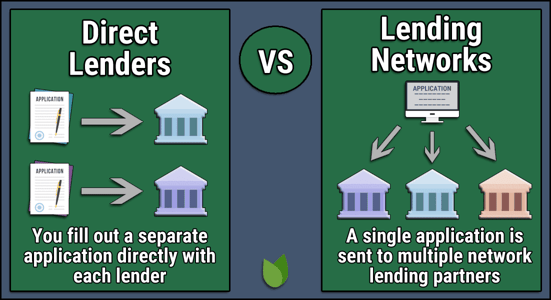 The competition between all of the lenders on the internet has made it nearly impossible to require collateral for every loan. If a lender wants to stay in business, it has to extend loans. That means a more affordable loan term and relaxed lending standards for you.
So instead of requiring collateral, a lender will add an origination fee, a higher interest rate, or other charges to make the loan worth the risk. As with most things in life, money talks. If a lender can make more money off your loan by looking past your credit score, chances are it will.
With the lending networks listed above, you can submit one loan request through each network. That request reaches each lender on the network. Each will use an automated underwriting system to make a near-instant decision on your request.
Within minutes of submitting your request, the lending network could respond with an email that contains one or more loan offers. If you find an offer that you like, you can accept the terms and the network will forward you to the lender's website.
You will complete the loan paperwork on that website, and the lender will transfer your borrowed funds to a linked checking account or savings account by the next business day.
A lending network is typically free to use. The network receives a referral fee from lenders for every loan they approve through the network.
Once you accept a loan offer, you will have no more dealings with the network. You will repay the lender each month (or bi-monthly) until you satisfy the debt.
What Credit Score is Needed for an Unsecured Loan?
Lenders don't publish minimum score requirements for loan approval for several reasons. The biggest reason is that your credit score isn't the only factor that determines your eligibility. As a result, lenders don't want applicants to think that meeting a certain credit score requirement will guarantee approval.
Someone who has a good credit score could still face rejection when applying for a loan. Some online lender networks only allow applicants to have one active loan through the network at a time. If you try to apply for a second loan, you will not qualify.
You may also find someone who has good credit, but not enough verifiable income to qualify for a loan. That same person could also have a recent late payment or unusual activity on their account that scares a lender off.
That said, your credit score still plays a major role in determining your eligibility. PersonalLoans.com states that you must have a score of at least 580 to qualify. Other networks, including BadCreditLoans, state that they often accept loan applications from consumers who cannot find loan offers elsewhere.
Your FICO score can range from between 300 and 850. A poor credit score is anything at or below 580, but there is a wide gap between 300 and 580. While you may find loan offers if you're in the 550 range, you will struggle to find anything if your score is in the 400s.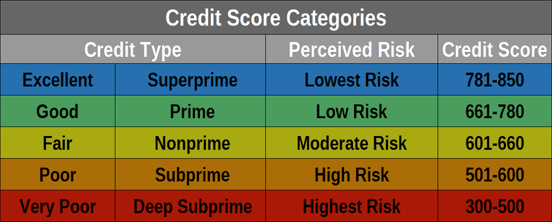 But instead of outright refusal, you will likely find that, as your credit score gets lower, the cost of your loan becomes greater. That is because lenders have to offset the risk associated with such loans by charging higher fees and interest rates.
Still, many lenders partner with online lending networks that are more than willing to consider your application for a loan despite your having bad credit. That is why you should never assume you cannot qualify for a personal loan.
What is the Average Interest Rate of a Bad Credit Loan?
Interest rates can change rapidly due to current economic conditions, the amount of loan applications a bank, credit union, or other lender receives, or because of the Federal Reserve changing base interest rates.
The current average personal loan interest rate for all borrowers is 11.8%. If you have bad credit, the rate will be substantially higher.


For the online lending networks listed above, the average interest rate on an unsecured personal loan will range between 5.99% and 39.99%.
Thanks to federal usury laws, lenders can only charge a certain amount of interest that varies by state. This is why the current cap for most lending network personal loan offers is 39.99%.
These laws do not always apply to a cash advance loan, though. These payday advance loan centers that exist in just about every city and town in America offer super short term loan options that range between two weeks and one month.
These lenders rarely conduct a credit check or concern themselves with your credit score. Instead, if you can show that you have the income to pay the loan back in full (and with interest) between 15 and 30 days, you are likely to be approved.
But that isn't necessarily a good thing. The average interest rate on a cash advance loan is 400% — and if you cannot pay the loan in full within the agreed-upon time frame, the rate can climb into the four digits. This has led to many payday loan horror stories over the last decade.
What's the Easiest Loan to Get with Bad Credit?
In short, easier is not always better. Do not choose a loan offer solely because of the interest rate, loan term, or monthly payment. Research your options and find a loan that you know you can comfortably afford. Otherwise, you could create more problems than solutions over the long term.
That said, a cash advance loan will provide very few hoops to jump through to qualify. You can often skip a credit check or credit score critique to receive a small personal loan from one of these local lending offices.
But in return for the convenience, you will often pay tremendous fees and finance charges. You should expect to pay at least $15 in fees for every $100 you borrow. Those fees only apply if you can repay the loan in full within 15 to 30 days.
If you can't, the lender will roll the loan over into a new 30-day loan with added fees and a penalty interest rate that can charge as much as three times the amount of the original loan.
But an online lending network, like those listed above, make it equally easy to get a loan without the oppressive fees.
Each network allows you to submit a loan request form that, on average, takes between three and five minutes to complete. In less than an hour after you submit your form (usually this only takes a few minutes), you will receive an email with a loan decision and potentially see multiple loan offers to choose from.
Most of the lenders associated with the networks above specialize in bad credit personal loan options that will not disqualify you based on your bad credit score.
Once you select a loan offer that you like, the network will forward you to the lender's website to complete the loan paperwork. You will have your money within one business day after you complete the paperwork.
These loans have several advantages over a payday loan or merchant cash advance. Not only do they charge fewer fees, but multiple lenders have a chance to potentially compete for your business — which can mean even lower fees and higher loan amounts.
With a cash advance loan, you only apply to one lender and receive one take-it-or-leave-it offer.
Which Loan Company is Best for Bad Credit?
In the financial world, the best opportunities are those that come with the most options. That means having your choice of multiple loan offers is always better than having only one offer.
That is why we prefer online lending networks when looking for an unsecured personal loan for bad credit. These networks allow you to apply to multiple lenders all at once and potentially receive multiple loan offers to choose from.
Among these networks, MoneyMutual has the largest number of partner lenders ready and willing to consider your loan request. That means increased competition among the lenders and a greater chance of receiving a loan offer that meets your needs.
Short-term loans up to $5,000
Online marketplace of lenders
Funds available in as few as 24 hours
Simple online form takes less than 5 minutes
Trusted by more than 2 million customers
| Loan Amount | Interest Rate | Loan Term | Loan Example |
| --- | --- | --- | --- |
| Up to $5,000 | Varies | Varies | See representative example |
You can also consider CreditLoan among the best in the business. This network opened its doors on July 30, 1998, as one of the first consumer-focused finance websites that provided online lending resources.
Over the years, the network has seen the growth and explosion of online lending and still remained among the most popular options for a personal loan.
If you have a bad credit score that leaves you without offers from the options above, consider BadCreditLoans. As a network that only focuses on consumers who have bad credit, it claims that it will often accept applications that are rejected elsewhere.
Not only could you find multiple options through a single lending network, but you can increase your odds by looking at multiple networks. This is an option because each network only uses a soft credit pull to assess your initial loan request.
That means that you will not receive an inquiry on your credit report until you officially accept a loan offer and file a formal application through the lender. And you can apply to multiple online lending networks without it affecting your credit score.
You should never focus on just one lender when you are searching for bad credit loans. While you may receive a loan offer on your first try, it may not be the best offer for you.
How Can a Personal Loan Help Build My Credit Score?
Most consumers do not realize that they actually have multiple credit scores under their name. You have multiple FICO scores as well as scores from each of the three major credit reporting bureaus — TransUnion, Equifax, and Experian.
These scores are determined by the information submitted by your lenders to the bureaus. If you have any type of loan — including an auto loan, mortgage, personal loan, or student loan — the lender will report your monthly payment history to one or all of the bureaus.
That data is recorded in your credit profile and used to calculate your credit score.
This means that your payments for a personal loan will either help or hurt your credit score. If you make on-time payments, that positive reporting will push older, negative data further down your credit history. As you continue to record positive information, your credit score will improve.
Depending on how bad your credit score is — and how many recent negative items you have on your credit file — you may see quick improvement. On the flip side, you can also further damage your credit score if you miss payments or default on your personal loan.
For example, a single loan payment that is 30 days late can cause your credit score to drop by as many as 100 points. And that late payment will live on your credit file for as long as seven years.
According to Financeography, other behaviors with your personal loan could have a negative effect on your credit score, including:
Charge-off account: 15 to 75 points
Hard inquiry: 5 to 20 points
Late payments: 5 to 100 points
But do not let these potential negatives deter you from looking for the personal loan you need. As long as you make the minimum loan payment, and always make on-time payments, you will only work to improve your credit score.
With a better credit rating, you could qualify for more affordable loans down the road —including auto loans, student loans, or mortgage loans.
Can You Get a Personal Loan with a Credit Score of 550?
A credit score of 550 falls firmly in bad credit territory — but that does not mean that you are disqualified from a loan.
While your FICO score can range between 300 and 850, any score at or below 580 is considered bad credit. While some lenders won't consider an application from someone who is below 580, many lenders will.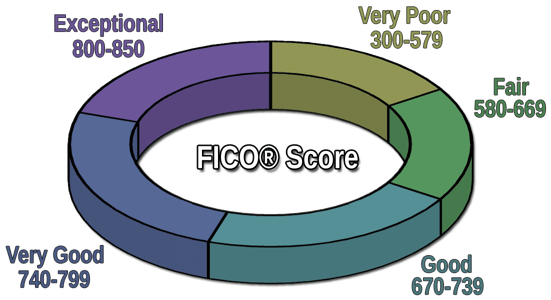 From our list of online lender networks above, only PersonalLoans.com states that it requires a credit score of 580 or greater for eligibility. Other networks state that they will consider a loan request from consumers with all kinds of credit — with BadCreditLoans and CashUSA even going so far as to say that they will consider your request even if you have a bankruptcy on your credit file.
Even if your bad credit score leaves you unable to find a loan through traditional lenders, you can consider a short term loan through a cash advance that will not disqualify you based on your credit history.
These loans are truly a last resort option, as they have sky-high interest rates and finance charges. But most merchant cash advance lenders bypass a credit check altogether and will accept your loan application if you can show that you have the income needed to pay off your debt within 15 to 30 days.
This is technically not a personal loan, though. A personal loan — also referred to as a signature loan — is typically an installment loan that allows you to pay off your debt through a series of payments (or installments).
You will not make payments with a cash advance. Instead, you will repay your lender in one lump sum — with interest included — in one month or less. This is typically seen as an emergency loan or a bridge between paydays.
If you need a larger sum of money, and more time to repay the debt, you should consider a bad credit personal loan from one of the lending networks listed above. Even with a score of 550, the competition between lenders on these networks could lead to you receiving one or more loan offers in a matter of minutes.
If that fails, you can consider getting a cosigner who is willing to vouch for your ability to repay the loan. Just remember that a cosigner will also take the credit score hit if you miss a payment or default on your loan. That is a level of responsibility that you should not take lightly.
What are the Eligibility Requirements for a Bad Credit Personal Loan?
When most people think about applying for a loan, they tend to wonder if their credit score is good enough. But the truth is, several other factors aside from your credit score could derail your hopes of getting a loan.
Each of the lending networks listed above has different requirements for loan application consideration. While there may be slight differences in these requirements, some are standard. They include:
You must be 18 or older (19 in some states)
You must be a U.S. citizen or legal resident
You must have an active checking or savings account in your name
You must provide some sort of identification (driver's license number, Social Security number, or other ID)
You must have a valid current address
You must provide some sort of contact information (home phone number, cell phone number, work phone number, and/or an email address)
You must have verifiable income that meets the lending network's requirements.
The income requirement varies greatly among the networks. For example, MoneyMutual requires that you have at least $800 in verifiable monthly income. CashUSA requires at least $1,000 per month after taxes. CashAdvance only requires that you have enough income to cover the cost of your loan.
Remember that the source of income is not limited to a job. Most lending networks will consider the money you receive from a structured settlement, government benefits, Social Security, a retirement account, student aid, child support, or other predictable, ongoing monthly payments.
When you are ready to apply for your loan, be sure that your claimed income includes any money you receive every month. The more you can prove that you make, the more attractive your application will look to prospective lenders.
You should also have all of your other necessary information ready when you apply. That includes all of the data required from the list above. Doing so will make the application process move faster and smoother. That also means that you can finish the loan paperwork faster and get your money sooner.
Can I Get an Unsecured Business Loan with Bad Credit?
Several different online business loan options exist. You can consider a small business loan, a bad credit business loan, a startup business loan, or a secured business loan that requires collateral for approval.
While you may have access to all of these options despite having a bad credit score, they will likely include higher fees and will not report to the credit bureau under your business name — thus keeping you from building a robust business credit score.
If you need a loan to help build and grow your business, you can also consider a bad credit personal loan. In many ways, this is the same as a bad credit business loan — but with fewer fees.
An unsecured business loan will require a lender that specializes in business loans. Aside from your credit score, the lender will want to see substantial paperwork related to your business to prove that it is viable enough to pay back any loan it receives. Nonetheless, a specialty lender may still have more finance charges than a traditional lender that deals with individual consumers.
In the end, you will still need to use your personal credit score to apply for a small business loan.
Your personal credit score will also be in consideration if you apply for a personal loan, but you will not need all of the paperwork related to your business. That's because you can use the proceeds from a personal loan in any way that you want — including for business expenses.
Both loan types will report to each credit bureau under your name — not the business. So any positive or negative effects from your payment history will affect your personal score and not the business.
It is always more favorable to work on your personal credit before you attempt to build business credit. Doing so will mean that you can always find a personal loan in times when you need a quick cash infusion for your business.
Can I Use the Money for Debt Consolidation to Pay Off Debt?
You absolutely can. In fact, that is the only thing you can use this type of loan for.
Some loans only allow you to use your loan proceeds for a specific purpose. Others are more lenient in how you use the money.
For example, you can only use the proceeds from an auto loan to buy a vehicle. The same goes for a mortgage loan and a home. A personal loan, on the other hand, allows you to spend the money any way you like.
A debt consolidation loan is a type of specialty loan that allows you to take multiple debts and roll them into one debt that requires a single monthly payment.
You can use these loans to pay off your auto loan, credit card loans, personal loans, and/or student loan debt to consolidate your payments into one monthly payment. If you can find a loan with a lower interest rate than your existing debts, you may be able to save a substantial amount of money with a debt consolidation loan.
You may want to keep certain debts from consolidation. This is especially true if your existing debt has a lower interest rate than the new loan. Doing so could cost you more to satisfy the debt.
You cannot use the funds from a debt consolidation loan to pay for something other than debt consolidation. In many cases, the lender will send the proceeds of the loan directly to your debtholders. Doing so will pay off those lenders and create just one single debt from the new loan.
This also means you will not actually receive the money from the loan — thus reducing the chances that you succumb to temptation and use the money for other purposes and create a second debt load for yourself.
You can also meet with a credit counselor in person or virtually to create a debt consolidation plan before you officially apply for the loan to help ensure you choose the right option.
What Are My Options if I'm Denied for a Loan?
You could be denied a loan for several reasons. To decide your next step, you need to know why you were declined.
Your loan application may be rejected because of something small, such as a misspelling on your application. That is an easy one to fix if you decide to resubmit your application.
There could also be a larger issue that keeps you from getting the loan you need, including a low credit score, too much existing debt, or other problems with your qualification.
Any lender or lending network that declines your application must send you an adverse action letter in the mail explaining its decision. This will detail the reasons why your application was rejected.
Once you know this information, you can plan your next course of action. That could mean applying to a different lending network with more relaxed lending standards, or it could require you to regroup and come up with a plan to improve your credit score before reapplying.
Whichever path you take, you should not respond to a declined application by filling out more applications through other lenders. This will result in a multitude of inquiries on your credit report — which can hurt your credit score even further.
If possible, wait until you receive your adverse action letter before making any follow-up decisions. Doing so will ensure that you make an informed plan that gets you to your goal faster — and with fewer headaches and expenses.
Compare No-Collateral Loans for Bad Credit Online
Many people think their credit score will disqualify them for no-collateral loans for bad credit. That simply is not the case.
With the explosion of online loan options, including online lending networks, it has never been easier to find a personal loan despite having a bad credit score. In fact, the networks above can help you receive multiple loan offers to choose from.
After you receive your loan, make sure you repay the debt in full and on time. Doing so will help you build, or rebuild, your credit so you can find more affordable loans in the future.
Advertiser Disclosure
BadCredit.org is a free online resource that offers valuable content and comparison services to users. To keep this resource 100% free for users, we receive advertising compensation from the financial products listed on this page. Along with key review factors, this compensation may impact how and where products appear on the page (including, for example, the order in which they appear). BadCredit.org does not include listings for all financial products.
Our Editorial Review Policy
Our site is committed to publishing independent, accurate content guided by strict editorial guidelines. Before articles and reviews are published on our site, they undergo a thorough review process performed by a team of independent editors and subject-matter experts to ensure the content's accuracy, timeliness, and impartiality. Our editorial team is separate and independent of our site's advertisers, and the opinions they express on our site are their own. To read more about our team members and their editorial backgrounds, please visit our site's About page.