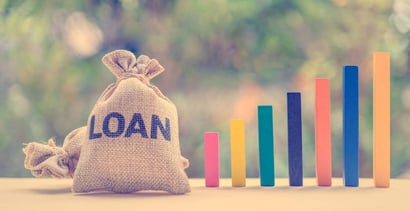 Bad credit should not prevent you from obtaining a personal loan. What's more, you can usually get one quickly, without a lot of red tape. This article reviews the best subprime personal loans that instantly approve or reject your borrowing request. 
The loan networks we discuss cater to consumers with limited or bad credit. While there's no guarantee you'll qualify for a loan, you won't have to wait for days to find out. Instead, you may receive one or more bad credit loan offers in minutes, and your loan proceeds by the next business day. 
Best Personal Loan Networks For Bad Credit With Instant Approval
The following networks partner with dozens of loan providers. They can instantly let you know whether you prequalify for a bad credit loan and, if you do, match you with multiple direct lenders. There's no faster or easier way to arrange the best personal loan for your needs.
Submitting a loan request form to the MoneyMutual lending network takes only a few minutes. If you successfully prequalify for a personal loan, you may receive several offers from direct lenders for unsecured personal loans of up to $5,000. You must collect a minimum monthly income of at least $500 to qualify for an online loan offer.
MoneyMutual safeguards your data with secure 256-bit SSL encryption. It partners with the Community Financial Education Foundation and the Online Lenders Alliance to promote the best lending practices for online loans. 
24/7 Lending Group is a lending network that partners with many direct lenders, offering fast loans to consumers of every credit stripe. While it can arrange loans of up to $35,000, bad credit borrowers should expect smaller offers.
You must complete an online request form asking you about your income, debts, and employment, among other information, to prequalify. 
It's a free service, and you are not obligated to accept an installment loan offer. If you agree to a loan, you often have access to your money by the next business day.
CashUSA.com is an online service that matches borrowers with lenders for loans of $500 to $10,000. You can prequalify instantly, receive multiple loan offers in minutes, and collect the proceeds within one business day.
Unsecured personal loans are available with repayment terms of three to 72 months. You can achieve lower monthly repayments by accepting a longer loan term. CashUSA.com can also connect you with companies that provide debt relief, credit repair, banking services, and credit monitoring.
SmartAdvances.com is a lending network that can find loans of $100 to $20,000. The loans come with varying interest rates and terms, depending on the direct lender. You may prequalify for an emergency loan and use your proceeds for any purpose.
You must complete a short, secure request form to prequalify for a fast loan. Eligibility is open to US citizens 18 or older with a valid Social Security number, bank account, email address, phone number, and a regular monthly income of at least $1,000.
The BadCreditLoans.com lender-matching service can find loan offers from $500 to $10,000. As its name implies, you can prequalify for a personal loan even if your credit is poor. You can request the service find you a no-credit-check emergency loan for a modest amount (albeit with a high interest rate). 
The BadCreditLoans.com website is an excellent source of information on avoiding financial scams. You can read more about topics including how credit scores impact loan terms, how to spot fraud, and when to refinance an auto loan.
CreditLoan.com was founded in 1998 and matches subprime borrowers with providers of subprime personal loans from $250 to $5,000. Every lender on the platform has unique loan rates and repayment terms. You can complete the simple prequalification form and get an immediate decision.
If you prequalify for a loan, CreditLoan.com will transfer you to a direct lender's website, where you can complete a formal online application. Once approved, you can collect the loan proceeds via a direct deposit to your bank account by the next business day.
BillsHappen® offers a quick and hassle-free matching service for loans of $500 to $5,000. It works with an extensive network of direct lenders you can access by filling out a short loan request form. If you prequalify, the service will connect you to a lender's website where you can sign a loan agreement. Loan funds are available as soon as the next business day.
BillsHappen has limited customer reviews because it is one of the newer loan-matching services. Nonetheless, our experts vouch for its ability to find lenders who will offer you a quick and easy application process for a personal loan.
What Are Instant Approval Personal Loans For Bad Credit?
Instant-approval personal loans for poor credit are a financial product for individuals with a bad credit score or a limited credit history. Here's a summary of what they entail:
Instant approval: You'll receive a quick decision on your loan request, often within minutes, via automated underwriting systems that assess your application using algorithms. The speed is perfect for emergency loans.
Personal loans: These are unsecured installment loans, meaning you don't put up collateral such as property or securities. You can use the installment loan proceeds however you want, including debt consolidation, emergency loans, or big-ticket purchases.
For bad credit: These loans cater to individuals with poor credit scores. Traditional lenders usually require a good credit score to approve a loan. But lenders offering these types of loans use other factors, such as your income or employment status, to judge your ability to repay the loan.
Higher interest rates and fees: Due to the increased risk the lender assumes by lending to individuals with bad credit, these loans cost more than standard personal loans. 
Loan amounts and terms: The amount you can borrow and the loan terms (i.e., interest rate, repayment term, monthly payment amount) can vary. Usually, these loans offer smaller amounts and shorter repayment periods than standard personal loans.
Risk and benefits: While these loans can provide quick access to funds, especially in emergencies, they may also lead to a cycle of debt if you don't carefully manage them. Before taking out a loan, you should consider whether you can realistically afford the repayments.
You should also consider alternative options, such as credit unions or community banks, which may offer more favorable terms for consumers with less-than-ideal credit.
How Can I Qualify For an Instant Approval Personal Loan With Bad Credit?
Lender-matching services share similar eligibility requirements for subprime borrowers. Typically, you must be a US citizen or permanent resident, at least 18 years old, have a reliable income, Social Security number, active bank account in your name, valid email address, and working phone number.

The monthly income requirements vary by lender but typically range from $500 to $1,000. Income can come from a job, government benefits, or another reliable source. Most lenders will require proof of income and employment to ensure that you can repay the loan.
Have all your documentation ready, including identification (i.e., a driver's license or passport), proof of income, and other relevant financial information. Be prepared to provide pay stubs, bank statements, or tax returns as proof of income.
Before applying, review your budget to ensure you can afford the monthly payments. Failing to repay a loan can further damage your credit score. Read the loan contract's fine print carefully to understand the interest rate, fees, repayment terms, and any late or missed payment penalties.
You may want to recruit someone with a better credit score who is willing to cosign the loan. Cosigners can increase your approval chances and possibly help you obtain a lower interest rate.
What Kind of Interest Rates Should I Expect With Bad Credit?
Lenders view poor credit as a sign of elevated risk. To offset this risk, they charge higher interest rates, meaning you'll pay more over the life of the loan than someone with a better credit score.
Personal loans from the reviewed online networks usually charge subprime borrowers an APR of no more than 36%. That's a pretty high rate but nowhere near the astronomical APRs of pawnshop, title, and payday loans.

Be sure to look at the annual percentage rate (APR), not just the interest rate. The APR includes the interest rate plus any fees or additional costs associated with the loan, giving you a more complete picture of the total cost of borrowing. Some states have laws and regulations that cap APRs on personal loans.
Taking out a bad credit personal loan and making timely payments can help improve your credit score. This improvement can help you qualify for loans with lower interest rates.
Are There Any Fees Associated With Personal Loans For Bad Credit?
The good news is that the loan-finding networks charge nothing for their services. The unwelcome news is that direct lenders have an arsenal of fees ready to deploy, including the following:
Origination fee: Lenders charge this fee for processing new loan applications, usually as a percentage of the total loan amount.
Overdue payment fee: You incur this fee when you fail to make a loan payment by the due date.
Prepayment penalty: Some lenders may charge this fee to compensate for lost interest if you pay off your loan early.
Returned payment fee: You'll face this fee if the lender rejects your payment because of insufficient funds or other reasons.
Loan insurance premiums: This optional insurance covers your loan payments under certain conditions, such as job loss or disability, adding to the loan's total cost.

Each lender has its own set of fees, so it's crucial to review the loan terms carefully.
What Documents Are Required to Apply For a Bad Credit Personal Loan?
Each lender decides what documents it requires from loan applicants. Your age, credit history, and other factors may influence these requirements. The following chart describes the documents a lender is most likely to request:
| DOCUMENT NAME | DESCRIPTION | HOW TO OBTAIN IT |
| --- | --- | --- |
| Proof of Identity | You need this to verify your identity. Acceptable documents include a driver's license, passport, or state ID. | Obtain from government authorities such as the DMV or passport office. |
| Proof of Income | This document shows your income sources. Typical examples are pay stubs, bank statements, or tax returns. | Get pay stubs from your employer, bank statements from your bank, or tax returns from the IRS or your tax preparer. |
| Proof of Residence | Lenders require this document to confirm your address. Utility bills, lease agreements, or voter registration cards work. | Get utility bills from service providers, lease agreements from landlords, and voter registration cards from local election offices. |
| Employment Verification | This document confirms your employment status. A letter from your employer or recent pay stubs can suffice. | Request a verification letter from your employer or use recent pay stubs. |
| Credit Report | Your credit history is crucial for a loan application. Lenders will check this, but having your own copy is a good idea. | Request a free annual credit report from major credit bureaus through official websites such as AnnualCreditReport.com. |
Organizing your documents in advance will save you time when you apply for a loan.
Can I Get a Personal Loan With a 500 Credit Score?
Getting a personal loan with a bad credit score of 500 is possible, but it can be challenging. With this credit score, you will find fewer lenders willing to offer you a loan, as this score falls into the poor credit category.
Lenders that agree to loan money to individuals with low credit scores usually charge higher interest rates. That is how they compensate for the higher risk of lending to someone with a poor credit history. 
Therefore, you should prepare for less favorable loan terms, including higher interest rates, more fees, and shorter repayment periods.
You may have a better chance of approval by applying for a secured loan, where you provide collateral such as a vehicle or savings account. But remember that you risk losing your collateral if you fail to repay the loan.
You can consider alternative lenders such as online lenders, credit unions, or peer-to-peer lending platforms, as traditional banks are less likely to offer loans to those with credit scores of 500.
Every time a lender does a hard credit check, it impacts your score slightly. Therefore, applying only after researching and finding a lender that caters to borrowers with your credit profile is wise.

Consider improving your credit score before applying for a loan. Even a minor increase in your score can improve your chances of getting a better loan offer.
Can Personal Loans For Bad Credit Improve My Credit Score?
Personal loans for bad credit can improve your credit score if you manage them responsibly. When you take out a personal loan and make timely payments, you demonstrate financial responsibility, positively impacting your credit score. 
Regular, on-time payments contribute significantly to your payment history, a key factor in credit scoring algorithms. Additionally, if you use a personal loan to pay off credit card debt, you can lower your credit utilization ratio, another crucial factor in determining your score. 
You should never miss payments, as delinquent payments can negatively affect your credit score. Creditors report your loan repayments to credit bureaus, which are organizations that collect and maintain consumer credit information. 
These bureaus (Equifax, Experian, and TransUnion) compile your credit history into a credit report. Lenders report to one or more of these bureaus each time you make a payment on your loan. 
The reported information includes whether you paid on time, the amount you paid, and your remaining balance. Credit bureaus use this data to update your credit report, reflecting your latest financial behavior.
Based on your updated credit report, the bureaus calculate your credit score, a numerical representation of your creditworthiness. The most common scoring models, FICO and VantageScore, consider factors such as your payment history, credit utilization (how much credit you're using versus how much you have available), length of credit history, types of credit in use, and recent credit inquiries. 

Timely payments on your personal loan can positively influence your payment history, the most significant factor in most credit scoring models. On the other hand, late or missed payments can have a negative impact. 
It's crucial to borrow only what you need and can afford to repay, as taking on more debt than you can handle could lead to missed payments and further damage your credit score. 
What Are the Repayment Terms For Bad Credit Personal Loans?
As you would expect, the repayment terms for subprime personal loans are not nearly as attractive as those for good credit loans. The terms you will encounter include the following:
Repayment term: You typically have to repay bad credit personal loans within three to 72 months, but longer periods are possible.
Monthly payments: You make fixed payments, including principal and interest, over the loan term.
Interest rates: Expect higher interest rates for poor credit personal loans (up to 36%), which can significantly increase the total repayment amount.
Early repayment options: Some lenders allow you to pay off your loan early without penalties. In contrast, others may charge an early repayment fee.
Overdue payment penalties: If you miss a payment or pay late, lenders usually charge a fee, which can also affect your credit score.
Automatic withdrawals: Many lenders require you to agree to automatic payments from your bank account to ensure timely repayment.
Loan modification options: In case of financial hardship, some lenders may modify your repayment plan, but this varies by lender.
Renewal Policies: Some lenders may offer loan renewals if you need more money, but these often come with additional fees and higher interest rates.
Reading and understanding any loan agreement's specific terms and conditions is essential, as these can vary significantly among lenders.
What Happens If I Miss a Payment?
There's no way around it: Missed payments are bad, and your lender will report them to a credit bureau if they are overdue by 30 or more days. Let's take a closer look at the consequences of missed payments.
Immediate Late Fees
Most lenders will charge a late fee. The fee amount varies depending on the lender's policies and the terms of your loan agreement. These fees can add up quickly, increasing the total cost of your loan.
Lenders may calculate late fees differently depending on their policy. Standard methods include a fixed charge for any past due payment or a percentage of the missed payment amount. For example, a lender may charge a flat fee of $25 to $50 for any overdue payment or a percentage typically ranging from 3% to 5% of the unpaid amount.
The timing for when the lender applies a late fee also varies. Some lenders impose the fee immediately after a missed payment deadline. In contrast, others may offer a few days to a week grace period before charging the fee. 
Late fees can also affect your overall repayment schedule. If the lender adds the fee to your loan balance, the amount you owe will rise, which could extend the time it takes to pay off your loan or increase your monthly payment amount.
In some cases, late fees may be capped, either per payment or over the life of the loan. Caps depend on the lender's policies and any relevant state laws or regulations.
Setting up automatic payments can be an excellent strategy to avoid late fees. This tactic ensures that your payments arrive on time each month. If you expect to have trouble meeting a payment deadline, contacting your lender beforehand can help you avoid a late fee, especially if you have an excellent payment history. 
Credit Score Impact
Missing a payment can lead to a negative report to the credit bureaus. The resulting credit score reduction can affect your ability to obtain future credit, and it may take months or even years to rebuild your credit standing. 

Since payment history is a significant component of your credit score (35% in the FICO scoring system), even a single missed payment can cause a noticeable drop in your score. 
The impact of a missed payment on your credit score can persist for years. Delinquent payments typically stay on your credit report for up to seven years, affecting your score until they age off your report. However, the impact wanes after a couple of years.
A lower credit score can make it more challenging to secure new credit in the future. Lenders are more hesitant to offer loans or credit to individuals with a history of missed payments, seeing them as higher-risk borrowers.
Even if you can secure new loans or credit lines, a lower credit score often results in higher interest rates. Lenders charge these rates to offset the perceived risk of lending to someone with a history of late payments.
If you miss payments and your account balance grows due to fees and higher interest rates, your debt-to-income ratio may rise and further harm your credit.
Consequences of Late-Payment Credit Damage
Many loans have terms that include penalty interest rates or increased interest rates after a missed payment. That means you will have to pay the original amount due and may face higher interest rates in the future.
Your lender may contact you to remind you of the missed payment or discuss your financial situation. It's important to communicate openly with your lender in such cases. Some lenders may offer temporary hardship options, such as deferring your payment or restructuring your loan terms.
The lender may eventually sell your loan to a debt collection agency if you continue to miss payments. This transaction can lead to more aggressive attempts to collect the debt, including numerous calls and letters.
In extreme cases, especially if you repeatedly miss payments or avoid communicating with your lender, you may face legal action to recover the debt. This threat can include suing you for the outstanding amount or even garnishing your wages.
With a history of missed payments, you may find it more challenging to obtain loans in the future, as lenders will view you as a high-risk borrower. That situation can lead to loan denials, higher interest rates, and less favorable terms on any future loans.

You should prioritize making your loan payments on time to avoid these consequences. If you anticipate difficulty paying, it's best to contact your lender in advance to discuss potential solutions. Many lenders are willing to collaborate with bad credit borrowers to find a mutually agreeable solution to temporary financial difficulties.
The good news is that your credit score can recover over time if you start making consistent, on-time payments. Future lenders will see that you've taken steps to manage your debts more effectively.
How Do I Choose the Best Lender For a Bad Credit Personal Loan?
The reviewed lending networks provide the easiest and most convenient way to obtain a subprime personal loan. Nevertheless, you will benefit from knowing how to compare the offers from different lenders. Here are some aspects to look for when searching for a bad credit lender:
Interest Rates: Research and list the interest rates from various lenders, then compare them to see who offers the lowest rate.
Fees and Penalties: Review the disclosed loan terms for each lender to identify all associated fees and penalties.
Repayment Terms: Evaluate the loan duration and monthly payment options each lender offers to find terms that suit your budget.
Lender Reputation: Read customer reviews and check ratings on financial review websites (such as BadCredit.org) to gauge the lender's reputation.
Loan Amounts Offered: Confirm each lender's minimum and maximum loan amounts to ensure they match your needs.
Eligibility Requirements: Check each lender's requirements, such as minimum credit score or income, to find the ones for which you qualify.
Speed of Funding: Look at the estimated time to funding provided by each lender to find the quickest option.
Customer Support: Test customer support by contacting them with queries and noting their responsiveness and helpfulness.
The choice of a lender can impact the size and cost of a loan. Following the steps in the table can help ensure you find the best loan for your requirements.
Don't Let Bad Credit Keep You From a Personal Loan
Having poor credit should not discourage you from seeking a personal loan. One of the primary reasons is that personal loans can help you improve your credit score. When you obtain a personal loan and consistently make timely repayments, you demonstrate financial responsibility, which positively impacts your credit history and raises your score. 
Moreover, the market for bad credit loans has expanded, offering more opportunities for individuals with less-than-perfect credit scores to access funds. Many lenders specialize in bad credit loans and offer terms that cater to borrowers with poor credit. 
These lenders often consider factors beyond credit scores, including employment history and income, making it easier for individuals with bad credit to get approved. Furthermore, the availability of online lenders has increased competition, leading to more favorable terms and lower interest rates for bad credit loans. 
While it's important to carefully review the terms and conditions of these loans and be aware of higher interest rates and fees, consider them valuable options to meet urgent financial needs or consolidate debts, ultimately helping you rebuild credit.
Advertiser Disclosure
BadCredit.org is a free online resource that offers valuable content and comparison services to users. To keep this resource 100% free for users, we receive advertising compensation from the financial products listed on this page. Along with key review factors, this compensation may impact how and where products appear on the page (including, for example, the order in which they appear). BadCredit.org does not include listings for all financial products.
Our Editorial Review Policy
Our site is committed to publishing independent, accurate content guided by strict editorial guidelines. Before articles and reviews are published on our site, they undergo a thorough review process performed by a team of independent editors and subject-matter experts to ensure the content's accuracy, timeliness, and impartiality. Our editorial team is separate and independent of our site's advertisers, and the opinions they express on our site are their own. To read more about our team members and their editorial backgrounds, please visit our site's About page.