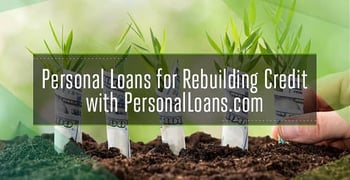 There's no question that our economy in recent years has been difficult for many folks. But now that things are starting to look up, there's a sense of renewed hope that we've made it through the bad times. With the economy and job market showing clear signs of improvement, many Americans who have struggled over the past few years are actively trying to rebuild their credit.
If you're among those people who are now in a position to begin rebuilding a battered credit score, you may be wondering, "What's the best way to go about it?"
First, anyone who is looking to rebuild their credit should keep in mind that there's no magic solution to the problem. That said, one of the options available to help people in this position is a personal loan. One of the best ways we've found to do this is through a lender referral network. Keep reading to learn more about personal loans for rebuilding credit with PersonalLoans.com, our recommended network.
PersonalLoans.com Can Match You with a Lender that Can Work for You
Referral networks like PersonalLoans.com let borrowers access a network of lenders with a single application.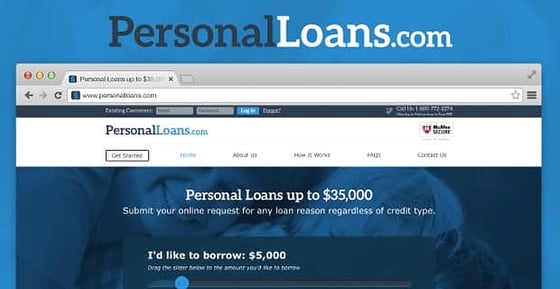 PersonalLoans.com provides a free service that quickly matches customers with lenders that offer loans that may work for them.
Loans from

$500

to

$35,000

All credit types welcome
Large lender network
Available in all 50 states
Use the loan for any purpose
Fast loan decision and funding (as soon as 1 business day)
| Loan Amount | Interest Rate | Loan Term | Loan Example |
| --- | --- | --- | --- |
| $500 to $35,000 | 5.99% - 35.99% | 3 to 72 Months | See representative example |
By answering a few questions, showing proof of employment and income, and providing a valid checking account, you could have your loan approved in as soon as 24 hours.
3 Types of Personal Loans Offered on PersonalLoans.com
Because every financial situation is different, the personal loans available through PersonalLoans.com come in different types:
1. Peer-to-Peer Loans
Connect borrowers with investors who offer loans directly to individuals.
Watch the above video from CNN Money explaining how peer-to-peer lending works.
2. Personal Installment Loans
Pair borrowers with a range of financial institutions offering personal loans. Loan requirements and terms vary by state.
3. Bank Personal Loans
Match borrowers with banks that offer personal loans.
Note: Not all states allow all of the various types of personal loans that PersonaLoans.com offers.
How a Personal Loan Helps Rebuild Credit
Just as the economy has ups and downs, so do our personal finances. If you've weathered a downturn and are ready to turn things around, a personal loan may be the right choice for you. Personal loans are typically short-term loans, and they are usually made in amounts from $1,000 to around $35,000. They can be used in a number of ways to help rebuild credit. For example:
You can fund a secured credit card using a short-term loan and begin building credit that way.
You can use it to pay down high-balance credit cards, improving your overall credit score.
You can settle a debt in arrears or in collections, possibly removing this negative mark from your credit report.
You can exemplify diversity in the types of credit you have with a personal loan, which can be an important factor in determining your FICO credit score.
You can use a personal loan for emergency expenses to avoid putting them on a high-interest credit card.
In some cases, personal loan lenders report to the credit bureaus — so as long as you're diligent about paying it back on time, a loan can help to manage finances and improve credit.