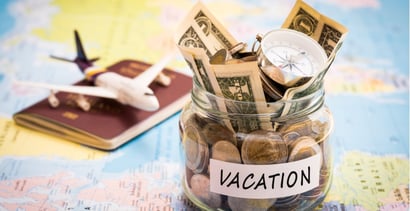 It's a little tricky to talk about vacation loans for bad credit in the age of Covid-19. But with vaccine distribution helping turn the tide, we can't think of a better way to celebrate than a well-earned and much-needed vacation, no matter what your credit profile.
With that in mind, we've identified six sources of personal loans to finance a vacation even if your credit is less than perfect. Take your revenge on the coronavirus — enjoy a great vacation knowing you've already made arrangements to pay for it.
Best Vacation Loans For Bad Credit Applicants
These six companies are in the business of connecting you to a direct provider of a personal online loan (also called a signature loan or installment loan). Each has its own network of lenders that specialize in helping folks overcome bad credit to arrange a personal fixed rate loan for any purpose, from debt consolidation to financing that vacation you've been dreaming about.
Note that a personal loan is usually not a secured loan, although such things do exist. If you are interested in a secured loan, consider a home equity loan or cash-out car loan.
Short-term loans up to $5,000
Online marketplace of lenders
Funds available in as few as 24 hours
Simple online form takes less than 5 minutes
Trusted by more than 2 million customers
| Loan Amount | Interest Rate | Loan Term | Loan Example |
| --- | --- | --- | --- |
| Up to $5,000 | Varies | Varies | See representative example |
MoneyMutual can prequalify you for a personal loan in just minutes. To be eligible, you must be at least 18 years old, receive a reliable income of at least $800 per month, and own a checking account at a bank or credit union.
Even with bad credit, you may be able to borrow up to $2,500, enough to pay for a decent chunk of your vacation.
CashUSA.com can help you find a lender willing to offer you a personal fixed rate loan of up to $10,000 with a repayment term as long as 72 months. To prequalify, you must be a U.S. citizen or permanent resident, at least 18 years old, receiving at least $1,000 a month in after-tax income, and have a valid email address, phone number, and checking account.
If you prequalify, CashUSA.com will transfer you to a direct online loan provider where you can receive an instant decision and, if approved, claim your money as soon as the next business day.
BillsHappen can help arrange an unsecured personal loan of up to $5,000 that you can use to pay for a really nice vacation. If you are a U.S. citizen or permanent resident, you can prequalify if you're at least 18 years old and have a valid Social Security number, regular monthly income, and a checking account in your name.
If you accept a loan from the recommended lender, expect the funds to be available as early as the next business day.
CreditLoan may be able to find you a personal loan of up to $5,000 that can finance your next vacation. You can prequalify by filling in the information requested by the short loan request dialog.
If eligible, you'll be connected to a direct lender on the extensive CreditLoan network where you can finish the application process and receive a (hopefully) positive decision that will put money in your bank or credit union account by the next business day.
BadCreditLoans may be able to arrange a personal loan to get your vacation off the ground. To prequalify for a loan, you must be at least 18 years old, a U.S. citizen, and have a checking account, regular income, and a valid email address.
If you connect with a lender that approves your loan, look for that sweet, sweet vacation money in as little as one business day.
PersonalLoans.com may be your best loan option if you're planning an expensive vacation because it can prequalify you for an unsecured personal loan of up to $35,000. Prequalification requires you to be at least age 18, a U.S. citizen or resident with a Social Security number, reliable monthly income, and an active bank account.
Loans are available with a repayment term as long as 72 months.
What is a Vacation Loan?
A vacation loan (or holiday loan) is money you borrow to pay for vacation expenses, such as transportation, hotel stays, cruises, admission fees, dining out, and so forth.
In truth, vacation loans are really just personal loans you use for vacation purposes rather than a special type of unsecured loan (as is a student loan, for example). You could just as easily call it a consolidation loan or a plastic surgery loan — the name of the loan option depends on how you use the money.
Ideally, you want to obtain a holiday loan with a low APR and minimal fees. Unfortunately, vacations today can quickly get expensive, making it important to pay no more than necessary for a vacation loan. If you have bad credit, your biggest concern may not be the loan's annual percentage rate as much as getting approved to borrow the full amount you need to finance your trip.
Recent studies put the average amount Americans spend for a vacation around $2,000, a sum available from most providers of personal loans, even those geared toward borrowers with bad credit. Some vacations are spur-of-the-moment, but folks usually plan them in advance, giving them the time required to comparison shop.
Because plans can change in the period leading up to your vacation, you may want to pay the extra money for flexible flight tickets that allow you to change dates without additional penalty. While this may add a significant premium to your travel costs, it's less than having tickets go to waste because of last-minute scheduling problems. In addition, consider purchasing travel insurance in case you become too ill to travel at the appointed time.
How Can I Get a Vacation Loan With Bad Credit?
The six lending services reviewed in this article specialize in helping arrange personal loans for consumers with bad credit. If your vacation planning permits it, the very first thing to do is to see about increasing your credit score before applying for a loan.
At the very least, you should check your credit reports and fix mistakes that are hurting your score. While you can do this yourself, you may find it faster and more efficient to hire a credit repair company to do the heavy lifting. They have the expertise and experience to get results quickly, although they can't guarantee a higher score — outcomes depend on your individual credit history.
You can also work to improve your credit score by always paying your bills on time and reducing your loan and credit card balances. Ideally, you want your debt-to-income ratio to be less than 36% and your credit utilization ratio (i.e., total credit used divided by your total credit available, a measure of credit card debt) below 30%.

In addition, don't close old credit accounts you no longer use, as this will reduce your average account age and hurt your credit score.
Once you're ready to apply for a travel loan, you can explore each of the lending services in this review by reading our summaries and clicking on the "Start Now" links to prequalify without harm to your credit score. All six companies work in similar ways:
You prequalify for a signature loan by completing a loan request dialog that collects basic personal, income, and spending data.
The lending service checks the information, usually by doing a soft pull of your credit files maintained at the three major credit bureaus (Equifax, Experian, and TransUnion). A soft credit check is an inquiry that does not reduce your credit score.
If you successfully prequalify, the lending service will transfer you to one of the direct online lenders where you can complete your loan application. Here, submitting the application will generate a hard credit check of your credit, which may reduce your score by five to 10 points for a year.
The lender will decide whether to make a loan offer and, if so, on what terms. Always read and understand all the fine print associated with the proposed loan agreement before signing it.
If you agree to the loan, expect the proceeds to be deposited into your checking account as soon as the next business day.
There is no fee for using any of the lender-matching services and no obligation to accept any loan offers. Your decision to accept a loan offer should hinge on whether you feel that the terms are good and the monthly payments affordable. Look at the loan as an opportunity to improve your credit score by ensuring you make each monthly payment in full and on time.
How Much Does a Personal Loan Cost?
A personal installment loan can include several costs:
Interest: Each lender must disclose the loan's APR before asking you to sign the loan agreement. The personal loan APRs on bad-credit loans can easily exceed 20%, which is why it pays to shop around for the best deal.
Fees: Lenders must also explain each possible fee that you may have to pay. These may include an origination fee, late monthly payment fees, and possibly prepayment fees that penalize you for repaying the loan ahead of time.
Lower credit score: Initially, expect your credit score to drop if you accept a personal loan. There is a small initial drop caused by the lender's hard pull of your credit report. In addition, taking out a vacation loan will increase your debt-to-income ratio, making it harder to qualify for additional credit.
Many personal loans do not include prepayment penalties, which is a good thing. Prepayment penalties may take the form of fixed fees or variable amounts. For example, you may be required to pay the entire remaining loan interest.
What Credit Score Is Needed For a $5,000 Loan?
There is no hard and fast rule regarding the minimum credit score necessary to receive loan approval. Certainly, none of the lender-matching services reviewed here can provide you with a minimum score — that's up to the direct lenders on the services' networks.
Nonetheless, we can say that generally, you will want to have a FICO score above 600 to get a $5,000 personal loan, and a score of 660 will enhance your chances considerably. However, do not dismiss the possibility of getting a loan with a lower credit score, although you may have to settle for smaller loan amounts and/or higher personal loan APRs.
What Are the Alternatives to Vacation Loans?
If you happen to be a homeowner, you may be able to overcome a bad credit score by taking out a home equity loan. The loan amounts you can borrow are some percentage (usually 80% to 100%) of the equity you've built up over time. Home equity is the difference between the current value of your home and the remaining mortgage balance.
Even with bad credit, you may be able to get a 6% annual percentage rate on a home equity loan. Furthermore, your credit score doesn't really matter, as your home serves as collateral for the loan.
Some banks may turn you down if you have a really terrible score, but typically it's not a problem. If you happen to belong to a credit union, you may find it more accepting of your low score and cheaper to use than a bank.
Equity in your car can also provide you funding for your vacation through automobile cash-out refinancing. Your vehicle serves as collateral for the loan, making your credit score of secondary importance to loan approval and pricing.
Another option is to recruit a cosigner for your loan. The cosigner should have a good to excellent credit score and be willing to step in if you have trouble making the payments. Naturally, you don't want that to happen, if for no reason other than it may sour your relationship with the cosigner.
Is it a Good Idea to Finance a Vacation?
Your personality and financial condition are probably the biggest factors in deciding whether it makes sense to finance a vacation.
Loan Considerations
At one extreme, you may encounter folks with a Puritanical streak who like to pay cash for everything — they object to the use of credit entirely. At the opposite pole, you may find a libertine borrower who doesn't have the slightest qualm about running up credit debt to support a lavish lifestyle.
We dare say, most folks come down between these two extremes, making the financing decision less clear-cut. On the one hand, you may really need a vacation but simply can't afford one without financing. If that's you, a vacation loan can make good sense — it's hard to put a price on mental health.
Conversely, you may be reticent about using credit for vacationing, which is essentially a discretionary activity. You may instead look upon loans as tools to help with unavoidable expenses, not for fun — even if much needed.
One thing to consider is that it's not necessarily a black-and-white decision. You can pay for part of your vacation with a loan and the rest with savings. The balance between the two hinges on your priorities and how much money you have.
If time is not an important consideration, you can take the opportunity to pay down your current debts, put away some savings, and work on improving your credit score. When the time comes to make your reservations, you'll need to borrow less, and your higher score will make it easier to get good terms.
No doubt, external events can dictate the timing of a vacation, and the state of your finances may make it necessary to borrow. Even if you can't set the timing, you can still create a budget to control your spending. In fact, a vacation budget makes good sense even if you pay cash.
Cost-Saving Ideas
You can make your vacation more affordable by establishing a budget that incorporates money-saving ideas, such as:
Purchasing flights in advance: You can usually save money by buying your tickets in advance, but as we pointed out above, we suggest you pay for tickets that you can exchange for different dates without penalty.
Choose economical destinations: Some places are cheaper all year round, and some are more affordable during the off-season when prices are lower and your destination is less crowded.
Plan your meals: You don't necessarily have to go to a restaurant for all your meals. Plan how much you want to spend on meals and where you'd like to spend them. Look for less-costly alternatives and allocate the bulk of your dining money to your top experiences.
Walk and use public transportation: Much cheaper than cabs.
Consider hotel alternatives: Short term rentals can save a lot of money and still provide convenient locations.
Get a multi-attraction pass: Many destinations offer special packages and discount cards that let you attend numerous venues for a low fixed price.
Look for hotel-vehicle packages: Another way to cut expenses.
These tips barely scratch the service. Look for internet articles and guidebooks for dozens of ideas on how to spend wisely on your vacation.
The Credit Card Alternative
You can use credit cards instead of, or in addition to, a vacation loan. If you play your cards right (pun intended) you can save substantially on your costs through rewards and promotions, such as:
Signup bonus: You can earn bonus rewards (cash back, points, or miles) by spending a set amount on purchases during an introductory period, usually three months, following the opening of the account. If you time your vacation purchases within this time window, you can earn a de facto discount on your travel expenses.
0% introductory APR: A period, usually six to 18 months following account opening, in which you can carry a balance on your purchases over multiple months without incurring any interest charges. In effect, you can finance your vacation for zero interest.
Travel cards: Certain credit cards are designed for travelers and denominate their rewards in miles or points. Some travel cards can be used with any airline because the rewards are linked to the card rather than any particular carrier. You can use the points/miles for travel on any airline and/or transfer them to the frequent flyer programs of participating carriers. Alternatively, you can get a credit card co-branded with a particular airline. The mile rewards are the same as the ones sponsored by the airline's frequent flyer program. You may prefer a co-branded credit card if you always fly a specific airline.
Travel-related redemptions: Several card issuers offer reward enhancements when you redeem your points or miles for travel-related purchases at the issuer's website. For example, the two Sapphire cards from Chase add 25% to 50% value for travel redemptions at the Chase Ultimate Rewards
Matching rewards: Look for cards that double your rewards earned during the first year. The classic example is the Cashback Match or Mileage Match for new cardmembers from Discover credit cards.
Foreign transactions: If you will be vacationing abroad, look for credit cards that do not charge foreign transaction fees. Also, check whether your card brand (Visa, Mastercard, American Express, or Discover) is widely accepted at your destination.
Typically, credit cards that offer these features are aimed at consumers with good credit. Frankly, you will find few cards for bad credit that offer these perks, which is why a personal loan may be a better alternative. In any event, it's useful to reduce your credit card debt before applying for a loan or a new credit card.
Do Personal Loans Hurt Your Credit?
In terms of impact on your credit, personal loans are a mixed bag. On the positive side, you can improve your credit score over the long term by always making your payments on time and in full. Your credit history counts for 35% of your FICO credit score, making timely payments over the loan term the most important way for you to help your credit score.
It may help to think of your loan payment as non-discretionary, similar to a payroll deduction. In fact, you may want to set up an automatic payment schedule with your bank or credit union.
Also, you may marginally improve your score by adding a personal loan to your mix of credit accounts, as 10% of FICO's credit score calculation comes from your credit mix.

A personal loan may hurt your overall credit profile (although not necessarily your credit score) by increasing your debt-to-income ratio. A value above 36% is considered a negative and can hurt your access to additional credit. However, the damage is minimal if the loan still leaves you with a relatively low DTI ratio.
Naturally, if you miss a loan payment, you can really hurt your credit score. Payments over 90 days late will appear on your credit report and send your score southward. Further damage will occur if you go into collection, the issuer charges off the account, or you end up in bankruptcy court.
The fact that you may be able to specify a loan's term means you have a better chance to create affordable monthly payments. That's not true of some other types of loans, such as a payday loan or military travel loan.
Research Vacation Loans For Bad Credit Online
Personal loans are versatile — you can use the proceeds for anything legal, not just for financing a vacation. The six personal lending services in this review serve consumers with bad credit, and our staff considers all of them trustworthy. You can check our summary information about each card and then click the link to do further research at the company's website.
Due diligence requires that you fully understand the terms of any loan offered to you, including its interest rate, fees, monthly payments, loan term, prepayment penalties, and any other factors that help determine the loan's attractiveness. Always read the fine print before accepting a loan or any other type of credit account.
Finally, look to experts like BadCredit.org to recommend companies that have undergone an independent and thorough review process. We employ strict editorial guidelines that help consumers have confidence in the companies and products we recommend.
Advertiser Disclosure
BadCredit.org is a free online resource that offers valuable content and comparison services to users. To keep this resource 100% free for users, we receive advertising compensation from the financial products listed on this page. Along with key review factors, this compensation may impact how and where products appear on the page (including, for example, the order in which they appear). BadCredit.org does not include listings for all financial products.
Our Editorial Review Policy
Our site is committed to publishing independent, accurate content guided by strict editorial guidelines. Before articles and reviews are published on our site, they undergo a thorough review process performed by a team of independent editors and subject-matter experts to ensure the content's accuracy, timeliness, and impartiality. Our editorial team is separate and independent of our site's advertisers, and the opinions they express on our site are their own. To read more about our team members and their editorial backgrounds, please visit our site's About page.