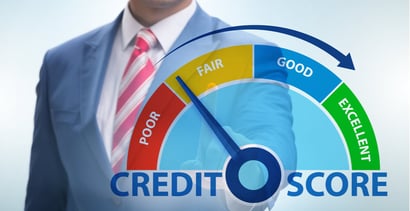 Whether you're a DIY person or don't mind paying someone else to do the work for you, the best services to raise your credit score start with the basic task of checking your credit scoring reports for errors and fixing them.
That's it. Pretty simple, right?
It is and it isn't. It depends on your comfort level of doing some legwork and getting copies of your free credit report from each of the three credit reporting bureaus.
You'll then need to read them carefully and check for errors. And then you'll need to contact each credit reporting bureau to fix the error. Complex problems such as identity theft will take more work to resolve than simpler issues such as wrong names and addresses on your credit reports.
Credit Repair Services | DIY Solutions | FAQs
Best Credit Repair Services to Raise Your Credit Score
Credit repair services can take a lot of work off your plate. They cost more than doing it yourself because as a full-service option they're doing everything possible to help raise your score by addressing errors and negative items.
Most charge a monthly fee, ranging from about $50 to more than $100. The more services you need, the higher the fees may go. More complex repairs will take longer, adding more monthly fees to your bill.
Here are three of the best companies to work with to fix bad credit and raise credit scores, based on BBB ratings and reviews by BadCredit.org staff:
Since 2004, Lexington Law Firm clients saw over 81 million items removed from their credit reports
Get started today with a free online credit report consultation
Cancel anytime
| Better Business Bureau | In Business Since | Monthly Cost | Reputation Score |
| --- | --- | --- | --- |
| See BBB Listing | 2004 | $99.95+ | 8/10 |
Lexington Law is a group of consumer advocacy law firms that offers clients more than 15 years of credit repair experience.
It offers free consultations and has monthly fees of $90. Lexington Law will leverage every legal standard to help you repair your bad credit score, and can do things you may not be able to do yourself.
Free online consultation
CreditRepair.com members saw over 8.6 million removals on their credit reports since 2012
Free access to your credit report summary
Three-step plan for checking, challenging and changing your credit report
Online tools to help clients track results
| Better Business Bureau | In Business Since | Monthly Cost | Reputation Score |
| --- | --- | --- | --- |
| See BBB Listing | 2012 | $69.95+ | 8/10 |
CreditRepair.com has made more than 19 million challenges and disputes for customers since it started doing business in 1997.
Its monthly fee starts at $49.95 for basic service for people with a handful of negative items. The next level up is a service for those with a moderate number of negative items, and the highest service is aggressive and recommended for people with a lot of negative items on their reports.
Best-in-class support
In business since 1989
Rapid 35-day dispute cycle, tailored to your situation
90-day 100% money-back guarantee
Low $79 cost to get started, cancel or pause membership anytime
| Better Business Bureau | In Business Since | Monthly Cost | Reputation Score |
| --- | --- | --- | --- |
| A+ | 1989 | $79 | 9.5/10 |
Sky Blue Credit Repair, at $79 per month, is the cheapest repair service we recommend. It offers extra services when needed at no extra cost. These include debt validation, goodwill letters, and cease and desist letters.
Its user-friendly app doesn't require costly upgrades. If you need a break from its services, you can pause it online with the click of a button.
Best DIY Credit Repair Solutions to Raise Your Credit Score
You can save a lot of money by doing credit repair yourself. It doesn't require having total expertise on the subject, and the three main credit reporting agencies walk you through their online dispute processes to make it easy.
Other online options can make it easier to boost your credit score than by dealing with each of the credit agencies. Here are two we recommend:
4. Experian Boost
Experian Boost allows consumers to add new information to their credit reports that may increase their FICO credit score and VantageScore credit score.
It works by connecting your bank account to its database. It then searches your bank account history for information on your payment history for utility accounts and related accounts, such as cable TV and cellphone services.
If you've been paying those accounts with your bank account now linked to Experian, then your credit file may improve. Usually, information on credit reports is provided by lenders or comes from certain public records. Consumers couldn't add a new account even if they wanted to.
Experian Boost can help anyone with a positive payment history on utility and phone accounts, but it's most likely to help people with poor credit or a limited credit history.
The company found that 75% of consumers with a 680 or lower FICO credit score saw their score rise after using Experian Boost. Also, as many as 8 million consumers could move into the "fair" credit range of 580-669 score or the "good" range of 670-739 by using the service, according to the company.
Moving up from "fair" to "good" may be enough to get approved for a lower interest rate on a loan.
5. Credit Versio
Credit Versio is another DIY way to check your credit history for inaccuracies. It is a credit repair software option where you link your credit report to its online system, which scans for negative items in your reports.
The site directs you to the proper form to mail in to dispute the item. This can be extremely helpful because certain types of inaccurate information require different types of dispute letters. These include disputing such issues as a late payment, repossession, charge-off, foreclosure, collection, judgment, inquiry, and bankruptcy.
A dispute letter should be sent to every credit bureau that shows the error. The three main agencies are Experian, Equifax, and TransUnion.
Credit Versio isn't free. It has multiple pricing tiers starting at $19.95 per month for a credit report and score from each credit bureau, credit monitoring alerts, and up to $1 million in identity theft insurance. The basic level includes two monthly disputes.
What is the Best Service to Raise Your Credit Score?
Lexington Law is the best service to raise your credit score for many reasons, starting with the fact that it has professional lawyers to handle your disputes from start to finish. It has been in business since 2004.
The company says its clients average 10.2 items, or 24% of their representing negatives, removed within four months. How long your case takes to resolve depends on the number of negative items, the type of negatives, and how quickly the reporting bureaus respond to the removal request.
Since 2004, Lexington Law Firm clients saw over 81 million items removed from their credit reports
Get started today with a free online credit report consultation
Cancel anytime
| Better Business Bureau | In Business Since | Monthly Cost | Reputation Score |
| --- | --- | --- | --- |
| See BBB Listing | 2004 | $99.95+ | 8/10 |
Lexington Law is very upfront about its monthly prices, which range from $99.95 to $139.95, and tells clients what to expect at each service level.
It gives new clients five days to cancel the service without penalty. It also charges a separate one-time fee after work begins in addition to its monthly service fee.
The initial consultation is free. During the consultation, a representative will walk you through the services Lexington Law offers, discuss your situation, and help you determine the best path to clean up your credit report and improve your credit score.
The firm also offers videos and many other educational resources on its website to help consumers learn about their credit and financing rights.
If you decide to hire Lexington Law after the consultation, it will ask you to get your three free credit reports — one each from the three main reporting agencies. Lexington Law can help you get your credit account reports if you need help.
A trained paralegal will go over the reports with you, and you'll discuss the specifics of each questionable item. That should give you a good idea which accounts on your reports can be disputed.
Lexington Law's attorneys and paralegals will then start working on the best ways to address each disputable item. It will usually start by asking the bureaus and your creditors to address simple fixes, mistakes, and incomplete information.
Because the process is individualized, the turnaround time and number and type of negative accounts can be different for each person. Lexington Law's average client uses its service for six months. Some issues will be easier to solve than others, and it could take longer than six months to solve yours.
How is a Credit Score Calculated?
Credit scores range from 300 to 850 and are based on five factors: payment history, debts owed, account mix, age of credit, and new credit. The general credit score ranges are:
300-579: Poor
580-669: Fair
670-739: Good
740-799: Very Good
800-850: Excellent
A higher score can lead to getting lower interest rates on loans, and being approved to rent an apartment or get a credit card with the best reward points.
Having errors fixed through a credit check is a good way to raise your credit score, including a FICO Score. But if your reports are already free of errors and negative items, then credit repair won't help.
Having a good credit score requires maintaining good financial habits, which any credit counseling agency can educate you on. It's worth knowing what a credit score is meant to do: measure risk.
It isn't an exact measure, of course, but it's one way creditors and others decide whether you're a good risk for their service. If you don't pay your electricity bill on time, then you may have difficulty paying a credit card bill on time — especially since having the power on is likely more important to you than a credit card balance from your credit card company. Credit counseling may help you understand these basic credit management methods.
Other factors are weighed in a credit score, and fixing inaccuracies can help raise a score. Here are how removing some negative items can affect a credit score, according to financeography.com:
Repossessions: 30-80 points. These are often the hardest to remove because most are accurate if you've defaulted on a car loan or other debt. They typically stay on a credit report for seven years, though they can be removed sooner.
Late payments: 5-60 points. Late payments of 30, 60, or 90 or more days late affect a score with more intensity the later they are. You can sometimes negotiate with a lender to have these removed if you're current on your payments.
Hard inquiries: 5-20 points. These happen when you apply for a new line of credit such as a credit card or auto loan. These can be removed if they're inaccurate, but it takes removing several inquiries to get the biggest boost.
Charge Offs: 15-75 points. This is when a lender sells your debt to a collection agency. It charges off the loss and marks your account as inactive.
Foreclosure: 30-75 points. These are usually large losses for the lender and will make future prospective lenders leery of lending to you. Inaccurate foreclosure listings should be removed.
Bankruptcy: 30-60 points. Unless it is somehow wrong, a bankruptcy will remain on your reports for at least seven years. Some creditors may negotiate a deletion for payment.
Court Judgments: 10-30 points. Most court judgments are never reported to a credit reporting agency because many states and counties allow limited access to these files.
What Can a Credit Repair Company Remove from My Reports?
A credit repair company can only ask to remove inaccurate information from your reports from a credit reporting agency.
If the information is accurate and reflects poorly on your credit history, such as a missed payment, then it could legally stay there until it's old enough to go away on its own. Late payments, for example, stay on reports for up to seven years from the date of the missed payment.
Charged-off and collection accounts also stay on reports for seven years. A charged-off account is when a lender sends a past-due balance to a collection agency. Paying the collection account before the seven-year period ends can still mean the collection account remains on your report, but it may have less of an impact.
Bankruptcy public records stay on credit reports for seven to 10 years, depending on the type of bankruptcy.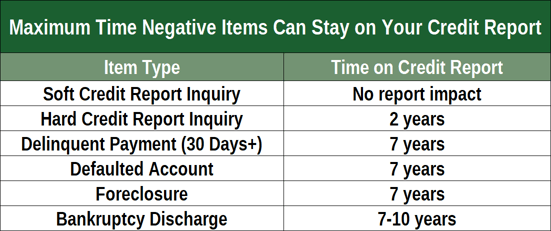 To have anything removed from a credit report, it must be inaccurate. This is true if you're doing it yourself or hiring a credit repair company to do it. Items that should be checked for inaccuracies include:
Late payments
Name
Address
Social Security number
Account number
Loans
Balance
Account status, such as closed
Payment status, such as in collection
High balance
Credit limit
The Consumer Financial Protection Bureau warns of other credit report errors to look for, such as you being reported as the owner of an account when you're actually just an authorized user.
Data management errors, including reinserting incorrect information after it was corrected and delinquent accounts appearing multiple times with different lenders, can happen.
The company will write a dispute letter to each credit bureau reporting the error. The bureau has 30 days to investigate the dispute and respond to the removal request. If the items are removed, your bad credit may improve to a good credit score.
The credit bureau may require more information. You may need to provide your credit repair service provider with proof of on-time payments, for example.
Lexington Law, the top company we recommend, hires lawyers who are experienced in the dispute process and can weave through it without the trouble you may encounter on your own.
Can I Raise My Credit Score Myself?
This is where the fun begins. You can concentrate on certain areas that will most improve your FICO Score. Some are mundane, but once you start seeing your score increase, it can be an incentive to keep working on it to see more results.
Start by getting free copies of your reports from each of the three main credit reporting bureaus. A good place to start is at AnnualCreditReport.com.
Normally, you can get one for free from each reporting bureau once a year. You should check your credit reports at least once a year for errors that could keep you from getting credit or the best available terms on a loan. The reports can also help you spot identity theft.
The CFPB also recommends checking reports before major events, including making a major purchase, such as a house or a car, that may involve a loan or applying for a new job.
Checking for errors is just the start. The biggest way to raise a credit score by yourself is to make on-time payments for your credit card debt, a personal loan, student loan, installment loan, or any other type of bill payments you have to make each month.
Paying your bills on time accounts for 35% of a credit score. If you have multiple credit cards, you can do this by setting up automatic payments that move money directly from your checking account to the creditor before the due date. The transfers can sometimes take a few days to process, so pay your bills this way a few days before the due date.
Whatever debt you're facing, having a good payment history is the best thing you can do to improve your credit score. It will help you get approved for new credit, such as a home loan or revolving credit with credit cards.
Having good credit utilization is another way to raise your score.
A credit utilization rate, also called a credit utilization ratio, is how much you owe divided by your credit limit. The higher the percentage, the harder it can be to get more credit.
Your utilization rate affects 30% of your credit score. A high utilization rate shows you're using too much of the credit available to you. A low rate shows you're using less of your available credit, which is generally seen as an indication that you're managing credit well by not overspending.
Suppose you have $10,000 total in available credit on three credit cards. You have a $500 balance on one card, a $2,150 balance on another, and no balance on the other. Divide the sum of your card balances — $2,650 — by $10,000, and your credit utilization rate is 27%, meaning you're using 27% of the total credit you have available.
That's a decent percentage because around 30% is generally the highest ratio many lenders want to see when giving the best interest rates to borrowers.
Credit utilization rates only involve revolving credit — credit cards and lines of credit that carry balances from month to month. They don't include installment loans such as a home or auto loan.
If your credit accounts are in good standing and you're not hitting your credit limit, you'll be allowed to continue borrowing with your credit card or line of credit. You'll pay interest each month on the amount borrowed. Paying your credit card balances in full each month will keep your utilization rate low, and you won't accrue interest charges.
It can be difficult to raise a credit score if you've had bad credit for a while or don't have much credit history. If you're having a hard time being approved for a credit card, you can open a secured credit card.
A secured card is usually easy to get approved for. Make on-time payments on it for a few months, and your score should trend upward.
A secured card requires paying a deposit that is only used if you don't make a payment. It's also your credit limit. Send the card provider $500, for example, and your credit limit is $500.
The deposit is returned when you cancel the card. You can also ask the creditor to move you to an unsecured card after a year of making timely payments.
How Long Does it Take to Repair Credit?
Repairing your credit takes some work, but it shouldn't take incredibly long to do it.
A lot of it depends on how many things need to be fixed. Remember that there's a difference between repairing credit and trying to raise it over the long-term by using good credit habits.
Credit repair generally involves fixing errors on credit reports. If the negative items you find are legitimate, then there isn't much to do to remove them except wait until they fall off automatically in about seven years.
Some errors may be easier to fix than others and only require a call or a letter to a creditor or credit reporting bureau to fix. If your name isn't listed correctly on your credit reports, it could be similar to someone with poor credit and could be causing your credit score to drop.
An on-time credit card payment from months ago that's listed as being late can be harder to dispute. It may require finding banking records to show you paid the bill on time. Automatic payments can help avoid this problem from the beginning.
For faster credit repair, hire a credit repair company that has years of experience helping consumers.
Lexington Law says that its clients typically stay with them for six months. If your credit repair issues are minor it could take a lot less time than that to fix them.
But because so much depends on third parties like creditors, credit bureaus, and debt collectors, and because each client's case is unique, Lexington Law or other professionals can't predict when any specific credit report item will be corrected.
Lexington Law's clients have seen an average of 10.2 items, or 24% of their representing negatives, removed within four months. That's pretty fast.
It's illegal to guarantee results for credit repair. It's also impossible to predict, so be wary of any company guaranteeing to "clean up your credit in 30 days."
Compare the Best Services to Raise Your Credit Score Online
The best services to raise your credit score come from two main sources: credit repair services that you pay for and DIY services that are free or charge a much lower fee than services that charge to do the work for you.
You can also do the work yourself to raise your credit score, saving you monthly fees from credit repair services and giving you a chance to learn how to improve your utilization ratio and do other things so that your credit history improves.
A key first step is to get copies of your credit reports on your own. Federal law allows consumers to get a free copy of their credit report each year from each of the three main credit reporting bureaus. Look them over carefully for mistakes, and then report the mistakes to the credit bureaus and your lenders to resolve them.
Online credit repair services, such as the ones we've recommended, can do all of this work for you for fees of $80 or so per month. You may only need the service for a few months, depending on how many errors need to be fixed.
Finding and fixing errors on credit reports should improve your credit scores. But legitimate bad marks on your reports are much harder to get removed. You may have to wait seven years for legitimate marks to fall off naturally, or start doing the hard work of paying your bills on time and following other good financial habits to raise your credit score.
Advertiser Disclosure
BadCredit.org is a free online resource that offers valuable content and comparison services to users. To keep this resource 100% free for users, we receive advertising compensation from the financial products listed on this page. Along with key review factors, this compensation may impact how and where products appear on the page (including, for example, the order in which they appear). BadCredit.org does not include listings for all financial products.
Our Editorial Review Policy
Our site is committed to publishing independent, accurate content guided by strict editorial guidelines. Before articles and reviews are published on our site, they undergo a thorough review process performed by a team of independent editors and subject-matter experts to ensure the content's accuracy, timeliness, and impartiality. Our editorial team is separate and independent of our site's advertisers, and the opinions they express on our site are their own. To read more about our team members and their editorial backgrounds, please visit our site's About page.