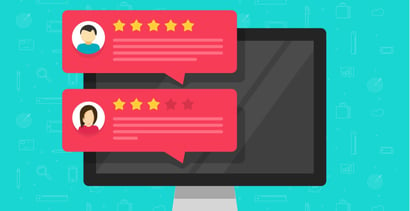 Any Credit Versio review has to include the benefits of doing things yourself, thanks to Credit Versio's do-it-yourself interface that can help you clean your credit report of inaccurate information. And, after all, we've all heard the phrase, "If you want something done right, do it yourself."
But you wouldn't want to perform your own medical procedure, and if you don't have a law degree, you likely wouldn't choose to represent yourself in a court case. The same goes for disputing inaccuracies on your credit report.
If you don't have past experience or understand credit reporting laws, you may have better results if you lean on an expert. Credit repair newcomers can spend their monthly fee elsewhere and get the same — or better — results with far less effort by hiring a professional.
Our Take | Alternatives | FAQs
Credit Versio is a Software for DIY Credit Repair
Studies over the last decade show that 1 in 5 Americans has mistakes on their credit profile. Depending on the data, a single mistake can cost you hundreds of points on your credit score.
While each credit reporting bureau provides online disputes and forms you can mail to dispute inaccuracies on your credit history, doing this requires some general knowledge in credit repair. After all, you have to understand what you're disputing if you want it removed from your credit profile.
With Credit Versio, you simply link your credit report to its online system. The program scans your report for potentially negative items. If they're disputable (remember, you can't remove an accurate item from your credit report until it's old enough to disappear on its own), Credit Versio directs you to the proper form that you can mail in to dispute the item.
Credit Versio's smart system helps determine which form is best for your situation since different items require different types of dispute letters. You can dispute inaccurate information pertaining to a late payment, repossession, charge-off, foreclosure, collection, judgment, inquiry, and bankruptcy.
In many cases, you're only required to add some necessary information to the form, put a stamp on the envelope and send it off.
Keep in mind that you have to send a dispute letter to every credit bureau that shows the error. That means potentially contacting Experian, Equifax, and TransUnion for one item.
Depending on the pricing tier you choose, you may find yourself limited in the number of disputes and credit report pulls you receive every month. Fewer pulls mean you have to wait longer to track any progress on your dispute.
Credit Versio Pricing
Just about every legitimate credit repair company will have multiple pricing tiers available for customers. The differences in most tiers are determined by the number of disputes you can file each month.
You can typically get away with a lower-priced package if you only have one or two items to dispute. Not coincidentally, most entry-level packages allow two disputes per month — which doesn't help since you may need to file a separate dispute with each credit reporting agency.
Credit Versio sticks to that trend in its pricing structure. The most cost-effective package is the smartcredit® BASIC. For $19.95 per month, you'll get your credit report and score from each credit bureau, credit monitoring alerts, and up to $1 million in identity theft insurance.
Most importantly, this package also includes two monthly Smart Credit Report and Score pulls and two monthly action buttons — which are essentially dispute allowances.
The smartcredit® PREMIUM package ($24.95 per month) offers all of the key perks of the Basic package but adds unlimited credit score pulls and action buttons.
Credit Versio is unveiling its IdentityIQ service soon for $29.95 per month. This service will provide credit monitoring for changes to your credit scores and also look for signs of identity theft. You can cancel your account at any time — no matter which package you choose — and don't need to sign a contract to get started.
Each paid account also receives access to pre-recorded video lessons from credit experts that coach you through different aspects of the credit repair process. While this is a nice added perk, it still does require some knowledge in credit repair, as these aren't live coaching sessions, and Credit Versio doesn't provide any other way to access experts to answer your questions.
This is where other services have an advantage over Credit Versio. Lexington Law, for example, partners with lawyers who have decades of experience disputing credit report inaccuracies. You can't tap into that type of experience through Credit Versio — and you certainly can't hire a lawyer on your own for what Lexington Law's services cost.
Credit Versio Reviews Around the Web
Credit Versio is a newcomer to the credit repair game. At the time of publishing, the company has only six months of service under its belt. As such, reviews are limited to a short time frame and limited consumer experience.
That said, the company already holds an excellent 4.6 out of 5 rating on Trustpilot from over 130 reviews. Many customers claim to experience fast fixes to their credit reports, with score increases in two months or less.
"Absolutely love Credit Versio. They helped so much with my credit since I've joined 2 months ago my credit score has jumped 62 points." — Aquilla, Trustpilot Reviewer
Other reviewers seem to appreciate the ease of use when spotting errors and filing a dispute with each credit bureau.
"Makes things extremely easy when fixing delinquencies on my credit. Just dispute, use the automated reason, print, send, and BAM, you're done. It's not always guaranteed to be removed, but in my first round of letters I had 12 negative items removed from my credit!" — David, Trustpilot Reviewer
A key takeaway from the above review is that no legitimate credit repair company or service can guarantee the removal of a disputed item. You can only dispute inaccurate information from a legitimate financial institution. Any accurate information on your credit report must stay there for its allotted amount of time (typically between two and seven years).
You may not know this with a service like Credit Versio, since you don't have access to experts who can guide you through the process. These frustrations reflect in some reviews.
"Could use more guidance or what I'm doing. I'm not sure if I'm doing the right thing or not." — Michael, Trustpilot Reviewer
Without that proper guidance, you could find yourself firing off disputes with no idea of the next step to take. That could lead to a longer credit repair process that requires more monthly payments than you'd expect to pay.
"This is my 3rd month & have no actions. Good or Bad. Seems like I'm wasting my money." — Kelle Ellison, Trustpilot Reviewer.
As with any service you sign up for, it's important to understand what you're getting and what you should expect before you make your first monthly payment.
Since Credit Versio is truly a do-it-yourself solution to credit repair, you may find yourself confused if you aren't familiar with the dispute process. If that happens, your only recourse is to watch a series of instructional videos that will, hopefully, guide you properly and answer your questions.
If you aren't a visual learner or don't have time to dedicate toward learning the ins and outs of credit repair, you may want to consider an option that offers similar monthly payment structures but provides experts who work on your behalf to remove inaccuracies from your credit report.
Top Alternatives to Credit Versio
As stated earlier, Credit Versio is a newcomer to the credit repair industry, having opened for business in the first quarter of 2020.
On the flip side, the companies below have decades of combined experience disputing credit report inaccuracies and helping every customer improve their credit score. That knowledge and understanding are invaluable when you want to improve your financial situation in as little time as possible.
And, more importantly, the services below take the work out of your hands and file disputes for you.
Most results of any credit repair law firm
Clients saw more than 7 million negative items removed from their credit reports in 2020
More than 221 million challenges and disputes sent for clients since 2004
Get started today with a free online credit report consultation
Cancel anytime
| Better Business Bureau | In Business Since | Monthly Cost | Reputation Score |
| --- | --- | --- | --- |
| See BBB Listing | 2004 | $59.95+ | 8/10 |
Since 2004, Lexington Law has helped clients remove millions of negative items each year (more than 10 million in 2017 alone, according to the company).
As its name suggests, Lexington Law works with actual lawyers who leverage legal standards to make creditors — and each credit bureau — take notice when they file a dispute. Lexington Law's monthly fees vary by the type of service you need.
Free online consultation
Helped with over 8.2 million removals on members' behalf since 2012
Free access to your credit report summary
Three-step plan for checking, challenging and changing your credit report
Online tools to help clients track results
| Better Business Bureau | In Business Since | Monthly Cost | Reputation Score |
| --- | --- | --- | --- |
| See BBB Listing | 2012 | $69.95+ | 8/10 |
CreditRepair.com specializes in exactly what its name suggests. With this service, you can get a free online credit evaluation before committing to a monthly payment plan. Your evaluation will include a free credit score, a negative information summary, and a recommended credit repair solution.
If you decide to proceed with the service, you'll pay one flat monthly fee (there are no tiers to CreditRepair.com's services) that provides access to a personal online dashboard that lets you track your progress at all times. You'll also get a dedicated member advisor who can answer questions and guide you through the credit repair process.
Best-in-class support
In business since 1989
Rapid 35-day dispute cycle, tailored to your situation
90-day 100% money-back guarantee
Low $79 cost to get started, cancel or pause membership anytime
| Better Business Bureau | In Business Since | Monthly Cost | Reputation Score |
| --- | --- | --- | --- |
| A+ | 1989 | $79 | 9.5/10 |
For more than 20 years, Sky Blue Credit Repair has helped clients achieve improved credit scores through negative item removal. You won't have to decide between tiers with Sky Blue. Instead, one monthly program fee gives you access to 15 disputes (five per bureau) every 35 days.
Sky Blue also handles any follow-ups or redisputes that may be necessary during the removal process. That takes a lot off of your shoulders when navigating the often-confusing terms and paperwork associated with credit disputes.
What is Credit Versio?
Credit Versio is a do-it-yourself credit repair software option that allows a consumer to generate and send dispute letters to each credit bureau that displays inaccurate negative items on a credit report.
You can access your account through a desktop computer or through the company's mobile app for iOS and Android devices.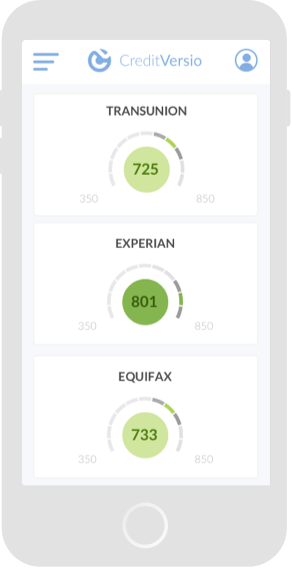 After setting up an account and paying your first month's dues, you can link your credit report to your account and have the smart credit system scan it for negative items. If you find that the items are not accurate, Credit Versio can create a dispute letter that you print and send to each credit bureau that shows that item.
Typically, a bureau will investigate the dispute and respond to your removal request within 30 days. If the items are cleared from your report, you could see an increase in your credit score.
The credit bureau may require more information during its investigation. If that's the case, you will receive a letter in the mail outlining what's required and where to send it.
If that happens, Credit Versio does not provide any assistance in the matter. That's one of the many factors that compel many consumers to look at services that handle the dispute process for you.
For example, Lexington Law hires actual lawyers who are experienced in the dispute process. The firms handle your case for you, from start to finish.
Other services, such as CreditRepair.com, connect you with a dedicated representative whose job is to answer any questions you have during the credit repair process.
With Credit Versio, you're truly on your own. The only knowledge base you can access is a group of pre-recorded videos intended to teach you about the credit repair process.
As such, Credit Versio is a legitimate service that can greatly benefit your credit score. But the service best serves those who already have some background knowledge in credit reports and repair. If that's the case, you may not even need the service since you can do it on your own at each of the bureau's websites or by mail.
But if you're truly a beginner and don't know where to start, you may be better served with a more in-depth service, like those listed above.
How Does Credit Versio Work?
Credit repair services typically work on a monthly fee structure, with varying rules for each service tier that you can pay with a debit or credit card. This may include a limited number of disputes filed each month or a set number of credit report updates during each billing cycle.
Credit Versio has two main service tiers. One allows two disputes (or action buttons) each month and the other allows unlimited actions. The tier you choose will depend on the number of negative items you need to dispute.
Keep in mind that if a negative item appears on the credit report of all three credit bureaus, you'll need to file three separate disputes. If you have the basic package that only allows for two actions each month, you'll have to file the first two and wait a full month before filing the third.
If you have several items to dispute, credit repair can take several months to complete. Keep that in mind when beginning the journey.
According to Lexington Law, the firm's clients average 10.2 items, or 24% of their representing negatives, removed within four months. How long your case will take will depend on your number of negatives, the type of negatives, and how quickly the credit reporting bureau responds to the removal request.
Whether you go with Credit Versio or another service, it's safe to assume that you should plan for at least four months' worth of service fees — although each service allows you to cancel your account at any time.
If you check your annual free credit report and only see one or two items that need a dispute, you're likely better served by handling the situation yourself or hiring a firm to take care of it in short order. Otherwise, you may find yourself paying too much while adjusting to a learning curve with a do-it-yourself service.
Is Credit Versio a Legitimate Credit Repair Company?
Credit Versio is a fairly new credit repair software. The business began accepting clients in early 2020 and has a strong approval rating on Trustpilot from more than 300 reviews. To date, the company has no reviews through other verifiable platforms, such as Consumer Affairs and the Better Business Bureau.
Still, Credit Versio shows every sign of a legitimate credit repair service that's new to the sector and trying to make a name for itself. The company already has expansion plans, with the unveiling of its IdentityIQ product that's expected to release in late 2020.
If you're considering using the service, your trust level shouldn't hinge on their relatively new service, but rather your own abilities to navigate the credit repair process on your own.
Credit Versio provides you with the tools you need to print and send dispute letters, but it doesn't offer much in terms of customer service for answering questions that may arise during your dispute attempts.
This could be because the company is still in the startup phase and learning what added services it will need to find success in the market. Or it could be because Credit Versio wants to market itself as a truly do-it-yourself option.
Either way, you should only become an early adopter if you're ready to do some of your own research. That may be a good thing, as it never hurts to improve your financial know-how.
But if you're in a situation where you need your credit score repaired quickly — or you don't have a lot of personal time to dedicate to the cause — you may be better served with a different option.
How Much Will My Credit Score Improve?
This depends on the number of inaccuracies you need to dispute, as well as the type of item you're trying to remove.
There are different types of items on your credit report. Each holds a different level of importance when factoring your score. If you successfully have an item removed, here's a breakdown of the change that you can generally expect for your credit score, according to financeography.com:
Repossessions: 30 to 80 points. These are typically the hardest items to remove, as most are accurate additions to your credit report if you default on a car loan or other debt. They typically stay on your credit report for seven years, but there are ways to remove them early.
Late Payments: 5 to 60 points. Late payments report as either 30 days late, 60 days late or 90+ days late. The longer you go without making a payment, the greater the impact on your credit score. Sometimes, you can negotiate with your lender or credit card issuer to remove the negative item if you become current on your payments.
Hard Inquiries: 5 to 20 points. The more inquiries you have on your credit report, the greater the impact. To experience the full 20-point boost, you'll likely need to remove several inquiries.
Charge Offs: 15 to 75 points. A charge off is similar to a default. When a lender sells your debt to a collection agency, it charges off the loss and marks your account as inactive.
Foreclosure: 30 to 75 points. This is possibly the worst item to have on your account, other than a bankruptcy. Foreclosures typically reveal a large loss for the lender — which is something that future prospective lenders will definitely take notice of.
Bankruptcy: 30 to 60 points. A bankruptcy will remain on your credit report for at least seven years. There isn't much you (or any credit repair company) can do to remove this negative mark early, though you can sometimes negotiate a pay-for-deletion with individual creditors.
Court Judgments: 10 to 30 points. Surprisingly, many court judgments never make it to your credit report. That's because many states and counties have varying levels of access to public records that make it easy (and legal) for debtors to list the judgment on your public file.
Of course, these numbers are just representations of what to expect, and individual results will vary.
How Do I Know if I've Been a Victim of a Credit Repair Scam?
Credit repair, as with many things in life, can follow one simple phrase: If it seems too good to be true, it likely is.
Never trust a credit repair service that claims it can guarantee a certain change to your FICO score. That's impossible. At the same time, no company can guarantee to reduce your debt or get you out of owing money that you legally owe.
True credit repair takes time, which is why some people feel that a service may be a scam. To remove an inaccuracy from a credit report, you must send a dispute letter to each credit reporting bureau that details why the information should be removed.
The bureau will spend at least 30 days researching the claim before making a ruling. During that time, there isn't much that you can do other than wait.
You should contact your chosen credit counseling company if you go more than a month without hearing anything from them. You can always cancel your service if you feel like you're getting the run-around. Most reputable credit repair agencies allow you to cancel your account at any time.
If you're still having issues, you should report the company to the U.S. Federal Trade Commission, which investigates scam companies in several industries. Other signs to look for in a potential credit repair scam include:
A company that tells you not to contact the credit reporting bureaus on your own
A company that urges you to dispute accurate information on your credit report
A company that insists that you send them money by credit card or bank wire before they do any work for you
A company that instructs you to falsify documents or lie on dispute letters or credit applications
A company that doesn't fully explain your rights when disputing items on your behalf
Remember that you can only dispute inaccurate items on your credit report. If an item that's weighing down your FICO score is legitimate, your only recourse is to allow it to age off of your report.
Credit Versio Review: An Affordable Alternative to Full-Service Credit Repair
Credit repair isn't a quick and painless process, but the results could change your financial life forever.
Whether you're the type of person who decides to take on the task yourself after reading this Credit Versio review or hire an experienced firm to do it for you, make sure you arm yourself with the knowledge necessary to make the best decisions on your behalf. By learning how to handle these situations on your own, you'll be ready to tackle them if they arise again.
Advertiser Disclosure
BadCredit.org is a free online resource that offers valuable content and comparison services to users. To keep this resource 100% free for users, we receive advertising compensation from the financial products listed on this page. Along with key review factors, this compensation may impact how and where products appear on the page (including, for example, the order in which they appear). BadCredit.org does not include listings for all financial products.
Our Editorial Review Policy
Our site is committed to publishing independent, accurate content guided by strict editorial guidelines. Before articles and reviews are published on our site, they undergo a thorough review process performed by a team of independent editors and subject-matter experts to ensure the content's accuracy, timeliness, and impartiality. Our editorial team is separate and independent of our site's advertisers, and the opinions they express on our site are their own. To read more about our team members and their editorial backgrounds, please visit our site's About page.