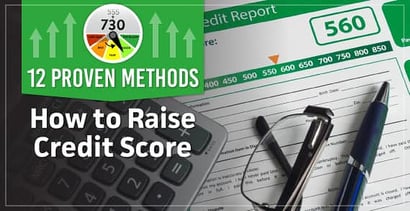 The importance of maintaining a good credit score simply can't be overstated. This is the number used by banks and creditors to determine your creditworthiness, by landlords in deciding whether to rent to you and even by many employers when you're interviewing for a job. Your credit score is a way to measure not just your financial habits, but often how responsible an individual you are in general.
Unfortunately, this means any financial hardship or misfortune you've experienced will be there for everyone to see — in the form of a sub-par credit score. Miss a few payments or get behind on your rent, and suddenly you can find yourself in credit purgatory. This is when it pays to know the ins and outs of our credit rating system and the steps you can take to start rebuilding your credit.
It won't happen overnight — and you should be skeptical of anyone who claims otherwise — but with some diligence and by following these rules, you can raise your credit score quickly and effectively.
1. Review Your Credit Report for Errors and Inaccuracies
This is the most important first step in getting your credit score back on track. Errors and inaccurate entries are far more common than you might think, impacting the credit reports of as many as 1 in 5 consumers.
To begin, know that under the Fair Credit Reporting Act you're entitled to one free copy of your credit report every year from each of the three major credit reporting agencies. You can access your report through the government-mandated website AnnualCreditReport.com, which is jointly operated by Experian, Equifax, and TransUnion.
Once you have your report, carefully review it for errors and any entries that don't belong to you. Take your time and make note of any discrepancies, checking them against your own records.
Verify your correct full name, address, date of birth, and Social Security number.
Make sure all of your credit card accounts and lines of credit are listed.
There should be no accounts listed that you don't recognize as your own.
Request to have any negative entries older than seven years removed.
If any entries on your report are incorrect, use the online dispute form provided by the individual credit reporting agencies to submit your corrections. And remember to follow up in a few weeks to ensure the corrections have been made.
2. Understand the Components That Make Up Your Score
It is important to know what your FICO credit score is comprised of and to use it to your advantage. The major components and their weight in determining your credit score are as follows: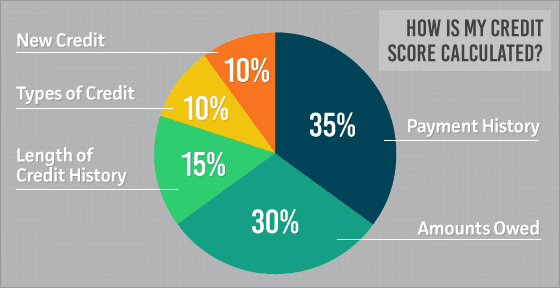 Knowing how your score is calculated can help you to make the most of the tools you have at hand. For example, considering that your payment history is the single biggest factor in determining your score, a single charge-off or default that is old enough to be removed from your credit report can dramatically improve your score. We'll show you some more FICO score tips and tricks a little further on.
3. Settle Outstanding Balances and Collection Accounts
If you've had a default or write-off, it has probably gone to collections. If you have the ability to pay a portion of the amount owed, try negotiating with the collection agency for a partial payoff amount, in return for removing the entry or showing it "paid as agreed." If you are able to arrive at a deal, make sure to get it in writing before making any partial payment.
Also, make sure the same debt isn't being reported twice on your credit report — once from the original creditor, and once from the collection agency. If this is the case, send a dispute letter to the credit reporting bureau to have one entry removed.
4. Request a Credit Limit Increase
Remember the components that make up your credit score? Well, your credit utilization — which makes up 30% of your score — is represented as a ratio of the amount you owe and your available credit. This applies to individual cards, as well as to your overall debt to available credit ratio.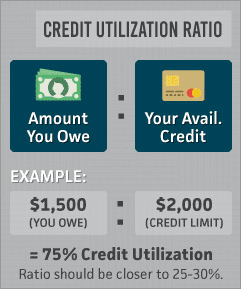 For example, let's say you have a card with a $2,000 limit, and a balance owed of $1,500. That puts your credit utilization at 75% for that card. It should be closer to 25-30%.
Request a credit limit increase if you're in good standing with your card issuer in order to lower your credit utilization.
5. Improve Your Credit Utilization Ratio
Similar to asking for a credit limit increase on a single card, you can also improve your overall utilization ratio by increasing your total available credit. You can do this by applying for a new credit card, or by requesting a different card from an existing creditor.
If you are in good standing with that card issuer, they will likely be glad to give you another card. An advantage of doing it this way is that you already have a relationship with the issuer, and they will generally give you a higher credit limit than you'd get with a new credit card company.
Any increase in your total available credit will improve your utilization ratio.
6. Consolidate Your Debts
If you have a lot of credit cards with small amounts on them, consider getting a consolidation loan to pay them off. This will have two positive effects on your credit score: it will show your card accounts as paid in full, and it will show a better credit mix.
Credit mix means having a combination of both revolving and installment credit, and remember that credit mix is 10% of your overall credit score.
7. Review your Credit Report for Accurate Credit Limits
The amount of your total available credit is dependent on the correct amount being listed on your credit report. If you've recently gotten a credit line increase and have charged against the account accordingly, make sure the correct amount is listed. Otherwise, your credit score could take a hit due to over-utilization of your available credit.
8. Consider Paying Your Credit Card Statement Early
So, you pay your credit card bill on time each month as you should — but is that enough? Most credit card companies report to the credit bureaus once each month, showing the amount you owe and your available credit line.
Let's say you charge your office rent to the card each month so that you can earn airline miles. Well, if your credit card company reports to the bureaus before you get your payment in, you may be getting dinged for using more of your available credit than is good practice — even though you pay on time each month. Paying your bill online early may resolve the issue.
9. Work to Lower Your Total Credit Card Balance
Perhaps this is a no-brainer, but paying off some of your cards while keeping them open and active can have multiple positive effects. It will keep your available credit the same while lowering your overall debt.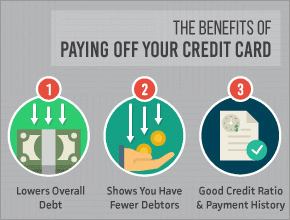 It will also show you have fewer debtors who are vying for your money. Finally, it will impact both your credit utilization ratio and your payment history in a positive way.
10. Don't Forget About Department Store Credit Cards
The advantage of department store credit cards is that they still report to the credit bureaus like other card companies, but they are typically much easier to get. If you're trying to build credit after a financial misstep, this is a good way to go.
Just be sure to use the card sparingly, and always pay it on time.
11. Secured Credit Cards Still Count
Secured credit cards can be thought of as a last resort measure, but a good way to reestablish credit if you can't get any other card. If you do decide to go this route, be sure to find a card that charges low fees and reports to the credit bureaus.
Some secured credit cards will transition to a revolving credit line after a certain period of time, providing you have made your payments on time.
12. Know When to Transfer
Transferring a balance from one credit card to another may seem like shuffling cards between piles. You aren't really changing the total of anything, right? Well, there's a time when transferring debt from one or more cards can make a difference.
If you have had a credit card for a long time, transferring a balance from newer cards can increase the average age of your credit lines. Just be sure you contact the card issuer and ask them to increase your credit limit so that your utilization ratio is not impacted.
Bonus Tip: Sign Up For a Fraud Alert Service
Nothing can ruin an improving credit score faster than a credit thief hijacking your account. Consider signing up for a fraud alert service with one of the three credit reporting bureaus. By opening an initial fraud alert, the company you contact will also notify the other two agencies of your alert.
This is a service that will notify you if anyone attempts to open a credit account in your name. Oh, and the best part? It's free.
Advertiser Disclosure
BadCredit.org is a free online resource that offers valuable content and comparison services to users. To keep this resource 100% free for users, we receive advertising compensation from the financial products listed on this page. Along with key review factors, this compensation may impact how and where products appear on the page (including, for example, the order in which they appear). BadCredit.org does not include listings for all financial products.
Our Editorial Review Policy
Our site is committed to publishing independent, accurate content guided by strict editorial guidelines. Before articles and reviews are published on our site, they undergo a thorough review process performed by a team of independent editors and subject-matter experts to ensure the content's accuracy, timeliness, and impartiality. Our editorial team is separate and independent of our site's advertisers, and the opinions they express on our site are their own. To read more about our team members and their editorial backgrounds, please visit our site's About page.