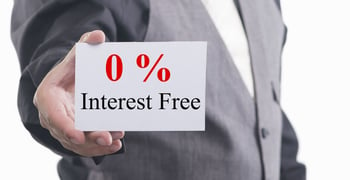 What's better than a loan that doesn't charge interest? Ok, a lot of things are — but still, getting a loan without having to pay anything extra for it is pretty sweet. So how about credit cards for bad credit with no interest? Now we're really talking.
Most of us assume credit cards charge interest when we make a purchase, but that's not always the case. There are ways to avoid paying interest when you use a credit card, even if you have less-than-perfect credit. Read on to learn how you can avoid paying interest even on a credit card designed for those with bad credit.
Credit Cards | Prepaid Cards | FAQs
Best Cards with No Interest if Paid within the Grace Period
One of the most powerful but least understood features of your average credit card is the grace period. While not required by law, most major credit card issuers offer a grace period — the time between the end of your billing cycle and the payment due date during which, if you pay your balance in full, you won't be charged interest.
Sounds simple, right? Not so fast.
When you receive your credit card bill in the mail or online, it will show you when your payment is due. Thanks to the Credit CARD Act of 2009, credit card companies must send statements at least 21 days before the payment due date.
If you pay your balance in full, you won't be charged interest for purchases made during that billing cycle. That is unless you carried any portion of your balance forward from the previous month.
Here's how it works: If you had a $500 balance the previous month and paid $400 of it, you carry a balance of $100 into the next billing cycle. From day one of that billing cycle, you begin accruing interest on that balance and on any purchases you make in this current cycle.
So, in order to take advantage of the no-interest grace period, you must pay off the entire balance from the previous billing cycle and pay your current balance by the due date. Here are some cards we recommend with grace periods so you can avoid paying interest, even if you have bad credit.
All credit types welcome to apply!
Free access to your Vantage 3.0 score From TransUnion* (When you sign up for e-statements)
Monthly reporting to the three major credit bureaus
See if you're Pre-Qualified without impacting your credit score
Fast and easy application process; results in seconds
Free online account access 24/7
Checking Account Required
| Application Length | Interest Rate | Reports Monthly | Reputation Score |
| --- | --- | --- | --- |
| 9 Minutes | 25.90% - 29.99% (Variable) | Yes | 8.5/10 |
Easy pre-qualification process with fast response
Less than perfect credit is okay
Online servicing available 24/7 at no additional cost
Unsecured credit card, no security deposit required
Account history is reported to the three major credit bureaus in the U.S.
| Application Length | Interest Rate | Reports Monthly | Reputation Score |
| --- | --- | --- | --- |
| 8 Minutes | 24.9% | Yes | 8.0/10 |
Checking Account Required
Fast and easy application process; response provided in seconds
A genuine Visa credit card accepted by merchants nationwide across the USA and online
Manageable monthly payments
$300 credit limit (subject to available credit)
Reports monthly to all three major credit bureaus
| Application Length | Interest Rate | Reports Monthly | Reputation Score |
| --- | --- | --- | --- |
| 9 Minutes | See terms | Yes | 8.5/10 |
There are some exceptions to the grace period, like when you get a cash advance or use one of the convenience checks your card company sometimes sends you. Those are considered cash loans and usually begin accruing interest immediately.
Best Prepaid Cards for Bad Credit with No Interest
Prepaid cards are a convenient way to pay for some things without carrying cash around with you. They are not, however, the same as a credit card.
Prepaid cards are more like debit cards in that they draw from an account that you put cash into. They can be reloaded by depositing more into the account, but you are never able to spend above what you have available.
One advantage of a prepaid card is that you don't pay any interest, but that's because it's your money to begin with. As a budgeting device, or to help you get into the habit of spending only what you can afford, these cards have their place. And they are generally accepted anywhere that takes debit cards.
The best prepaid cards are those that come with few, if any, fees. Generally, they are free to use if you have direct deposit or maintain a minimum balance, or they may charge a small amount when you reload them. Here are our choices for the best prepaid cards with no interest.
Move money from your PayPal account to fund your prepaid card account.
Earn cash back and personalized offers, just for using your card.
With Direct Deposit, you can get paid faster than a paper check.
Card issued by The Bancorp Bank, Member FDIC. Card may be used everywhere Debit Mastercard is accepted.
Click PayPal Prepaid Mastercard® for additional features & program details, and to request a Card.
| Application Length | Interest Rate | Reports Monthly | Reputation Score |
| --- | --- | --- | --- |
| 8 minutes | N/A (Prepaid) | No | 9.5/10 |
With Netspend Direct Deposit, you can get paid faster than a paper check.
No late fees or interest charges because this is not a credit card.
No Overdraft Fees on purchases using your card.
Use the NetSpend Mobile App to manage your account on the go and get text message or email alerts (Message & data rates may apply).
Card issued by MetaBank®, Member FDIC. Card may be used everywhere Visa Debit cards are accepted. "Apply Now" for full details.
| Application Length | Interest Rate | Reports Monthly | Reputation Score |
| --- | --- | --- | --- |
| 10 Minutes | N/A (Prepaid) | No | 7.0/10 |
Prepaid cards have one major disadvantage, however. A prepaid card won't help your credit score since its use is not reported to the credit bureaus like a credit card is. That means if you have bad credit, using a prepaid card will not help you rebuild or re-establish a good payment history or improve your credit score.
Still, prepaid cards offer the safety of not carrying cash, and they do come with some protection features like FDIC insurance against fraud and theft. They're also a good way for people without a conventional banking relationship to get paid via direct deposit and avoid having to pay check-cashing fees.
Favorite No-Fee Alternative
An alternative prepaid card to consider is the Bluebird® card from American Express®. With no monthly transaction fees, no inactivity or purchase fees, and several ways to reload the card for free, Bluebird offers an inexpensive banking alternative for just about anyone.


You can use the card to shop, pay bills, send or receive cash, and even cash checks using the mobile app. While American Express is accepted at fewer locations than Visa or Mastercard, Bluebird does let you add or withdraw funds for free at any Walmart or at one of the 30,000 MoneyPass ATM locations.
And, with Bluebird, you can create family accounts, SetAside® savings accounts, and even manage your finances, all with easy-to-use mobile tools. Finally, the Bluebird card offers membership benefits from American Express including purchase and fraud protection, emergency roadside assistance, special offers on shopping and dining, and 24/7 customer service.
Is there a Credit Card with No Interest?
Do a search for credit cards with no interest and you'll find hundreds of results. But are these really zero-interest credit cards? Look a little deeper, and you'll see that the 0% interest claims are for an introductory period, after which you'll pay a standard rate of anywhere from 15.99% to 26.99% or higher.
There is actually no such thing as a credit card that never charges interest. If there were, the company issuing it would soon find itself out of business.
No, almost all the credit card offers of 0% interest last for between six months to as long as 18 months, but they're only available if you have very good to excellent credit. Credit cards for bad credit seldom offer introductory periods with no interest — but that's not the end of the story. In fact, almost any credit card can be a zero-interest card if you know how to make it work for you.
Most credit cards have a 25-day window from the time of your previous billing cycle to when your payment is due. Check the terms and conditions of your card to verify.
If you pay your balance in full within that 25-day time frame, you won't be charged interest on the purchases you made. That's called the grace period, and almost all major credit cards offer it.
How Does a No-Interest Credit Card Work?
Cards advertised as no-interest credit cards are actually promoting an introductory offer of no interest on purchases during an initial period. You may see them offered as 0% APR, No-Interest Offer, or Zero-Interest Introductory Rate — all of which indicate the no-interest period is for a limited time.
Many of these cards also extend the introductory rate to balance transfers as well, if the transfer is made within the first few weeks of receiving your card. Often, a balance transfer fee applies, so check the offer carefully. But even with a one-time fee, this can be a great way to effectively pay down higher-interest debt since all of your payment goes toward reducing your balance.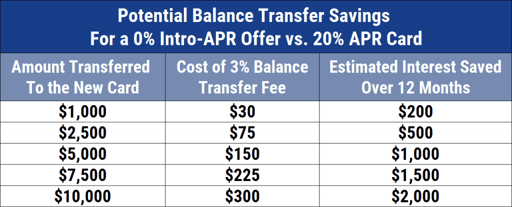 One thing to note about no-interest cards is that they usually charge a higher-than-average rate once the introductory period ends. While the current average credit card interest rate is around 17%, some 0% cards can charge 26.99% or higher when the intro rate expires.
Plenty of good 0% offers are out there, such as the Discover it® Balance Transfer card with an introductory 18 months of no interest, or the Chase Freedom Unlimited® with a similar 15-month intro period —  but both of those cards require good to excellent credit.
If a no-interest introductory rate sounds good to you but you don't qualify, the best thing you can do is work to improve your credit score. The higher you climb the credit score ladder, the more offers will be available to you, including those no-interest and balance transfer card offers.
Does Paying Only the Minimum Hurt Your Credit Score?
If you carry a balance on your credit card from month to month, your card company requires you to pay at least a portion of the amount you owe. This minimum payment amount covers the interest you've accrued, plus a small portion toward your actual debt. If you pay only the minimum, it will take a lot longer and cost a lot more to pay off your credit card debt.
It may be tempting to pay only the minimum amount due each month, but will doing that actually hurt your score? The answer is… it depends.
Your FICO score is derived from a number of factors, including your overall credit utilization rate, which makes up a large portion of your score. If the balance on your card is more than around 30% of your credit limit, it can negatively impact your score. Paying the minimum amount while you continue to rack up more charges on your card can, therefore, hurt your score.
That said, if paying the minimum amount is all you can afford, it's is far better than missing a payment or paying late fees. After all, every dollar that goes to paying fees is that much less that goes toward reducing your debt.
The bottom line is this — if you watch your credit utilization rate, chances are your score won't be too badly impacted, however, it will take longer and cost more to pay off your debt.
Pay Off Your Balance to Turn Any Card Into a No-Interest Card
Credit card interest is one of the biggest expenses consumers with bad credit face. You can avoid paying this interest or at least greatly reduce it with a little planning and foresight.
While credit cards for bad credit with no interest are rare, paying off your balance each month can turn almost any card into a no-interest credit card.
Advertiser Disclosure
BadCredit.org is a free online resource that offers valuable content and comparison services to users. To keep this resource 100% free for users, we receive advertising compensation from the financial products listed on this page. Along with key review factors, this compensation may impact how and where products appear on the page (including, for example, the order in which they appear). BadCredit.org does not include listings for all financial products.
Our Editorial Review Policy
Our site is committed to publishing independent, accurate content guided by strict editorial guidelines. Before articles and reviews are published on our site, they undergo a thorough review process performed by a team of independent editors and subject-matter experts to ensure the content's accuracy, timeliness, and impartiality. Our editorial team is separate and independent of our site's advertisers, and the opinions they express on our site are their own. To read more about our team members and their editorial backgrounds, please visit our site's About page.