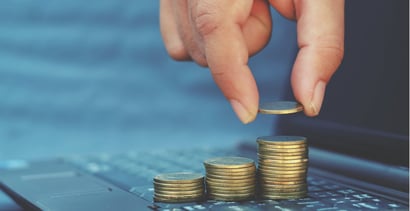 When your bank's loan officer won't even talk to you, consider a loan from MoneyMutual. More than two million borrowers have done just that and have received loans of up to $5,000 in as few as 24 hours.
MoneyMutual is there when your money runs short. It can arrange personal and payday loans for consumers contending with the challenges of a low credit score. It's also our top recommendation when you need an online loan on short notice.
You Can Apply Online Directly From the Source
MoneyMutual is not a direct lender. Instead, it acts as a conduit to a network of lenders that are comfortable talking to consumers with bad credit.
You can prequalify for a MoneyMutual loan in just a few minutes. That's how long it takes to fill out the short online loan request form and receive a decision. To obtain preapproval, you must:
Be a U.S. citizen or resident
Be 18 or older
Have an income of at least $800/month
Have an active checking account in your name
Have a working phone number
Have a valid email address
Notice that prequalification does not require a minimum credit score (or any credit score for that matter). MoneyMutual does not perform a hard credit check, preserving your battered credit score from further damage. 
If you successfully prequalify, MoneyMutual will transfer you to a potential lender that will collect additional information and give you a quick approval decision. Take the time to read the fine print in the loan agreement before accepting any loan offer. 
After you e-sign the loan agreement, the lender will deposit the loan proceeds to your bank account as soon as the next business day. Repayment term arrangements depend on the type of loan you accept. 
For example, if you accept a payday loan, you must repay it in full on your next pay date or roll it over and take on an additional origination fee.
A less-rushed alternative is a personal loan that you repay in three or more monthly installments. MoneyMutual charges you nothing for its service, and you're under no obligation to accept a loan offer.
5 Loan Alternatives to MoneyMutual
The following five lender-matching services compete with MoneyMutual for borrowers with bad credit. Some facilitate both payday and personal loans, while others provide only one loan type. All of them work with networks of reliable lenders.
You don't need a good credit score to instantly prequalify for a personal loan from CashUSA.com. But you must be a U.S. resident, age 18 or older, and earn an after-tax income of at least $1,000 per month. You also need a bank account, phone number, and email address to prequalify. 
BillsHappen® can prequalify you for a personal instant loan. Its lender network accommodates a wide range of loan amounts. The BillsHappen® website employs AES 256-bit encryption to help guarantee your privacy and security.
The CreditLoan® network helps consumers with poor credit obtain personal loans. More than 33 million visitors have used the company's helpful website that has many online resources and tools. The prominently displayed TRUSTe® seal demonstrates CreditLoan's commitment to your online security.
The name is self-explanatory — BadCreditLoans.com facilitates bad credit loan applications. To prequalify, you must be at least 18 years old, a U.S. citizen with a reliable monthly income, and have an active checking account in your name and a valid email address. If a lender on the BadCreditLoans.com network approves your loan, expect a deposit to your bank or credit union account in one to two business days.
PersonalLoans.com is well-suited to help consumers who need large installment loans. You can prequalify if you live in the United States, are at least 18 years old, and have a Social Security number, dependable monthly income, and an active bank account. Loan terms range from three months to six years, allowing for affordable monthly payment installments that fit your budget.
What Is a Loan For Bad Credit?
This article focuses on online loan networks for consumers with a bad credit score (i.e., below 580 on the FICO scale). Because it can be difficult to get a bad credit loan, you may need to turn to a specialized lending company to help improve your chances of borrowing successfully. 
The reviewed lending networks do not issue loans themselves. Instead, they work with direct lenders to help you get a loan despite your bad credit.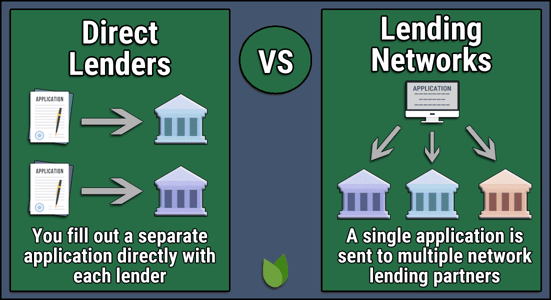 The online networks prequalify your loan request before matching you to one or more direct lenders. This convenient service is free, fast, and does not harm your credit score. You usually receive a preapproval decision in minutes, and if your loan is approved, funding will follow within a day or two. 
One of the downsides of bad credit is that you'll pay high interest and fees for an unsecured loan. It is precisely these heavy costs that make the loans possible, given the borrowers' perceived unreliability, warranted or not.
The reviewed networks offer payday and personal loans to borrowers with bad credit. You should understand how these two loan types compare before deciding your best course of action. 
Online Payday Loans
Workers with limited access to loan money can often turn to short-term payday loans designed to keep them going until their next paycheck. Payday loans work best as an emergency loan source, but they are too expensive to finance a lifestyle.
Payday loan APRs commonly range from 300% to 700% or more. The only silver lining for this kind of short-term loan is that these humongous APRs apply (hopefully) for only a week or two, keeping the total cost of the loan "reasonable." 
Payday loan storefronts can provide same-day loans. However, you must travel to the payday store to receive these same-day loans, compromising your privacy and possibly your security. 
By contrast, you can obtain an online payday loan from the comfort and privacy of your home or office in as little as one day. The lender deposits the proceeds in your bank account, saving you the worry of walking out of a payday loan storefront with cash on your person. 
Payday lenders don't typically rely on credit checks when approving loans and thus don't hurt your credit score. They do, however, take steps to verify your identity and employment information. 
For many, a payday loan is the short-term loan of last resort.
Personal Loans
Personal installment loans for bad credit are a type of unsecured loan, just like payday loans. However, personal loans differ from payday loans in several ways:
Personal loans are cheaper. Usually, 36% is the highest APR on personal loans. 
You repay personal loans in multiple installments, with loan terms ranging from three to 72 months.
Providers of personal loans usually do a hard pull of your credit reports, causing your credit score to drop several points. However, you can prequalify for a personal loan without a hard credit check.
Most personal loan providers report your payments to one or more credit bureaus, allowing you to build credit by repaying your personal loan on time. Payday lenders don't report your payments, making credit building impossible for this type of loan.
You may be able to borrow more via a personal loan than what a payday loan will allow.
The following chart summarizes the differences between personal installment loans and payday loans:

Personal loans can help you pursue debt consolidation. For example, if you owe money on several cards, you can get a debt consolidation personal loan to repay the cards all at once.
How Do I Apply For a Loan With Bad Credit?
You can use the reviewed lending networks to arrange a loan even when your credit is not good. All these companies share the same basic application procedure:
Read our lender summaries and choose a network that interests you by clicking on the APPLY NOW link.
Look at the network's website to see whether it's an appropriate choice.
Complete and submit the instant loan request form and provide your name, address, salary, Social Security number, mortgage or rent payment, and whatever else the network requires.
You should get an instant prequalification decision. If your outcome is positive, the service will transfer you to the website of a direct lending company, where you'll provide any additional required information.
Submit your loan application. Once again, you should receive a quick answer, although the lender may ask you for documentation or more information.
If the lender approves your application, it will present you with a loan agreement that specifies all the details, including the loan amount, APR, fees, repayment amount, and loan term. Read the agreement carefully!
E-sign the loan agreement if the terms satisfy you.
The lender will deposit your net loan proceeds in your bank account. This is a fast loan — most lenders can get the money to you in as little as one business day.
Lender procedures may differ depending on whether you apply for a personal loan or a payday loan. A personal loan provider will probably make a hard inquiry on your credit reports, whereas payday lenders generally do not. 
What Credit Score Do I Need For a Loan?
Your score may not come into play for a no credit check loan, which includes:
Payday loans
Credit card cash advances
Loans from friends and family
Federal student loans
Title loans
Equity loans
Pawn loans
Secured personal loans
A no credit check loan from this list may require a minimum credit score, but that would be the exception rather than the rule. Instead, these loans depend on other factors, such as your current income, your collateral, your monthly debt obligations, your recent payment history, and your relationship with the lender. 
Lenders willing to make an unsecured personal loan offer rely heavily on your credit score and history. The same is true for providers of business loans.
The direct lenders on the reviewed networks are comfortable dealing with subprime credit, although their minimum credit score requirements can vary considerably. One provider of an unsecured personal loan may accept credit scores in the low 500s, while another may require a score of 600+. 
If your credit score is below 500, your best bets may be a secured loan or a payday loan. You can also consider a credit card cash advance if you happen to own a card that allows it. Many credit cards for poor credit either bar cash advances or restrict the amount you can withdraw.
How Much Will a Loan for Bad Credit Cost?
Payday loans are notoriously expensive, charging APRs from 300% to 700% or more. These APRs arise from the fees payday lenders charge. Some states set limits on payday loan interest: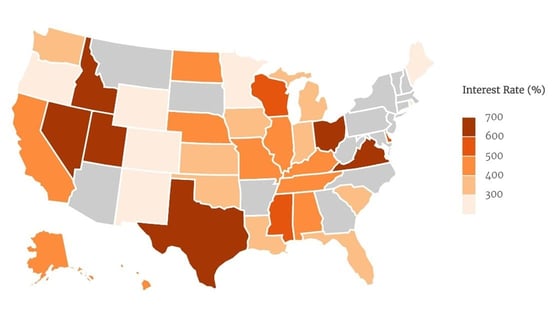 For example, you may have to fork over $600 to repay a two-week, $500 payday loan with no credit check. 

While still radically expensive, the $100 fee alone is unlikely to send you tumbling into bankruptcy. But, if you repeatedly roll your loan over, the cost can escalate to ruinous levels. 
Rollovers occur when you can't repay the loan on time. According to the Consumer Financial Protection Bureau, 4 out of 5 payday loans are rolled over. 
Should you require a rollover, the lender will add the previous fees to your loan principal, append a new charge, and extend the payment deadline until your next pay date. It's easy to see how repeated rollovers can lead to spiraling debt and bankruptcy.
Compared to payday loans, personal loans are cheaper and harder to obtain. Most personal loans charge no more than 36% APR for consumers with bad credit. Your monthly payment depends on the loan amount, loan term, interest rate, and fees. 
For example, if you took a three-year, $3,000 personal loan at an APR of 36%, your estimated monthly payment would be $137, and you would pay a total of $1,947 in interest.
By extending the loan term, you lower your monthly payment but increase the loan's overall cost. Revising the previous example, if we change the loan term to four years, the estimated monthly payment would drop to $119, but the total cost would rise to $2,699. 
In a direct comparison with a payday loan, a three-month $500 personal loan at 36% would cost $176.77 per month and charge $30.30 in interest. Compare this result with our earlier payday loan example, which saddled you with a 521% APR on a two-week $500 loan. The payday loan's total interest charge would be $100, more than triple that of the personal loan.
Are There Other Types of Loans For Bad Credit?
You have loan options well beyond personal and payday loans even though your credit is bad. Some loans are secured and depend on collateral. Others are unsecured and rely on your relationship with the lender. 
Equity Cash-Out Loans
Equity is the difference between the current value of a property and any debt owed on it. Homes and cars typify the kind of properties that act as collateral for equity cash-out loans. 
When you cash out equity, you borrow more than what you currently owe on a given property. You can generate cash this way through several types of transactions.
You can refinance your primary mortgage for an amount greater than your current balance. You'll receive the surplus amount, minus any origination fee, as a cash disbursement at closing. A conventional cash-out refinance loan requires you to have at least 20% equity in your home (i.e., a loan-to-value ratio of 0.80).
Another loan option is a home equity loan, a second mortgage installment loan with amortizing fixed monthly payments. You can borrow as a lump sum an amount up to your current equity in your home, but total mortgage debt typically can't exceed 85% of your home's value.
Usually, you must have at least 15% equity in your home to get one of these loans. As with your primary mortgage, you face foreclosure if you default on your loan.
A home equity line of credit, or HELOC, is a revolving account similar to a secured credit card. You borrow money against the equity in your home in an amount and at a time of your choosing. The repayment term is flexible, as long as you pay the minimum amount due each month.

Another loan option is to use your car as collateral. Similar considerations apply to auto loans, auto refinancing, and title loans.
Credit Card Cash Advances
Many credit cards allow you to draw cash advances. The issuer sets the cash advance limit, usually a percentage of your overall credit limit. You can't take a cash advance in an amount that exceeds either your cash advance limit or your credit limit. 
You can receive a cash advance in a few ways, including at an ATM, at a bank branch, or through an online transfer. 
Many credit cards charge higher APRs on cash advances than they do on purchases. Some cards for consumers with bad credit do not offer cash advances. 
Interest on cash advances accumulates every day until you repay it. Interest charges apply from the transaction date forward — there is no grace period for cash advances. In addition, expect to pay a fee for each cash advance.
Borrowing From Friends and Family
Getting a loan from someone you know may be the quickest and easiest way to borrow money. Or it may be difficult and painful. It all depends on your relationship with the lender. Previous loans and loan requests may color that relationship. 
It's often a good idea to formally document this type of loan and how you plan to repay it. If you have trouble paying on time, speak to the lender directly and explain how you'll resume payments as soon as possible. The advance notice may help preserve your relationship with the lender.
Pawnshop Loans
You can get cash for your personal property when you bring it to a pawnshop. Your credit score will play no role in obtaining a pawnshop loan.
The pawnshop will lend you a small percentage of your item's value and issue you a reclaim ticket. The APRs are high (payday-loan high), and if you don't claim your property within a set period, the pawnbroker can sell it for a nice profit.
Will A Cosigner Help Me Get a Loan For Bad Credit?
A cosigner is an individual who applies for a loan with you and is responsible for repaying the loan if you fail to do so. Typically, cosigners do not receive loan proceeds — that's the province of co-borrowers who share liability for repaying the loan.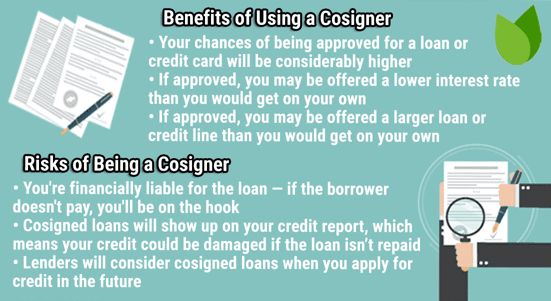 Some payday lenders permit you to use a cosigner, but it's not typical for this type of loan. On the other hand, personal loan providers usually welcome cosigners, as their participation dramatically increases the chances that the loan won't default. 
Keep in mind that the lending networks in this review specialize in loans to consumers with bad credit. Personal loans from network lenders don't require a cosigner, but these lenders do adjust loan access, costs, and amounts according to your credit score. 
If you are asked to cosign someone else's loan application, consider whether you think the borrower has a strong sense of responsibility. After all, your credit profile can suffer if the borrower turns out to be a deadbeat. 
How Do I Increase My Credit Score?
The straightest path to a higher credit score is paying your bills on time. FICO allocates 35% of your score to your payment history. When payments are 30 or more days behind schedule, you can expect the lender to report the delinquency to one or more credit bureaus.
 Late payments can drive your credit score down immediately by as much as 100 points and remain on your credit reports for seven years. 
The severe punishment for late payments arises partly from FICO's estimation that more bad news — including collections, charge-offs, repossessions, foreclosures, and bankruptcies — will follow. Major negative items remain on your credit report for up to 10 years and can ruin your credit for many years. 
FICO rewards timely payments by slowly boosting your credit score. No matter how serious the previous damage, you can begin the repair process by paying your bills on time, every time.
Your indebtedness contributes to 30% of your FICO score. The metric measuring your indebtedness is the credit utilization ratio (CUR) for your unsecured credit cards. 
CUR equals the amount of credit you are using versus the amount available. FICO calculates an overall CUR as well as one for each credit card you own. Values below 30% support higher credit scores.
Another 15% of your FICO score comes from new credit. FICO doesn't like to see borrowers submit too many credit applications within a short period, fearing it presages financial distress. 
To prevent further damage to your credit score, you'll want to refrain from more than one credit application every six months. FICO uses hard inquiries to measure how often you apply for credit but ignores soft pulls. 
FICO recognizes when you are rate shopping for a loan and combines those hard inquiries if they occur within a 30- to 45-day period. 
Two other factors, length of credit history and credit mix, play minor roles in your FICO score.
What If There Is a Mistake on My Credit Reports?
Mistakes on your credit reports can hurt your credit. You can fix errors on your own or with the help of a credit repair agency.
You can get free copies of your credit reports from AnnualCreditReport.com, the sole source authorized by the federal government. You're entitled to an updated copy of your three credit reports (from Experian, Equifax, and TransUnion, the dominant credit bureau trio).

You can dispute mistakes by contacting the credit bureaus and challenging the information. The bureaus will adjudicate your case within 30 days. 
Your score should immediately rebound whenever a credit bureau removes an inaccurate negative item from your report. 
If you would like help fixing your credit reports, consider using a legitimate credit repair company. These companies have the knowledge and experience to clean up your credit reports, scrubbing incorrect, unverifiable, or unfair derogatory items.
Expect to pay from $50 to $150 per month for a subscription to a credit repair service. You can cancel at any time. Most customers use these services for four to six months before terminating. 
MoneyMutual Remains Our Top Provider of Bad Credit Loans
We hope our review of MoneyMutual loans for bad credit gives you a greater appreciation of how to get a loan despite having a low credit score. MoneyMutual perennially ranks first among the lending networks we evaluate, but all those included in this review are reliable lenders worth considering.
While payday loans are easy to get if you receive a steady paycheck, they're also quite expensive and potentially dangerous. Personal loans cost less but are harder to access when you have poor credit. 
Using an online lender network is a safe, convenient, and no-cost way to prequalify for one of these loans without further damaging your credit score.
Advertiser Disclosure
BadCredit.org is a free online resource that offers valuable content and comparison services to users. To keep this resource 100% free for users, we receive advertising compensation from the financial products listed on this page. Along with key review factors, this compensation may impact how and where products appear on the page (including, for example, the order in which they appear). BadCredit.org does not include listings for all financial products.
Our Editorial Review Policy
Our site is committed to publishing independent, accurate content guided by strict editorial guidelines. Before articles and reviews are published on our site, they undergo a thorough review process performed by a team of independent editors and subject-matter experts to ensure the content's accuracy, timeliness, and impartiality. Our editorial team is separate and independent of our site's advertisers, and the opinions they express on our site are their own. To read more about our team members and their editorial backgrounds, please visit our site's About page.