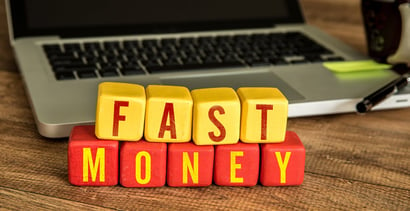 Thank heavens quick cash loans for bad credit are readily available. Without them, folks with subprime credit would have to scramble to get an emergency loan. 
It's not like only consumers with good credit suddenly need money! This article reviews providers of fast online loans eager to work with borrowers of all credit histories. One may be the lifeline you need when cash is tight.
Best Quick Cash Loans Online
The following websites don't make quick cash loans – they find them. Each works with a network of direct lenders that service consumers of every credit stripe, from excellent to very poor. 
All you need do is submit a short loan request form to connect with one or more lenders that may provide a loan offer you can accept.
MoneyMutual can connect you to a lender for a quick loan of up to $5,000. To prequalify, you must collect a dependable income of at least $800 monthly from work or government benefits. We continually rank MoneyMutual as the top cash loan referral service. It should be your first destination for the best bad credit loan.
You must collect an income of at least $1,000 a month after taxes to prequalify for the CashUSA.com lender-matching service. Bad credit won't disqualify you from a cash loan. You should get an instant loan decision — you may receive approval for a small loan of $500 or more within a minute or two.
The BillsHappen® website doesn't state a minimum income but requires you to be employed, self-employed, or receiving benefits. It will immediately tell you whether you prequalify when you request a quick cash loan. The company's lender network can offer an emergency loan of up to $5,000.
Many borrowers with bad credit (except those in bankruptcy) will prequalify for same-day loan approval from CreditLoan.com. This lending network can help connect you with a direct lender on the day you apply to complete the loan application process. You will receive your funds within one business day of loan approval.
You can get a loan through BadCreditLoans.com if you collect regular income from full-time employment, self-employment, or government benefits. Of course, the direct lenders on the BadCreditLoans.com network make the final loan approval decisions. Bad Credit Loans does not determine your loan terms, conditions, or interest rates and fees.
The amount you can borrow through PersonalLoans.com depends on your income and credit score. Thankfully, the company prequalifies all credit types. Some of the direct lenders on the network may require you to verify your income by providing pay stubs, tax returns, or bank statements. You may not prequalify for a loan if you have a seriously delinquent credit account, a high debt-to-income ratio, or a recently charged-off loan.
If you are employed or self-employed, 24/7 Lending Group can quickly prequalify you for one or more loan quotes. The company's website doesn't specify a minimum income requirement. This loan-finding service receives an Excellent rating from Trustpilot and works exclusively with direct lenders that comply with the Fair Debt Collection Practices Act.
SmartAdvances.com can prequalify you for multiple same-day loan offers. You must earn at least $1,000 monthly from a dependable source to be eligible. SmartAdvances.com belongs to the Online Lenders Alliance (OLA), an organization committed to responsible lending.
A steady income can prequalify you for a payday loan through CashAdvance.com. To be eligible, you must be a US citizen, at least 18 years old, with a bank account, email address, and phone number. This cash advance service quickly arranges short-term online loans that you repay all at once on your next payday.
How Do I Apply For a Quick Online Loan?
Before applying for any loan, it's wise to review your three credit reports for errors that may be lowering your credit scores. You may get better access to loans, and better loan terms, if you can fix a credit report and raise your credit score. 
Some folks take on the task themselves, but others prefer to use a credit repair service. See our article, "8 Easy Steps — How to Fix Your Credit Score Fast," for a complete discussion of how to clean up a credit report.
Once you are ready to apply, you can select one of the reviewed online lender networks and submit a loan request. 

It only takes a few minutes to enter the required information regarding your income, employment, and housing costs. The lending service will verify some of the data but won't pull your credit — that's a job for the direct lender.
The network will prequalify you for a loan if you satisfy its requirements, which usually include:
US citizenship or permanent residence
Age 18+
A Social Security number or equivalent ID
A set amount of monthly income
A bank account in your name
A working phone number
A valid email address
You may experience a delay if the lending service has trouble verifying your information, but you'll prequalify instantly in most cases. The service then takes one of two actions:
It will transfer you to the website of a direct lender, or
It will provide you with links to multiple interested lenders
The direct lender may ask for additional information and permission to pull your credit, which may lower your credit score by a few points for up to one year. If everything checks out, the lender will offer you a loan, specifying:
The loan amount
The interest rate
Fees
The repayment period (i.e., the loan term)
The monthly payment amount for an installment loan or the lump-sum repayment amount for a short-term payday loan
If you respond positively, the lender will have you e-sign a loan agreement. Please read it carefully before signing, lest you overlook some essential details. After you affix your electronic signature, the lender will schedule a direct deposit to your checking account, usually by the next business day.
What Are the Differences Between Installment and Short-Term Loans?
Each reviewed lending network can offer you an unsecured personal loan repayable in monthly installments or a short-term payday loan that you repay all at once on your next pay date. Several lending services provide both types of loans.
Beyond the repayment details, the most significant distinction between the two types of bad credit loans is the interest rate. Installment loans top out at a 36% APR, whereas payday loans online can charge 300% to 700% or more. Other differences include loan size, credit checks, and payment reporting.

The advantage of an installment loan is that it charges a lower interest rate, and you can choose a loan repayment term long enough to make the monthly payments affordable. The longer the repayment term, the smaller each installment. However, you pay more interest as you extend the loan term.
Astronomical payday loan APRs may make your eyes water, but keep in mind that they apply for only a short time. For example, if you take a $525 payday loan, you may have to repay $600 in two weeks. 
Although this represents a triple-digit annual rate, the damage to your wallet is just $75. 
The real problem occurs if you can't repay the loan when it's due, prompting the lender to increase the loan size by the interest amount and roll the loan over to the next pay period. Should this repeat a few times, you may find yourself in a debt spiral, unable to catch up. 
The result, too often, is bankruptcy, which can remain in your credit history for up to 10 years and decimate your credit score.
Still, many folks take payday loans online because they don't want to undergo a credit check or otherwise don't qualify for a personal loan. You can help build your credit by repaying a personal loan on time. You don't get this benefit from a payday loan since the lender doesn't report your payments to the credit bureaus.
If you chronically have trouble paying your bills on time, consider working with a credit counselor. For example, American Consumer Credit Counseling is a nonprofit agency offering free advice and no-cost debt management services. 
This service helps you develop good financial practices that may rebuild your credit and keep you out of bankruptcy court.
What Is the Easiest Loan to Get With Bad Credit?
Loans that don't check your credit are the easiest for subprime borrowers to obtain. In addition to the aforementioned payday loans, the following three no credit check loan sources move quickly:
Pawnshop loans: These may be the fastest way to raise cash. You bring some personal property (e.g., cameras, watches, musical instruments, jewelry, gold coins, etc.) into a pawnshop to act as collateral for a loan. The pawnbroker will give you a ticket to redeem your property by a set date. If you don't repay the loan, the pawnshop will put your property up for sale. Pawnshop loans usually provide less than 50% of your property's value. The APRs on these loans are as high as those for payday loans. But pawnshop loans are easy to get — you don't need good credit or a job. 
Car title loans: If you owe no money on your vehicle, it can become collateral for a title loan. Your car's title secures the loan, allowing the lender to repossess your vehicle if you miss a short-term loan payment. These loans provide fast cash, often requiring no more than an hour of your time. They are also costly, as their APRs easily exceed 100%.

Credit card cash advances: These are available online, from human tellers, or at ATMs. They provide fast cash, assuming you already own a credit card. You don't undergo a credit check to get a cash advance. Moreover, at least two secured credit cards don't pull your credit when you first apply, making them a good alternative when you want a no credit check loan. The maximum size of the advance depends on your credit limit and current balance.
Credit cards often limit cash advance amounts well below those on purchases. In addition, cash advance APRs may exceed those for purchases, and each transaction imposes a fee of 3% to 5%. Cash advances charge daily interest from the start — they don't provide a grace period, and it's best to repay them as quickly as possible.

You may also be able to borrow quickly from a family member or friend. Although you may get dream terms, you may alienate a loved one if you fail to repay the loan.
Is It Possible to Get a Quick Business Loan?
Numerous websites offer businesses bad credit loans online. We have looked at a few peer-to-peer lenders, including FundBox, OnDeck, and FundingCircle. 
One thing to remember is that a business owner may have to personally pledge to repay the loan. This requirement translates into higher interest rates and fees if you have bad credit.
You typically need a score of at least 600, which is a bad credit score, to get a small business loan. The Small Business Administration requires a 680 score, and the SBA is a bureaucracy not known for making instant loan decisions.
Can I Get a Personal Loan With a Credit Score of 550?
The reviewed lending services work with networks of loan providers highly experienced in helping subprime consumers borrow money. While 550 is a very bad credit score, it will not necessarily prevent you from finding a small loan using the reviewed sources.
For example, a high income or relatively low debt-to-income ratio may overcome a 550 score.
Although personal loans are usually unsecured loans, you can also apply for a secured personal loan that will be far easier to obtain. A personal loan secured by your car may resemble a regular auto loan, but the lender is usually not a car dealership or bank. 

The reviewed networks may contain lenders willing to make both secured and unsecured loans. You should be able to get better loan terms when you post collateral, although you risk losing your property if you default on the loan. An unsecured personal loan may cost more, but it reduces your risk.
Can I Get a Loan if I Don't Have a Bank Account?
A bank or credit union account is generally required to get a loan. The account is mandatory because it serves two purposes:
The lender deposits your loan proceeds into your bank account.
The lender automatically withdraws the monthly payments from your bank account.
The checking account (or perhaps savings account) must be in your name, although it can have a co-owner. Sometimes, the lender wants the bank account to be at least six months old.
Unbanked individuals can still get a loan from a pawnshop and perhaps a title lender. It may be possible for an unbanked consumer to get a payday loan from a brick-and-mortar storefront, but it would be an unusual situation. An unbanked worker may receive payment in cash or through direct deposits to a prepaid debit card. 
What Should I Do If I Can't Repay My Loan?
When you have trouble repaying a loan, the first thing to do is to contact the lender and discuss your situation. Lenders are often willing to change your loan terms rather than writing off the loan or sending it to collections. 
Lenders understand something is better than nothing, which is what they may get if you file for bankruptcy. 
As mentioned earlier, credit counselors can be helpful when your debt becomes overwhelming. They may be able to negotiate with your lenders to reduce the amount you must pay each month. Sometimes they can arrange for the creditor to forgive some of your debt, but be careful to consider the tax consequences — the IRS may treat your forgiven debt as taxable income.
A more aggressive approach is to hire a debt settlement company, such as National Debt Relief, CuraDebt, or Freedom Debt Relief. These companies play hardball with your creditors, diverting your payments into an escrow fund while negotiating unsecured debt forgiveness. 
Debt settlement is risky because it hurts your credit score and may be unsuccessful, sometimes causing a lender to take you to court.
If your debt is secured, you may have to deal with losing your collateral. Having a car repossessed is terrible news, but a foreclosure on your home can be a tragedy. Banks are usually reluctant to foreclose on a house because it is costly and time-consuming, but they will do so if left no other choice.
Look Online For Fast Funding
If you have subprime credit and need money by tomorrow, check out quick cash loans for bad credit, as our reviewed lending networks provide. In fact, they may be able to get you same-day funding if you apply early in the day. 
You can choose between an online personal or payday loan, each with unique characteristics. Whichever route you take, understand all the loan terms — you don't want any surprises after signing a loan agreement. 
Advertiser Disclosure
BadCredit.org is a free online resource that offers valuable content and comparison services to users. To keep this resource 100% free for users, we receive advertising compensation from the financial products listed on this page. Along with key review factors, this compensation may impact how and where products appear on the page (including, for example, the order in which they appear). BadCredit.org does not include listings for all financial products.
Our Editorial Review Policy
Our site is committed to publishing independent, accurate content guided by strict editorial guidelines. Before articles and reviews are published on our site, they undergo a thorough review process performed by a team of independent editors and subject-matter experts to ensure the content's accuracy, timeliness, and impartiality. Our editorial team is separate and independent of our site's advertisers, and the opinions they express on our site are their own. To read more about our team members and their editorial backgrounds, please visit our site's About page.