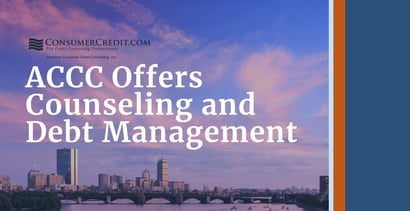 In a Nutshell: A credit score can be a useful tool or a barrier for consumers needing financial products. That's why American Consumer Credit Counseling helps people with poor credit reduce their debt and improve their scores more effectively than they would with debt settlement or bankruptcy. American Consumer Credit Counseling is a nonprofit supported by grants and partnerships with creditors that enable the nonprofit to put client well-being ahead of profits. The organization also conducts community outreach and offers educational resources to teach people how to manage debt independently — or avoid it altogether.
In the modern financial market, credit is one of the consumer's most powerful tools. A strong credit score can save people money on financial products including home and auto loans. But often, the people most in need of those products get saddled with high interest rates because their credit scores are too low.
They may already struggle to meet expenses and pay bills, and can't access services that could help them improve their credit and their overall financial wellness.
American Consumer Credit Counseling was built to help those people. The nonprofit credit counseling agency has provided debt management services to consumers in all 50 states since 1991. It works with individuals to reduce debt, improve credit scores, and strive for financial independence and healthy lives.

"The credit counseling is free," said Madison Block, Senior Marketing Communications and Programs Associate at American Consumer Credit Counseling. "People call us, and they just need a credit counseling session;  or they're not sure what to do — whether it's debt management or bankruptcy."
American Consumer Credit Counseling debt management programs have a small initial enrollment fee and a minimal monthly maintenance fee. And if clients can't afford it, American Consumer Credit Counseling can sometimes waive the fees. The organization makes up the difference with grants and funding from creditors, who benefit much more from debt management than settlements or bankruptcy.
Consumers benefit from guidance in good financial practices and counseling that helps them eliminate debt and avoid accruing more in the future. Rather than putting hard-earned money toward interest payments, they can start saving for important goals, including homeownership or college tuition for a child.
"We look at their entire financial picture and see the best move for them," Block said. "We try to look at it holistically and see what we can do to help."
Reduced Rates and Waived Fees Make Debt Management an Affordable Option
Debt management is a good choice for consumers who are carrying significant credit card balances. While they may need help addressing their situation, paying off their debt should still be the goal.
"That's where we come in," Block said. "They can call one of our credit counselors who are independently certified, and their credit counselor will walk them through their budget, help them come up with one, and see if they can cut spending on certain areas or just move some things around to see how they can afford to pay off their debt."
One benefit of working through its debt management program is that American Consumer Credit Counseling can negotiate with creditors in ways individual consumers can't. Those negotiations can result in lower or waived fees and creditors can sometimes lower interest rates, reducing much of the financial pressure on consumers.
In the end, consumers save money, but they also pay off their debts, which can preserve and improve their credit scores. On the other hand, debt settlement can reduce the amount of money they owe, but it also entails a hit to the consumer's credit score. That's because they aren't paying their dues in full, which can cost them more money in the long run.
That distinction is significant for people with long-term savings and investment goals, including buying a home or making another large purchase. American Consumer Credit Counseling's counselors take those goals into account during initial client intake and planning.
"They'll ask you what your goals are in the next year or five years down the road to see how much you should save and how much you should put toward debt," Block said. "We also have a housing department that helps people with reverse mortgage counseling for people who want that."
Nonprofits Can Provide Trusted Solutions
One thing that sets American Consumer Credit Counseling apart from other debt management agencies is its nonprofit status. Because its funding comes from other sources, including creditors and grants, it can prioritize the client's best outcomes rather than its own margin. That is not always the case in the debt management space.
"When it comes to debt and financial problems, you're going to get scam companies and even loan sharks that are not going to have a consumer's best interest in mind and are just going to try to make a buck off of somebody's debt," Block said. "We're not in the business of doing that."
American Consumer Credit Counseling cautions consumers to avoid schemes like payday loans and debt settlement. Payday loans can quickly lead to an endless cycle of debt that leaves borrowers laboring under incredibly high interest rates. Debt settlement can be a quick fix that may have repercussions down the line.
One of the primary consequences of debt settlement is a significant drop in credit score. That can result in difficulty obtaining loans and credit. And when consumers can secure them, they often come with a high interest rate that leads right back to another debt cycle.
"If you're looking for reputable help with your debt, make sure that you're talking to a nonprofit credit counseling agency, and that they are licensed to do business and have been in business for a while," Block said. "Just doing your own research, looking at reviews online, making sure that they don't have two-star reviews. That's indicative of maybe this isn't a great business to be working with."
Community Outreach and Education Provide Assistance on Diverse Financial Topics
In addition to working directly with clients, American Consumer Credit Counseling conducts community outreach and education. The knowledge it provides can mean the difference between managing debt on their own or enrolling in a debt management program. Ideally, it can help people avoid difficult debt situations in the first place.
"Before the pandemic, the community outreach team would go to different areas around New England and teach classes for many different types of populations," Block said. "We had refugees, lower-income neighborhoods, prisons, even in homeless shelters."
Watch on
Another demographic American Consumer Credit Counseling focuses on is past and present military service members. One outreach coordinator specializes in veterans affairs, and she visits military bases in Massachusetts and New Hampshire to teach classes on financial literacy.
Of course, the COVID-19 pandemic put an abrupt halt to in-person outreach and education. But American Consumer Credit Counseling pivoted to virtual interactions, where it continues its outreach efforts on a variety of platforms.
"We offer two free webinars a month now that are open to the public," Block said. "People in any state can register and be a part of these classes. We just did one a couple of days ago on the home buying process, and we had people from 14 different states that tuned in. Now we have expanded our reach a little more with our community outreach team."
ACCC: An Empathetic Approach to Finances
Even if a consumer's need is urgent, reaching out to a debt management agency is not easy. Debt can be stigmatized in the United States, and many people internalize that stigma. But American Consumer Credit Counseling approaches all new client relationships with understanding and compassion.
"Our credit counselors are empathetic and listen to people talk about their issues because being judgmental about somebody's financial situation is not going to help," Block said. "There are people who maybe got into an accident, or they had a medical emergency, and now they are not working and using credit cards to get by. We have thousands of clients who all have different stories, so our credit counselors try to approach everybody with open ears and understanding. It's a judgment-free zone."
That compassion and support is critical to completing a debt management program. Judgment and criticism can lead to despondency and loss of hope, which leads to abandoning the program as a means of escaping negative feedback.
Constructive feedback and positive reinforcement, however, can motivate a client to enthusiastically pursue financial improvement and pay off their debt. With the right motivation, clients can achieve financial independence faster than they might expect.
"It almost never takes more than 60 months," Block said. "That's something that we pride ourselves on. It usually takes five years or less to get out of the debt situation that you're in."
Advertiser Disclosure
BadCredit.org is a free online resource that offers valuable content and comparison services to users. To keep this resource 100% free for users, we receive advertising compensation from the financial products listed on this page. Along with key review factors, this compensation may impact how and where products appear on the page (including, for example, the order in which they appear). BadCredit.org does not include listings for all financial products.
Our Editorial Review Policy
Our site is committed to publishing independent, accurate content guided by strict editorial guidelines. Before articles and reviews are published on our site, they undergo a thorough review process performed by a team of independent editors and subject-matter experts to ensure the content's accuracy, timeliness, and impartiality. Our editorial team is separate and independent of our site's advertisers, and the opinions they express on our site are their own. To read more about our team members and their editorial backgrounds, please visit our site's About page.