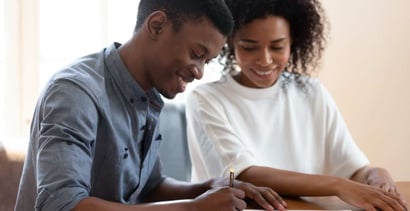 Guaranteed approval and bad credit don't usually appear in the same sentence. But if you have poor credit, you can use any of the loan networks we review below to get a prequalification decision quickly, often in seconds. If you prequalify, a direct lender will do everything possible to approve your bad credit loan in minutes and possibly send you money by the next business day.
We also include several other loan sources with instant approval. As you'll see, when it comes to subprime loans, you still have options.
Best Guaranteed Installment Loans
Installment loans give you breathing room to repay your loan over months or years. Budgeting is easier because you know the exact amount of your monthly payment and when it's due. And you may qualify for a large loan — $10,000 or more — depending on the length of the loan.
The 24/7 Lending Group is a lending network for large or small loans. Its job is to prequalify you for up to four near-instant personal loan offers. The loan-finding service does not perform a hard credit check, so an initial inquiry will not impact your credit score. Read your loan offers carefully before deciding which one works best for you.
CashUSA.com can find a personal lender willing to loan up to $10,000 as quickly as the next business day. To prequalify, you must be at least 18, a US citizen or permanent resident, and earn a minimum monthly income. Bad credit loan terms and fees vary by lender, but CashUSA.com is free.
BadCreditLoans.com finds loans of $500 to $10,000, but lenders may cap the amount at $1,000 if you have poor credit. The website welcomes borrowers with all types of credit who seek multiple offers for an unsecured loan. To prequalify, you must satisfy age, residence, and income requirements and verify your checking account, email address, and phone number.
PersonalLoans.com uses its extensive lender network to find loans of up to $35,000. Your offer amount and interest rate depend on your credit history, income, debts, and state laws. The lender network offers several types of online bad credit loans, including installment and peer-to-peer. Loan providers charge APRs of up to 35.99% and have terms of three to 72 months. 
Best Guaranteed Short-Term Loans
These networks can find you a short-term payday loan without a credit check. These loans are expensive, and you repay a single lump sum on your next pay date. But your credit history will play no part in your loan approval.
MoneyMutual has been arranging subprime loans without cost or obligation since 2010. You can submit a request for a payday loan that you repay on your next pay date. To prequalify, you must be 18 or older, a US citizen or permanent resident, and collect at least $800 monthly in wages or government benefits.
SmartAdvances.com partners with a network of direct lenders who may offer you a payday loan once you prequalify. You can review the loan terms, including interest rate, loan amount, and repayment period, without cost or obligation. If you accept a loan, expect the money to appear in your bank account on the next business day.
A lender on the CreditLoan.com network may fund a same-day payday loan if you apply early in the morning. The website welcomes consumers who need fast cash, and it only takes a few minutes to complete the loan request form and receive an instant prequalification decision. The lending process is far more convenient and secure than visiting a payday loan storefront.
BillsHappen® can instantly prequalify you for an online payday loan from its lender network. A payday lender requires full repayment in one lump sum on your next pay date, typically within four weeks. Your credit score isn't part of a payday lender's approval criteria to determine the loan amount and interest rate. You can receive cash in your bank account as soon as the next business day.
Other Guaranteed Approval Loans
The following loans feature easy approval even if your credit score is poor. In some cases, you can get your money in a matter of minutes.
9. Credit Card Cash Advances
Many credit cards offer cash advances that allow you to withdraw funds against your credit limit, either through an ATM or directly from a bank. This service usually charges higher interest rates than typical credit card transactions and may include additional fees.
Unlike credit card purchases, cash advances have no grace periods — you begin accruing interest on the transaction date. Your unused credit line determines the amount you can borrow, and some credit card issuers restrict the maximum cash advance.
Each cash advance will trigger a flat fee, typically 3% to 5% of the transaction amount. 
You can avoid ATM charges if you use an in-network machine; otherwise, expect to pay an additional fee. Your card issuer or the ATM owner may set withdrawal limits, but you can avoid ATM charges by getting the advance directly from a bank teller.

Credit card cash advances count as loans on your credit report and may impact your credit score. You should consider a cash advance as a last resort in emergencies because of its excessive cost and potential negative effect on your credit score.
10. Credit Union Payday Alternative Loans
Many federal credit unions offer Payday Alternative Loans (PALs) to members. These small, short-term loans serve as an alternative to high-cost payday loans. They are the best bad credit loans for consumers who want to borrow a modest amount for no more than a year.
The National Credit Union Administration designed PALs to provide consumers with the best bad credit loans. PALs are a more affordable and consumer-friendly option for people who might otherwise rely on payday loans in financial emergencies. 
PALs feature low interest rates and repayment terms of up to one year. You can borrow up to $2,000 with low fees, but you must be a credit union member to qualify. You can't roll over a PAL, which makes them safer than payday loans that permit repeated rollovers and can drop you into a debt spiral, possibly leading to bankruptcy.

PAL I loans require a one-month waiting period before a new credit union member can apply. PAL II loans do not have a waiting period. Credit unions also report your PAL payments to the credit bureaus to help you build credit.
11. Pawnshop Loans
Pawnshop loans are a type of secured loan that require you to put up a valuable item as collateral in exchange for a loan. These loans are usually small and short-term, typically requiring repayment within 60 days. Pawnshop loans, although expensive, can be a handy way to quickly get a small loan with no credit check.
The collateral you post is valuable, and can include a musical instrument, camera, gun, or jewelry. The pawnbroker will appraise the item and offer you a loan of 30% to 50% of its value. The broker will sell the item if you fail to repay the small loan by its due date.
Pawnshop loans typically charge APRs of 200% or higher. Pawn brokers do not report your payments to the credit bureaus, so you can't use these loans to build credit. You should only pawn items that you are willing to forfeit if you don't repay the loan.
12. Auto Title Loans
You can get an auto title loan if you are willing to put your vehicle up as collateral. To qualify, you must own the vehicle outright without any remaining loans. The car may need to satisfy certain age and mileage requirements.
These short-term loans (typically 30 days) may charge 300% or more. You can secure one quickly without a credit check, but you will forfeit your vehicle if you fail to repay the loan. The loan is typically 35% to 65% of the vehicle's value. The lender may tack on extra charges (i.e., origination, document, and late fees).

Some title lenders may allow you to roll your loan over if you can't repay it on time. A rollover adds fees to your owed amount and extends the due date. Before taking a title loan, be sure to know what you would do if the lender repossessed your car. 
What Is a Guaranteed Approval Loan?
"Guaranteed approval loan" suggests you'll get a loan regardless of your credit history. The term is misleading because no lender guarantees 100% approval of the loan applications it receives. 
In this article, we use the term to refer to a loan process in which the lender provides an instant decision and requires minimal paperwork. These loans may be available without a credit check, making them suitable for borrowers with a troubled credit history.
Although many of these bad credit loans are short-term, some have more extended repayment periods, including installment loans and PALs. Dealing with a trustworthy lender is essential due to the potential for predatory, deceptive, or fraudulent business loan practices.
How Do I Get a $1,000 to $2,000 Guaranteed Loan Online?
An excellent place to get a $1,000 to $2,000 online loan is through one of the reviewed loan-finding networks. You can visit any of the networks we mentioned to find a lender and submit a short loan request form.
The form will ask for relevant information, including the following:
Age: You must be 18 or older

Residence: You must be a US citizen or permanent resident

Income: You must collect at least the minimum acceptable amount through wages and/or government benefits

Debt: The form may ask you to describe your current debts

Housing costs: The amount you pay monthly for your mortgage or in rent

Bank account: You must provide your bank account and routing number, and the account must be active and in your name

Contact info: You must have a valid email address and phone number
You should instantly prequalify if you submit the required information because the loan-finding services have automated methods to verify data quickly. Assuming you successfully prequalify, the service circulates your online loan request to a network of direct lenders that will compete for your business.
The loan-finding service will either show you a list of links to direct lenders or transfer you to a lender's website. You can complete the application process by providing any additional data and permissions the lender requires. 
At this point, the lender may perform a credit check for an installment loan. Payday loans don't require a credit check. 
Upon loan approval, the lender presents you with a loan agreement and a funding time frame. The agreement states all of the loan terms, and you should review it carefully before adding your electronic signature.
If you agree to the loan terms, the funds will appear in your bank account, typically by the next business day.

The loan-matching services are free to use. Direct lenders may add origination fees and other charges to their loan offers. Repaying your loan on time is essential to avoid extra costs and damage to your credit score.
What Are the Easiest Loans to Get Approved For?
Secured loans are easier to qualify for than unsecured loans, especially if you have imperfect credit. You post collateral to back a secured loan, reducing the lender's risk of losing money if you default.
Many secured loans do not perform credit checks. Instead, the lenders place liens on your collateral, allowing them to seize your property without a court order if you fail to repay the loan. In other words, secured loans transfer risk from the lender to the borrower.
When you have bad credit, the lender may require over-collateralization (i.e., the value of your collateral exceeds the loan amount). This practice helps compensate the lender for collections and other costs should it have to seize your collateral.
Secured loans usually have lower interest rates, more flexible terms, and possibly higher limits. Besides the risk of property loss, the disadvantages of secured loans include the additional paperwork required to close the deal and the fact that some secured loans (i.e., auto and home loans) restrict how you can use the proceeds. 
How Do Installment Loans Compare to Short-Term Loans?
Each type of loan has features that distinguish it from other loan types. Here is a comparison of personal installment loans and short-term payday loans.
Installment Loans
A personal installment loan's terms typically run from two months to seven years or more. It is often an unsecured loan, although some lenders accept collateral. The maximum loan amount is higher than that for short-term loans.
The size of each installment payment is usually fixed for the life of the loan, as is the day of the month each payment is due. These features make installment loans easy to budget. Some lenders offer variable payments, which may be helpful in certain circumstances.
By getting a longer loan term, you can reduce the size of each installment so you don't bust your budget. But longer periods will cost you more in interest charges, all other things being equal.
The loan networks we have reviewed feature personal loans with APRs no higher than 36%. Your credit score helps determine the interest you'll pay and the maximum amount you can borrow. 
| Credit Rating | FICO Score | Estimated APR |
| --- | --- | --- |
| Bad/Poor | 300 – 579 | 28% – 36% |
| Fair/Average | 580 – 669 | 17% – 19% |
| Good | 670 – 759 | 13% – 16% |
| Excellent | 760 – 850 | 6% – 12% |
Average personal loan APRs by credit score.
Installment loan providers check your credit and report your payments to at least one major credit bureau. You can help or harm your credit score depending on your payment behavior.
Consumers often use personal installment loans to consolidate their debts. Debt consolidation can save you money if the installment loan's APR is below those of your outstanding loans and credit card balances. Additionally, consolidation lets you replace multiple monthly payments with a single payment, making it easier to budget and pay on time.
You want to avoid installment loans that charge a prepayment penalty should you wish to pay off the loan early. Also, be aware of any origination fees the lender charges upfront.
Short-Term Loans
The reviewed networks can find a short-term payday loan that you repay in a lump sum on your next pay date. Payday loan amounts seldom exceed $1,000, and their APRs typically range from 300% to 700% or more. 
You can get this type of short-term loan without a credit check, which helps account for the popularity of payday loans. 
Although you can get a same-day payday loan at a brick-and-mortar storefront, online payday loans are safer and more convenient, and you can have the money in your bank account by the next business day.
Because of their astronomical interest rates, it's best to use payday loans sparingly. 

You can roll over a payday loan if you can't repay it by the due date. In a rollover, the lender appends your interest to the loan principal, adds new charges, and resets the due date.
An occasional payday loan might not wreck your finances. Still, several sequential rollovers can cause your debt to explode and send you spiraling into a financial crisis that may end in bankruptcy.
How Do I Compare Guaranteed Loan Offers of $1,000 to $2,000?
Here are some guidelines to help you compare offers for $1,000 to $2,000 loans.
Verify the Lender
The first step is to verify that a loan offer originates from a legitimate lender. Check with your state government to see whether the lender has a license to operate in your state. 
Look for customer reviews and ratings and check for complaints with the Better Business Bureau. You must ensure that the lender discloses all fees and conditions upfront.
Check Interest Rates
Understand that the APR (Annual Percentage Rate) includes the interest rate and most fees. A lower APR usually means a better deal.
Some states have caps on interest rates for short-term and small loans. It's a good idea to research your state's laws to ensure a loan's APR complies with these regulations.
Evaluate Loan Terms
You should evaluate competing loan offers by comparing their terms:
Loan amount: Confirm that the loan amount is large enough for your requirements

Repayment period: An extended repayment period provides lower monthly payments, but you'll pay more interest over the life of the loan. Calculate the total amount you will repay, including interest and fees.

Payment frequency: Understand how often you will be making payments. If it's an installment loan, the frequency may be weekly, bi-weekly, or monthly. Payday loans require a lump sum repayment or a rollover to the next pay period.

Affordability: Make sure you can comfortably afford the loan payments given your current income and expenses
Understanding your loan terms now will avoid costly surprises later.
Additional Considerations
You'll want to look for hidden costs, including origination fees, overdue payment fees, and prepayment penalties. Some lenders require automatic withdrawals from your bank account. Consider whether you are comfortable with this setup. 
You may be interested in particular loan features, such as deferred payments, credit score monitoring, and responsive customer service. Consult with a financial advisor if you find it challenging to compare loans or understand their terms. Also, confirm everything in writing, so you can easily settle any disputes if they arise. 
How Can a Loan Help Me Build Credit?
A loan can only help you build credit if the lender reports your payments to at least one major credit bureau. Lenders that don't check your credit (i.e., payday, pawnshop, and title loan providers) generally don't report your payments. 
If you want to build or rebuild credit, stick to loans that report your payments, and ensure you pay your bills on time. Activity reporting is a two-edged sword: timely payments build credit, but delinquent payments hurt it.

Another credit-building habit is to keep your debt levels low in relation to your available credit (your credit utilization ratio) and your income (your debt-to-income ratio). Lenders may worry you are experiencing chronic financial problems when your debt remains high over extended periods.
Monitoring your credit scores and reports is essential when you are working to build credit. You can receive a free report once per year, but you may want to pay for more frequent credit report access. 
Check the reports for inaccurate information that may harm your score, including accounts you don't recognize or hard credit inquiries you didn't authorize. 
You can directly dispute erroneous, obsolete, and unverifiable items with the major credit bureaus. Your credit score will typically rise when you get a credit bureau to remove inaccurate or derogatory information.
Overall, developing creditworthy behavior should lead to a significant increase in your credit scores. 
How Can I Avoid Predatory Lenders?
It would be best if you dealt only with trustworthy lenders. First, ensure the lender has the proper licenses to do business in your state. You can find that information through your state's financial regulatory agency.
You'll next want to assess the services and reputations of the reviewed lenders. Look online for user comments — you can find them in forums and discussion websites. Third parties, such as the Better Business Bureau and TrustPilot, rate companies on their practices and share customer comments.

You can also develop a sense of what to look for in potentially fraudulent lenders. Pay attention to red flags such as pressure tactics, hidden fees, vague terms, and the lack of a written loan agreement. If your instincts tell you that there is something suspicious about the lender, find another one.
Federal and state agencies collect reports of potentially fraudulent behavior. You can contact the Consumer Financial Protection Bureau, the Federal Trade Commission, and even the Federal Bureau of Investigation if you feel victimized by a predatory lender. 
You can also file a complaint with your state attorney general's office. If you feel a fraudster has scammed you out of significant sums of money, you can institute a civil lawsuit or join a class action suit against the lender. But speak with a lawyer first to evaluate whether your complaints will likely hold up in court.
Borrow $1,000 to $2,000 With a Guaranteed Decision
A $1,000 to $2,000 loan can make a crucial difference when you face a financial emergency. When you need fast cash, you want a quick loan decision and rapid funding. 
The loan sources we've reviewed guarantee an instant decision and funding by the next business day if you are approved. Best of all, the reviewed lenders work with subprime borrowers and may approve a loan despite your troubled credit history.
24/7 Lending Group & Other Resources
We hope you've found our guide "12 Guaranteed Approval Loans: $1,000 to $2,000 (Sep. 2023)" to be helpful in meeting your financial needs. To learn more about 24/7 Lending Group, our top recommendation in this guide, be sure to visit the 24/7 Lending Group website for full details about the offer.
Our experts rate 24/7 Lending Group as one of the best options in personal loans for those with bad credit, giving it a 4.7/5.0 rating overall. Among its features:
Personal loans from $500 to $35,000
All credit types are considered and welcome
Simple, no credit impact form
Helping consumers since 2001
4.7 out of 5 Trustpilot rating with 2,000+ reviews!
For more resources similar to this "12 Guaranteed Approval Loans: $1,000 to $2,000 (Sep. 2023)" guide, see our other popular picks for those with bad credit:
Whether you choose 24/7 Lending Group or any other option in our personal loans category, be sure to read and understand the terms before signing up. You'll find that taking the time to fully understand personal loans is one of the smartest financial decisions you can make.
Advertiser Disclosure
BadCredit.org is a free online resource that offers valuable content and comparison services to users. To keep this resource 100% free for users, we receive advertising compensation from the financial products listed on this page. Along with key review factors, this compensation may impact how and where products appear on the page (including, for example, the order in which they appear). BadCredit.org does not include listings for all financial products.
Our Editorial Review Policy
Our site is committed to publishing independent, accurate content guided by strict editorial guidelines. Before articles and reviews are published on our site, they undergo a thorough review process performed by a team of independent editors and subject-matter experts to ensure the content's accuracy, timeliness, and impartiality. Our editorial team is separate and independent of our site's advertisers, and the opinions they express on our site are their own. To read more about our team members and their editorial backgrounds, please visit our site's About page.