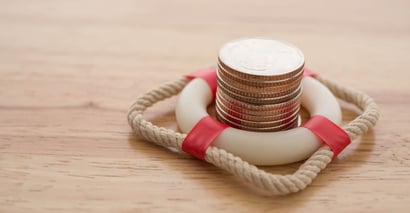 You may need emergency cash immediately for various reasons, such as medical expenses, home or car repairs, job loss, natural disasters, legal fees, family crises, or other unexpected expenses. 
That's why an emergency fund or savings account is vital to cover your next unexpected expense. If you don't have sufficient savings, you may need to consider other options, such as taking out a personal loan, using a credit card, or borrowing from friends or family. 
Bad credit can make it harder to borrow money quickly, so we've assembled a list of resources you can tap when emergencies strike, even when you don't have good credit. Consider the interest rates and fees associated with these options and only borrow what you can afford to repay.
1. Online Lending Networks
Online loan-finding networks are websites that connect borrowers with potential lenders. Many networks support rapid borrowing and can deliver emergency loan proceeds as soon as the next business day, even if you have bad credit.
Lender networks collect basic information from borrowers, such as their credit score, income, and loan amount, and then match the data with its direct lender candidates that may be willing to offer them a loan. 
The network will present you with a list of potential lenders and loan options, including interest rates, fees, and repayment terms. You can then review the options and choose the emergency loan that best fits your needs.
The following are our top-rated online lending networks:
+ See More Personal Lending Networks
Some networks may offer additional services, such as credit counseling or debt consolidation. Remember: Loan-finding services are not lenders themselves and do not actually provide loans. Instead, they act as intermediaries between borrowers and lenders, helping borrowers find potential lenders. 
When using a lender network, carefully review the terms and conditions of any loan offers and understand the fees and interest rates associated with a payday loan. It's also good to compare emergency cash loan offers from multiple lenders to ensure you get the best possible deal.
2. Storefront Payday Loans
Storefront payday loans are short-term loans you obtain from neighborhood payday lenders. These lenders provide urgent loans to individuals who need fast cash to cover emergency expenses or to make ends meet until their next paycheck arrives. 
Payday loans are also known as cash advance loans, check advance loans, or emergency cash loans.
To obtain a storefront payday loan, you may write a post-dated check for the loan amount plus fees. The payday lender agrees to hold the check until your next payday, at which time you can either redeem the check by paying the loan amount plus fees, or the lender will deposit the check to collect the funds. 
Alternatively, you can give the lender online access to your bank account. The lender will withdraw your payment on the due date. 
If you have insufficient funds, the lender will roll over the loan by adding fees and rescheduling payment for your next pay date. Multiple rollovers can lead to a cycle of debt where borrowers take out new emergency cash loans to repay previous ones, resulting in a never-ending cycle of debt and financial hardship that may lead to bankruptcy.

Storefront payday loans charge very high fees and interest rates. They're for people in a financial bind who cannot access credit from traditional lenders, such as banks or credit unions. 
Online payday loans, although no less expensive, are more secure and convenient since they don't require travel. Several of the reviewed networks provide online payday loans that deliver cash to your checking account the next day.
3. Cash Advance Apps
Cash advance apps are mobile applications that allow users to access small amounts of money before their next pay date. Nontraditional lenders, such as fintech companies, often provide these apps, which offer a quick and convenient way for users to access cash when needed.
To use a cash advance app, you link it to your bank account or debit card and provide information about your income and employment. The app then uses this data to determine your eligibility for a cash advance and the amount you can borrow (typically $100 to $500). 
Once the app approves the loan, it deposits the cash into your bank account or debit card within a few hours. 
Dave serves consumers who want to apply for short-term cash advance loans between paychecks. With a linked bank account, you'll receive direct deposit paychecks up to two days faster than a paper check in the mail. You can get up to a $100 cash advance at no extra charge.
EarnIn lets you link your checking account and electronic timesheet to receive quick direct deposit advances before payday. You can choose how much you want to pay for the service by leaving a tip, though a tip is not required. New users begin with a $100 maximum pay period advance, but you can increase your limit to $500 over time.
Possible can create your account and process your loan request in minutes. Qualified applicants can borrow up to $500 and repay on their next payday. Possible doesn't check your credit scores. Instead, it examines your work history and regular pay schedule to decide loan application outcomes.
Cash App lends money to eligible users. The app can lend eligible users $20 to $200 with a 5% flat fee and a four-week repayment term. There are no hidden fees. These urgent loans require a hard credit check that will appear on your credit report and may slightly impact your score.
Even members have saved more than $100 million by accessing the app's Instapay feature. The feature allows workers to get an advance on earned wages before payday. Members can access Instapay for free but Even may charge fees for a cash advance loan.
Cash advance apps often charge no fees or interest rates for loans. Some apps offer additional features, such as budgeting tools. The apps are a convenient way to access emergency cash if you qualify for a loan.
You can get an advance by providing the necessary bank account and earned wage information, living in a state that permits these apps, being 18 or older, and in some cases, meeting the app's credit requirements.
4. Credit Card Cash Advances
Credit card cash advances are short-term emergency loans that allow cardholders to withdraw cash from an ATM or bank using their credit card. These cash advances can be helpful in emergencies when you need money quickly, but they come with fees and high interest rates (up to a 36% APR), so you should use them cautiously.
To obtain a credit card cash advance, go to an ATM or bank branch and use your credit card to withdraw cash. The amount available for withdrawal is usually limited to a percentage of the credit card's available credit, and there is a fee (typically 3% to 5%) for each cash advance transaction.

In addition to the fee, credit card cash advances often have a higher interest rate than regular credit card purchases. Moreover, interest starts accruing immediately rather than after the card's grace period for purchases. This means that the longer you take to repay the cash advance, the more interest will accumulate. 
Have a plan to repay the advance as quickly as possible to avoid accruing additional interest.
5. Pawnshop Loans
Pawnshop loans are a type of short-term, emergency cash loan that requires you to use personal property as collateral to obtain funds instantly. To get a pawnshop loan, bring an item of value, such as jewelry or electronics, to a pawnshop. The pawnbroker appraises the merchandise and usually offers a loan based on some portion of its value (typically 30% to 50%).
If you accept the loan, the pawnbroker keeps the item as collateral and gives you the loan amount in cash. You then have a set amount of time, usually around 30 days, to repay the loan principal, interest, and fees. If you cannot repay the loan, the pawnbroker will keep and sell the item to recover the loan amount.
Pawnshop loans can be useful in an emergency when you need cash quickly but have poor credit or cannot obtain a bad credit loan from a traditional lender. But they have high interest rates and fees (i.e., 20% to 25% per month), and you risk losing your property if you cannot repay the loan.
6. Auto Title Loans
Auto title loans allow borrowers to use their vehicles as collateral for emergency loans. To obtain this kind of car loan, you must own a vehicle and provide the lender with the car's clear title, which the lender holds as collateral.
Title lenders offer loans based on a car's value, typically a percentage of its appraised selling price. If you accept the secure loan, the lender keeps the car title and gives you the loan amount in cash minus any upfront fees.
You have a set loan term to complete repayment, usually around 30 days, plus interest and fees. If you default on the car loan, the title lender may repossess your vehicle. Here is how a repo typically works:
Default: You may be in default if you fail to make a payment on an auto title loan. The loan agreement specifies how many missed payments trigger a default.
Notice: Once you're in default, the lender will send you a Notice of Default and may give you a chance to catch up on missed payments or work out a new repayment plan.
Repossession: If you fail to work out an acceptable arrangement, the lender can repossess the car. The lender will typically send you a Notice of Repossession, allowing you to surrender the vehicle voluntarily.
Recovery: If you don't surrender the car voluntarily, the lender can hire a repossession company to seize the auto. The repo agent may use a variety of tactics to locate and recover the vehicle, including towing it from your driveway or parking spot.
Sale: Once the lender has repossessed the car, it can sell it to recover the outstanding balance on the secured loan. The sale price may be less than the car's value, and you may still be responsible for any remaining balance on the bad credit loan after the sale.
Auto title loans charge high interest rates and fees (typically around 300% APR). Despite their cost and risk, they can provide subprime borrowers with needed funds in an emergency. 
7. Loans From Family and Friends
These loans let you obtain money from your personal network of family and friends. They can be a fast cash source if you're in a pinch and cannot get a loan from a traditional lender, but you must handle them with care to avoid damaging personal relationships.
When asking for a loan from a family member or friend, explain why you need the money and how you plan to repay it. You and the lender will negotiate loan terms, including the loan repayment period, interest rate (if any), and any other conditions, 
The terms for loans from family and friends can be more flexible than those for loans from traditional lenders, as family loan terms are often more personalized and can be adjusted to fit your needs. But approach these loans cautiously and treat them as seriously as you would emergency loans from a traditional lender.
You should have a clear plan for how you'll repay the loan. Remember to communicate openly with the direct lender throughout the repayment process.
One potential downside of loans from family and friends is that they can put personal relationships at risk if you cannot repay the loan or if there are disagreements about the loan terms. To avoid damaging personal relationships, be transparent about your financial situation, avoid borrowing more than you can realistically afford to repay, and communicate any problems as soon as they occur.
8. Payday Alternative Loans
Payday Alternative Loans (PALs) are small-dollar loans that many federal credit unions offer as an alternative to high-cost payday loans. PALs typically have lower interest rates and fees than payday loans do and provide a more affordable and manageable way to borrow emergency money.
You can use a PAL for any purpose. Unlike a payday loan, which is typically due in full on the borrower's next payday, a PAL is an installment loan with a longer repayment term, ranging from one to 12 months. A PAL II installment loan requires no waiting period for new credit union members.

Here's how PALs work:
Eligibility: To be eligible for a PAL, you must be a member of the credit union offering the loan. Some have open enrollment, but most credit unions have membership requirements, such as living or working in a particular area or belonging to a specific group or organization. You must also provide proof of income and demonstrate your ability to repay the loan.
Loan amount and terms: PALs offer loans that range from $200 to $2,000 and repayment terms that range from one to 12 months. The loan amount and duration may vary depending on the credit union and your creditworthiness.
Application: To apply for a PAL, complete an application and provide supporting documents, such as proof of income and identification. The credit union will review your application and make a decision based on your credit history, income, and other factors.
Loan approval and disbursement: If you receive loan approval for a PAL, the credit union will disburse the funds to you. It may deposit the funds directly into your account or provide you with cash or a check.
Repayment: PALs have lower interest rates (up to 28% APR) and fees (up to $50) than emergency payday loan charges and offer more flexible repayment terms. You must make regular loan payments, which the credit union will report to at least one major credit bureau to help you build credit.
Overall, PALs can be a more affordable and responsible way to borrow emergency money in times of financial need than traditional payday loans. But you should carefully review the loan terms and repayment schedule to ensure you can afford to repay on time.
9. Sell Items Online
If you're looking to raise cash quickly by selling items online, here are some tips to get started:
Choose a platform: There are many online platforms where you can sell items, such as eBay, Amazon, Facebook Marketplace, Craigslist, Listia, etc. Choose a venue that best suits your needs and target audience.
Take good photos: Good photos are essential for attracting buyers. Take clear, well-lit photos of your items from multiple angles and include any flaws or damage.
Describe the items: Write detailed descriptions of your items, including features, condition, and any other relevant information. Be honest and accurate in your description to avoid misunderstandings with potential buyers.
Price competitively: Research what similar items are selling for on the chosen platform. Price your item competitively to attract buyers, but don't undersell yourself.
Promote your listing: Promote your listing on social media, in local buy and sell groups, or in other relevant online communities. This approach can help increase your visibility and attract potential buyers.
Respond quickly: Respond promptly to inquiries from potential buyers to keep the momentum going. Be courteous and helpful, always willing to answer any questions they may have.
Ship promptly: Once you've made a sale, ship the item promptly and securely. Provide tracking information and keep the buyer updated on the shipping status.
Following these tips can increase your chances of selling items quickly and efficiently online.
Get Emergency Cash Right Away
Our review of emergency cash sources shows you have borrowing options, even if your credit is bad. Our top recommendation is to use an online lending network because it can find one or more willing lenders in minutes. Many of these direct lenders cater to subprime consumers and offer payday and personal loans that fund in as few as 24 hours.
Anyone can experience a financial emergency. Those who know how to respond have the best chance to limit damage to their wallets and their psyches.
Advertiser Disclosure
BadCredit.org is a free online resource that offers valuable content and comparison services to users. To keep this resource 100% free for users, we receive advertising compensation from the financial products listed on this page. Along with key review factors, this compensation may impact how and where products appear on the page (including, for example, the order in which they appear). BadCredit.org does not include listings for all financial products.
Our Editorial Review Policy
Our site is committed to publishing independent, accurate content guided by strict editorial guidelines. Before articles and reviews are published on our site, they undergo a thorough review process performed by a team of independent editors and subject-matter experts to ensure the content's accuracy, timeliness, and impartiality. Our editorial team is separate and independent of our site's advertisers, and the opinions they express on our site are their own. To read more about our team members and their editorial backgrounds, please visit our site's About page.