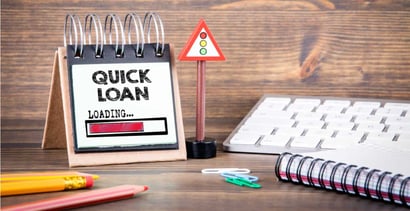 The concept of instant loans with online approval was a pipe dream only a few years ago. As financial technology rapidly progressed, the thought of waiting for a loan decision now seems antiquated.
But you may still have to jump through some hoops for loan approval if you have bad credit. If you're tired of playing those games, we have the information you need.
We've researched the best online lending networks that provide decisions within seconds and will allow you to complete your loan paperwork online and receive your money within 24 hours. Best of all, you can put your track shoes away because these networks won't have you jumping hurdles to get a loan.
Best Overall | Other Recommendations | FAQs
Best Overall Instant Loan With Online Approval
MoneyMutual remains the leader in quick loan approval for short-term loan products. That's what happens when you have dozens of lenders eager to compete for your business by providing a competitive interest rate and essentially instant approval.
The single form you submit to prequalify through the MoneyMutual network lands on the virtual desks of every partnered lender — each of which uses automated underwriting systems to make a loan decision in a matter of seconds.
Short-term loans up to $5,000
Online marketplace of lenders
Funds available in as few as 24 hours
Simple online form takes less than 5 minutes
Trusted by more than 2 million customers
| Loan Amount | Interest Rate | Loan Term | Loan Example |
| --- | --- | --- | --- |
| Up to $5,000 | Varies | Varies | See representative example |
Within minutes (and often seconds) of submitting your form, you could receive multiple short-term loan offers of up to $5,000. Once you choose a loan offer, the network will transfer you to the lender's website and complete the application and loan paperwork.
Once you've finalized the paperwork, the lender will wire your funds to a linked checking account or other bank account within one business day, making MoneyMutual a great option for an emergency loan if you're in a cash crunch.
More Instant Loans With Online Approval to Consider
A personal loan is one of the most important financial tools you can use to improve your life — and your credit score. They're a big deal in the loan industry because you spend the proceeds of the loan in any way you like.
Since these are unsecured loans, they're sometimes harder to qualify for. That's not an issue with the lending networks below, since each one partners with lenders that specialize in curating bad credit personal loans with affordable rates.
The 24/7 Lending Group works as fast as any other lending network — just answer a few questions about yourself to see whether you qualify for a loan offer from a direct lender. You may receive multiple offers with no obligation or cost.
See whether you qualify for a loan doesn't affect your credit score. This network is rated as "Excellent" on Trustpilot by more than 2,100 previous users of its service.
Loans from $500 to $10,000
Receive a loan decision in minutes
Get funds directly to your bank account
Use the loan for any purpose
| Loan Amount | Interest Rate | Loan Term | Loan Example |
| --- | --- | --- | --- |
| $500 to $10,000 | 5.99% - 35.99% | 3 to 72 Months | See representative example |
CashUSA requires borrowers to fill out an online form that takes less than five minutes to complete. Within minutes of submitting your loan request, you could receive an email with multiple loan offers — each with varying terms and conditions. You can complete your cash loan paperwork the same day and receive your funds by the next business day.
You must be 18 years or older, a U.S. citizen or permanent resident, and provide proof of earned wages of at least $1,000 per month after taxes to qualify. You must also have a bank account in your name in which you can receive your funds and schedule online payments, provide work and home phone numbers, and a valid email address.
BillsHappen is another lender network that specializes in connecting borrowers with instant cash loans as soon as tomorrow. The site uses SSL technology to keep your private information safe.
Once you submit the loan request, it may take up to one minute or longer to see whether you've been matched with a lender, so don't close or navigate away from the page after submitting the form. The loan proceeds can be used for any purpose you choose.
CreditLoan maintains a  large network of direct lenders that can instantly approve bad credit loans of up to $5,000. It's free to connect with a lender, but you will need a bank account to qualify.
You will receive an immediate response to your loan request. Money transfer times vary by lender and may depend on your bank.
Loans from

$500

to

$10,000

Get connected with a lender
Simple form & quick funding
Get your money as soon as next the business day, if approved
| Loan Amount | Interest Rate | Loan Term | Loan Example |
| --- | --- | --- | --- |
| $500 to $10,000 | 5.99% - 35.99% | 3 to 60 Months | See representative example |
Bad Credit Loans has partnered lenders available to review applications at any time of the day or night. No matter when you decide to submit your application, you can get a decision within minutes and begin completing the loan paperwork right away.
You must be 18 years or older and provide proof of citizenship — such as a Social Security number or proof of legal residency — to qualify. You must also provide proof of a regular income from full-time employment, self-employment, disability, or other government benefits, and have an active checking account in your name, work and home phone numbers, and a valid email address.
You may qualify for a personal loan as small as $500 or as large as $35,000 with PersonalLoans.com. Just keep in mind that lenders typically reserve the higher-end loans for applicants with good credit.
Aside from an online installment loan, some of the lenders associated with the PersonalLoans.com network will also offer revolving lines of credit. This is similar to a credit card in that you can reuse your available credit after you make payments.
What is an Instant Loan?
The internet age has altered a lot of things — including the popular definitions of some words. By definition, the word instant means immediate.
If you follow that definition, there would be no such thing as an instant loan. You can't submit an application and have the money in your account before the button on your mouse bounces back up.
Instead, instant loans provide near-instant loan decisions. In most cases, you can determine your loan application status within seconds.
With an instant approval loan, you can submit your prequalifying form to a lending network, including those listed above, and the network will then send your form to all of its partner lenders. Each direct lender uses an automated underwriting system to accept or decline your application.
If you receive multiple approvals for different loan amounts, the network will choose the two or three best loan offers and forward them to your email inbox. At that point, you can choose the loan offer you prefer.
The network will then forward you to your chosen lender's website, where you'll finalize your application and complete the rest of the loan paperwork. Once you've finished, the lender will transfer your funds to a linked checking account or other bank account.
Depending on when you finalize your loan (weekends and bank holidays can slow the process), you should receive your funds by the next business day.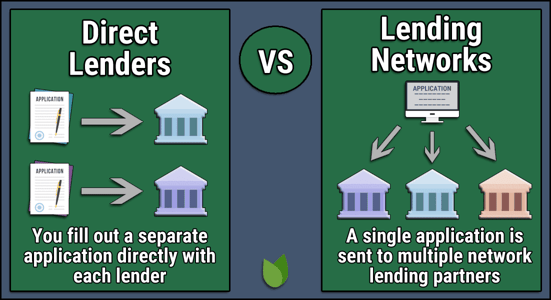 Some lenders make the process even faster, but it will likely cost you. Expedited processing and instant wire transfers can send your borrowed funds to your bank account within minutes of finalizing your loan. This process can get pricey though.
Transfer fees vary, with outbound transfers typically costing between $23 and $45. Your bank may also charge you to accept an instant wire transfer. Your lender may also tack on a service charge for the extra effort to wire the funds.
In all, you should expect to pay up to $100 to expedite your loan and have your funds the same day. So while the process may not technically qualify as instant, the most important part — your approval — happens very quickly.
How Do I Get Approved For a Loan Online?
Applying for an online loan is substantially easier than attempting to get a loan through a local bank or credit union. Plus, you don't have to dress up for the occasion.
And since there are so many lenders online, they need to compete for your business by offering better loan terms and more flexible acceptance standards. Many lenders specialize in working with consumers who have bad credit and need help finding loan options that work for them.
You can increase your approval odds by following a few simple steps.
Understand your credit history. This is more important than knowing your credit score. While your credit score is often the key that unlocks loan approval, your credit history is what makes up that key.
You can start by pulling your free annual credit report. This won't reveal your credit score, but it will give you insight into the good and bad items on your credit file that may help decide your score.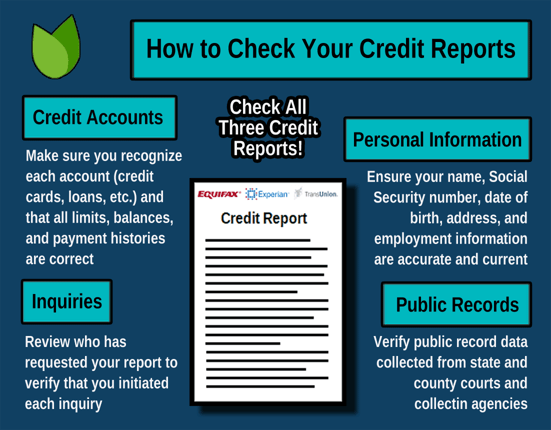 You should have no trouble finding an online lender that will work with your current credit situation. But if you blindly send out applications, you may find yourself doing more damage than good.
Every time you give a lender or credit card issuer permission to check your credit, the company conducts a hard credit check that gives them access to your credit report. These are also known as inquiries, and each inquiry lives on your credit report for two years.
A few inquiries are fine. But as you start to accrue several (the general rule of thumb is to keep your number at or below three), it can lower your credit score and lenders may see you as desperate for money.
The easiest way to prevent harming your credit score is to limit the number of applications you submit and only apply to lenders that work with your type of credit. You can also consider using one of the lending networks listed above. By using these services, your single application will reach several lenders without ever incurring an inquiry on your credit report.
Choose a lender and apply. Just about every online lending network offers a prequalifying form through a website or mobile application. These forms request basic information — your name, address, Social Security number, and how much you need to borrow.
The network will take that form and send it to all of its partner lenders. Each will examine your request and determine your eligibility.
Keep in mind this form is not a formal application. It simply allows the lenders to view a soft credit pull of your credit history that gives them a better idea of your financial situation. Even if you have bad credit, this process won't necessarily disqualify you.
Choose your lender wisely. You may receive multiple loan offers from different lenders on the network if you qualify. Examine each offer carefully because they're all unique and will have a different interest rate, loan term, and loan amounts.
Don't simply go with the loan offer that has the lowest monthly payment. Quite often, a lender can offer lower monthly payments by extending the loan term. So instead of paying the loan back in 24 months, you'll have 36 or 48 monthly installments of a lesser amount.
While that may be convenient in the present, it can cost you a lot more in the future. More payments mean more interest.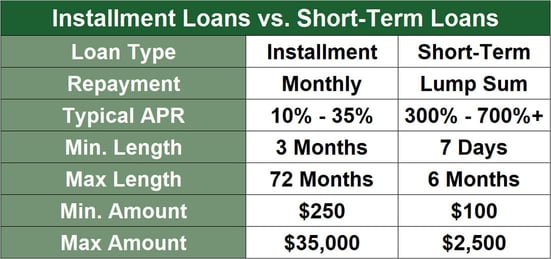 The longer you pay on a loan, the more it costs you. Consider loan offers with shorter repayment windows — if you can afford the monthly payment associated with the loan offer.
Prepare your formal application: Once you've chosen a loan offer, the lending network will transfer you to the lender's website. This is the last you'll deal with the network, as it is not a lender and operates on referral fees from partner lenders.
The lender's website is where you'll complete the application. Remember, you've prequalified for the loan, but that doesn't guarantee approval.
The lender has viewed your soft credit check, which includes a limited amount of information. But as long as the hard credit check doesn't reveal anything out of the ordinary, you should be good to go.
Make sure you're thorough in your application. When listing your income, lenders often allow you to include Social Security checks or other retirement or government benefits you receive. Child support payments typically qualify as income as well.
Also, be certain to submit accurate personal information. Even a small typo in your address, name, Social Security number, or another field could create delays in processing your application and jeopardize approval.
Follow up diligently. On occasion, a lender may require more information from you after you submit your application. This may be something as small as a proof of address or something like bank statements or current bills that show your credit card or other loan balances.
Respond to these requests as quickly as possible. The faster you respond, the faster the lender can process your application.
Your application can become buried under other applications if you take too long to respond. That means you may have to wait to finalize your loan — or, even worse, you can be denied for the loan due to lack of communication.
If you have bad credit and your credit score has you on the fence, responding quickly and professionally will also help you look good in the eyes of the lender. That can only help your cause if your loan application requires a gut decision from the lender.
Can I Get an Online Loan if I Have Bad Credit?
Many online lenders work specifically in the bad credit sector, meaning they have many loan options for consumers who have poor credit and a bad credit score from previous mistakes.
These loans often come at a higher cost, as the lender will charge a higher interest rate to offset the risk associated with a bad credit loan. Depending on your financial needs, the added cost may be worth it to pay your way out of a financial emergency.
There are instances in which your credit may keep you from getting a loan. FICO scores run on a range of between 300 and 850. If you fall in the extreme lows, around 300 to 400, your lending options may be limited — but not unachievable.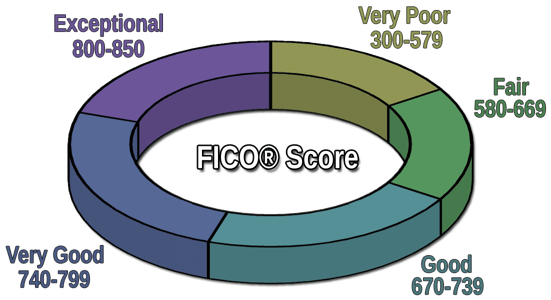 You'll also likely struggle to find a loan if you're in the middle of bankruptcy proceedings. If the court includes the new loan in your case, the lender won't receive repayment. Many lenders aren't willing to take that risk.
Many online lending networks, such as BadCreditLoans.com, have lenders that will consider extending loans to consumers who have recently discharged bankruptcy cases. These loans will charge the maximum allowable interest rates (typically around 35.99%) but can be a helpful tool when rebuilding your credit rating after a big financial hit.
Can I Get a Loan without a Credit Check?
Some lenders offer loans without a credit check, but the fees associated with these types of loans are quite high. These may not be your only option, though.
If you request a loan without a credit check, you're telling the lender you have very bad credit. That raises a red flag for any lender, whose goal is to minimize risks when extending loans.
Even if it's not a credit check, any lender will want some hard proof that you're able to repay a loan you receive. Most payday loan brokers, such as CashAdvance.com, will review your bank statements to look for regular direct deposits to qualify you for a loan.
But a cash advance short-term loan will require repayment in two weeks to 30 days. Add on a three-digit interest rate, and you can find yourself paying dearly for a small loan.

The MoneyMutual network of lenders also has options for income-based loans that require a thorough bank statement, but no credit check. These loans also have lower limits and higher fees, so be prepared for the cost before you apply.
Another option to consider is a soft credit pull loan.
As stated above, there are two different types of credit checks: a soft inquiry and a hard inquiry. A soft inquiry gives the lender access to your basic credit history — recent late payments, defaults, and personal identifying information. It does not include a credit score.
For some lenders, that information may prove enough to make a loan application decision. While a hard inquiry will provide more concrete details, you may have luck when finding a lender that is willing to take on the risk in search of a higher reward (through an increased interest rate).
You can also consider a pawnshop for a short term loan. These are considered secured loans because the item you're pawning acts as collateral should you not repay the debt.
A title loan, car loan, mortgage loan, or other collateral-backed loan are all types of secured loans. An unsecured loan won't require you to place an item of value as collateral.
Pawnshop owners and other lenders usually skip the credit check if your collateral has enough value. That's because they know they can sell your collateral and recoup their losses if you stop making payments on the loan.
Just remember that your collateral must have substantially more value than the amount you're borrowing. For example, a pawn shop will rarely lend you $1,000 for an item that's worth $1,000. To mitigate its risk, it typically wants at least 20% more value on your collateral than your loan amount.
So, if you're looking for a $1,000 loan, you should expect to provide collateral with a value of at least $1,250.
What Interest Rate and Fees Will I Have to Pay?
Every lending company has its own standards for setting interest rates. Interest rates vary by loan type and your credit score. The typical personal loan APRs are shown below:

Traditional payday loans will charge very high interest rates that average between 390% to 780%. And these rates can increase — and even multiply — if you do not repay your loan within the agreed-upon time frame of 15 or 30 days.
Online loans, including those from any of the lending networks listed above, must adhere to state usury laws. That means they can only charge a certain amount in interest based on where you live. In most cases, those limits fall between 7.95% and 35.99%.
These laws only dictate interest charges and do not include other charges a lender can add on when processing your application. You may still find an origination fee or other processing fee tacked onto your loan.
These charges cover the cost the lender incurs to fund your installment loan and finalize the loan agreement. In some cases, the fee will show up as a set amount. In most cases, you'll pay a percentage of your loan total — typically between 1.5% and 8% — as an extra setup fee.
Sometimes, a loan company will roll the fee into your loan total, and others may deduct it from your loan payout. On occasion, a lender may require the fee be paid in cash, check, money order, or debit card before the loan closes. Be sure to check with your online lender before you apply so you know their origination fee policy and how it collects the money.
Can I Get an Instant Loan from a Credit Union?
If you meet certain qualifications, you can apply for a short-term loan from your local credit union. Payday Alternative Loans (or PALs) were designed by the National Association of Federally Insured Credit Unions (NAFCU) to keep consumers from turning to a payday lender and a costly cash advance loan.
The first version of this program provided loan options of between $200 and $1,000. An updated version, known as PAL II, began in December 2019 and extended the maximum loan amount to $2,000 with no set minimum.


Not every credit union provides these loans. Some still only offer the lower maximums required through PAL I. To qualify for the loan, you must also meet a few requirements and the bank must follow certain guidelines that include:
The borrower must have an active account at the credit union for at least six months.
A credit union can only extend one PAL to a member at a time and no more than three PALs during a six-month period.
A credit union can charge no more than 28% interest on a PAL, far less than an online payday loan.
If you think you qualify for a PAL, contact your local credit union to see if it participates in the program. If so, you may be able to apply online or in person at a local branch.
Compare Instant Loans with Online Approval
No one wants to jump through hoops when applying for a loan. If you have bad credit, you may think lenders will give you the runaround and only let you down in the end.
But many instant loans with online approval not only accept applicants who have bad credit, but the lenders will also work with you to create fast loans that meet your financial needs without breaking your budget.
The lender will also report your payment history to each major credit bureau. This means your loan can help you get out of a financial jam and boost your credit score when you make on-time payments.
Advertiser Disclosure
BadCredit.org is a free online resource that offers valuable content and comparison services to users. To keep this resource 100% free for users, we receive advertising compensation from the financial products listed on this page. Along with key review factors, this compensation may impact how and where products appear on the page (including, for example, the order in which they appear). BadCredit.org does not include listings for all financial products.
Our Editorial Review Policy
Our site is committed to publishing independent, accurate content guided by strict editorial guidelines. Before articles and reviews are published on our site, they undergo a thorough review process performed by a team of independent editors and subject-matter experts to ensure the content's accuracy, timeliness, and impartiality. Our editorial team is separate and independent of our site's advertisers, and the opinions they express on our site are their own. To read more about our team members and their editorial backgrounds, please visit our site's About page.