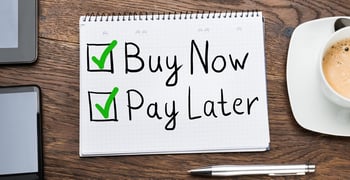 Emergencies happen — cars sputter, pipes leak, appliances break — and fixing these unpleasant surprises rarely comes cheap. If you have a big expense that's due now, but don't have the money to replace or service an item, you may want to look at options for buy now, pay later. Bad credit certainly won't improve your chances of getting approved for a loan or credit card when you're in one of these tight spots, but it's not a deal breaker either.
We've researched the various buy now, pay later options available and categorized our list of the best lenders and retailers so you can find one that specializes in the type of financing you need.
Cash Loans | Auto Loans | Credit Cards | Stores | FAQs
"Buy Now, Pay Later" Loans for Bad Credit
Personal loans provide more flexibility than any other kind of loan. That's because these loans won't place restrictions on how you use the money you borrow. Once the lender deposits the money into your bank account, you choose how to spend it.
That's not the case with more specific loans, like an auto loan. Our top bad credit lenders below are loan marketplaces, meaning you won't borrow money from that company, but rather from one of the many partner lenders within its marketplace.
Most marketplaces require you to fill out one preliminary loan application, which the company then shops to its partner lenders. Depending on your loan needs and credit history, you could receive multiple loan offers to choose from, or just the best match. Many approved loans offer payouts to a bank account within 24 hours.
Short-term loans up to $5,000
Online marketplace of lenders
Funds available in as few as 24 hours
Simple online form takes less than 5 minutes
Trusted by more than 2 million customers
Not available in NY or CT
| Loan Amount | Interest Rate | Loan Term | Loan Example |
| --- | --- | --- | --- |
| Up to $5,000 | Varies | Varies | See representative example |
Loans from $500 to $10,000
Receive a loan decision in minutes
Get funds directly to your bank account
Use the loan for any purpose
| Loan Amount | Interest Rate | Loan Term | Loan Example |
| --- | --- | --- | --- |
| $500 to $10,000 | 5.99% - 35.99% | 3 to 72 Months | See representative example |
Quick loans up to $5,000
Submit one form, get multiple options
All credit ratings welcome
Requires bank account and SSN
As seen on CNN, FoxNews, and others
| Loan Amount | Interest Rate | Loan Term | Loan Example |
| --- | --- | --- | --- |
| $500 to $5,000 | Varies | Varies | See representative example |
Since each loan marketplace partners with several lenders, each loan will come with varying terms and conditions. Before you accept a loan, study the fees, interest rates, and potential penalties associated with every offer so you can get the best loan terms for your needs.
"Buy Now, Pay Later" Auto Loans for Bad Credit
Cars are a necessity for many people in today's sprawled-out cities and towns. Public transportation can't always get you where you need to go, and if you have a long commute to work, you likely need your own ride to earn a living.
Lending Tree found that Americans originated 27 million auto loans in 2018, more than any other year on record. And since there's such a high demand for auto loans, the competition has many lenders considering applications they may not otherwise approve.
As with the personal loans listed above, our top auto loans for bad credit are lending marketplaces — meaning they shop your preliminary application to a network of partner lenders and could return multiple loan offers to choose from.
Network of dealer partners has closed $1 billion in bad credit auto loans
Specializes in bad credit, no credit, bankruptcy and repossession
In business since 1999
Easy, 30-second pre-qualification form
Bad credit applicants must have $1500/month income to qualify
| Interest Rate | In Business Since | Application Length | Reputation Score |
| --- | --- | --- | --- |
| 3.99% - 29.99% | 1999 | 3 minutes | 9.5/10 |
Free, no-obligation application
Specializes in auto loans for bankruptcy, bad credit, first-time buyer, and subprime
Affordable payments and no application fees
Same-day approval available
Connects 1000's of car buyers a day with auto financing
| Interest Rate | In Business Since | Application Length | Reputation Score |
| --- | --- | --- | --- |
| Varies | 1994 | 3 minutes | 9.0/10 |
Loans for new, used, and refinancing
Queries a national network of lenders
Bad credit OK
Get up to 4 offers in minutes
Receive online loan certificate or check within 24 hours
| Interest Rate | In Business Since | Application Length | Reputation Score |
| --- | --- | --- | --- |
| Varies | 2003 | 2 minutes | 7.5/10 |
If you're struggling because of your credit score, an auto loan could help you improve your current financial standing with continued on-time payments. Credit scoring agency FICO bases 10% of your credit score on your current credit mix. Lenders want to see that you can responsibly manage many different types of loans — and auto loans are among the most common in a consumer's credit mix.
 "Buy Now, Pay Later" Credit Cards for Bad Credit
As Americans continue to shop online in large numbers, and many more choose to pay their monthly bills using plastic, the need for a good buy now, pay later credit card only grows.
Credit cards not only allow you to shop online and pay your bills, but they can offer emergency funding when you're in a financial pinch. A good credit card, like our top choices listed below, will also report your payment history to the three major credit reporting bureaus. This means you can use the card to improve your credit score with responsible usage.
All credit types welcome to apply!
Free access to your Vantage 3.0 score From TransUnion* (When you sign up for e-statements)
Initial Credit Limit of $300 – $1,000* (subject to available credit)
Monthly reporting to the three major credit bureaus
See if you're Pre-Qualified without impacting your credit score
Fast and easy application process; results in seconds
Free online account access 24/7
Checking Account Required
| Application Length | Interest Rate | Reports Monthly | Reputation Score |
| --- | --- | --- | --- |
| 9 Minutes | 24.99% - 29.99% (Variable) | Yes | 8.5/10 |
Easy pre-qualification process with fast response
Less than perfect credit is okay
Online servicing available 24/7 at no additional cost
Unsecured credit card, no security deposit required
Account history is reported to the three major credit bureaus in the U.S.
| Application Length | Interest Rate | Reports Monthly | Reputation Score |
| --- | --- | --- | --- |
| 8 Minutes | 24.9% | Yes | 8.0/10 |
Move money from your PayPal account to fund your prepaid card account.
Earn cash back and personalized offers, just for using your card.
With Direct Deposit, you can get paid faster than a paper check.
Card issued by The Bancorp Bank, Member FDIC. Card may be used everywhere Debit Mastercard is accepted.
Click PayPal Prepaid Mastercard® for additional features & program details, and to request a Card.
| Application Length | Interest Rate | Reports Monthly | Reputation Score |
| --- | --- | --- | --- |
| 8 minutes | N/A (Prepaid) | No | 9.5/10 |
No two credit cards are the same. Each card issuer sets different interest rates, fees, and penalties for cardholders. Many cards have varying fees that depend on the cardholder's credit history and verifiable income information.
Before you add a new credit card to your wallet, make sure you understand exactly how much you'll have to pay for the credit and how it will affect your monthly budget.
"Buy Now, Pay Later" Retail Stores
Most everyone has a favorite shop or brand they remain loyal to over the years. Whether it's a type of car, a clothing store, or kitchen appliance, having a go-to manufacturer gives you peace of mind and some dependability when making a purchase.
But staying loyal can sometimes come with a price. If you need to replace lost or broken items or furnish a new home or business, sticking to one brand can get expensive. That's why many retailers offer their own branded credit cards or credit accounts that allow you to make the purchases you need and pay your bill over time.
These accounts only work at the specified retailer, so make sure you regularly shop at the business before adding an account to your credit profile.
Easy application! Get a credit decision in seconds.
Build your credit history – Fingerhut reports to all 3 major credit bureaus
Use your line of credit to shop thousands of items from great brands like Samsung, KitchenAid, and DeWalt
Not an access card
| Application Length | Interest Rate | Reports Monthly | Reputation Score |
| --- | --- | --- | --- |
| 5 Minutes | See issuer website | Yes | 9.0/10 |
The Fingerhut Credit Account is a great option for anyone with poor credit who needs a few items they can buy now and pay for later. This card is one of the easiest cards to be approved for, making it our top buy now, pay later credit line.
11. Montgomery Ward
Montgomery Ward's founder, Aaron Montgomery Ward, started the company in 1872 as a mail-order dry goods business in Chicago. Over the next several decades, the company expanded into brick-and-mortar retail locations and became the third-largest department store chain in America.
Today, Montgomery Ward offers quality merchandise at deep discounts online. The Ward's Credit Account makes it easy to purchase the items you need and pay for them over time. And since your credit comes directly from Ward's — and not from a lending bank — you won't find third-party fees or other hidden charges on your monthly bill.


Monthly payments as low as $10
Increase your credit line with responsible use
No third-party fees or hidden charges
Instant access to your credit line upon approval
Ward's boasts that its revolving line of credit offers payments as low as $10 a month, which makes your purchases affordable and easy to manage. You can apply for an account through the link above or during checkout while making an online purchase at Wards.com.
12. Zebit
Zebit sources name-brand goods at wholesale prices and passes the savings onto its customers. With a ZebitLine account, you can purchase from the online retailer and pay no interest on purchases of $2,500 or less. That perk alone can save you hundreds of dollars in fees compared to personal loans and credit cards.
Zebit uses your income and employment information to determine credit eligibility, which means you won't have to undergo a credit check for approval. Once approved, you can instantly access your credit line to make purchases.


Up to $2,500 of interest-free credit
No credit check required for approval
The online application takes only minutes to complete
Instant access to your credit line upon approval
Zebit does not report your information to the credit bureaus, so your on-time payments won't work to improve your credit score. That's one of the only downfalls of this program that allows you to make purchases without paying the stiff interest rates that many consumers who have bad credit often face.
Retail credit lines can allow you to purchase many types of items — often at discount prices — without having to immediately pay at the register. Some retail accounts come with higher interest charges, though, so read the fine print on any application before submitting it.
What is Buy Now Pay Later?
The buy now, pay later industry continues to get bigger every year. But there are different types of buy now, pay later plans. The most popular is a traditional credit card, which allows you to make purchases with any retailer or service provider that accepts the card.
The card lets you complete your purchase and pay off the total cost over time in monthly installments. Once you pay off part of your debt, you can then reuse that part of your credit line again. Banks refer to this as a revolving credit line.
Some merchants extend single-use credit that you can use to make a one-time purchase. But once you pay the credit off, you cannot use it again. You can often find this type of credit at specialty stores, such as furniture or appliance dealers. They're essentially a one-time loan you pay off in monthly installments.
This type of credit differs slightly from a traditional loan because you don't always have to use your entire approved credit amount to make a purchase. For example, if you take out a loan for $2,000, you receive that exact amount (minus any origination fees or other charges) when the loan closes. You must then pay back however much you borrow, plus interest charges.
With one-time use credit lines, a retailer may approve you for a certain amount of credit, but you aren't required to use it all. You can receive a $2,000 credit line but use only $800 to buy a couch. In that case, you're only required to pay back the portion of the credit that you use.
The type of buy now, pay later credit you'll need will depend on your desired use for the credit and how much debt you can realistically take on. Few lines of credit come with no interest charges (and the ones that do usually require good credit to qualify), so make sure you factor in those costs when determining if you can afford a buy now, pay later loan.
Does Buy Now, Pay Later Affect Your Credit Score?
Your current debt load accounts for nearly a third of your credit score. When you take out a loan, your overall debt increases, which could lessen your credit score. Any decrease you see will disappear over time as you make on-time payments and pay down your total balance.
On the other hand, a new loan can increase your credit mix. Lenders like to see that you can responsibly manage multiple loan types, so this could work in your favor.
Other types of loans — mainly revolving credit cards — can give an instant boost to your credit score. That's because adding a new credit line improves your credit utilization. Lenders calculate your credit utilization by dividing your current credit card balance by your overall credit limit.
For example, a credit card with a $2,000 limit and a $500 balance has a 25% utilization rate. Your credit score improves when you keep this number low.


So, when you add a new credit card, you're expanding the amount of available credit at your disposal. As long as you don't run up several charges on your new card, you will lower your utilization and improve your credit score.
That's not to say that one form of credit is better than others. Any credit line can improve your score when you make on-time payments and reduce your balance. Lenders make money by lending money, so they don't want to punish you for taking out loans.
You'll improve your chances of future credit approval when you use your credit responsibly.
What is No-Credit-Check Financing?
Most credit lines rely on banks to fund your transactions. When you use a credit card to make a purchase, the card's issuing bank sends the money to cover your purchase to the retailer or service provider. The bank is essentially loaning you the money, which you agree to pay off — often with interest.
Since a bank loans you the money, it wants to make sure you can repay the loan. That's why you typically must pass a credit check to get approved for a loan.
Not all merchants use banks to fund their credit lines. Some retailers, such as Zebit, simply loan you the money themselves. So, when you pay your bill, you aren't paying the bank, but rather the actual store.
Many service providers have similar bank-free credit lines. Your plumber, mechanic, or handyman may allow you to pay for their services over time.
Since you aren't dealing with banks in these cases, merchants can use their own means to decide whether to extend you credit. That often means you won't have to pass a credit check for approval.
The merchant may want to see verifiable employment and income information. This could be pay stubs, tax returns, or another form of proof that you can repay the debt.
This can greatly work in your favor if you have bad credit. Quite often, lenders charge consumers with imperfect credit higher interest rates or require an upfront deposit to secure the loan. If you're approved for no-credit-check financing, you'll often pay the same fees and charges as everyone else.
The only downfall for this type of financing is that it typically won't help your credit score. When you make payments on a traditional loan or credit card, the lender reports your behavior (both good and bad) to the credit reporting bureaus, which affects your credit report. This often doesn't happen with no-credit-check financing.
Obtain Low, Manageable Payments for Your Favorite Items
Buy now, pay later financing can help increase your purchasing power and improve your credit score at the same time. But not every loan offer is the same.
Depending on your credit history and the type of loan you accept, you may have to pay higher fees and interest rates — or maybe no fees at all. That's why it's so important to study the best buy now, pay later options for bad credit before signing on the dotted line and accepting a loan.
Advertiser Disclosure
BadCredit.org is a free online resource that offers valuable content and comparison services to users. To keep this resource 100% free for users, we receive advertising compensation from the financial products listed on this page. Along with key review factors, this compensation may impact how and where products appear on the page (including, for example, the order in which they appear). BadCredit.org does not include listings for all financial products.
Our Editorial Review Policy
Our site is committed to publishing independent, accurate content guided by strict editorial guidelines. Before articles and reviews are published on our site, they undergo a thorough review process performed by a team of independent editors and subject-matter experts to ensure the content's accuracy, timeliness, and impartiality. Our editorial team is separate and independent of our site's advertisers, and the opinions they express on our site are their own. To read more about our team members and their editorial backgrounds, please visit our site's About page.