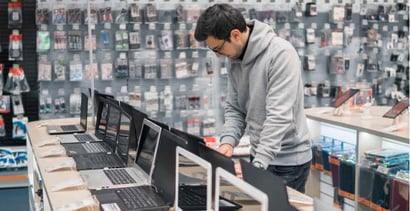 Computer financing with bad credit can make owning a computer possible with low payments that, if paid on time, could improve your credit score.
That's a big upside for someone with bad credit. And so is owning a computer, or at least renting or leasing one, since a computer is practically an essential item at home and can make working from home possible.
If you can't buy a computer with cash, you have options, including taking out a personal loan, leasing one, rent-to-own companies, and using credit from a retailer that sells computers.
Personal Loans | Store Financing | FAQs
Personal Loans For Computer Financing With Bad Credit
A personal loan can be a good way to finance a computer if you have bad credit because it's usually much cheaper than other options for people with a low credit score. The companies we recommend below specialize in helping you find the best personal loan you can use to purchase a computer.
Short-term loans up to $5,000
Online marketplace of lenders
Funds available in as few as 24 hours
Simple online form takes less than 5 minutes
Trusted by more than 2 million customers
| Loan Amount | Interest Rate | Loan Term | Loan Example |
| --- | --- | --- | --- |
| Up to $5,000 | Varies | Varies | See representative example |
MoneyMutual offers cash advances through its online marketplace. You start by filling out a simple form in about five minutes, and MoneyMutual sends it to lenders that may be able to provide you with financial assistance.
You will receive an approval decision in minutes and the money can be direct deposited in your account in as little as 24 hours.
24/7 Lending Group can help you connect with a lender willing to fund your loan so you can buy a computer.
You can easily compare loan offers after submitting its quick form, so you can choose the offer with the lowest rate and terms that best accommodate your budget.
CashUSA.com can help you get a personal loan of up to $10,000, though a computer obviously won't cost that much.
Interest rates from its network of lenders range from 5.99% to 35.99%, and loan terms vary from 90 days to 72 months. CashUSA gives the example of borrowing $1,500 over two years at a 7.9% APR. The 24 monthly payments would each be $67.77 for a total amount payable of $1,626.54.
CreditLoan.com specializes in helping people with low credit find small loans of $250 to $5,000, which should be more than enough to buy a good computer.
Making monthly payments on time on a personal loan can improve your credit score. Instead of using a credit card and increasing your credit utilization rate, a loan will diversify a credit mix.
BadCreditLoans.com also works with lenders that provide loans at 5.99% to 35.99% APR. The site does a good job of explaining the financing process, but its explanation of how the annual percentage rate, or APR, affects a loan is especially clarifying.
Borrowing $2,000 for 12 months at 19.99% APR means a monthly payment of $183.63. The total repayment is $2,203.56, which can make buying a computer affordable.
Store Direct Computer Financing for Bad Credit
If you want to skip the middleman of being approved for a personal loan you can work directly with retailers that sell computers and offer bad credit financing options. These include rent-to-own computers and leasing programs, as well as buying directly from stores that sell computers.
6. Zebit
Zebit is another lease-to-own program that may approve you for up to $1,500 so you can shop for the computer you need. Zebit allows you to "buy now" and pay over six months.
It says that "Most approved customers qualify for an initial Spending Limit of $750-$1,500." Approval is dependent on your creditworthiness, but good credit is not required for approval.
Zebit will verify your identity, income, and/or employment to determine your initial spending limit. Zebit requires a down payment at the time of purchase, usually 25% to 35% of the purchase price. Simply click on "Electronics" from the homepage, then "Computers" to see the many options available.
7. FlexShopper
FlexShopper offers a lease agreement for many types of computers it sells, and a weekly payment with an option to buy it can make it affordable.
The lease term can be ended after seven to 29 days, depending on which state you live in. Or you can continue making payments until it is paid for and you own the computer. An early purchase option is also available. Flexshopper offers laptops, computers, and tablets, including Apple products.
8. Best Buy Progressive Leasing
Best Buy offers a progressive leasing program that gives customers the chance to rent or buy technology, including computers. Its lowest monthly payment option is to lease a computer for 12 months. The other options are to buy it after 90 days of lease payments, or an early buyout with a significant discount on the remaining lease amount.
For example, suppose you signed a lease for a $1,000 computer and agreed to make payments every two weeks. Your recurring biweekly payment would be $77.41 for 12 months.
The leasing cost would be $1,090, which is added to the retail cost of $1,000 for a 12-month lease-to-own total of $2,090. If you wanted to buy it under the 90-day early purchase option, the total cash price would be $1,000.
9. Montgomery Ward
Montgomery Ward offers buy now, pay later financing through Wards Credit so you can buy a computer and start using it right away. It isn't a layaway program — the products you buy are sent to you immediately and your first monthly bill will be mailed within five days of your order being shipped.
Montgomery Ward Credit is open-ended, meaning there aren't a fixed number of payments. The credit is revolving, which means your available credit increases and decreases based on your credit limit, how much you've bought, and how much you have paid.
Wards Credit can help you improve your credit score by making regular on-time payments.
Can I Finance a Computer With Bad Credit?
Yes, computer financing is available if you have a bad credit report. Unlike a home mortgage or bad credit car loan, this type of financing is for a lot less money.
It can also come with a higher interest rate than if you had good credit and were borrowing from a traditional lender, such as a bank or credit union. You can see the typical personal loan APRs for someone who has bad credit below:


The financing costs for someone with a poor credit history can be high, so ask yourself if it's worth paying those extra costs before agreeing to a loan. If it helps you find a job and maybe even work from home, then a credit check and the financing costs are probably worthwhile.
And, as we've shown, a personal loan isn't your only option for making periodic payments if you have a low credit score. You can also make a lease signing agreement that allows you to rent a computer for a few months before deciding whether you want to use the option to buy it early or make timely payments until you own it.
How Does Computer Financing Work?
A personal loan is pretty straightforward. Apply for a loan through the lender networks we've recommended above. These lenders specialize in helping people with a poor credit score get a loan term they can live with.
Another option is to buy a computer directly from a store and do the financing through the seller. But this can be much more expensive than a personal loan.
Leasing a $1,000 computer for a year may cost you double that amount when the lease fees are added to the original price. Borrowing $2,000 through a personal loan for a year at a 20% interest rate costs only about $200 in interest.
Store direct computer financing, such as that offered by Flexshopper, avoids having to get a loan and the computer can be paid for directly with the seller's finance department. Store financing also offers a weekly payment option that can make a computer affordable. Payments are spread out over a period and the computer is all yours when it is paid off.
Some plans allow you to buy the computer outright for the original cost after leasing for about a month or so. This can save you a lot of money on leasing costs.
Some plans let you buy a computer through its in-house credit program. Wards charges its credit users 5.75% to 25.99% APR, depending on their credit score. You can treat this financing as you would a credit card and pay more than the minimum monthly amount due on time and aim to pay it off as quickly as you can.
Can I Finance an Apple Computer With Bad Credit?
All but one of the financing methods we've listed allow you to finance an Apple computer. Both Best Buy and FlexShopper sell and lease Apple computers — Wards does not. It instead offers financing for nine other brands of computers, but not Apple.
Apple's in-house financing option is the Apple Card, which only approves applicants with good or better credit.
The beauty of a personal loan is that it can be used for just about anything. This means you can take out a personal loan through any of the networks mentioned above, head to your nearest Apple retailer, and choose the computer of your dreams.
You'll then make direct payments to the lender that approved your loan, usually monthly, and may even improve your credit score with timely payments.
Can I Finance a Laptop With No Credit?
Yes, all of the types of financing we've reviewed allow laptop financing with limited or no credit history. Having no credit is different than having bad credit, and someone with bad credit will generally face tougher lending requirements than someone with no credit.
No credit means you have no credit history. You're building credit from scratch, which can be easier than rebuilding credit. College students and people starting their first jobs are most likely to have no credit.
Bad credit is the result of making credit mistakes. Paying bills late or using too much credit can lower a credit score, making it difficult to qualify for future credit. Overcoming a poor credit history isn't impossible, but it takes time.
Can a Credit Union Help Me Finance a Computer?
Loan terms and amounts vary by credit union, but if you're a member of one, it's worth looking into because credit unions offer good rates on personal loans.
Some credit unions offer technology loans specifically for financing smartphones, tablets, laptops, computers, and the like. These loans charge much lower rates than you'd receive with a personal loan or credit card for bad credit.
Credit unions are nonprofit institutions owned by their members, which means its profits are returned to members through lower rates on loan and credit products. A small loan for a computer is possible, even for credit union members with subpar credit.
Does Financing a Computer Build Credit?
It may, depending on the financing option you choose. A personal loan will report your loan to the credit bureaus, which means on-time payments will help you build your credit. Whether you choose a loan from any of the recommended networks above or a credit union, your payments will be reported to help you build credit over time.
Of the store financing options listed above, Wards and Snap Finance report your account to the bureaus to help you build credit with positive repayments. FlexShopper and Progressive leasing do not — unless you fail to repay. They will then report the written-off account to the bureaus which will negatively affect your credit scores, but they cannot help improve your scores with on-time payments.
If you want to build credit, be sure to choose a financing option that reports to the credit bureaus.
You Have Several Options For Financing a Computer With Bad Credit
Computer financing with bad credit isn't as difficult as you may think. A computer isn't as big of a purchase as a car or home, of course, but it's a big enough expense and often necessary in everyday life to make financing it worthwhile.
Options include a personal loan, buying directly from a computer seller or lease program, and using a retailer's credit program to finance it. With on-time payments and sufficient income to make them, you can purchase a computer and have it in your hands quickly — all while rebuilding your credit in the process.
MoneyMutual & Other Resources
We hope you've found our guide "9 Computer Financing Loans for Bad Credit (Sep. 2023)" to be helpful in meeting your financial needs. To learn more about MoneyMutual, our top recommendation in this guide, be sure to visit the MoneyMutual website for full details about the offer.
Our experts rate MoneyMutual as one of the best options in personal loans for those with bad credit, giving it a 4.8/5.0 rating overall. Among its features:
Short-term loans up to $5,000
Online marketplace of lenders
Funds available in as few as 24 hours
Simple online form takes less than 5 minutes
Trusted by more than 2 million customers
For more resources similar to this "9 Computer Financing Loans for Bad Credit (Sep. 2023)" guide, see our other popular picks for those with bad credit:
Whether you choose MoneyMutual or any other option in our personal loans category, be sure to read and understand the terms before signing up. You'll find that taking the time to fully understand personal loans is one of the smartest financial decisions you can make.
Advertiser Disclosure
BadCredit.org is a free online resource that offers valuable content and comparison services to users. To keep this resource 100% free for users, we receive advertising compensation from the financial products listed on this page. Along with key review factors, this compensation may impact how and where products appear on the page (including, for example, the order in which they appear). BadCredit.org does not include listings for all financial products.
Our Editorial Review Policy
Our site is committed to publishing independent, accurate content guided by strict editorial guidelines. Before articles and reviews are published on our site, they undergo a thorough review process performed by a team of independent editors and subject-matter experts to ensure the content's accuracy, timeliness, and impartiality. Our editorial team is separate and independent of our site's advertisers, and the opinions they express on our site are their own. To read more about our team members and their editorial backgrounds, please visit our site's About page.