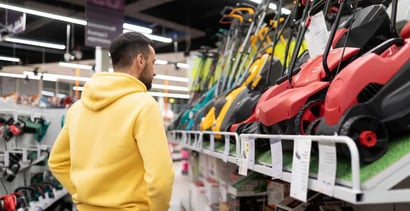 Mowing the lawn is about more than just curb appeal. Cut grass requires fewer fertilizers, herbicides, and insecticides. A well-maintained lawn helps lower surface temperatures in the summer and can filter out pollutants and debris. Moreover, you add nitrogen and other nutrients to the soil when you mulch your grass clippings. And the neighbors will love the way your well-maintained lawn spruces up the block (and preserves property values).
You can get an old-style manual mower for about $100. But unless you're a glutton for punishment, you'd probably prefer something a little more modern, perhaps a riding mower or even a robot grass clipper. 
If you can justify shelling out $2,000 to $15,000 for a contemporary mower, we can show you where to get the money, even if you have bad credit. Keep reading to learn about your financing options — you may soon be the proud owner of the neighborhood's prettiest lawn.
Lawn Mower Loans For Bad Credit
You can use the following websites to request a personal loan to cover the cost of a new lawn mower. These lender-matching services can get you multiple quotes in minutes and your money as soon as the next business day. They're all happy to work with customers who have bad credit.
MoneyMutual connects subprime borrowers to lenders that provide personal loans of up to $5,000. To prequalify for a loan, you must be a US citizen or permanent resident, 18 or older, with a monthly income of at least $800, an active checking account, and an email address. 
Applying takes practically no time, and most applicants receive one or more loan offers within a few minutes. Loan terms and interest rates vary by individual lender.
The 24/7 Lending Group never sleeps. This lender-matching network can get you multiple loan quotes anytime, day or night, without cost or obligation. Its network lenders accommodate consumers with poor credit and never charge prepayment penalties.
The website's loan request form is easy to complete and can generate multiple funding offers in minutes. 24/7 Lending Group protects your personal information with advanced data encryption technology so you can confidently request an online loan.
CashUSA.com can prequalify you for a loan of up to $10,000 with as long as 72 months to repay. The lenders on the CashUSA.com network compete for your business, which helps drive down loan interest rates. 
You must collect at least $1,000 in after-tax monthly income to prequalify for a loan offer. Each lender on the network sets its loan terms, so carefully review the offers you receive before you decide which is best.
BillsHappen® helps consumers obtain quick loans of up to $5,000. Borrowers with any credit score can prequalify if they are US citizens or permanent residents, 18 or older, and have a reliable income, bank account, phone number, and email address.
When you prequalify for a personal loan, you'll receive links to one or more direct lenders with whom you can complete the application process. Loan proceeds may arrive in your bank account as soon as the next business day.
Lawn Mower Dealer Financing
When you visit a store to buy a lawnmower, the dealer will likely offer you a financing deal to help close the sale. It's a little-known fact that a small oligarchy of financing firms handles most lawnmower loans behind the scenes.
The following equipment financing companies offer lawn mower loans to most dealers and consumers.
5. ShopEZCredit (KFF LLC)
ShopEZCredit sells lawn mowers online, and its parent, KFF LLC, provides creative financing programs for customers who have bad, limited, or no credit. It offers a rent-to-own program with bi-weekly installments of as little as $35 for a powered push mower or $95 for a riding mower.
To get financing, you must create an account, add your lawn mower to your shopping cart, and submit your order. ShopEZCredit will contact you to discuss the terms of your credit line and have you sign a contract.
6. Roadrunner Financial
Roadrunner Financial welcomes lawn mower shoppers who have subprime credit scores. You can prequalify for a lawn mower loan and receive an instant decision that won't affect your credit score. 
The rate you receive is valid for 30 days, which should give you ample opportunity to shop for a lawn mower among more than 40 participating brands. Roadrunner Financial offers loans to consumers who have a credit score as low as 550 but also lends to buyers with little or no credit history.
7. Mower Finance
Mower Finance is a lender-matching network that operates on the Terrace Finance platform. It is not a lender but instead represents lenders and lessors that serve a full spectrum of credit profiles and transaction amounts.
Mower Finance can arrange subprime financing for $200 to $7,500. To qualify, you must be 18 and have a minimum annual gross income of $12,000, a valid Social Security number, an electronic payment account, a phone number, and an email address.
How Much Does a Lawnmower Cost?
The amount you spend on a lawn mower depends on its brand, type, and power source, as well as your yard's size and grass type. Here is a summary of mower categories and prices to help you understand how much you'll have to spend to get the lawn mower you want.
Manual Push Mowers
Manual push mowers are for folks who don't mind expending some elbow grease to get a good-looking lawn. These machines are the least expensive alternative, with prices generally ranging from $50 to $300. They are low-tech devices that use a rotary reel system to cut grass. 

You may favor this type of mower if you are frugal, fit, concerned about pollution and energy conservation, and have a relatively small and flat lawn.
Powered Push Mowers
Powered push mowers consume electricity or gasoline. You walk behind them to push and steer. The electric versions cost between $80 for an economy model and $2,000 for a full-featured unit. Electric push mowers can be corded or battery-powered. 

Prices for electric mowers vary with their power, size, features, and range. Electric mowers are eco-friendly, lightweight, easy to start, quiet, and require little maintenance. They are also less robust than gas-powered mowers.
Gas-powered push mowers have a gasoline engine and cost between $140 and $600. They run longer on a tank of gas than a battery-powered mower does on one charge. 
You can use a gas-powered unit without the hassle of cords or batteries. But they also are loud, heavy, require significant maintenance, and spew harmful emissions.
Self-Propelled Mowers
These self-propelled mowers supply power to the wheels, so all you have to do is steer the unit. Otherwise, they are similar to the powered push mowers in capabilities but somewhat more expensive. Expect to pay between $300 and $1,400 for one of these mowers.

Self-propelled mowers cut evenly and are easier to use on slopes. They tend to require repairs more often than do push mowers.
Riding Mowers
Riding mowers are a significant step up from walk-behind units. They are usually gasoline-powered and take most of the effort out of lawn cutting. Riding mowers are large, and buying one will set you back $1,000 to $5,000, but you may find the price well worth the effort and time you'll save.

Typical controls on riding mowers include a steering wheel, throttle, clutch, brake and accelerator pedals, cutter engagement control, and height adjustment. An ignition key or button starts the unit.
Lawn tractor mowers (or garden tractors) have large, front-mounted cutting decks. Units typically pack 15 to 30 horsepower. They are versatile, with attachments for tilling, blowing snow, and bagging. 
Rear-engine riding mowers are smaller than lawn tractors, with engines that produce 10 to 15 horsepower. They are also more maneuverable than tractors, thanks to their mid-mounted cutting decks.
Zero-Turn Mowers
Zero-turn (ZT) mowers are a type of riding mower that provides exceptional maneuverability. They can make zero-degree turns that help you avoid obstacles and escape from tight spaces. They are fast, wide, and efficient.

You can get a ZT mower for $2,400, but if you want the fanciest models, be prepared to cough up $15,000. Steering is a little tricky — you use two lap bars instead of a steering wheel. These units are less versatile than the other types of riding mowers.
Robot Mowers
You must install a perimeter wire to control the areas a robot mower can visit. Otherwise, the only work you must do is to plug the unit into a recharger (although some do this automatically). Prices start around $600, but a large model with GPS guidance and anti-theft features can cost more than $17,000.

Robot mowers operate on rechargeable batteries. They navigate using sensors (and sometimes GPS) that control their operating perimeter. Some can automatically return to their charging stations when they detect rain. 
They are quiet, tireless workers, require little supervision, and help improve your lawn's health by mulching its clippings. They are also eco-friendly since they produce zero emissions.
What Credit Score Is Needed to Finance a Lawn Mower?
Several mower finance companies do not require any minimum credit score, or for that matter, any score at all. The dealer's finance contract may allow the lender to repo your lawn mower if you don't make timely payments. 
A low credit score will result in a higher interest rate, but this type of loan is usually affordable. It's fair to say that dealers will move heaven and earth to sell you the lawn mower you want.
Should I Finance a Lawnmower With a Personal Loan?
A personal loan can be a viable alternative when you want to finance the purchase of a costly lawn mower. Personal loans are advantageous when your retailer can't get you a good financing deal. 
Both retail financing and personal loans are installment loans, but you may be able to obtain a longer repayment term with a personal loan. In addition, personal loan installments are a month apart, whereas many retail financing plans require a payment every two weeks. 
To compare a retail financing offer with a personal loan, you must assess their:
interest rates
fees
repayment periods
and monthly payment amounts
You also should factor in the possibility of a retail financer repossessing your mower if your payments are late. Unsecured personal loans do not impose repo risk.
You can also use a credit card to buy a mower, but you may find this a more expensive financing option unless you plan to pay the balance quickly. The best solution would be to get a new credit card with a 0% intro APR, but unfortunately, subprime cards that offer this promotion are scarce. In addition, your subprime card's credit line may be too low to finance an expensive mower.
How Do I Apply For a Subprime Personal Loan?
The easiest way to apply for a subprime personal loan is to use an online lender-matching website such as the ones we review in this article. You can fill out a loan request form to prequalify for a personal loan and receive an instant decision. The form will ask about your income, employment, housing costs, and debts. 

If you successfully prequalify for a personal loan, the matching service may present you with one or more bad credit loan offers. After comparing offers, you can apply to your chosen lender by providing additional financial information. 
The lender will provide a loan agreement if it approves your application. The contract lists all the loan terms, so you'll know how much you must pay each month. 
You should review the agreement carefully before e-signing it. Expect your loan proceeds to arrive in your bank account by the next business day.
Don't Let Bad Credit Ruin Your Lawn
An overgrown lawn is unhealthy, unsafe, and unappealing. A full-featured lawn mower can cure all these evils, and you can finance its purchase even if you have bad credit. 
With the right financing, a modern lawn mower can reduce or eliminate the time and effort you must expend to cut the grass. Most of all, you'll thank yourself whenever you use your new, modern lawn mower instead of struggling with an outdated model. 
MoneyMutual & Other Resources
We hope you've found our guide "7 Lawn Mower Financing Loans For Bad Credit (Sep. 2023)" to be helpful in meeting your financial needs. To learn more about MoneyMutual, our top recommendation in this guide, be sure to visit the MoneyMutual website for full details about the offer.
Our experts rate MoneyMutual as one of the best options in personal loans for those with bad credit, giving it a 4.8/5.0 rating overall. Among its features:
Short-term loans up to $5,000
Online marketplace of lenders
Funds available in as few as 24 hours
Simple online form takes less than 5 minutes
Trusted by more than 2 million customers
For more resources similar to this "7 Lawn Mower Financing Loans For Bad Credit (Sep. 2023)" guide, see our other popular picks for those with bad credit:
Whether you choose MoneyMutual or any other option in our personal loans category, be sure to read and understand the terms before signing up. You'll find that taking the time to fully understand personal loans is one of the smartest financial decisions you can make.
Advertiser Disclosure
BadCredit.org is a free online resource that offers valuable content and comparison services to users. To keep this resource 100% free for users, we receive advertising compensation from the financial products listed on this page. Along with key review factors, this compensation may impact how and where products appear on the page (including, for example, the order in which they appear). BadCredit.org does not include listings for all financial products.
Our Editorial Review Policy
Our site is committed to publishing independent, accurate content guided by strict editorial guidelines. Before articles and reviews are published on our site, they undergo a thorough review process performed by a team of independent editors and subject-matter experts to ensure the content's accuracy, timeliness, and impartiality. Our editorial team is separate and independent of our site's advertisers, and the opinions they express on our site are their own. To read more about our team members and their editorial backgrounds, please visit our site's About page.