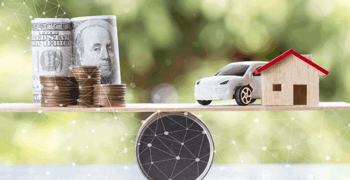 Credit is a double-edged sword. To improve your credit rating, you need to successfully pay down loans and other bills — but to get affordable loans, you need to have a good credit rating.
So, what do you do if you have a few financial mishaps in your past and need a loan to buy a car, consolidate your debts, or make a large purchase? You could risk your personal property by using your valuables as collateral, or you could look at potential alternatives to hard money loans for bad credit.
We've researched the field and found the most credible lenders who are ready to work with consumers with all kinds of financial backgrounds. In the article that follows, we'll present our top choices for personal loans, credit cards as loan alternatives, auto loan options, mortgage lenders, and answer some of the most commonly asked questions on the topic.
Personal Loans | Credit Cards | Auto Loans | Mortgages | FAQs
Personal Loan Alternatives to Hard Money Loans
As a whole, Americans have thousands of dollars in personal property repossessed every day because they fall behind on their loans. Homes and automobiles are the most common foreclosed or repossessed items, but some bad-credit personal lenders may ask you to put up other valuables — such as jewelry, electronics, or other items — as collateral for a loan.
If you miss a payment, or you're even a few days late, these lenders can keep your property and still stick you with part of the remaining debt.
Instead of subjecting yourself to oppressive terms, or potential lost property, you may want to consider an alternative to a hard money lender — one that works with consumers who have bad credit. Many of these online lenders, like those listed below, maintain lending marketplaces that submit your single application to several lenders.
If your application qualifies, you could receive multiple loan offers from which to choose.
Short-term loans up to $5,000
Online marketplace of lenders
Funds available in as few as 24 hours
Simple online form takes less than 5 minutes
Trusted by more than 2 million customers
Not available in NY or CT
| Loan Amount | Interest Rate | Loan Term | Loan Example |
| --- | --- | --- | --- |
| Up to $5,000 | Varies | Varies | See representative example |
Loans from $500 to $10,000
Receive a loan decision in minutes
Get funds directly to your bank account
Use the loan for any purpose
| Loan Amount | Interest Rate | Loan Term | Loan Example |
| --- | --- | --- | --- |
| $500 to $10,000 | 5.99% - 35.99% | 3 to 72 Months | See representative example |
Quick loans up to $5,000
Submit one form, get multiple options
All credit ratings welcome
Requires bank account and SSN
As seen on CNN, FoxNews, and others
| Loan Amount | Interest Rate | Loan Term | Loan Example |
| --- | --- | --- | --- |
| $500 to $5,000 | Varies | Varies | See representative example |
Because these online marketplaces shop your application to many different lenders, each prospective loan offer you receive will have different terms, repayment options, and rules to follow. Before you accept a loan, make sure you know how much the loan will cost you and how long it will take to pay it off.
Credit Card Alternatives to Hard Money Loans
Hard money loans are great if you're in a jam and need to pay a bill or one-time payment. But once you've spent the borrowed money, it's gone forever.
On the other hand with a revolving credit line, you can reuse that money after you repay it. Plus, credit cards offer the opportunity to make monthly payments over a longer period, which can help you rebuild your credit score when you make your payments on time each and every month.
Check out our top choices below to find an offer that suits your needs.
All credit types welcome to apply!
Free access to your Vantage 3.0 score From TransUnion* (When you sign up for e-statements)
Initial Credit Limit of $300 – $1,000* (subject to available credit)
Monthly reporting to the three major credit bureaus
See if you're Pre-Qualified without impacting your credit score
Fast and easy application process; results in seconds
Free online account access 24/7
Checking Account Required
| Application Length | Interest Rate | Reports Monthly | Reputation Score |
| --- | --- | --- | --- |
| 9 Minutes | 24.99% - 29.99% (Variable) | Yes | 8.5/10 |
Easy pre-qualification process with fast response
Less than perfect credit is okay
Online servicing available 24/7 at no additional cost
Unsecured credit card, no security deposit required
Account history is reported to the three major credit bureaus in the U.S.
| Application Length | Interest Rate | Reports Monthly | Reputation Score |
| --- | --- | --- | --- |
| 8 Minutes | 24.9% | Yes | 8.0/10 |
Move money from your PayPal account to fund your prepaid card account.
Earn cash back and personalized offers, just for using your card.
With Direct Deposit, you can get paid faster than a paper check.
Card issued by The Bancorp Bank, Member FDIC. Card may be used everywhere Debit Mastercard is accepted.
Click PayPal Prepaid Mastercard® for additional features & program details, and to request a Card.
| Application Length | Interest Rate | Reports Monthly | Reputation Score |
| --- | --- | --- | --- |
| 8 minutes | N/A (Prepaid) | No | 9.5/10 |
Several types of credit card issuers work with bad-credit applicants. Depending on how bad your credit score is, you may have to apply for a secured credit card. These cards require a refundable security deposit for approval, but they'll still work to help you rebuild your credit score — and could eventually lead to you moving on to an unsecured card.
Auto Loan Alternatives to Hard Money Loans
Lenders are underwriting more subprime auto loans than ever. Most come with very high interest rates that make the loans almost impossible to manage over a long period of time.
So, it's not surprising that a majority of repossessed cars are financed with an interest rate of over 20%. And, defaulting on a loan not only leads to you losing your car, but it also makes it difficult to get approved for future loans.
Consider your options before you accept a dealer-offered loan. Several lenders specialize in auto loans for applicants with bad credit. Many come with affordable terms and interest rates that beat those found through third-party lenders at dealerships. Our top choices are below.
Network of dealer partners has closed $1 billion in bad credit auto loans
Specializes in bad credit, no credit, bankruptcy and repossession
In business since 1999
Easy, 30-second pre-qualification form
Bad credit applicants must have $1500/month income to qualify
| Interest Rate | In Business Since | Application Length | Reputation Score |
| --- | --- | --- | --- |
| 3.99% - 29.99% | 1999 | 3 minutes | 9.5/10 |
Free, no-obligation application
Specializes in auto loans for bankruptcy, bad credit, first-time buyer, and subprime
Affordable payments and no application fees
Same-day approval available
Connects 1000's of car buyers a day with auto financing
| Interest Rate | In Business Since | Application Length | Reputation Score |
| --- | --- | --- | --- |
| Varies | 1994 | 3 minutes | 9.0/10 |
Loans for new, used, and refinancing
Queries a national network of lenders
Bad credit OK
Get up to 4 offers in minutes
Receive online loan certificate or check within 24 hours
| Interest Rate | In Business Since | Application Length | Reputation Score |
| --- | --- | --- | --- |
| Varies | 2003 | 2 minutes | 7.5/10 |
Consider also the time it will take you to pay off the loan. Many lenders now offer 72- and 84-month car loans. Applicants often accept these loans because they feature lower monthly payments, which looks attractive on paper.
But remember that every month you tack onto your loan adds more interest charges and other potential fees to your total cost. While the lower payment may seem like a great deal, longer loans will cost you far more money than a shorter-term loan.
Mortgage Alternatives to Hard Money Loans
Part of the American dream is owning your own home. But mortgage loans are among the hardest loans to get through a traditional lender. They're even harder if you have bad credit.
Most mortgage loans have 30-year terms. If your credit score forces you to accept a loan with a higher interest rate, you could get stuck spending thousands of extra dollars every year on your loan. And that's if you're lucky enough to get approved for a loan in the first place.
Although obtaining a mortgage when you have bad credit may seem like an uphill climb, there are lenders who help consumers with less-than-perfect credit obtain a home of their own. While these loans often feature higher-than-average interest rates, you can use the loan to rebuild your credit and eventually refinance into a loan with better terms when the time is right.
Options for home purchase or refinance
Get 4 free refinance quotes in 30 seconds
Network of lenders compete for your loan
Trusted by 2 million+ home loan borrowers to date
Interest rates are near all-time lows
| Interest Rate | In Business Since | Application Length | Reputation Score |
| --- | --- | --- | --- |
| Varies | 2004 | 4 minutes | 8.5/10 |
Easy to OwnSM programs give options for those with lower income, limited credit history, and low down payment needs.
Provides the potential for minimal out-of-pocket expenses with seller contributions.
Offers loans that don't require monthly mortgage insurance.
Requires less cash upfront for your down payment and closing costs.
| Interest Rate | In Business Since | Application Length | Reputation Score |
| --- | --- | --- | --- |
| Varies | 1852 | 6 Minutes | 8.0/10 |
Loan programs include down payment and closing cost assistance.
Variable and Fixed-Rate loans available with flexible qualification guidelines.
No maximum income/earning limitations.
| Interest Rate | In Business Since | Application Length | Reputation Score |
| --- | --- | --- | --- |
| Varies | 2008 | 5 Minutes | 7.0/10 |
Keep in mind that buying a home doesn't just mean paying the agreed-upon price of the dwelling. You'll also have to pay for inspections, potential improvements, and closing costs. Make sure that any loan you accept includes those fees, or you may find yourself financially strapped before you even get the keys to your new place.
How Do Hard Money Loans Work?
Lenders like to loan money. The interest you pay on your loan is how they make a profit. But when a borrower doesn't repay their loan, the lender faces a tough choice.
The lender can take the loss or sell the loan to a collection agency at a fraction of the debt amount. Neither option is ideal, so many lenders choose to accept collateral for a loan.
The financial sector refers to these as hard money loans. These short-term loans often come with higher interest rates in exchange for a fast money payout and a forgiving credit requirement.
Depending on your lender, you could use just about any valuable item as collateral. For example, a lender may require you to use your home as collateral on a large loan. You still retain ownership of the house and can continue to live in the home, but if you default on the loan, the lender can take the house and sell it to repay your debt.
Foreclosure happens to approximately a half-million U.S. homeowners every year.
A pawn shop is another example of a hard-money lender. While you may not head to one of these shops to pawn your house, you may bring in jewelry, electronics, or other valuable items to obtain a short-term loan.
If you pay the loan back, plus interest, the pawnshop owner will return your item. If you do not, you lose your property and it is then sold in the shop. Of course, you could buy it back, but it will likely cost more than what you were originally lent.
What Credit Score is Needed for a Hard Money Loan?
Every lender has different requirements that an applicant must meet to receive a loan. Most lenders never divulge those requirements to the public.
But hard-money lenders often have more relaxed acceptance criteria than traditional banks or credit unions have due to the required collateral. If the item you're offering as collateral has value above the amount of money you're borrowing, then your credit score won't factor as much into the lender's decision.
Some hard money lenders accept applicants with credit scores in the 500s. That's because there's so much competition in the marketplace that lenders must accept the extra risk to make a potential profit via your interest payments.
Plus, accepting a hard-money loan means you have some skin in the game. You don't want to lose your collateral, so you're more likely to make your loan payments — even if it means missing other payments.
Even if a hard-money lender accepts your collateral in exchange for a loan, don't expect it to come cheap. The average hard money loan interest rate falls in the 11% to 18% range — well above traditional loan rates.
If you have poor credit, you could end up paying much more than that.
What Do You Need to Qualify for a Hard Money Loan?
In short — something of value. While hard money lenders will examine your credit history when considering your application, they look equally hard (if not more so) at the value of your collateral.
You may need a very valuable item to place as collateral if you have a poor credit score. Most lenders won't accept the risk associated with bad credit loans if the collateral offered is equal to or less than the requested loan amount. For example, most aren't interested in extending a loan for $1,000 if the collateral is worth $1,000 or less.
Instead, they'll likely require an applicant with bad credit to offer an item worth several times the value of the loan. That way, if you default on the loan, the lender can sell the item and recoup the cost of the loan and the potential earnings your interest payments would have netted them.
Collateral can come in many forms — including your home, vehicle, personal items, and even gold and silver. In most cases, the more valuable your item, compared to your loan amount, the better loan terms you'll receive.
There's no set credit score requirement for a hard money loan. Every lender will examine the value of your collateral and verified income against the requested loan amount when considering your application. Some may not even run a credit check.
And since most hard money loans come with shorter repayment terms, it's far more difficult to obtain one of these loans for a larger purchase, such as a mortgage. That may be a good thing since these loans often feature much higher interest rates — which could prove disastrous over the life of a 30-year mortgage.
Get the Cash You Need without Risking Your Property
Hard money lenders fill a need within the financial community. If you have bad credit, you likely know the difficulty associated with finding a loan. Where banks and credit unions often say no, a hard money lender might say yes.
But that doesn't mean these loans are affordable, or the best choice for your financial needs. Instead of putting your valuables at risk with a hard money loan, consider an alternate option, like those listed above.
Any bad credit loan you receive will likely come with higher interest rates. Defaulting on one of these loans can wreak havoc on your credit score — but with a hard money loan, it can also cause you to lose your personal property.
So, before you go accepting the first loan offer you receive, continue to research your alternatives to hard money loans for bad credit. You'll likely come away surprised at the number of options available to you.
Advertiser Disclosure
BadCredit.org is a free online resource that offers valuable content and comparison services to users. To keep this resource 100% free for users, we receive advertising compensation from the financial products listed on this page. Along with key review factors, this compensation may impact how and where products appear on the page (including, for example, the order in which they appear). BadCredit.org does not include listings for all financial products.
Our Editorial Review Policy
Our site is committed to publishing independent, accurate content guided by strict editorial guidelines. Before articles and reviews are published on our site, they undergo a thorough review process performed by a team of independent editors and subject-matter experts to ensure the content's accuracy, timeliness, and impartiality. Our editorial team is separate and independent of our site's advertisers, and the opinions they express on our site are their own. To read more about our team members and their editorial backgrounds, please visit our site's About page.