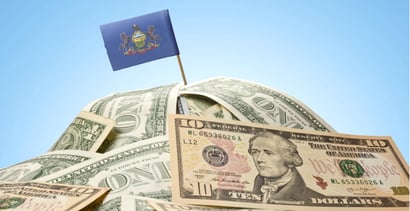 The best bad credit loans in Pennsylvania don't necessarily have to be from lenders with offices in the Keystone State. Thanks to the internet, an online lender can be headquartered anywhere and still help consumers in Pennsylvania.
Having bad credit can often make getting a loan difficult. But some lenders specialize in working with people with bad credit and can help residents in Pennsylvania and other states qualify for loans they may not be approved for otherwise.
These include a cash loan, a personal loan, an auto loan, or a home loan. Most of the types of loans we recommend below come from lending networks. These networks don't lend money, but rather help consumers in Pennsylvania and beyond get multiple loan offers after filling out a single loan application.
Cash Loans | Personal Loans | Auto Loans | Home Loans | FAQs
Bad Credit Cash Loans in Pennsylvania
Cash loans usually must be repaid quickly and are for smaller loan amounts. They can be used as an emergency loan to help pay unexpected costs or for basic needs such as groceries until you get your next paycheck.
Some of these loans are a type of cash advance that must be repaid in a month, while others are a type of installment loan that can be repaid over two years with the same amount due each month.
Short-term loans up to $5,000
Online marketplace of lenders
Funds available in as few as 24 hours
Simple online form takes less than 5 minutes
Trusted by more than 2 million customers
Not available in NY or CT
| Loan Amount | Interest Rate | Loan Term | Loan Example |
| --- | --- | --- | --- |
| Up to $5,000 | Varies | Varies | See representative example |
MoneyMutual is our highest-rated online marketplace of lenders for many reasons, starting with the fact that it works with a large and diverse group of lenders that consider loan applications from all kinds of borrowers, including people with bad credit. MoneyMutual requires applicants to earn $800 per month, which should make it easy for most people to successfully apply for a loan.
BillsHappen matches borrowers with lenders for a bad credit personal loan of up to $5,000. A borrower must have a valid state driver's license, Social Security number, home or cellphone number, and home address. Borrowers must also have a bank account and income from a job or benefits to qualify.
CreditLoan.com also offers loans of up to $5,000. In addition to allowing a poor credit history, it partners with lenders that will consider a recent bankruptcy on a credit report. However, it won't accept an applicant with a bankruptcy case that's still pending in court.
Bad Credit Personal Loans in Pennsylvania
A bad credit personal loan usually has a larger loan amount and longer repayment term than the cash loans we recommend above. This makes them a good option for a small business loan.
A personal loan is an unsecured loan that doesn't require collateral. The loan is paid back in equal monthly payment amounts, which makes budgeting for them easier.
CashUSA.com is an online lender network that help people who have a bad credit score find a personal loan that can be used for anything, including for debt consolidation or as a business loan. Applicants must have at least $1,000 in monthly income after taxes are taken out.
BadCreditLoans.com helps applicants with bad credit find loans that can be repaid in three months to six years. Loan proceeds can be deposited in your bank account in as little as 24 hours after your loan is approved.
The lenders in the PersonalLoans.com network offers the largest personal loan amounts of any of the lending networks we recommend. That could go a long way toward paying off debt and debt consolidation, though a long loan term may be needed to make the monthly payments affordable.
Bad Credit Auto Loans in Pennsylvania
A bad credit car loan can be the difference between getting to work so you can earn a living and being unemployed.
A poor credit history can make it difficult to get a car loan, but the lending networks we recommend will connect you with a private lender or local car dealer that specializes in helping people with bad credit quickly find car loan options.
Network of dealer partners has closed $1 billion in bad credit auto loans
Specializes in bad credit, no credit, bankruptcy and repossession
In business since 1999
Easy, 30-second pre-qualification form
Bad credit applicants must have $1500/month income to qualify
| Interest Rate | In Business Since | Application Length | Reputation Score |
| --- | --- | --- | --- |
| 3.99% - 29.99% | 1999 | 3 minutes | 9.5/10 |
Auto Credit Express has a prequalification process that only takes 30 seconds to complete, giving you access to new and used car dealers throughout the country. This helps you get a bad credit auto loan that's affordable. And you can often drive away in your newly purchased vehicle on the same day that your loan is approved.
Car.Loan.com Auto Loan helps borrowers shop for their next car after receiving a loan preapproval, which can be done in three minutes or less. Users will hear back from a local auto dealer within 24 hours — and sometimes within minutes — of submitting a loan request.
MyAutoloan.com provides car loans for new and used cars, loans for refinancing an existing auto loan, and loans for lease buyouts. Up to four loan offers are made after a short loan request is completed. All loans are a type of secured loan, meaning your car is the collateral for the loan.
Bad Credit Home Loans in Pennsylvania
A home loan is another type of secured loan, though with a much higher value than that of a car. A poor credit history can make getting a home loan difficult, though not impossible.
A bad credit home loan will often include an origination fee charged by a lender as compensation for processing a loan application. A government-backed loan program, such as an FHA loan, can make it easier to buy a home if you have bad credit or don't have much money for a down payment.
Options for home purchase or refinance
Get 4 free refinance quotes in 30 seconds
Network of lenders compete for your loan
Trusted by 2 million+ home loan borrowers to date
Interest rates are near all-time lows
| Interest Rate | In Business Since | Application Length | Reputation Score |
| --- | --- | --- | --- |
| Varies | 2004 | 4 minutes | 8.5/10 |
The FHA Rate Guide is a lending network that helps home buyers find a mortgage lender, including options for an FHA loan that requires only a small down payment. The service is free, and the site only collects referral fees from lenders when loans are closed through the network.
Wells Fargo Home Mortgage isn't a lending network, but a direct lender that can help you get a secured loan, even if you have a low credit score. A loan application can be filled out online or at a Wells Fargo bank branch in your area.
Bank of America Mortgage is another large lender, offering mortgages and home refinancing loans that can help people with bad credit. Bank of America works with government-backed loans, including FHA loan options, to make it more affordable to buy a home.
What is a Bad Credit Loan?
A bad credit loan is a loan for someone with a low credit score who probably has made some mistakes throughout their credit history. It's often a short term loan used in emergencies, though the loan proceeds can also be used for bigger expenses, such as remodeling a home, and can take years to pay off.
The longer the loan terms, the lower the loan payment. Minimum loan amounts are $100 from some lenders, but most start at $500.
Payday lenders are sometimes the lenders for a short term loan, but lending networks also help match borrowers with Pennsylvania installment loan providers. Some lenders specialize in personal loans, or loans to buy a home or car.
A bad credit loan will likely charge a higher interest rate than someone with good credit history would be offered. Other bad credit financing fees, such as an origination fee, may also be charged to make up for the risk of lending to someone with a low credit score.
A bad credit loan may require a credit check and your signature, or promise to pay, as a credit card does. A secured loan, such as a title loan or home loan, or a secured credit card, uses collateral as a way to make sure the loan is paid. The lender will repossess your car or keep the security deposit you paid on the secured credit card if you don't repay the loan.
What Credit Score Do I Need?
You may not need to have a minimum credit score to be approved for a bad credit loan, though each lender has its own rules for approval.
The lending networks we recommend expect applicants with low credit scores, so you shouldn't let that deter you from applying. Each network works with many lenders, so you may receive multiple loan offers, even if you have a bad credit score with one or more credit bureaus. Each participating lender will offer you a unique interest rate and loan term, so be sure to compare offers carefully.
However, a home loan may be more difficult to qualify for with bad credit and may require a higher credit score. The minimum credit score needed to buy a home is generally 580. A home costs more than what is considered a typical personal loan, so there's obviously more risk for the lender. Buying a home costs a lot more than, say, paying back a student loan.
Home loan rates will be lower if you have good credit and lower still if you have a good-sized down payment. Improving your credit score before applying for a home loan is a good way to get a better interest rate.
A conventional loan is typically harder to qualify for, but there are also government programs to help people buy homes, including the FHA loan meant for first-time homebuyers. FHA loans are federal loans with low down payments and closing costs.
A FICO credit score ranges from 300 to 850. A score of 579 or lower is considered bad credit. Lending networks that often accept loan applications from people with bad credit may prefer a minimum credit score of around 500.

A borrower can still qualify with a score lower than 500 but may need to meet other criteria. These can include having a steady income or other revenue, having a steady job and residential history, and being able to afford the loan after paying major bills, including rent and any credit card debt.
What Interest Rate Will I Pay?
Interest rates on a bad credit loan depend on many factors, starting with the type of loan you're getting.
Until you apply for a loan and get a loan offer, lenders aren't too forthcoming with information about the interest rates they charge or how they decide the rate they'll offer you. Each lender has its own rules.
In general, you should expect interest rates of 6%-36% on the personal loans we reviewed. These loans have terms that can last from three months to six years. Interest rates from payday lenders can range from 200%-2,290% and repayment is due in seven to 31 days.

Auto loan interest rates vary, but some lenders charge 4%-30% for loans with repayment terms that can last six years or so.
Home loan interest rates also vary, though a borrower with bad credit should expect a higher rate than someone with good credit. Home loans can be repaid over 30 years.
Are Payday Loans Legal in Pennsylvania?
No, payday loans are illegal in Pennsylvania. The state banned payday lending in 1998 and imposed a 6% APR cap on loans of less than $50,000.

In 2019, the Attorney General in Pennsylvania settled with a payday lender that the Attorney General said had effective interest rates as high as 448%. All remaining loan balances were voided and borrowers who paid more than 6% in interest and the loan principal were allowed to share in a multimillion-dollar restitution fund.
The state government alleged that the company, which offered a loan product called ThinkCash from the First Bank of Delaware, attempted to shield itself from state and federal laws by operating under the guise of Native American Tribes.
If a lender offers a loan with repayment due in a week to 31 days, chances are it's a payday loan with an interest rate that's much higher than any other type of personal loan.
Some lenders team up with a federally chartered bank headquartered in a state with a higher interest rate cap to try to get around laws in Pennsylvania and other states that ban or limit payday lenders. Some Senate Democrats are trying to change this rule.
Some payday lenders try to work around the law that bans their services in Pennsylvania by offering loans online and having consumers apply through the internet. But online payday lenders are subject to the same laws when they offer their services to Pennsylvania residents and are legally required to tell consumers about their rights and the legality of the agreement on the payday loan.
The Pennsylvania Department of Banking and Securities warns consumers against accepting illegal loans. Some of the alternatives it recommends to a Pennsylvania payday loan include:
Borrowing from a credit union.
Payroll advance from your employer.
Negotiate with your creditor to raise your credit limit or to provide more time to pay.
Pay the late fee, which will likely be less than the interest on a payday loan.
Any of these options is a viable alternative to traditional payday loans.
Your Best Options for the Best Bad Credit Loans in Pennsylvania
There are many options for the best bad credit loans in Pennsylvania. We've outlined 12 of them, including small cash loans and larger personal loans that can be paid back from a week to a few years later. We've also recommended auto and home loan options if you have bad credit, which are secured loans that use your car or home as collateral.
The lending networks we reviewed all work with a variety of lenders that specialize in working with people with bad credit. The lending networks can help you prequalify for a loan with a simple online form that can be filled out within minutes.
Loan offers can come back to you within minutes too, and the cash you need can be in your bank account within 24 hours. Getting a loan when you really need it may end up being a lot faster than you ever thought possible.
This guide to bad credit loans in Pennsylvania serves the following cities and their surrounding areas: Philadelphia, PA; Pittsburgh, PA; Allentown, PA; Erie, PA; Reading, PA; Upper Darby, PA; Scranton, PA; Bethlehem, PA; Lancaster, PA; Scranton, PA; Uniontown, PA; State College, PA; Altoona, PA; Reading, PA; East Stroudsburg, PA; York, PA; Harrisburg, PA
Advertiser Disclosure
BadCredit.org is a free online resource that offers valuable content and comparison services to users. To keep this resource 100% free for users, we receive advertising compensation from the financial products listed on this page. Along with key review factors, this compensation may impact how and where products appear on the page (including, for example, the order in which they appear). BadCredit.org does not include listings for all financial products.
Our Editorial Review Policy
Our site is committed to publishing independent, accurate content guided by strict editorial guidelines. Before articles and reviews are published on our site, they undergo a thorough review process performed by a team of independent editors and subject-matter experts to ensure the content's accuracy, timeliness, and impartiality. Our editorial team is separate and independent of our site's advertisers, and the opinions they express on our site are their own. To read more about our team members and their editorial backgrounds, please visit our site's About page.