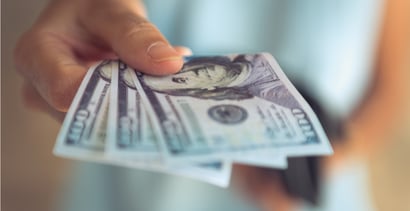 Loans like Upstart make sense when you don't have good credit. According to the Upstart lending site, "99% of applicants get money just one business day after accepting their loans." Those loans are unsecured personal loans with APRs below 36%, offered to consumers with bad or limited credit. 
What you may not know about Upstart is that it is not a direct lender but rather a lending network composed of banks that use the Upstart underwriting model. This model may prompt lenders to ask for unusual information, such as your school transcripts and SAT scores. 
We've assembled a list of six personal loan networks that, like Upstart, are designed for subprime consumers and offer a wide loan option selection. But unlike the Upstart personal unsecured loan network, these contain many types of direct lenders, not just banks. And if you've ever tried to get a bank loan, you may appreciate a greater variety of lenders. 
We also discuss two other fair credit to bad credit loan sources, P2P marketplaces, and apps for paycheck advances. The upshot is that an Upstart personal loan and loans like those of Upstart's offer subprime consumers choices beyond super-expensive payday, title, and pawnshop loans. 
Personal Loan Providers Similar to Upstart
These half-dozen unsecured loan networks facilitate installment loans and short-term loans, depending on your request. All can prequalify consumers who lack good credit and arrange loans that put money in your bank account in as little as 24 hours. 
MoneyMutual is the best personal loan network for subprime consumers, according to our rankings. You'll need only a minute or two to submit the short bad credit loan request form and receive a quick prequalification decision. If you prequalify for a personal loan, MoneyMutual will transfer you to a direct lender to complete the loan process.
CashUSA.com requires just a few minutes to prequalify you for a personal loan. You then may receive emails from several competing online lenders willing to take your loan application. You must receive at least $1,000 per month after taxes and legally reside in the United States to prequalify.
Bills certainly do happen, and BillsHappen® can find you a personal unsecured loan that delivers cash by the next business day. The company does perform a hard pull of your credit, although the recommended direct lenders usually do. BillsHappen can get you multiple loan offers for $500 to $5,000.
CreditLoan.com tries to get you your money as quickly as possible. The company uses a network of personal loan providers that depend on subprime borrowers. The company understands that the lack of excellent credit should not keep you from borrowing money when you need it.
BadCreditLoans.com has long experience connecting subprime borrowers with personal loans providers that look beyond your credit rating. Timely loan repayment can help you rebuild credit and qualify for a lower APR the next time you borrow. Always read and understand your loan agreement before accepting a loan arranged by BadCreditLoans.com or any other lender.
PersonalLoans.com can arrange for you to borrow up to $35,000. Of course, bad or fair credit might place lower limits on the loan amount, but you can usually get your money in just one business day after you accept an offer. The company's loan partners have extensive experience working with subprime borrowers.
Other Lending Alternatives to Upstart
These three companies are a mixed bag of lenders and lending apps designed for consumers of every stripe. Like Upstart, they look beyond credit history to deliver affordable loans to consumers who need money right away.
7. Smarter Loans
Smarter Loans is a Canadian P2P marketplace that allows you to connect to various lenders and other financial companies. You can arrange for multiple types of loans, including personal loans. For Canadians familiar only with banks, Smarter Loans can introduce you to many new borrowing options.
8. Earnin
Earnin is a paycheck advance app that can lend you up to $100 a day and $500 per pay period when you link the work timesheet it supplies to your checking account. Your bank account must receive direct deposits from a government agency or an employer to qualify for a loan. More than 2.5 million customers use Earnin.
9. Avant
Avant offers small to large personal loans of up to $35,000 to borrowers with a minimum score of 580. Note that the loan rates, amounts, and costs depend on your unique circumstances. Approval requires you to earn at least $20,000 a year. Fees can cost up to 4.5% of the loan amount, payable at the time of funding. Rates and charges vary by state.
What Is a Personal Loan?
Personal loans are loans for individuals that can be used as the borrower sees fit. They are unlike home and auto loans with a limited, specific function. Unsecured personal loans are signature loans because they require only the borrower's signature. Personal loans can sometimes be secured, meaning the borrower posts collateral to protect the lender against default costs.
When you repay a personal loan in two or more payments, it is an installment loan. The reviewed personal loan networks can arrange installment loans with terms of three to 72 months. Longer terms reduce the size of your monthly payments but increase the overall interest you'll pay for the loan.
The APRs of the reviewed installment loans top out at 36%. While not inexpensive, this interest rate stands in stark contrast to the 300% to 800% that payday lenders charge.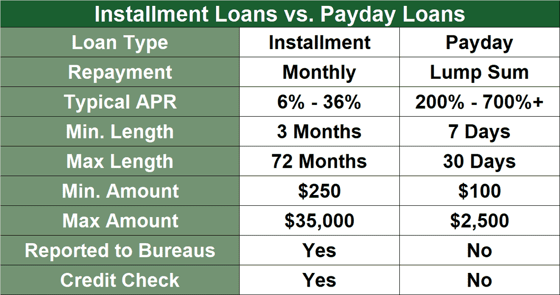 Loan networks like MoneyMutual (our pick as the best personal loan network) and the other reviewed networks are not direct lenders. Instead, they prequalify potential borrowers and find lenders willing to take your loan application. 
You don't pay for prequalification, nor does it harm your credit. The networks might connect you to a single lender, but several provide you with multiple offers from competing lenders.
Some personal loans are secured. But unlike car or home loans, the collateral does not dictate how you use the loan proceeds. At least, in theory, secured personal loans should cost less and be easier to get, although it doesn't always work out this way.
One widespread use for personal loans is to consolidate preexisting loans and credit card balances, often at a lower APR and/or longer term. To arrange debt consolidation of your loans, you use your proceeds to repay the others, and you then have only one remaining loan to pay off in affordable monthly installments.
A debt consolidation personal loan can help rebuild your credit by reducing your overall indebtedness and by letting you prove you can pay your bills on time each month. FICO's dominant consumer scoring system obtains 65% of your overall score from these two factors.
Failure to repay a personal loan can have severe consequences, including:
A notation added to your credit reports after your payment is 30 days late 
A reduction of your credit score
A write-down or write-off of your debt, recorded in your credit report and causing further damage to your score and credit history
Your loan may go into collection, yet again harming your credit report and score.
If your loan is secured, the lender will eventually repossess the collateral
The lender may take you to court to recoup the money you owe
The court may confiscate your assets and/or garnish your income to satisfy the creditor's claims
You may need to declare bankruptcy to protect at least some of your assets.
All these events remain on your credit report for seven to 10 years and plunge your credit score into subprime territory.
By the way, these repercussions occur when you miss payments on almost any kind of loan, including a student loan and secured loan, among others 
You can try to work out a debt relief settlement with creditors that allows you to repay just part of what you owe while the remainder is forgiven. Debt settlement companies specialize in this practice and can reduce your debt if successful. But they risk making matters worse and hastening your bankruptcy. 
Given the potential for financial disaster, it's an excellent idea only to borrow an amount that you reasonably expect to be able to repay. If you post collateral, you need to imagine how its loss would impact your life. 
What Is Upstart?
Upstart is a tech company masquerading as a lender. Its technology product is a platform that uses artificial intelligence to predict the creditworthiness of borrowers. Upstart's criteria include your conventional credit report and score but also your education, job history, and wealth potential. 
To put it bluntly, you may be able to get an Upstart loan if you have good prospects. That's helpful to know if your life is currently stuck in second gear.
Upstart sells lenders access to its platform. It also acts as an online lender network for personal loans that can range from a $1,000 minimum loan amount to a $50,000 maximum, with three-to-five-year terms. The minimum loan amount varies by state. For example:
Georgia: $3,100
Hawaii: $2,100
Massachusetts: $7,000 
New Mexico $5,100
Ohio $6,000
The available interest rates range from 3.22% to 35.99%. According to Upstart:
"The average 5-year loan offered across all lenders using the Upstart platform will have an APR of 21.4% and 60 monthly payment installments of $24.62 per $1,000 borrowed. For example, the total cost of a $10,000 loan would be $14,775 including a $582 origination fee."
When you check your rate on its lending site, Upstart conducts an initial soft credit check (i.e., one that doesn't hurt your credit score). If you apply for a loan, Upstart will perform a hard pull of your credit and cause your score to drop by a few points. Upstart loans impose neither down payments nor prepayment penalties.
Who Are Upstart's Competitors?
We earlier reviewed six loan networks that are Upstart competitors. They are competitors because of the following:
They arrange personal loans for consumers with poor credit.
They do not act as direct lenders. Instead, they prequalify borrowers and pass them off to their lending networks.
They prequalify borrowers without a hard credit check.
Direct lenders will perform hard credit checks when a borrower applies for a loan. 
The APRs of the installment loans do not exceed 36%.
You repay the loans in a set of fixed-amount installments. 
The lenders report your payments to the credit bureaus, allowing you to control the fate of your credit score. 
The direct lender usually charges an application fee when you accept a loan, commonly around 4.5%.
The loan proceeds can be available by the next business day.
We also reviewed a P2P marketplace, a direct lender, and a lending app. The following are additional Upstart competitors you may want to consider:
Personal Loan Providers
The following three companies offer direct personal loans. 
OneMain Financial is a direct lender providing loans from $1,500 to $30,000. It doesn't set minimum credit scores or income requirements but instead considers your entire credit profile, income, and location. You typically begin your application online and then complete the process at a branch location.
Rocket Loans offers online personal loans of up to $45,000 and can send your money in just one business day. You repay the loan in fixed monthly installments without hidden fees or prepayment penalties. The Rocket Loans origination fee is 2.99%.
Upgrade offers several types of loans, including personal installment loans from $1,000 to $50,000. You can choose from more than one loan option and decide which one works best. Upgrade charges a one-time 5% origination fee, and funding takes only one business day. Its personal loans have a fixed rate and term, with no prepayment penalties.
None of these companies offers the benefits of a lending network that allows you to apply to multiple lenders with a single loan request. 
Peer-to-Peer (P2P) Marketplaces
Some folks prefer to shop for loans on a P2P marketplace, a platform that brings together individual lenders and borrowers. P2P marketplaces are a significant loan source for folks with less-than-excellent credit. 
Lending Club helped pioneer P2P lending. It reportedly requires a minimum credit score of 600, although it does welcome cosigners. Lending Club facilitates personal loans of up to $40,000 with APRs ranging from 5.98% to 35.89%.

Peerform, founded in 2010, specializes in personal installment loans of up to $25,000. The platform requires you to have a FICO score of 600 or higher to qualify, and it doesn't allow cosigners. Annual interest rates range from 5.999% to 29.99%.
Rely on 
Prosper features personal loans of between $2,000 and $35,000 with rates ranging from 7.95% to 35.99%. Loan repayment periods extend from three to five years, and origination fees can reach 5%. Prosper requires a minimum credit score of 630.
Many P2P lenders use soft information when evaluating loan applications. This information is not readily available in credit reports and includes the borrower's demographics, social network, and stated reason for borrowing. 
Some P2P marketplaces, such as Funding Circle, provide small business loans instead of personal loans. In fact, Funding Circle is the largest online small business loans provider.
Cash Advance Apps
These mobile apps provide workers cash advances on their next paycheck. These are low-cost loans, not to be confused with astronomically expensive payday loans.
Possible can fund a cash advance of up to $500 in just minutes. The company has lent money to more than 1 million consumers. It doesn't use credit scores to determine loan eligibility, instead relying on your pay schedule and work history.

Dave has been downloaded more than 7 million times. The app gives you access to no-cost cash advances of up to $100. You can also set up an online bank account with Dave to receive direct deposits two days earlier than your regular paycheck.

Even allows workers to get an advance on their earned wages. A fee may apply, although Instapay is available to Even members at no additional cost. The company claims to have saved consumers more than $100 million in interest and fees stemming from loans and overdrafts.
Cash advance apps are attractive because they offer no- or low-cost loans to workers with any type of credit. They are a welcome alternative to predatory payday loan storefronts. 
How Low Can My Credit Score Be to Get a Small Loan?
Lenders know all about the risks and costs they face from borrowers who fail to repay their loans. The whole system of credit scoring, mediated by the three major credit bureaus, exists to measure the likelihood that you will default on debt within the next two years. 
The predominant scoring models, FICO and VantageScore, rely on your past behavior to assign you a credit score. Lenders look to those scores when deciding whether to approve loan applications, but lenders like Upstart use different techniques to underwrite loans.


Nonetheless, an unsecured personal loan lender usually doesn't consider credit scores when deciding whether to grant loans. While there is no magic minimum credit score that will gain you access to small personal loans, it's reasonable to assume that scores below 600 will hamper your chances. 
Payday loans, pawnshop loans, and title loans do not rely on credit information to make loans. However, all three charge costly interest rates and do not report your payments to the credit bureaus.
The online personal loan networks allow you to prequalify (i.e., receive preapproval) for a loan before formally applying. Prequalification does not guarantee eventual loan approval, but it doesn't hurt your credit score, and it tells you whether you are at least in the running to get your loan. If it turns out that you don't prequalify for a loan, you'll at least avoid the score damage that a hard pull by the direct lender would cause.
Upstart helped start a trend to evaluate potential borrowers in new ways beyond credit scores. The path Upstart chose was to concentrate on a person's wealth potential as predicted by their education and experience. The company uses AI to power a data model that predicts future income levels. 
Upstart looks to qualify borrowers that other lenders overlook. The company points out that 80% of Americans have never defaulted on a loan, yet less than half of the nation's consumers have access to prime credit. Upstart's mission is to give lenders tools to double their approvals with fewer defaults. 
Can I Get a Personal Loan Without a Credit Check?
You can avoid a credit check by applying for a secured loan. Lenders protect themselves from losses from borrowers who default by accepting collateral of equal or greater value than the loan amount. The collateral must be large enough to repay the loan and cover expenses that include lost interest and legal fees.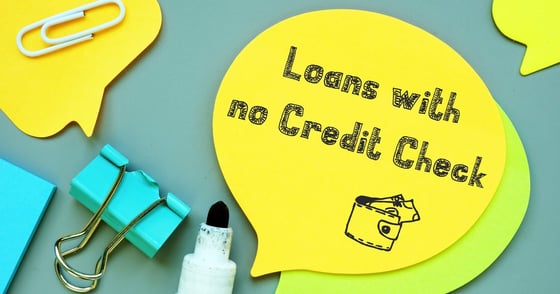 Collateralized loans, like those for cars and homes, are familiar, and the loan proceeds go to paying for the purchase of the collateralized item. Personal loans can accept homes and cars as collateral but without the restrictions on how you use the money. 
How Long Does It Take to Fund a Personal Loan?
Almost all the lenders in this review promise to fund your personal loan in as little as one business day following loan acceptance. With online personal loans, you save time by e-signing the credit agreement, avoiding the need to travel to a bank or credit union branch.
The online personal loans providers wire the proceeds to your bank or credit union account, where you have immediate access as soon as it arrives. The mobile cash advance apps are even faster, offering same-day funding in many cases. 
What Types of Loans Should I Avoid?
Avoid these three:
Traditional payday loans: These are predatory loans with APRs between 300% and 800% or more. You must repay these on your next pay date in a single lump sum. Failing to do so will prompt the lender to roll over your loan, add the past-due interest to your loan principal, and put you on the road to an inescapable debt spiral and bankruptcy.
Pawnshop loans: You can hock property like cameras, jewelry, and computers at your local pawn shop and receive loans for much less than the merchandise's value. The loan APRs are just as high as those for payday loans, and failure to redeem your pawn ticket will cause you to forfeit your property. 
Title loans: A title loan is like a pawnshop loan on steroids, where your fully paid-up car serves as collateral for a costly loan. The title represents the lender's lien on your vehicle, allowing it to repo your car if you fail to repay the loan.
Personal loans make more sense. Interest rates, while high, won't cause your nose to bleed, and you can schedule a loan term long enough to make your monthly payments affordable. An unsecured personal loan does not provide lenders with liens on your property, meaning the lender must take you to court before seizing any of your assets. 
Evaluate Loans Like Upstart
Loans like Upstart provide subprime consumers with access to personal loans that need not break budgets or cause undue hardship. The six reviewed online lender networks can arrange personal loans in just a few minutes and get you your money as early as the next business day.
We urge you to read and understand any loan agreement offered to you. Before accepting a loan, know exactly how much you'll be paying each month and over the loan term.
Advertiser Disclosure
BadCredit.org is a free online resource that offers valuable content and comparison services to users. To keep this resource 100% free for users, we receive advertising compensation from the financial products listed on this page. Along with key review factors, this compensation may impact how and where products appear on the page (including, for example, the order in which they appear). BadCredit.org does not include listings for all financial products.
Our Editorial Review Policy
Our site is committed to publishing independent, accurate content guided by strict editorial guidelines. Before articles and reviews are published on our site, they undergo a thorough review process performed by a team of independent editors and subject-matter experts to ensure the content's accuracy, timeliness, and impartiality. Our editorial team is separate and independent of our site's advertisers, and the opinions they express on our site are their own. To read more about our team members and their editorial backgrounds, please visit our site's About page.