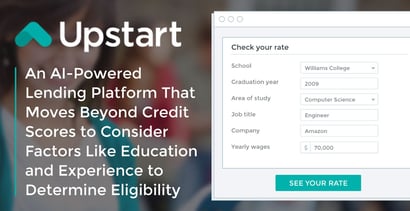 Experts share their tips and advice on BadCredit.org, with the goal of helping subprime consumers. Our articles follow strict
editorial guidelines
.
In a Nutshell: Upstart is a lending platform that uses artificial intelligence and machine learning to go beyond traditional credit evaluation techniques to determine a consumer's credit risk. The company's technology takes into consideration factors such as educational background and employment history — information that is not reflected in a credit score. Thanks to this modern approach to risk evaluation, Upstart is able to approve consumers who are often passed over by traditional lending institutions. The company also offers a faster application and approval process — often at lower rates — than those offered by traditional lenders.
When the Upstart founding team launched the company back in 2012, the entrepreneurs were focused on helping young consumers — most of whom had limited or no financial standing — obtain credit, said Upstart Co-Founder and Head of Product Paul Gu.
"That seemed very odd to us that they have so much trouble because many of these people, in the future, would become perfectly financially healthy consumers who everyone would want to lend to," Gu said. "It was just challenging figuring out who they were in advance."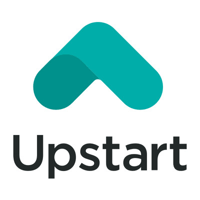 But that's just what Gu and the Upstart team set out to do — build data models that could predict future income levels. But pretty soon, Gu said the team observed that it wasn't just perfectly worthy young people being passed over by the lending system.
"We started realizing that the problem was much broader — it was really kind of across the board," he said. "There are all these people who are overlooked by the traditional system who would actually be able to repay new loans given them but are denied or given very high interest rates."
Gu said the Upstart team believed that, if it could apply more modern techniques involving alternative data and machine learning (ML), the resulting platform would be able to identify many more good borrowers from pools of people not traditionally seen as such.
Gu's background in quantitative finance and entrepreneurial spirit, along with CEO Dave Girouard's experience as President of Google Enterprise and Head of Operations Anna Counselman's former role as head of Gmail Consumer Operations, combined to make a tech-forward and innovative lending platform for today's world.
"Our mission is to enable effortless credit based on true risk. Why? Because credit really matters," according to the Upstart website. "Money is a fundamental ingredient of life, and unless you're in the few percent of Americans with significant wealth, the price of borrowing affects you every day."
Many Worthy Consumers are Overlooked for Loans
"Lending is centuries old but has changed little in recent decades. Almost all lenders use FICO-based models to decide who is approved for credit and at what interest rate," according to the website. "While simple and intuitive, these 'scorecard' methods are limited in their ability to quantify risk."
To further illustrate this point, the company points out that more than four out of five Americans have never defaulted on a loan, yet less than half of U.S. consumers have access to what is considered to be prime credit.
With a smarter credit model in place, lenders could approve nearly twice as many borrowers, with fewer defaults, according to the website.
"Upstart is the first artificial intelligence lending platform designed to improve access to affordable credit while reducing the risk and costs of lending for our bank partners," according to Upstart. "By leveraging Upstart's AI platform, Upstart-powered banks can have higher approval rates and lower loss rates, while simultaneously delivering the exceptional digital-first lending experience their customers demand."
Gu said there is a near-infinite number of ways Upstart could find out whether a person is a high credit risk where other lenders cannot. So, the company tends to focus on groups that, on average, have the potential for better outcomes with Upstart than with other platforms.
"When you get into looking at credit scores, generally between 620 and 700, you start seeing really large benefits to what we do," Gu said. "We measure that compared to a traditional model, we could approve about 95% more consumers in this range — so, almost twice as many people. And we're able to reduce their interest rates by 5.4 percentage points."
He said the company is also exploring how to help more people in the next credit segment below 620 as well, but in the meantime, consumers in the lower to mid-600s stand to benefit the most from Upstart.
How AI and Machine Learning Can Evaluate Credit Risk Beyond Traditional Measures
Gu said Upstart has found many factors other than traditional credit scores to be predictive, and the platform's AI and machine-learning model uses about 2,000 variables to evaluate applicants.
"A couple of the most distinctive categories, at least in contrast to traditional models, have to do with a person's education background and a person's employment background," he said. "They are predictive of the stability of someone's income stream in the future. And it indicates something about someone's level of commitment to things — their level of responsibility."
Gu said details on a person's credit report may tell a story, perhaps about how their credit was damaged and how long ago it happened. Additionally, seeing how someone goes about finding and applying for a loan is also very indicative of whether a person really has any intention to repay the loan or if he or she is taking it seriously.
"Upstart is one of the first to apply AI/ML to the multi-trillion dollar credit industry," according to the company website. "Upstart goes beyond FICO, using non-conventional variables at scale to provide superior loan performance and improve consumers' access to credit."
The system is constantly improving, according to the company, as it is continually learning and optimizing the platform in response to daily loan-level repayment and delinquency data.
Upstart contends that virtually all lending will be centered on AI and machine learning within the next 10 years, and the company is poised to lead the way in credit markets across the world.
A Fast, Easy Loan Process with Lower Rates and No Prepayment Penalty
Not only do consumers with less-than-perfect credit have a greater chance of securing a loan from Upstart, but they can do so faster, more easily, and often more cheaply than they would by going through traditional lenders.
Upstart offers personal loans, credit card and debt consolidation loans, home improvement loans, medical loans, and more. And potential borrowers can check the rates they may be eligible for within five minutes, using the company's online form.
The company's personal loans range from $1,000 to $50,000 with three- and five-year terms available, and rates from 5.67% to 35.99%.
"99% of applicants get money just one business day after accepting their loans," according to the company website. "Our (personal loan) borrowers save an estimated 23% compared to their credit card rates."
Additionally, borrowers can pay off all or part of the loan at any time with no fee.
Upstart is rated 5 out of 5 based on 5,285 Trustpilot ratings.
The company has originated $4.5 billion in loans to more than 300,000 borrowers. And 67% of Upstart's loans are now fully automated, with borrowers able to go through the whole process online without ever having to deal with a person.
Upstart also implements best practices when it comes to security and legal compliance.
"Upstart has worked with regulators since inception to ensure it operates safely within the law," according to the website. "AI/ML-based lending expands access to affordable credit by constantly finding new ways to identify qualified borrowers. Yet the model must avoid unlawful disparate impact, or statistical bias, that would be harmful to disadvantaged groups."
Expanding Upstart's Offerings via Unsecured Personal Loans and by Working with Banks
Gu said the Upstart team is working on a number of projects to improve the platform and deliver more benefits to its borrowers.
"Today, we're very focused on an unsecured loan product," he said. "I think you'll see that in the future."
The company is also exploring how to deliver a white label version of its platform to banks so the banks can serve a broader range of consumers, Gu said.
"I think in the future, there will be meaning to this idea that a bank is actually powered by Upstart," he said. "And they'll be able to access the benefits of machine learning and alternative data to offer people higher approval rates and lower interest rates."