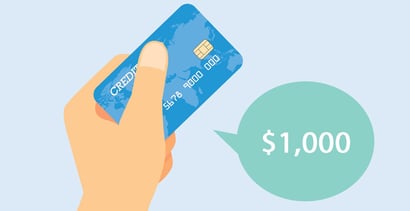 Plenty of $1,000 credit limit credit cards for bad credit offer guaranteed approval — though each card may have other requirements you must meet before you can add them to your wallet.
To find the card that's right for you, you'll need to decide if you're looking for a secured credit card or an unsecured credit card. Once you figure that out — and we'll give you the road map to reach your decision below — you can start whittling down your choices.
Even if you have poor credit or a past bankruptcy, you can still likely find a credit limit that can provide the $1,000 you need for an emergency or to pay for an immediate expense. The beauty of this type of credit is that you can spend it however you choose.
Unsecured Cards | Secured Cards | Personal Loans | FAQs
Unsecured Credit Cards With $1,000 Credit Limits
Most unsecured credit cards for bad credit start off new cardholders with an initial limit of anywhere between $300 and $500. That doesn't mean that you can't eventually get to a $1,000 limit after a credit limit increase, but it will take some time.
If you need a $1,000 limit right away, consider visiting your local bank or credit union and meeting face-to-face with a loan officer who may listen to your request and consider your application for a higher-than-average starting credit line. But if you're willing to start small and work your way toward that $1,000 goal, here are some great options to get you going.
The Fortiva® Mastercard® Credit Card offers credit limits of between $350 and $1,000. The higher your income and credit score, the more likely you are to be approved for an initial $1,000 limit.
The bank will periodically review your account to see if you qualify for a credit limit increase. Continued on-time payments and reporting a higher income to the issuer will support your case for a higher credit limit.
The Aspire® Cash Back Reward Card lets you earn tiered rewards on all eligible purchases, making it one of the best cash back cards in this category. You also get free credit scores and transaction alerts. You can prequalify for the card without hurting your credit score.
The card provides around-the-clock online access on any device. Aspire is a genuine Mastercard accepted by merchants around the world.
Up to $1,000 credit limit doubles up to $2,000! (Simply make your first 6 monthly minimum payments on time)
All credit types welcome to apply!
Monthly Credit Score – Sign up for electronic statements, and get your Vantage 3.0 Score Credit Score From Experian
Initial Credit Limit of $300 – $1,000 (subject to available credit)
Monthly reporting to the three major credit bureaus
See if you're Pre-Qualified without impacting your credit score
Fast and easy application process; results in seconds
Online account access 24/7
Checking Account Required
| Application Length | Interest Rate | Reports Monthly | Reputation Score |
| --- | --- | --- | --- |
| 9 minutes | 29.99% APR (Variable) | Yes | 8.5/10 |
The Surge® Platinum Mastercard® offers one of the largest possible initial credit limits on this list. You may receive an initial credit line of between $300 and $1,000, depending on your credit history.
Just keep in mind that this card will charge its first year's annual fee as soon as you activate your account, which will be deducted from your available credit before you ever swipe the card.
The Reflex® Platinum Mastercard® offers an initial credit limit of up to $1,000, depending on your creditworthiness. Consecutive on-time payments will help bump that credit limit to $2,000 in as soon as six months. 
This card can help you build credit with responsible use, but you do need a checking account to qualify.
Secured Credit Cards With $1,000 Credit Limits
A secured credit card will require a refundable security deposit for approval. The amount of your deposit will typically match your credit limit, so if you need a $1,000 limit, you'll need to deposit $1,000 as collateral to obtain the card.
The credit card company will refund the entire amount of your deposit when you close your account — as long as you're in good standing with no outstanding balance or debt owed to the bank.
Some secured cards won't check your credit since you're backing your account with a cash deposit. This is as close to a guaranteed approval as you can get in the financial world. And if you need a higher credit limit, you can typically add more to your deposit later.
The OpenSky® Secured Visa® Credit Card offers a relatively low variable interest rate, much lower than that of an unsecured card for bad credit, but it does charge an annual fee.
This card's minimum required deposit is $200, but you can deposit up to $3,000 after approval to receive a matching credit limit.
The Applied Bank® Secured Visa® Gold Preferred® Credit Card allows a maximum initial credit limit of $1,000 that can go as high as $5,000 over a period of responsible use.
You'll also notice the nice low fixed interest rate, however, this card does not offer an interest-free grace period, which means you'll always be charged interest for your purchases.
7. Capital One Platinum Secured Credit Card

The Capital One Platinum Secured Credit Card is one of the best credit-building secured credit cards on the market. That's because the card does not charge an annual fee. And depending on your credit history, your required security deposit may be less than your initial credit limit.
And since Capital One offers so many cards within its portfolio, you can use this secured card to work toward an upgrade to an unsecured offering. If that happens, you'll get your new card in the mail, and the bank will refund your security deposit upon closing the secured account in good standing.
8. Discover it® Secured Credit Card


The Discover it® Secured Credit Card is one of the few offerings in this space to offer cash back rewards. Not only can you earn a percentage of your purchases as cash back, but Discover's popular Cashback Match™ Program will match the amount of cash back you earn during your first year with the card.
This card earns added kudos since it doesn't charge many of the fees that other secured cards pass on to cardholders. The combination of cash rewards, no fees (or low fees), and almost guaranteed approval makes this card a home run.
9. Citi® Secured Mastercard®

Citi® is one of the most trusted credit card issuing banks in the space — and the Citi® Secured Mastercard® is part of the reason why. With this card, you can use a security deposit of up to $2,500 to access a revolving credit line that can help you build credit.
Citi reports your payment history to each major credit reporting bureau. With responsible use, you may find yourself on the path to good credit — and possibly add one of the many Citi unsecured credit card options to your wallet.
You May Have Better Luck Applying For a $1,000 Loan
Many people turn to credit cards because they offer a revolving line of credit you can reuse after you pay off your debt. But if you're looking for $1,000 now — and aren't worried about needing access to credit down the road — you may want to consider a personal loan.
With the lending networks listed below, you may qualify for a $1,000 loan for bad credit and have the money in your linked checking account within 24 hours. And while these loans will come with interest charges, you may not find all of the setup fees and the annual fee that come with most unsecured credit cards for bad credit.
With these networks, you'll submit one form to each website. The network will then submit your loan request to every lender it partners with. If you qualify, you can receive multiple loan offers via email within minutes of submitting the form.
Short-term loans up to $5,000
Online marketplace of lenders
Funds available in as few as 24 hours
Simple online form takes less than 5 minutes
Trusted by more than 2 million customers
| Loan Amount | Interest Rate | Loan Term | Loan Example |
| --- | --- | --- | --- |
| Up to $5,000 | Varies | Varies | See representative example |
The MoneyMutual network of lenders offer short-term personal loans of up to $2,500 to qualified borrowers. The key is that you're receiving a personal loan — so you can use the funds in any way that you choose.
Most lenders expedite application processing. If you qualify and can provide all of the necessary paperwork, you can receive the proceeds of your loan by the next business day.
CashUSA.com offers one of the largest maximum loan amounts on this list, with lenders that will consider applications of up to $10,000 from bad credit borrowers.
And, unlike a credit card, you can maintain a set monthly payment for the life of your loan. To qualify for a loan, you must submit to a credit check, be at least 18 years old, and a U.S. citizen or permanent resident. You must also earn an income of at least $1,000 after taxes, have a checking account in your name, and provide work and home phone numbers as well as a valid email address.
CreditLoan.com has a network of lenders that offer bad credit loan options of up to $5,000 — and loans of up to $40,000 if you have good credit or better. The network has a dedicated team of lenders that work with bad credit borrowers, so this may be a good option if your credit score is subpar.
You must have a checking account in your name to qualify, and CreditLoan.com only allows borrowers to have one active loan through the network at a time. If you're in need of a second loan and want to apply through the network, you must satisfy your first debt before you proceed.
BadCreditLoans.com offers loans of between $500 and $5,000 — so qualified applicants should have no problem finding the $1,000 loan they need.
Borrowers also won't pay any fees for using the service, since BadCreditLoans.com, as with the other networks on this list, receive referral fees from lenders that close loans with consumers who find them through the website.
You may qualify for a loan of up to $35,000 on PersonalLoans.com, though not every applicant will qualify for a loan that large. But if you do qualify, you will receive loan offers via email in a matter of minutes.
To qualify, you must submit to a credit check, be 18 years or older, meet the lender's income requirements (through employment, disability, or Social Security benefits), and have a valid checking account in your name.
Can I Get a Card with a $1,000 Limit if I Have Bad Credit?
Yes, but you may have to collateralize the card with a deposit. That's because there are different types of credit cards. The two most common types are secured and unsecured.
A secured credit card, which is about as close to "guaranteed approval" as you can get, may not require a credit check for approval. Instead, every cardholder must back their account with a refundable security deposit that, in most cases, matches their card limit.
So, if you want a credit card with a $1,000 credit limit, you'll need to place a $1,000 security deposit at the time you sign up for your account. The bank holds your deposit until you close your card's account in good standing. At that point, you'll receive a check for the full amount of your deposit.
Remember that your deposit does not qualify as payment. Even after you submit the deposit, you'll still need to pay for every charge you place on the card. The amount of your monthly payment will depend on your current balance.
Secured cards are often more desirable than their unsecured siblings:
Refundable deposit: Consider the situation in which you have a choice between, say, a secured Visa card and a subprime unsecured card. The secured card requires you to put down a $200 deposit but otherwise waives most other fees. Contrast this to an unsecured card with a $200 credit limit that charges a $79 annual fee and a one-time setup charge of $99. That's $178 in upfront fees down the drain, whereas the secured card will eventually refund your $200 deposit. I know which one I'd choose.

Higher credit limits: Most secured credit cards allow you to increase your initial deposit to support a higher credit limit, sometimes as high as $5,000 to $10,000. Those limits are virtually impossible to achieve with a subprime unsecured card, where the maximum credit line may top out at $1,000 after a couple of years. Occasionally, a secured credit card may grant you a higher credit limit without an additional deposit, which may be preferable to an upgrade to an unsecured card.

Lower costs: If you prefer not to spend money on credit card fees and interest, you may want to choose a secured card over a subprime unsecured one. A secured card's relatively low risk permits the issuer to charge a lower APR and impose fewer fees. For example, secured cards do not charge a setup or monthly maintenance fee. Moreover, their interest rates may be several percentage points lower than their unsecured counterparts. 
Better perks: Some secured cards offer cash back rewards of 3% or higher on select purchases. The Discover it® Secured Credit Card offers a Cashback Match to new cardholders for the first year after account opening. A few secured business credit cards are available to business owners with shaky credit.

No credit check: Secured cards require collateral instead of good credit. Issuers will almost always accept applications for secured cards, contingent on the security deposit. Most do not perform a hard pull of your credit that can hurt your already low credit score. However, secured cards routinely report your payment activity to each credit bureau, which use this information to update your credit scores. You can speak with a card's customer service rep to verify its reporting policies.
Although these cards may not sound traditional, they have all of the benefits that you'd expect from a credit card — you can use them wherever credit cards are accepted, you can rollover balances from month to month, and you can also improve your credit history because the card issuers report your payment history to the three major credit reporting bureaus each month.

An unsecured credit card has no collateral — meaning there's no security deposit required for approval. When working with applicants who have bad credit, banks tend to prefer having a backup plan in case the consumer defaults on his or her card account. As a result, you may have more trouble finding an unsecured card with a $1,000 credit limit.
Just about every bank or issuer who offers unsecured credit cards for bad credit wants to start a new client off small. Most cards in this category feature an initial credit limit of approximately $300. Some cards, such as the Surge® Platinum Mastercard®, will start qualified applicants off with anywhere from a $300 to a $1,000 credit limit.
These cards often feature a higher-than-average interest rate, as well as an annual fee, potential setup fees, and other charges. That's how the bank offsets its risk of extending credit to a consumer who has bad credit.
Typically, unsecured cards for bad credit are not the best credit card deals. Because the issuer is attempting to offset the risk of extending credit to subprime consumers who are building credit, the card has several disadvantages, including:
Skimpy credit limits: Your initial credit limit may be as low as $200. Issuers reason that a small credit limit is not too much to risk on a subprime cardholder. Over time, you may see your credit limit rise through responsible behavior, that is, paying your bills on time and keeping your unpaid balances relatively small compared to your credit line.
Tall interest rates: You'll face APRs in the 25% to 36% range for the most part. These rates punish your budget. It's an intelligent move to avoid interest entirely by paying your entire balance each month before the end of the grace period (the 21+ days after the end of a billing period). Beware of the occasional credit card that doesn't offer a grace period. These cards charge interest starting on the transaction date. Contact the card's customer service department if you aren't sure about its grace period.
An avalanche of fees: All cards, even those for excellent credit, routinely charge a foreign transaction fee and fees for cash advances, balance transfer transactions, and late payments. But some unsecured cards for bad credit pile on charges unique to their segment. These include a foreign transaction fee, monthly maintenance charges, one-time setup fees, fees for extra cards, and even fees for credit limit increases.

Negligible perks: Many subprime unsecured cards offer few benefits. Most cards for bad credit do not pay rewards on purchases, nor do they offer signup bonuses, or provide 0% introductory APRs. Travel benefits are usually out of the question. At best, some of these cards offer fraud protection and free credit reports.
Buried costs: A few bad-credit cards hide some costs in the fine print. For example, we know of at least two cards with no grace periods (e.g., the secured Visa credit card from Applied Bank). Another unwelcome cost is the fee for credit limit increases. These cards rain on your parade by charging a fee as high as 25% of the credit line increase. Very few business credit cards exist in this category.
If you're absolutely in need of $1,000 and you don't have a security deposit to open a secured credit card, you may want to consider taking out a personal loan to cover your current expenses. While a loan won't provide the revolving credit that you get from a credit card, you can still build credit without paying as many fees for the privilege.
Which Credit Card For Bad Credit Has the Highest Limit?
Most bad credit unsecured credit cards will offer an initial credit line of around $300. That's because the bank wants you to prove that you're a responsible borrower before it extends any more credit to you.
If you're willing to pay a refundable security deposit, you can find a secured credit card with much higher spending limits and near-guaranteed approval.
Quite often, consumers only look at the potential credit line when researching which credit card they want to apply for. While your available credit is quite important, it shouldn't be the deciding factor in your research.
When a bank or card issuer creates a new card for bad credit applicants, it has to judge the risk it's taking and create enough of a reward to make the card worth it to them. That means added fees and charges, and an interest rate that's much higher than the rate offered to someone who has good credit.
A bank takes on a larger risk when it extends a large unsecured credit line. That means it must charge more to offset the risk. You're going to find that cards with larger credit limits often cost you more in the end.
So, while you're checking out the credit limit on a specific card, also look at the interest rate, annual fee, setup fee, and monthly service charges. It may make that larger limit look a lot less attractive.
What Is the Easiest Credit Card to Get With Bad Credit?
We've already talked about secured and unsecured credit cards, but there's a third type of card that falls in a somewhat gray area between the two. Depending on your credit needs, it may just be the card for you.
In most cases, a store credit card will only work at the store associated with the card. At times, the company that owns the store will have sister franchises that also accept the card. For example, you can use the Gap Visa® Credit Card at The Gap, Banana Republic, Old Navy, Athleta, and Hill City.
These stores understand that competition from other brands makes it harder to build brand loyalty. One way to make certain a customer returns is to make it easy for shoppers to acquire a store credit card.
You've likely had a cashier ask if you want to sign up for the store's credit card. In most cases, the process can take place at the register, and you can use your new credit line that day. But what the cashier doesn't tell you is that these cards often feature sky-high interest rates and other charges to pay for their easy availability.
And while some cards may offer basic in-store rewards — such as coupons on your birthday or points that you can redeem for future discounts — you won't find many cash rewards or other perks that really set these cards apart.
And, most importantly, you can't use many store cards outside of the store. So, if you're looking for credit cards with a $1,000 limit that you can use anywhere, you shouldn't look here. Still, these cards are typically easy to qualify for and can help you build credit if you spend responsibly and make on-time payments.
Aside from a store card, your easiest bet to add plastic to your wallet is with a secured credit card. The card's issuer may not require a credit check for approval, and some will even accept your application if you're in bankruptcy proceedings.

You'll need a larger upfront investment for these cards, as they require a refundable security deposit that matches your credit limit, but they rarely have the high fees that you'll find with store cards or other unsecured credit cards. Some secured credit cards even offer cash rewards that will pay you back a percentage of every charge you place on the card.
In short, a secured card is the most affordable way to build credit if you currently have poor credit. Alternatively, you can check out a credit builder account, but this is a loan you pay to yourself and won't help you get the cash you're looking for today.
How Do I Get a Credit Limit Increase?
This depends on the type of credit card you have. Different types of cards treat credit limit increases differently.
If you have an unsecured credit card, you can choose one of multiple methods to request a credit line increase. Many card issuers have a link on their website or mobile application that allows you to answer a few questions and get a near-instant response to your request.
These questions typically revolve around your annual income and mortgage or rent payment. Essentially, the card issuer wants to determine how much of your income is currently going to bills, known as your debt-to-income ratio. If you're approved, the new credit line takes effect immediately.
Most issuers will also consider credit limit increase requests over the phone. To find the best contact phone number for your card issuer, check out the 800 or 888 number printed on the back of your card.

Capital One automatically monitors accounts and will check your account every six months to see if you're eligible for a credit line increase. If you qualify, you'll automatically get a boost to your credit line.
Some secured credit cards will also give you a higher credit limit if you add to your security deposit. A few will consider increasing your credit line without an added deposit if you show that you use your account responsibly, such as always making on-time payments and keeping your balance low.
The key to getting a higher limit is choosing the right time to ask. Most credit cards will only increase your credit limit once every six months. If you have a new account, or you've received a higher credit limit within that time frame, you may receive a rejection.
You likely won't find success if you have recent late payments or overdrafts as well. A credit limit increase is a reward for responsible financial behavior. As such, the issuer won't consider rewarding you if you have recent mistakes.
You can also consider requesting a higher credit limit if you receive a raise at work. Since you have to input your annual income when making the request, a higher salary may qualify you for an improved credit line.
You should also hold off on asking for a higher credit limit if you currently have a large balance on your card. An issuer will see this as a desperate attempt to add more credit because you've exhausted your other options.
Not only will a credit limit increase give you access to more available credit, but it will also improve your credit utilization — which plays a major part in determining your overall credit score.

You can calculate your credit utilization by dividing your current credit card balance by the card's overall available credit. For example, a card with a $1,000 limit and a $250 balance has a 25% utilization ratio.
The lower your credit utilization rate, the better your credit score. When you aren't using a majority of your available credit, you look more responsible to lenders.
A general rule of thumb is the lower your utilization, the better your credit score. Utilization of less than 10% is very good and less than 5% is excellent.
A credit limit increase gives you access to more available credit. If you don't make any new charges, that improves your credit utilization instantly.
Let's take, for example, a $1,000 card with a 25% credit utilization. If the issuer approves a credit limit increase to $2,000, that card now has a 12.5% utilization rate — a big improvement.
You may think that a 0% credit utilization is the best thing for your credit, but that may not be the case. In fact, FICO reports that "Having a low revolving balance is actually less risky compared to having no balances at all. Having a low balance indicates you are using credit in a responsible manner."
Do I Need a Bank Account For Approval?
Every credit card company has different rules, but most prefer you to have a bank account for approval. This allows you to make online recurring payments in a timely manner. Otherwise, the bank will depend on you to make timely payments each month.
In fact, many credit cards for bad credit require recurring payments on a specific date each month. You can only do this if you link an active checking account or savings account to your credit card account.
In fact, if you're leaning toward a secured credit card because of their lenient approval requirements and lower fees, you'll need a checking account to wire your security deposit and payments to the credit card company.
When you apply online for a secured card, the issuer will provide a way to link your bank account so you can transfer your deposit to the issuer. This typically takes anywhere between one and three business days to complete.
Some card issuers will even consider your bank account history before approving you for a new card. If you can responsibly handle your checking account — meaning no recent overdrafts, bounced checks, or insufficient funds — you're more likely to successfully manage your new credit card. Without an active account, the issuer can't view that information and may hold it against you.
People choose not to have bank accounts for many reasons. The rapid growth of online banking makes it easier than ever for just about anyone to open an account.
With an online bank, you can directly deposit paychecks or benefits checks, while earning interest on your savings and adding a debit card to your wallet. And since these banks exist predominantly online, they don't have the overhead costs of a larger bank and can pass those savings on to you in the form of better interest rates and other affordable financial products.

Another key advantage of online banking is that your location doesn't matter. All you need is online access to manage your account. You don't have to live by a branch office to conduct your transactions.
You can sign up for an online bank account in a matter of minutes. Most banks don't have minimum deposit requirements and those that do typically only require $5 to open an account. That's a small investment to make if it's going to mean the difference between credit card approval and rejection.
How Can I Build Credit Using a Credit Card For Bad Credit?
The best way to build credit is to use credit. But if you use your available credit irresponsibly, such as by racking up debt and making late payments, it can have the opposite effect.
If you have poor credit, it's likely because you have made some financial mistakes in the past. You can put them further in the past if you replace the negative items on your credit report with positive items.
When you're rebuilding credit, pay your bill on time and maintain a low balance to improve your credit score over time.
Each negative mark on your credit history loses emphasis over time. A single 30-day late payment can drop your credit score by as much as 100 points. But if you continue to make on-time payments after that error, the effect will lessen over time and your score will continue to rise.
But if you don't have a credit account to replace that negative item, it will sit there atop your credit file for up to seven years.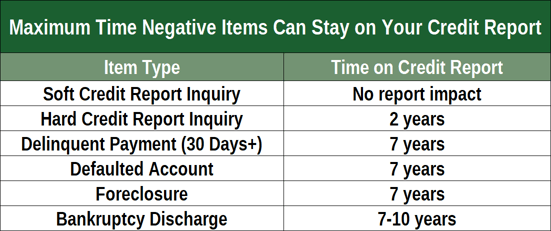 Any information — positive or negative — only goes on to your credit file if your credit card issuer or lender reports your payment history to one (or all) of the three major credit reporting bureaus, Equifax, TransUnion, and Experian.
Some lenders only report to one or two of the bureaus. That's why you can have a different credit score with each of the three services.
Most credit card issuers for bad credit — both secured and unsecured — will report to all three bureaus. Some will not, though. A prepaid card, for example, does not impact your credit score at all.
That's because these cards technically aren't credit cards. They're closer to debit cards in that they allow you to use the money that you've already deposited into the account. They don't include any associated credit line and don't affect your credit score.
But other forms of credit, including personal loans, credit cards, auto loans, mortgages, and other lending products, will give you the chance to prove yourself to lenders as a responsible consumer who pays your bills on time.
That will not only improve your credit score but will help you qualify for more affordable and lucrative financial products in the future. A new credit card will also improve your credit utilization, which accounts for 30% of your overall FICO credit score. Check out the answer above for more on that topic.
What Rewards Can I Get From Credit Cards For Bad Credit?
Most subprime unsecured cards do not offer rewards, whereas cards for consumers with fair credit or better usually provide some rewards. But the best credit card offerings provide cash back, usually as tiered rewards. 
The Fortiva® Mastercard® Credit Card and Aspire® Cash Back Reward Card pay cash back on eligible purchases in the form of a statement credit.
Virtually every secured card guarantees approval if you can make the security deposit and is more likely to offer rewards. The Discover it® Secured Credit Card vies for the title of best secured card in this group.
It pays cash back rewards and a dollar-for-dollar Cashback Match to new cardmembers for the first year after account opening, giving it an edge in the best cash back sweepstakes.
Be sure to read the fine print regarding cash back rewards offered by subprime credit cards. Some may limit how you can redeem your rewards (for example, only through a statement credit) or attach conditions to the top cash back rate.
Will I Qualify For a Rewards Credit Card If I Have Poor Credit?
The and Discover it® Secured credit card are two options if you're looking for a secured credit card that offers cash rewards or rewards points in the form of a percentage of each transaction credited back to your account.
Your rewards rate will depend on the card you choose and your credit history.
But since these are secured credit cards, you'll need to place a refundable security deposit before getting access to your new account. That deposit backs your account and makes it easier for you to qualify for a new card — but it can also make the card harder to obtain if you don't have the money to use for a deposit.
If an unsecured card is more your speed, you can consider the Aspire® Cash Back Reward Card. This card not only provides all cardholders with free access to their Equifax credit score (which is great if you're tracking your credit-building progress), but you can also earn cash back rewards on eligible purchases, including gas, groceries, and utility payments.
This card considers applications from consumers who have less-than-perfect credit and features an initial credit limit of up to $1,000 for all approved applicants.
But don't get blinded by the potential of rewards and sign up for this card only for that feature. If you factor in the card's potential annual fee (some applicants will qualify for a $0 annual fee) and high interest rate, you'll have to charge thousands of dollars to this card each year just to break even.
And that's if you pay your balance off each month. Just about every rewards credit card tacks on a higher-than-average interest rate to help pay for the rewards the card pays out to every cardholder.
Some applicants may only qualify for this card with an APR of 20% or higher. That interest rate can devour any money you make from the cash rewards, so tread lightly.
$1,000 Limit Credit Cards For Bad Credit Exist
Whoever said the best things in life are free must have had an excellent credit score. For others, finding a credit card with bad credit takes patience, research, and money.
That's because just about every unsecured credit card for bad credit charges high interest rates and fees. Secured cards may have lower fees, but you'll need to pony up a refundable security deposit to achieve that guaranteed approval.
Whichever option you choose, just know that, with patience and discipline, you can eventually get to your goal of finding $1,000 limit credit cards for bad credit — and, in time, you'll find yourself with good credit, a higher credit limit, and more financial peace of mind.
Advertiser Disclosure
BadCredit.org is a free online resource that offers valuable content and comparison services to users. To keep this resource 100% free for users, we receive advertising compensation from the financial products listed on this page. Along with key review factors, this compensation may impact how and where products appear on the page (including, for example, the order in which they appear). BadCredit.org does not include listings for all financial products.
Our Editorial Review Policy
Our site is committed to publishing independent, accurate content guided by strict editorial guidelines. Before articles and reviews are published on our site, they undergo a thorough review process performed by a team of independent editors and subject-matter experts to ensure the content's accuracy, timeliness, and impartiality. Our editorial team is separate and independent of our site's advertisers, and the opinions they express on our site are their own. To read more about our team members and their editorial backgrounds, please visit our site's About page.