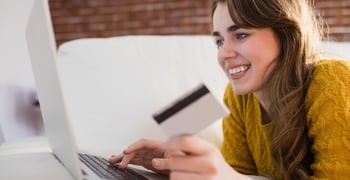 Building excellent credit takes time and patience — but the best credit cards for no credit history provide a runway to help you get there faster.
A credit card can help you prove your financial responsibility and build a track record of on-time payments that lenders look for when considering applications for larger loans and credit cards for good credit.
Consider your first credit card to be the audition for your financial future. To nail the part of the savvy consumer, you must first prove you're ready for that role. Here's your chance.
Best Cards for Those with No Credit History
Having bad credit and no credit are two very different things. But whether you're looking to build — or rebuild — your credit, you'll likely have to start with an entry-level credit card.
The cards listed below offer low credit limits but report your payment history to the credit reporting bureaus to help you improve your credit rating over time.
Easy application! Get a credit decision in seconds.
Build your credit history – Fingerhut reports to all 3 major credit bureaus
Use your line of credit to shop thousands of items from great brands like Samsung, KitchenAid, and DeWalt
Not an access card
| Application Length | Interest Rate | Reports Monthly | Reputation Score |
| --- | --- | --- | --- |
| 5 Minutes | See issuer website | Yes | 9.0/10 |
The Fingerhut Credit Account helps you build your credit history even though it's not technically a credit card. This revolving credit account only works online with Fingerhut and its retail partners.
You can use your credit to purchase name-brand household items, clothing, electronics, and more at discounted prices. Once you make a payment, you can reuse your credit line.
Checking account required
Fast and easy application process; response provided in seconds
A genuine Visa® card accepted by merchants nationwide across the USA and online
$300 credit limit (subject to available credit)
Multiple card designs available
Reports monthly to all three major credit bureaus
Rebuilding credit depends on factors like making on-time payments, keeping balance below credit limit and paying at least the minimum monthly payment
| Application Length | Interest Rate | Reports Monthly | Reputation Score |
| --- | --- | --- | --- |
| 9 minutes | See Terms | Yes | 8.5/10 |
New Total Visa® Unsecured Credit Card members receive a maximum $300 initial credit limit when approved following a short application. You must also pay a one-time program fee before activating your card.
The First Access Solid Black Visa Credit Card has a long history of working with consumers who have no credit or bad credit histories. Approved applicants receive a maximum $300 initial credit limit, but a program fee is due before the card's activation.
The Surge Mastercard® works well as a first-time credit card because it charges no program or enrollment fees that you often find with other cards in this category. It does, however, charge an annual fee. Surge card features a competitive interest rate and a maximum $1000 initial credit limit — which also outpaces the credit limits with most cards in its class.
The Credit One Bank® Platinum Visa® for Rebuilding Credit is a rare rewards credit card for those without an established credit history. Cardholders receive 1% cash back on eligible purchases while maintaining a competitive interest rate. You'll also receive free online access to your Experian credit score to help track your credit-building progress.
The Milestone® Mastercard® offers an easy prequalifying application that allows you to check your approval odds without submitting an official application and receiving a hard inquiry on your credit report. Milestone® also reports your payment and spending activity to the credit reporting bureaus to help build your credit score.
Best Cards for Students with No Credit History
The cards listed below can help you build a credit history that will serve you long after graduation. As long as you spend within your means and pay every bill on time, you could enter the "real world" with an established pattern of financial responsibility that will impress most lenders.
7. Discover it® Student Cash Back


The Discover it® Student Cash Back card allows you to earn cash back while also rewarding you for working hard in the classroom. This card pays 5% cash back on purchases made within quarterly categories you activate and 1% on all other purchases.
At the end of your first year with the card, Discover will match all the cash back you earn as part of its Cashback Match program. You can also earn a $20 statement credit for each school year (up to five years) you maintain a 3.0 or higher GPA.
8. Discover it® Student chrome


With the Discover it® Student chrome, you'll earn 2% cash back at gas stations and restaurants on up to $1,000 in combined purchases each quarter. All other purchases earn 1% cash back and the Discover Cashback Match program will match the total amount of cash back you earn during your first year.
The Discover it® Student chrome doesn't charge an annual fee, nor do any of the other student cards on this list.
9. Journey® Student Rewards from Capital One®


The popular Journey® Student Rewards from Capital One® has a two-tiered cash back structure that pays out 1% when you make your purchase and another 0.25% when you make an on-time payment. The card features no annual fee and gives all cardholders access to Eno® — a virtual assistant that helps manage your account via mobile text message.
Another cool feature with this card is the ability to earn access to a higher credit limit when you make five consecutive on-time payments.
Which Credit Card is Best for No Credit History?
There's a pretty big difference between having no credit and having bad credit — and the credit card you choose should reflect the difference.
Bad credit means you have a history of financial mistakes. Having no credit means you're credit invisible. Essentially, you have no (or not enough) recorded history of borrowing money from which the credit reporting bureaus can generate a reliable score.
Bad credit often means you'll have to settle for cards that offer higher rates and other fees since the card issuer takes a risk with every card it approves for someone with a negative history. You shouldn't incur penalties for not having a credit history.
The Surge Mastercard® is a great entry-level card because it only charges an annual fee when you activate your card. Most cards in this category charge both a program fee and an annual fee at the time of activation. Both can quickly eat away at your available balance.
The Surge Mastercard® also offers higher potential credit limits, with a maximum $1000 limit for new cardholders.
How Do I Build My Credit with My First Credit Card?
Financial discipline, persistence, and patience. All three things sound boring and time-consuming, but they're also the three keys that can take you from no credit to excellent credit.


Five factors account for your overall credit score. While some of these are within your control, such as paying on time and keeping your credit card balances low, others aren't so easy to manage.
As much as 15% of your credit score, for example, focuses on the age of your credit history. While lenders like to see on-time payments, it's even more appealing when there's a long history of them. Most lenders consider seven years to be a good length of credit history.
If you're just starting out, the only way to build a lengthy history is to remain steadfast and patient.
Your credit mix also accounts for 10% of your credit score. Lenders like to see that you're capable of handling multiple credit types. This means you can have different forms of loans — credit cards, personal loans, mortgages, auto loans, and others — to prove your creditworthiness.
Each of these factors acts as a single spoke in the wheel of your credit rating. You need all of them to obtain this elusive rating — so don't try to rush your way to perfection.
How Fast Can You Build Credit?
You can start to build your credit history in a matter of months — but it takes far longer to build an excellent credit rating.
When you first start out, the credit reporting agencies need at least three months of account data before they can consider your payment patterns for scoring. That means three months of on-time payments can net you a score in the low-end of a good credit score, somewhere in the mid-600s.
From that point, your score can fluctuate wildly depending upon your behavior. Unfortunately, it can decrease much faster than it can increase. One late payment can drop your score by as many as 100 points, whereas you'll likely only gain a few points each month as you continue to build a positive history.
Some new credit builders report surpassing the 700-mark within a year of starting their journey. You can improve your chances by keeping your balances low, your payments on-time, and improving your credit mix by adding a personal loan or another small loan to your credit-building portfolio.
That said, you should only take on debt that you're certain you can pay off without problems. Adding debt only to improve your credit score often has the opposite effect, so be patient and your score will increase over time.
What Credit Score Do You Start With?
A common misconception is that people start with a credit score of zero. This isn't true — partly because it's impossible to have a credit score of zero.
Your FICO credit score, for example, can range between 300 and 850. But newcomers aren't relegated to a 300 score. That's reserved for consumers with tremendous negatives in their financial past.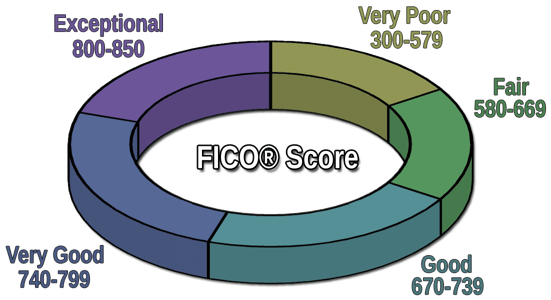 Instead, you start off with no score at all — also called being credit invisible. This means you haven't generated enough financial information to calculate a reliable score.
You'll need to put together at least three months of history before you can earn a credit score. Even then, there isn't a set starting point.
If you only make on-time payments and keep your balances low, you'll likely start out with a score between 650 and 670. If you continue that behavior, your score will steadily increase over time.
But if your first three months of recorded history includes a late or missed payment — or if you quickly charge your first credit card to its limit and let it sit there — you're more likely to start out in the low- to mid-500s.
How Can I Get Excellent Credit?
Excellence doesn't happen overnight. That's true whether you're writing a book, learning to cook, or mastering a jump shot.
The same goes for reaching excellent-credit status — which often starts around a score of 800. You won't get there simply by making on-time payments.
People who have excellent credit keep their balances low, maintain a good credit mix, have a long history of accounts in good standing, and only apply for credit when needed.
All these behaviors take time and patience. Consider this a marathon and not a sprint. If you're just starting out, don't focus solely on getting excellent credit.
While that's certainly a great long-term goal, you should first focus on generating a credit score. Then move to a good score, then a very good score.
Over time, as you pass these milestones, you'll accumulate the knowledge and history needed to eventually break into excellent territory.
Building Credit Takes Time
No one likes being patient. We live in a society where we want what we want — and we want it now. But the truly important things in life take time to build. This can be a personal relationship, a career, or a credit score.
You'll begin your journey to excellent credit when you start with one of the best credit cards for no credit history listed above. Just make sure you stay disciplined along your path. That means keeping your balances low, your limits high, and your payments on-time.
Advertiser Disclosure
BadCredit.org is a free online resource that offers valuable content and comparison services to users. To keep this resource 100% free for users, we receive advertising compensation from the financial products listed on this page. Along with key review factors, this compensation may impact how and where products appear on the page (including, for example, the order in which they appear). BadCredit.org does not include listings for all financial products.
Our Editorial Review Policy
Our site is committed to publishing independent, accurate content guided by strict editorial guidelines. Before articles and reviews are published on our site, they undergo a thorough review process performed by a team of independent editors and subject-matter experts to ensure the content's accuracy, timeliness, and impartiality. Our editorial team is separate and independent of our site's advertisers, and the opinions they express on our site are their own. To read more about our team members and their editorial backgrounds, please visit our site's About page.