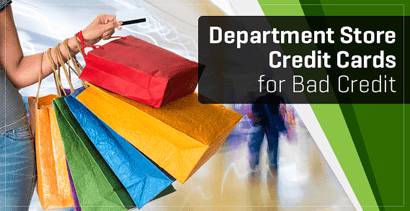 Department stores sure are pretty. The bright lights, glossy counters, and whimsical window displays have a way of luring shoppers in to buy their name-brand products. And to amp up the appeal, most department stores also offer store credit cards that seem to unlock exclusive rewards and discounts.
What's not as pretty, however, is having your credit card application denied because of your poor credit. But there's no need to feel too rejected — most store credit cards aren't the deal they seem to be. Store cards usually charge high APRs and can only be used, or have their rewards redeemed, on branded purchases.
Generally, the typical rewards card provides more shopping deals and deeper savings for users. The only hang-up is that consumers with bad credit have limited options — whether it's for a store credit card or for all-purpose rewards cards that can be used anywhere. Yet, even with a low score, there are still several cards out there worth checking out.
In the article below, we'll take a look at a range of cards worth considering, from more traditional credit cards to some of the best department store cards for bad credit.
Cards You Can Use Everywhere | Department Store Cards | FAQs
First Consider an Open-Loop Card For Bad Credit
Many store cards sound sweet to the ears but have limitations that can sour your credit score. Branded, closed-loop credit cards not only prohibit how or where you use them, they also require a hard credit pull to open. So if you're building credit and trying to pay down debt, it's hard to warrant a department store credit card that can only be used on a shopping haul at your local mall.
Instead, you're better off staying on budget and scooping up extra savings in the process through an all-purpose, open-loop credit card that can be used on everyday purchases. The best credit card issuers for bad credit have easy online applications and flexible conditions that will work your needs.
+See More Credit Cards for Bad Credit
After six months of responsible spending and on-time payments with your card, you'll likely see improvements to your credit score. Plus, you may even become eligible for better card options with fewer fees.
Just keep in mind that these possibilities vary based on your current credit situation and how much existing debt you manage to pay off.
Best Department Store Cards For Bad Credit
Department stores are a shopping haven for name-brand clothing, high-end makeup, and premium housewares. But they're also a hotspot for high prices. And, by purchasing with store-branded cards that have high APRs, shoppers can quickly blow their budget — and, potentially, their credit.
However, if you're a repeat customer or if you always have a long list of gifts to buy for the holidays, you may reap some benefits from a store card.
Perks run the gamut from exclusive sale access and products to special financing options on large purchases. Just be mindful to pay off your card as soon as possible to prevent interest fees from accumulating.
The Kohl's Charge Card allows users to combine their card discounts with Kohl's Cash®, Yes2You Rewards®, and even online coupons to maximize their savings.


Get at least 12 special Kohl's offers annually to use in-store or online if you're a cardholder
Receive 30% off your first Kohl's Charge purchase
Pay no annual fee
Be careful with your spending and make payments on time since you'll be hit with a late fee of up to $38 and a current penalty APR of 29.49%. Also, because the Kohl's Charge card has a high APR, it's smart to avoid carrying a high balance in general.
Anyone who uses the Macy's Credit Card earns 1X Plenti reward point per $1 spent on eligible store purchases that include a wide range of products, from clothing and makeup to furniture and wedding.

Earn a $10 coupon for every 1,000 Plenti points
Receive a 20% off Macy's coupon to redeem within the first two days of opening an account
Pay no annual fee
No amount of Plenti points can justify the high fees that come with carrying a large balance on your Macy's Credit Card. Avoid missing payments and pay off the card monthly so you won't be burdened with high interest charges.
The Dillard's Credit Card rewards cardholders 2X points for every dollar spent at the store, whether it's for your wardrobe or on goods for your household.


Redeem 1,500 points for a 10% off Rewards Shopping Pass or a $10 Rewards Certificate
Receive access to exclusive shopping events and offers
Pay no annual fee
Unlike most store cards, the Dillard's Credit Card doesn't offer a single APR but a range of possible rates. However, with a current APR window, even the lowest rate will result in sky-high fees for anyone who carries a balance from month to month on their card.
With the TJX Rewards Credit Card, you'll earn rewards that equate to 5% savings on purchases made at any T.J. Maxx, Marshalls, HomeGoods, or Sierra Trading Post location.


Get a $10 Rewards certificate for every 1,000 points you earn
Receive a 10% coupon on your first purchase after opening an account
Pay no annual fee
The rewards for frequent T.J. Maxx (or the T.J. Maxx family brands) shoppers do not make up for the high APR. Pay off your full card balance monthly to sidestep charges that can easily add up to more debt than savings.
The Belk Rewards Credit Card users can take advantage of insider savings and exclusive rewards if they're a repeat shopper at the department store.

Earn up to 5% back in rewards on eligible store purchases
Get $10 Belk Reward Dollars to use the day you open a card account
Pay no annual fee
The potential 5% rewards rate of the Belk Rewards Card is, unfortunately, overshadowed by a high APR. And, the card's high APR coupled by its closed-loop limitations mean the card will become more of a steal than a deal if you tend to carry a high balance.
The JCPenney Credit Card enables users to earn 1X reward points per dollar spent on clothing, accessories, housewares, and appliances.


Get a $10 JCPenney Rewards certificate for every 200 points you redeem
Receive up to 20% off your first JCPenney card purchase
Pay no annual fee
If you regularly fill up your cart at JCPenney, you can reap savings despite the card's restriction to branded purchases only. Regardless of shopping preference, though, the card's high APR and $38 late fee should make you think twice before you apply.
Cardholders of the Nordstrom Retail Card can enjoy several shopping perks, as well as receiving accelerated rewards earnings the more they spend at the fashion-focused department store.


Earn 2X rewards points per dollar spent in-store and online
Receive a bonus Nordstrom Note on your first card purchase the day you're approved
Pay no annual fee
The APR of the Nordstrom Retail Card is reasonable compared to some other store cards, but the price is high for paying late thanks to its penalty APR. Be mindful to avoid carrying a high balance on the card, which can be easy to do since the store has many high-priced products.
What Is a Department Store Card?
A department store credit card is similar to a traditional credit card. But instead of using them anywhere you want, you typically can only use them at the store that offers them. An example is the Old Navy credit card, which you can use to pay for purchases at Gap stores, which owns Old Navy. These include Gap, Banana Republic, Old Navy, Athleta, and Piperlime.
Many retailers offer branded credit cards that allow their frequent customers to get extra perks for in-store purchases. For some companies, you can earn rebates or cash back on purchases you make on the card. Other retailers and companies that offer cards don't include specific benefits, but may alert their credit card customers to sales in advance.
Some companies push their branded cards particularly around the holidays as an alternative to layaway. Although this can be tempting, it's better to make the decision to get your store credit card when you're not feeling the pressure to overspend for the holidays.
A department store card can be one way to help rebuild credit, but it does present limitations. You can generally only use the card to make purchases with the company that issued it, so it's not as useful as some other credit cards for bad credit. 
How Do Department Store Cards Work?
These branded credit cards function in the same way that standard credit cards do. You typically have a credit limit and the option to pay in full at a later date or pay over time. Retail credit cards are possibly the closest ancestors of modern credit cards, in terms of how they work: offering customers the ability to pay for purchases over time with a set interest rate and payment schedule.
Department store cards come in a few varieties and offer different benefits. Big Box credit cards, such as the Walmart credit card and Target RedCard, offer a percentage of your purchase balance as cash back. The RedCard offers this rebate right at the register, while the Walmart card lets you apply the earned rebate as a statement credit. 
As with traditional credit cards, the best store credit cards are unsecured credit card products, but some retailers offer secured credit cards too.
The first big difference in store credit cards is whether they're open-loop or closed-loop. Store cards traditionally operate only within the store that issues them, but larger companies have partnered with credit card providers like American Express, Visa, and Mastercard to open up their credit networks.
Open-loop store cards are harder to qualify for and usually require fair or better credit. 
Another major difference between open-loop cards like American Express, Visa, and Mastercard compared with retailer and department store cards is the possibility of a balance transfer. Department store cards don't offer balance transfer options because the goal of the card is to spend the credit limit with the retailer.
As with all credit cards, a department store credit card includes an interest rate. That's why you should choose the card you get carefully; high interest rates can make the amount you pay over time much higher than the purchase price.
How Do I Apply For a Store Card?
The process of applying for department store cards for bad credit isn't all that different from that of applying for traditional cards. Usually, you'll have to fill out an application, either online or in-store. 
The application will require that you submit details like your name, address, Social Security number, and other details that allow the company to check your credit report with each credit bureau.
Most department store cards use banks, such as Comenity Bank or Synchrony Bank,  to provide your credit limit. These banks usually have limited functions outside of providing credit lines for different card and loan products. 
Store credit cards usually offer instant approval, which means that if you fill out your application in-store, you'll get an answer at the register. If you fill out an application online, you'll also get a decision right away. On the rare occasion, you may have to wait a week or so for your answer. 
Some stores also offer an instant card number option, which allows you to charge your first purchase as soon as you're approved. In other cases, you will have to wait to receive your physical card. 
What Credit Score Is Needed For Department Store Cards?
The credit score you need for a given department store credit card varies. For the majority of department store credit cards, you'll need at least fair credit to get approved. 

However, the specific credit score required depends on the store you're applying for a card with.
Some department store cards have a reputation for being easier to get than others. The Target RedCard and Walmart credit card seem to have higher approval rates than cards from high-end department stores, but because the specific minimum credit score requirements aren't public knowledge, it's hard to say for sure.
It's also true that beyond credit history itself, different factors in your credit report can impact whether your application is approved. Specific issues like late payments, excessive debt, too much credit utilization, and other negative marks on your credit report can be the determining factor. 
The specific score that will get your application approved is a moving target, but you should aim to improve your score by using the card you get responsibly. 
Can I Get a Macy's Card With Bad Credit?
The Macy's credit card is reasonably easy to get approved for. Several reviewers indicate that Macy's occasionally approves applicants with poor credit, though fair credit gives you better odds. 
Macy's card applicants report being declined due to having too many recent credit inquiries or too many recently opened card accounts, so if you've gone on an application spree recently, it may be a good idea to hold off for a few months before you try with Macy's. But some applicants with bankruptcies have reported being approved.
Do Department Store Cards Affect Credit?
Department store credit cards do affect your credit because most of these cards report to the major credit bureaus. This can be a good thing or a bad thing, depending on how you use your card and how reliable you are about paying on time, which is why a department store card can be a step toward rebuilding credit. 
But the impact on your credit can go both ways. Negative behaviors with department store cards, such as paying late or maxing out your available credit limit, can add more negative marks to your credit report and lower your score. 
To avoid hurting your credit, make sure to pay your bills on time and keep your credit utilization under 30%. Good behaviors will help you build credit over time.
Spend with the Right Card to Build Your Credit Score
Most store cards have rewards that are only a facade to cover up the reality of a closed-loop credit card that has major shopping restrictions and a sky-high APR. Yet, if your credit is far from perfect, you may think that beggars can't be choosers. But, regardless of your credit score, you still don't have to hold yourself back to shopping at one store or brand.
Open-loop credit cards enable consumers who even have bad credit to enjoy special savings and the opportunity to build their score when handled responsibly. And, if you regularly pay on time and gradually minimize your overall debt, you're sure to improve your credit score and find yourself eligible for even more credit card options.
Advertiser Disclosure
BadCredit.org is a free online resource that offers valuable content and comparison services to users. To keep this resource 100% free for users, we receive advertising compensation from the financial products listed on this page. Along with key review factors, this compensation may impact how and where products appear on the page (including, for example, the order in which they appear). BadCredit.org does not include listings for all financial products.
Our Editorial Review Policy
Our site is committed to publishing independent, accurate content guided by strict editorial guidelines. Before articles and reviews are published on our site, they undergo a thorough review process performed by a team of independent editors and subject-matter experts to ensure the content's accuracy, timeliness, and impartiality. Our editorial team is separate and independent of our site's advertisers, and the opinions they express on our site are their own. To read more about our team members and their editorial backgrounds, please visit our site's About page.